Fistful of reefer, p.1





Fistful of Reefer, p.1

David Mark Brown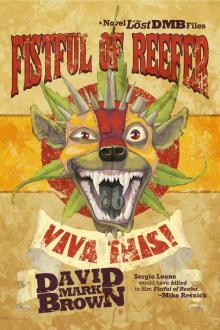 By
David Mark Brown
Fistful of Reefer
By David Mark Brown
*****
A novel of the Lost DMB Files
Copyright 2011 David Mark Brown
Cover art by Erin Mehlos
This book is available in print at most online retailers
Licensing notes: This book is licensed for your personal enjoyment only. This book may not be re-sold or given away to other people. If you would like to share this book with another person, please purchase an additional copy for each recipient. If you're reading this book and did not purchase it, or it was not purchased for your use only, then please purchase your own copy. Thank you for respecting the hard work of this author.
All rights reserved. This book or parts thereof may not be reproduced in any form, stored in a retrieval system, or transmitted in any form by any means without prior written permission of the authors, except as provided by United States of America copyright law.
This book is entirely a work of fiction.
Table of Contents
Letter to the Reader
El Diablo and the Rinche
El Chupawhata?
Giddyup
Catholic Hills
San Felipe Springs
Don't Come Knocking
Chancho's Reefer Madness
The Trail
The Campfire
From the River
New Friends
Hacienda O'Brien
When Darkness Falls
Rock With Eyes
The Plot Thickens
McCutchen's Play
Planes, Trains and Blood
Boomtown
Anticlimax
When Home Ain't Home
Revolutionary Gold
The Road to Revolution
Friends and Foes
Author Greeting
Author Bio
Sneak Peek: The Austin Job (#18 of the Lost DMB Files)
Letter to the Reader
The earliest novel-length creative work of David Mark Brown yet to be discovered, it appears Fistful of Reefer represents a turning point in Brown's career. His short stories and dime novel serials up to this point, while revealing tantalizing bits of what I now believe to be a forgotten history, don't seem to do so intentionally.
Fistful of Reefer is a different matter. Within these pages an astute reader will discover veiled accusations and clues to a larger conspiracy Brown had apparently decided to target with his fiction. It is my personal belief he'd come to accept he could not currently stand up to the mysterious entity he later refers to simply as "the benefactors." Thus he decided the best means of preserving the historicity of their secret movements to be his reasonably popular (at the time) pulp stories.
Having recently discovered Brown's version of events best explain the tumultuous happenings during the last year of my personal life, I've undertaken the task of discovering as many of these Lost DMB Files as possible in order to present them to you, dear reader, digitally and in their truest form. Thus, I offer that every reader at least consider these amazing adventures be based upon not only historical fact, but a truth intentionally purged from our collective consciousness.
Fistful of Reefer first appeared in 1919, just before the formation of the Democratic Republic of Texicas. The original text used the pseudonym McCormick for J.T. McCutchen—the infamous Texas Ranger most remember as the ruthless head of Texicas Homeland Security. It wasn't until editing later works by Brown that I discovered the connection. And even though I suspect Chancho to be a pseudonym as well, I've yet to make any connection to a historical figure. Perhaps he represents a amalgam or conglomeration of personalities.
As to not delay your enjoyment of the tale any more than can pleasantly be born up, I'll mention only one final oddity I think most readers will find interesting. After traveling to the border regions described within Fistful of Reefer I did indeed discover the ruins of an orphanage. I'm loath to give away the story, so it must suffice to say I located a certain hiding spot just as described by Brown, down to the last detail. Alas, the hidy-hole was empty, but I'll let you infer your own meaning upon that.
Earnestly,
Professor Jim "Buck" Buckner
Department of Geology, University of Texicas, Austin
All known "Lost" Files (in chronological order allowing for suspected gaps):
Reefer Ranger (#9)
Del Rio Con Amor (#14)
Fistful of Reefer (#17)
The Austin Job (#18)
Hell's Womb (#22)
Get Doc Quick (#24)
McCutchen's Bones (#25)
Twitch and Die! (#26)
Paraplegic Zombie Slayer (#35)
Fourth Horseman (#43)
And now, Fistful of Reefer. Viva this!