You Can't Hide: A pulse-pounding serial killer thriller (7th Street Crew Book 3)
Willow Rose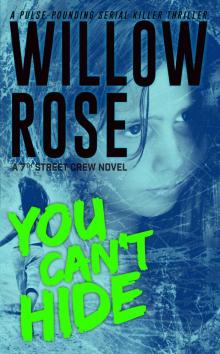 YOU CAN'T HIDE

7TH STREET CREW #3

WILLOW ROSE

CONTENTS

Copyright

Epigraph

Prologue

October 2015

October 2015

October 2015

Part 1

1. April 2016

2. April 2016

3. April 2016

4. Saigon, Vietnam, 1975

5. April 2016

6. April 2016

7. April 2016

8. April 2016

9. April 2016

10. April 2016

11. April 1975

12. April 2016

13. April 2016

14. April 2016

15. April 2016

16. April 2016

17. April 2016

18. April 2016

19. April 2016

20. April 2016

21. April 2016

22. April 2016

23. April 1975

24. April 2016

25. April 2016

26. April 2016

27. April 2016

28. April 2016

29. April 1975

30. April 2016

Part 2

31. April 2016

32. April 2016

33. April 2016

34. April 2016

35. April 2016

36. April 2016

37. April 2016

38. April 2016

39. April 1975

40. April 2016

41. April 2016

42. April 2016

43. April 2016

44. April 2016

45. April 2016

46. April 2016

47. April 2016

48. April 1975

49. April 2016

50. April 2016

51. April 2016

52. April 2016

53. April 1975

54. April 2016

55. April 2016

56. April 2016

57. April 2016

Part 3

58. April 2016

59. April 1975

60. April 2016

61. April 2016

62. April 2016

63. April 2016

64. April 1975

65. April 2016

66. April 2016

67. April 2016

68. April 2016

69. April 2016

70. April 1975

71. April 2016

72. April 2016

73. April 2016

74. April 2016

75. April 2016

76. April 1975

77. April 2016

Part 4

78. April 2016

79. April 2016

80. April 1975

81. April 2016

82. April 2016

83. April 2016

84. April 1975

85. April 2016

86. April 2016

87. April 2016

88. April 1975

89. April 2016

90. April 2016

91. April 2016

92. April 2016

93. April 2016

94. April 2016

95. April 2016

96. April 2016

97. April 2016

98. April 2016

99. April 2016

100. April 2016

101. April 2016

102. April 2016

103. April 2016

104. April 2016

Epilogue

Afterword

Books by the Author

About the Author

Itsy Bitsy Spider

Epigraph

Prologue

Chapter 1

Chapter 2

Chapter 3

Chapter 4

Chapter 5

Chapter 6

Chapter 7

Chapter 8

Chapter 9

Chapter 10

Chapter 11

Chapter 12

Chapter 13

Chapter 14

Chapter 15

Chapter 16

Chapter 17

Chapter 18

Chapter 19

Chapter 20

Chapter 21

Chapter 22

Chapter 23

Chapter 24

Chapter 25

Chapter 26

Chapter 27

Chapter 28

Chapter 29

Chapter 30

Chapter 31

Order your copy today!

Copyright Willow Rose 2016

Published by Jan Sigetty Boeje

All rights reserved.

No part of this book may be reproduced, scanned, or distributed in any printed or electronic form without permission from the author.

This is a work of fiction. Any resemblance of characters to actual persons, living or dead is purely coincidental. The Author holds exclusive rights to this work. Unauthorized duplication is prohibited.

Cover design by Sara de Ridder

Special thanks to my editor Janell Parque

http://janellparque.blogspot.com/

* * *

To be the first to hear about new releases and bargains from Willow Rose. Sign up to be on the VIP list below.

I promise not to share your email with anyone else, and I won't clutter your inbox.

- SIGN UP TO BE ON THE VIP LIST -

Connect with Willow Rose:

@madamwillowrose

willowredrose

willow-rose.net

You can try to escape from your real or imagined fears—but they'll catch up with you eventually.

~ Unknown

Prologue

October 2015

She's not running, but it is close. Maria Verlinden rushes through the aisles, leaving behind the sections with towels and bathroom accessories. She hopes to be able to get through Target's dreaded toy department without Tara acting up. She doesn't have time to look at toys today. As a single mother with only one income, she can't afford to buy her toys every time they shop. Today is about getting her some new shoes, that's all. Quick in and quick out. Without spending money on anything unnecessary.

"Moom, can I get a toy?"

Maria sighs. She looks at her nine-year-old daughter as they walk past the many teddy bears staring back at them with big cute black eyes, begging Maria to buy them.

"You know Mommy can't afford it today. You need new shoes, remember? The school won't let you wear flip-flops. You have to wear sneakers."

"But, Moom, I really want a Monster High doll. Ally has one."

"Not today, honey. I am sorry…"

"But, Moom!"

Maria pulls Tara's arm a little too hard as she tries to get past the toys and into the clothing department.

"You're hurting me, Mom!"

"I'm sorry, baby. We just need to hurry. Mommy has to go to work."

Maria feels exhausted, thinking about going into the office today. Selling office supplies over the phone has to be the worst job on the planet. But she needs the money. And it sure beats working at Wal-Mart like she used to. Tara will spend the rest of the day with a neighbor who is out of work and who takes care of her when Maria has to work and they're off from school. Today is a teachers' workday so there is no school. Maria hates having to ask her neighbor for help, but what else can she do? She can't wait for Tara to be old enough to stay home alone. Maria has got to work.
r /> "Here it is," she says and stops.

Tara is whining. She is complaining about not being able to have a toy. Maria fights the urge to yell at her. How can she be so ungrateful? She is getting new shoes, after all. Can't she be excited about that at least? Doesn't she know how much Maria has to work and save to be able to afford these shoes?

Maria has promised herself to stop yelling so much at Tara. She wants to be better about it. But the pressure of not having any money and living in a bad neighborhood at the age of almost thirty, with a nine-year-old, is getting to her. She hates her life. Worst of all, she sees no way out of it. It's not like she'll meet someone when she has a kid and as long as she lives in that awful place. She feels so stuck. She loves her daughter, but there are days she wonders how her life would have turned out had she gotten that abortion her parents told her to get, before they cut her off. But how could she? It was a baby, for crying out loud. You don't just kill a baby just because the father doesn't want it.

"This baby will destroy your life, Maria," her mother said the day she also told her to get the abortion or they would disown her. Their daughter being a single mother was apparently too much for them, too much of a disgrace. "The kid will be a bastard," they said.

Maria had no idea beforehand that her parents would react like this. But she decided to keep the child anyway, even though it would never know its father or grandparents. After all, it wasn't Tara's fault.

Maria looks at her daughter as she touches a pair of very sparkly shoes. Maria can't help smiling. Yes, Tara is annoying at times, and yes it has been hard, but she loves her; she is the love of her life. How a beautiful little girl like that could cause so much commotion was beyond her comprehension. Maria would give her the world if she could afford it.

"Can I have these, Mommy?"

Maria looks at the price. It's a little more than what she can afford. "Let's see what else there is," she says.

"Okay, Mommy, but I really like these. Ally has a pair like them."

"Good for Ally. Now, how about these over here?" Maria picks up a pair of shoes and shows them to Tara when she spots a man at the end of the aisle touching a pair of shoes but not picking them up. He spots Tara and makes a face at her. Tara laughs. "That man is funny," she says.

Maria grabs Tara's hand in hers and pulls her closer. "Do you want to try these?"

"They're ugly, Mom."

"All right. How about those over there?" Maria asks, still looking at the man who hasn't taken his eyes off of Tara. Something about him fills Maria with unease. She pulls Tara even closer. Tara looks at him again and he makes another funny face. Tara bursts into laughter. The man smiles. Maria eases up slightly. Maybe she is just being paranoid. Maria picks up another pair of shoes and shows them to Tara.

"How about these?"

"Okay. I'll try them on."

Tara grabs the shoes and sits down on the bench. She takes off her flip-flops. Maria keeps an eye on the man. He seems to be circling them, looking at shoes, but not picking any of them up. She doesn't like the way he is looking at Tara.

"Hurry up, Tara," Maria says. "I have to go to the office. They only allowed me to be an hour late today."

"I don't like these, Mommy. They're too tight on my toes."

"Then try another size," she grumbles, and pulls out a box with the same shoes in another size.

The man is still circling them, making faces at Tara whenever he gets her attention. Maria starts to wonder if there is anyone else nearby, in case he tries to steal her purse. It's very early and she hasn't seen anyone else in the store except for the cashiers at the entrance.

"Do you need help with that?" the man suddenly says to Tara.

Maria turns and sees him kneeling in front of the girl and helping her with the shoe. Maria stops breathing. She doesn't like him being this close to her daughter. But, then again, he is just being nice. Maybe he is just a lonely man. She looks at his basket; he hasn't put anything in it.

That's odd, she thinks, but then shakes the thought again. Maybe he's just here to buy a pair of shoes just like you. You don't have anything in your basket either.

Maria laughs at herself. The man smiles at her, then at Tara, as the shoe slides right on.

"There you are. It fits perfect. Just like Cinderella."

Tara giggles. She doesn't like Cinderella, she is more of a Frozen-girl, but she is being polite. The man gets up.

"I think we have a winner, Mom," he says, addressed to Maria.

"I want these," Tara says and looks proudly up at Maria.

Maria smiles, relieved. She looks at her watch. Only ten minutes till she needs to be at the office. She can't make it in time, but if they move fast then maybe she won't be too late, not so late they'll fire her. They did that last week to one of the other girls. She didn't show up and the next day they had simply given the job to someone else. They didn't even tell her, so when she finally did show up, she found someone else at her desk and had to leave. There are plenty of other girls out there who want Maria's job. They never hesitate to tell them that.

"Thank you so much," she says to the man.

"No problem, Mom," he says, and nods.

She knows it is silly, but for some reason she holds her purse tight to her body as she passes him. She kneels in front of her daughter and takes off the shoes that she puts back in the box.

"All right. Let's get moving," she says to Tara. Tara gets up and they start to walk. Tara turns and waves at the man as they disappear down the aisle. He makes another funny face and Tara burst into a light giggle.

As they reach the check-out and give the shoes to the cashier, Maria spots the man walking towards the exit quickly. She notices that he didn't buy anything.

At least he's gone, she thinks to herself with a light shiver when she hands the cashier the money for the shoes.

October 2015

Tara wants to wear the shoes right after they have paid for them, and Maria lets her put them on before they leave the store. Tara laughs happily and runs circles around Maria as they walk towards the parking lot.

"Look at how fast I can run!" Tara yells.

"You are very fast," Maria says, and looks at her watch again. Just five more minutes. Her office is all the way in Melbourne. There is no way she'll make it in time. She'll be at least half an hour late. Maria sighs. She'll have to stay half an hour longer this afternoon to make up for it. Well, at least Tara is happy. She is jumping and running around giggling.

They approach the car and Maria grabs her keys and unlocks it. Tara jumps inside and Maria hurries to her door and opens it, when someone sneaks around her vehicle. It is him again. The same man that stared at them inside the store.

Maria gasps in shock.

"I'm sorry," the man says. "I didn't mean to startle you."

Maria places a hand on her chest. Her heart is beating fast. "It's okay," she says. "I am just…in a hurry."

"I was just wondering if you could help me," the man says, and moves a step closer.

Maria wonders if she should just jump inside the car and drive off. The man stares at her. Tara is yelling from inside the car.

"Come on, Mommy!"

"I really don't have any time," she says, and is about to get inside of her car.

"It'll only be one second. You see, my wife is in that car over there and she's not well. The car won't start and…"

Maria looks at the man. She feels confused, conflicted. Normally she would always help, but this time…there is something odd about this guy. She turns her head to look at the car he pointed at, but can't see anyone inside of it. Tara is yelling again.

"There's no one in the car," Maria says.

When she turns her head, the man is right in front of her. He pushes her inside the car. Mari
a screams.

"What are you doing?"

"Mommy?" Tara says.

The man is strong, and even though she fights him, she can't get up. "Help! Someone heeelp!"

She tries to kick him, but can't. She manages to scratch him on his arm with her nails while panic spreads inside of her. She has to get him off her. She has to get away from here, now.

"Lie still, bitch," he yells, and slaps her across the face.

Tara screams when she sees him hitting her mother. "Get out of the car, Tara," Maria yells. "Get out and run for help!"

Tara yells something, but Maria doesn't hear what it is. She just keeps screaming at the child to run for help inside Target. Maria regains more of her strength and manages to punch the attacker in the stomach, when she hears the car door open and Tara scream for help.

That's it, that's my girl.

But the attacker punches Maria in the face and she loses consciousness for a few important minutes. When she opens her eyes, Tara's screams have changed character and sound more panicked and helpless. Maria manages to look outside and sees her daughter in the arms of the man, who is carrying her over his shoulder back towards the car.

"No!"

"Oh, yes," the man says, as he throws Tara in the back of the car and slams the door shut. He approaches Maria and leans over her.

"The deal was for the both of you, Maria."

October 2015

Tara?

Maria opens her eyes. She can still taste the fumes from the white cloth that was held against her mouth until she gave up the fight. It makes her want to throw up. She is panicking. She blinks her eyes. Tara is here. Tara is right next to her on the bed. What a relief.

Tara seems to be asleep. Maybe she too is knocked out. Maria has a headache. Probably from the fumes.

We've got to get out of here.

Maria gets up from the bed. She leans over her daughter and can hear her breathing. It fills her with relief again. The girl is alive, sleeping heavily, but alive. Maria walks to the window and realizes she is in a house somewhere. The view is spectacular, but she's got to be at least forty feet up. Beneath her are a tennis court and a lap-pool. She grabs the handle to the sliding door and tries to open it. It is locked and you need a key to open it.

Maria looks around the room. It is sparsely decorated with a queen bed and a dresser. Nothing on the walls. Nothing on the floors. Just while tiles. She looks at the door to the room and walks to it. She grabs the handle but—as suspected—it is locked as well.