It's Not Over
Willow Rose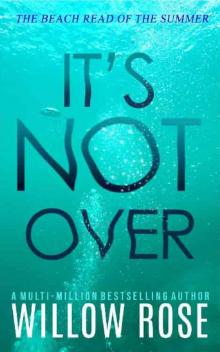 Contents

Copyright

Prologue

Prologue

Prologue

Prologue

Prologue

Prologue

Prologue

TEN YEARS LATER

Chapter 1

Chapter 2

Chapter 3

Chapter 4

Chapter 5

Chapter 6

Chapter 7

Chapter 8

Chapter 9

Chapter 10

Chapter 11

Chapter 12

Chapter 13

Chapter 14

Chapter 15

Chapter 16

Chapter 17

Chapter 18

Chapter 19

Chapter 20

Chapter 21

Chapter 22

Chapter 23

Chapter 24

Chapter 25

Chapter 26

Chapter 27

Chapter 28

Chapter 29

Chapter 30

Chapter 31

Chapter 32

Chapter 33

Chapter 34

Chapter 35

Chapter 36

Chapter 37

Chapter 38

Chapter 39

Chapter 40

Chapter 41

Chapter 42

Chapter 43

Chapter 44

Chapter 45

Chapter 46

Chapter 47

Chapter 48

Chapter 49

Chapter 50

Chapter 51

Chapter 52

Chapter 53

Chapter 54

Chapter 55

Chapter 56

Chapter 57

Chapter 58

Chapter 59

Chapter 60

Chapter 61

Chapter 62

Chapter 63

Chapter 64

Chapter 65

Chapter 66

Chapter 67

Chapter 68

Chapter 69

Chapter 70

Chapter 71

Chapter 72

Chapter 73

Chapter 74

Chapter 75

Chapter 76

Chapter 77

Chapter 78

Chapter 79

Chapter 80

Chapter 81

Chapter 82

Chapter 83

Chapter 84

Chapter 85

Dear Reader,

About the Author

Books by the Author

ALL THE GOOD GIRLS (HARRY HUNTER MYSTERY - BOOK 1)

Chapter 1

Chapter 2

ONE YEAR LATER

Chapter 3

Chapter 4

Chapter 5

Order your copy today!

Books by the Author

Copyright Willow Rose 2020

Published by BUOY MEDIA LLC

All rights reserved.

No part of this book may be reproduced, scanned, or distributed in any printed or electronic form without permission from the author.

This is a work of fiction. Any resemblance of characters to actual persons, living or dead is purely coincidental. The Author holds exclusive rights to this work. Unauthorized duplication is prohibited.

Cover design by Juan Villar Padron,

https://www.juanjpadron.com

Special thanks to my editor Janell Parque

http://janellparque.blogspot.com/

To be the first to hear about new releases and bargains from Willow Rose, sign up below to be on the VIP List. (I promise not to share your email with anyone else, and I won't clutter your inbox.)

- Go here to sign up to be on the VIP LIST :

http://readerlinks.com/l/415254

Tired of too many emails? Text the word: "willowrose" to 31996 to sign up to Willow's VIP text List to get a text alert with news about New Releases, Giveaways, Bargains and Free books from Willow.

Follow Willow Rose on BookBub:

https://www.bookbub.com/authors/willow-rose

Connect with Willow online:

https://www.amazon.com/Willow-Rose/e/B004X2WHBQ

https://www.facebook.com/willowredrose/

https://twitter.com/madamwillowrose

http://www.goodreads.com/author/show/4804769.Willow_Rose

Http://www.willow-rose.net

[email protected]

Prologue

Marathon Key,

Key West,

Florida

Prologue

He noticed them because they were having fun—not that they stood out otherwise. They were a nice core family of four: a mom, a dad, and their two children: a boy and a girl. The children looked so much alike that he assumed they had to be twins.

This day, they were playing in the resort's pool. The girl screamed with joy as the boy jumped in, making a huge water bomb. In the next second, she was crying loudly because he splashed water all over her. Her mom ran to her instantly and grabbed her in her arms, then comforted her, while the dad told the boy to be more careful next time. A few seconds later, the girl and the boy were both taking turns jumping in and swimming about, with their orange wings floating on the surface.

Yesterday, he had watched them at the tennis court as the parents played together, and the kids chased the runaway balls and handed them back to their parents, who patted them lovingly on their blond heads as a thank you. The day before, he had watched while they were enjoying the beach. He had especially taken pleasure in listening to the happy squeals as they looked at fish while snorkeling, splashing their little arms and feet on the surface of the water. He had watched them closely from behind his dark sunglasses as they built a sandcastle, his cap pushed down over his forehead, making it look like he was sleeping.

He noticed their happiness because he hated it—just like he hated Key West and its sticky air. He hated the water and the scorching sun. Yet, he returned every year just to catch a glimpse of the children at the resort.

He moved restlessly in the lounge chair. It was still early in the day. Only couples with children were at the pool at this hour. They were the only ones who'd get up this early on their vacation.

It was the perfect hour for scouting.

He grabbed his sunscreen and applied a layer, rubbing his arms and legs, hoping to get rid of that itch growing inside him. It was getting harder and harder to keep it at bay, and he realized that, as much as he enjoyed looking at the children, it was time for him to leave.

He sat up straight and grabbed his flipflops and the bottle of sun lotion when he heard a small voice talking next to him. The sound of it startled him.

With a gasp, he glared at the small girl who had snuck up on him and was now standing right beside him. It was one of the twins, the girl. She was obviously already too aware of her cuteness and prettiness, even at the age of only five years old. Her big blue eyes gleamed up at him and almost made him lose it. He stared at her throat, the small piece right underneath her chin, and he wanted badly to touch it. He wanted to caress her skin and put his arms around her. He panted heavier as he imagined all the things he wanted to do to her.

Not now. Not here.

"What do you want?" he hissed at the child, hoping to get rid of her. He didn't think anyone had noticed he was even there. Her talking to him would attract attention. It was the last thing he needed right now.

Of course, the child stayed where she was.

"What's your name?" she asked with a small sweet voice. Her breath even smelled like sugar from the snack she had just eaten.

He forced a smile, taking a deep breath to calm himself while clenching his fi
sts so hard with excitement that it almost hurt. This girl had a sweetness about her, unlike any little girl he had met or observed.

He leaned forward, then whispered in her ear: "It's a secret."

Her eyes grew even wider, and her mouth gaped. Then, she placed her hands on her hips.

"Hey, mister, are you a spy?"

That made him laugh.

"You might say that."

"Woah," the girl said, mouth still gaping.

Her parents had, by now, realized she was gone and spotted her talking to him. This was his cue to leave. They called her name, and the girl was about to leave when she stopped herself and turned to face him again.

"I'm Maggie, by the way. And your secret is safe with me."

He smiled and felt his heart melt as Maggie ran to her parents and brother. Her mom lifted her hand and waved at him, and he waved back, smiling. He stared after them, and couldn't stop thinking about the girl and her small soft neck as she disappeared with her parents, holding her mother's hand.

His heart pounded in his throat as he mumbled to himself: "You are my secret, Maggie. You are my sweet and delightful secret."

Prologue

She hadn't recognized herself in a while. But now, for the first time in months, she felt like herself again. Mary Marshall stared at her children in the bathroom, where they were brushing their teeth for bed. Maggie and Blake were both in their PJs. His were blue and had airplanes on them, while hers were pink and had Rapunzel from her favorite movie Tangled on them.

Maggie and Blake, the twins, had been inseparable since birth, yet they could drive their mother nuts with all their fighting and screaming. They had just turned five years old and, finally, things were getting a little easier, their mother had to admit. There was more now that they could do on their own, and her workload had eased up slightly.

It was Peter's idea to come to Key West for the summer. "A couple of weeks at a resort will do you good," he said. "You won't have to cook or clean—just hang out in a lounge chair by the pool or on the beach. Get some sun on that pale nose of yours."

He had said the last thing with a smile and a kiss on the tip of her nose. Peter was a good husband. He was a dentist and had his own clinic, and provided well for them without ever complaining. Even if it meant he had to work long hours and go away for dental conferences regularly.

It was never Mary's plan to be a stay at home mom. She had liked working at the local newspaper. She had loved her colleagues and, once she got pregnant, she hadn't assumed she would stay home as long as she did. But having twins turned out to be quite the challenge, and if she was perfectly honest, they had become her entire life. And as they grew, she found that she quite enjoyed being at home with them. She hadn't wanted to go back to work, not even when the twins had started voluntary pre-Kindergarten when they were four. After the summer, they would start Kindergarten, and Peter was talking about getting her a halftime position at the clinic, but for some reason, it didn't interest Mary. She found that she hated the thought of having to be apart from her children. She enjoyed being with them all day, even on the long days when Peter came home late. They filled her with so much joy, and she didn't think any job would ever be able to live up to that. She had never expected to feel this way, and it took her quite by surprise. Growing up, Mary hadn't even been sure she wanted children one day. When her friends talked about it, she'd been the one to say she'd rather travel and see the world or live alone in an apartment in New York, working for a big publishing house, attending cocktail parties and book launch parties on the weekends. And she had done those things…well, almost. She had traveled for three months through Central America after college, and she had lived in NY for a year, alone while applying for jobs at publishing houses, but never getting one. When the money ran out, she had ended up going back to Lexington, Kentucky, where she had sworn she'd never come back except to visit. Her mother had died in a house fire, and suddenly, she was left all alone in the world, and so she decided it was time to settle down. She got a job at the local newspaper, and a few years later, she met Peter at the grocery store of all places. He had just come back to town and opened his own dental clinic in Lexington. He remembered her from when she was a child, he said. She never told him, but she didn't remember him at all…maybe because he was older than her. He did seem familiar to her, and she felt very comfortable with him for some reason. He was the first guy she didn't feel like she had to pretend to be someone other than who she was. She could be herself completely, and that felt nice. He had asked her out on that day at the store, and, well, the rest was history. Not as interesting a story as she would have liked it to have been, but far better than what she had imagined. She had no idea that her happiness was to be found at a dental clinic in Lexington, and a small house in a cookie-cutter suburb neighborhood. It was the life she had sworn she never wanted, and yet today, she wouldn't trade it for anything in the world.

"You should get ready," Peter said, coming up behind her, kissing her neck. The kids rinsed their mouths and put their toothbrushes in the cup, then ran to their bedroom.

"Are you sure it'll be fine leaving them in the hotel room while we go to dinner?" she asked anxiously.

Tonight was their anniversary, and they had planned to eat at the hotel's restaurant—alone for once.

"Of course," Peter said. "The door will be locked, and the kids will be sound asleep. We'll be right downstairs. This is a resort. It's safe; believe me. Besides, I can't wait to have a few hours alone with my beautiful wife. I feel like we haven't been alone for years."

He was right. They hadn't been good at prioritizing being just the two of them. Other couples had date nights once a month or even once a week, where they went out just the two of them. Mary didn't like leaving her babies with some babysitter, and to be honest, she wasn't that interested in being without them. She loved Peter, but why couldn't it be all four of them?

"What if they wake up and want their mother?" she asked, biting her lip. She felt odd about this dinner and wasn't sure she wanted to go.

"We'll leave my phone by their bedside. They know how to use that and can call us on your phone. Plus, we can check on them every hour if you like."

"Let's make that every thirty minutes, and you have a deal," she said, smiling at him in the mirror in front of her.

Prologue

"Okay, kiddos. What are we reading tonight? And remember, Mommy has to go. That means it can only be one story tonight."

"Aw!" Blake said, disappointed. He crossed his arms in front of his chest and pouted. "You're gonna choose something she wants because you always do."

"No, Blake," Mary said. "We can choose a book that you both want to read. What do you want to read?"

"Flat Stanley!" Blake exclaimed.

"NO!" his sister yelled. "I hate that book."

"I am not reading about that stupid Wolfie the Bunny again," Blake said.

"Well, I don't want to hear about stupid Flat Stanley. What's so cool about him being flat anyway?"

Mary smiled and looked at the pile of books they had brought with them. She had gotten ready for dinner and was wearing her red dress—the one Peter gave her for their last anniversary. It was a little tight over the hips, and she had realized she had gained some weight since last year. As she bent down, it felt very tight in the waist as well. She pulled out a book.

"How about this one? You both used to love this."

She showed them the book's cover, holding it up for them. Maggie's face lit up. "Yay. I love Kevin the Cute Monster."

"I hate that one," Blake said. "Monsters aren't supposed to be cute."

Mary sent him a look, her head slightly tilted. "Maybe not, but this is the book I am reading tonight, okay? Then we can read both Flat Stanley and Wolfie the Bunny tomorrow night. Maybe we can even a
dd a third one that you pick, okay?"

Blake wasn't happy but finally acquiesced. The children crawled into her lap, and she opened the book. Mary began to read while she could hear Peter in the bathroom, getting ready. She thought for a second about telling him she didn't want to go out tonight after all, that she didn't feel like leaving the children, but she knew he would only be hurt. He had talked about the dinner for weeks, how the restaurant at the hotel had five stars and that she could get Foie Gras, her favorite. She didn't tell him that it had been many years since she had thought of it as her favorite. The thought of eating the fattened liver of a goose made her want to throw up now. Things had changed. She had changed. And right now, all she wanted was to lie down with her children and cuddle with them all night. She really didn't need a fancy dinner or alone time with her husband. She wanted to sleep in their room so that she could protect them all night.