Lady of the Lake
Walter Scott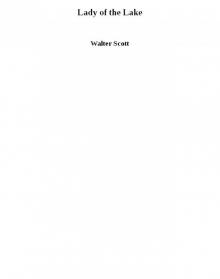 Lady of the Lake

Walter Scott

THE LADY OF THE LAKE

BY SIR WALTER SCOTT

EDITED FOR SCHOOL USE

BY

WILLIAM VAUGHN MOODY

SOMETIME ASSISTANT PROFESSOR OF ENGLISH

THE UNIVERSITY OF CHICAGO

THE SCENE OF "THE LADY OF THE LAKE"

I. LIFE OF SCOTT

I

Walter Scott was born in Edinburgh, August 15, 1771, of an ancient Scotch clan numbering in its time many a hard rider and good fighter, and more than one of these petty chieftains, half-shepherd and half-robber, who made good the winter inroads into their stock of beeves by spring forays and cattle drives across the English Border. Scott's great-grandfather was the famous "Beardie" of Harden, so called because after the exile of the Stuart sovereigns he swore never to cut his beard until they were reinstated; and several degrees farther back he could point to a still more famous figure, "Auld Wat of Harden," who with his fair dame, the "Flower of Yarrow," is mentioned in The Lay of the Last Minstrel. The first member of the clan to abandon country life and take up a sedentary profession, was Scott's father, who settled in Edinburgh as Writer to the Signet, a position corresponding in Scotland to that of attorney or solicitor in England. The character of this father, stern, scrupulous, Calvinistic, with a high sense of ceremonial dignity and a punctilious regard for the honorable conventions of life, united with the wilder ancestral strain to make Scott what he was. From "Auld Wat" and "Beardie" came his high spirit, his rugged manliness, his chivalric ideals; from the Writer to the Signet came that power of methodical labor which made him a giant among the literary workers of his day, and that delicate sense of responsibility which gave his private life its remarkable sweetness and beauty.

At the age of eighteen months, Scott was seized with a teething fever which settled in his right leg and retarded its growth to such an extent that he was slightly lame for the rest of his life. Possibly this affliction was a blessing in disguise, since it is not improbable that Scott's love of active adventure would have led him into the army or the navy, if he had not been deterred by a bodily impediment; in which case English history might have been a gainer, but English literature would certainly have been immeasurably a loser. In spite of his lameness, the child grew strong enough to be sent on a long visit to his grandfather's farm at Sandyknowe; and here, lying among the sheep on the windy downs, playing about the romantic ruins of Smailholm Tower,[1] scampering through the heather on a tiny Shetland pony, or listening to stories of the thrilling past told by the old women of the farm, he drank in sensations which strengthened both the hardiness and the romanticism of his nature. A story is told of his being found in the fields during a thunder storm, clapping his hands at each flash of lightning, and shouting "Bonny! Bonny!"—a bit of infantile intrepidity which makes more acceptable a story of another sort illustrative of his mental precocity. A lady entering his mother's room found him reading aloud a description of a shipwreck, accompanying the words with excited comments and gestures. "There's the mast gone," he cried, "crash it goes; they will all perish!" The lady entered into his agitation with tact, and on her departure, he told his mother that he liked their visitor, because "she was a virtuoso, like himself." To her amused inquiry as to what a virtuoso might be, he replied: "Don't ye know? why, 'tis one who wishes to and will know everything."

As a boy at school in Edinburgh and in Kelso, and afterwards as a student at the University and apprentice in his father's law office, Scott took his own way to become a "virtuoso"; a rather queer way it must sometimes have seemed to his good preceptors. He refused point-blank to learn Greek, and cared little for Latin. His scholarship was so erratic that he glanced meteor-like from the head to the foot of his classes and back again, according as luck gave or withheld the question to which his highly selective memory had retained the answer. But outside of school hours he was intensely at work to "know everything," so far as "everything" came within the bounds of his special tastes. Before he was ten years old he had begun to collect chap-books and ballads. As he grew older he read omnivorously in romance and history; at school he learned French for the sole purpose of knowing at first hand the fascinating cycles of old French romance; a little later he mastered Italian in order to read Dante and Ariosto, and to his schoolmaster's indignation stoutly championed the claim of the latter poet to superiority over Homer; a little later he acquired Spanish and read Don Quixote in the original. With such efforts, however, considerable as they were for a boy who passionately loved a "bicker" in the streets and who was famed among his comrades for bravery in climbing the perilous "kittle nine stanes" on Castle Rock, he was not content. Nothing more conclusively shows the genuineness of Scott's romantic feeling than his willingness to undergo severe mental drudgery in pursuit of knowledge concerning the old storied days which had enthralled his imagination. It was no moonshine sentimentality which kept him hour after hour and day after day in the Advocate's Library, poring over musty manuscripts, deciphering heraldic devices, tracing genealogies, and unraveling obscure points of Scottish history. By the time he was twenty-one he had made himself, almost unconsciously, an expert paleographer and antiquarian, whose assistance was sought by professional workers in those branches of knowledge. Carlyle has charged against Scott that he poured out his vast floods of poetry and romance without preparation or forethought; that his production was always impromptu, and rooted in no sufficient past of acquisition. The charge cannot stand. From his earliest boyhood until his thirtieth year, when he began his brilliant career as poet and novelist, his life was one long preparation—very individual and erratic preparation, perhaps, but none the less earnest and fruitful.

In 1792, Scott, then twenty-one years old, was admitted a member of the faculty of advocates of Edinburgh. During the five years which elapsed between this date and his marriage, his life was full to overflowing of fun and adventure, rich with genial companionship, and with experience of human nature in all its wild and tame varieties. Ostensibly he was a student of law, and he did, indeed, devote some serious attention to the mastery of his profession. But the dry formalities of legal life his keen humor would not allow him to take quite seriously. On the day when he was called to the bar, while waiting his turn among the other young advocates, he turned to his friend, William Clark, who had been called with him, and whispered, mimicking the Highland lasses who used to stand at the Cross of Edinburgh to be hired for the harvest: "We've stood here an hour by the Tron, hinny, and deil a ane has speered[2] our price." Though Scott never made a legal reputation, either as pleader at the bar or as an authority upon legal history and principles, it cannot be doubted that his experience in the Edinburgh courts was of immense benefit to him. In the first place, his study of the Scotch statutes, statutes which had taken form very gradually under the pressure of changing national conditions, gave him an insight into the politics and society of the past not otherwise to have been obtained. Of still more value, perhaps, was the association with his young companions in the profession, and daily contact with the racy personalities which traditionally haunt all courts of law, and particularly Scotch courts of law: the first association kept him from the affectation and sentimentality which is the bane of the youthful romanticist; and the second enriched his memory with many an odd figure afterward to take its place, clothed in the colors of a great dramatic imagination, upon the stage of his stories.

Added to these experiences, there were others equally calculated to enlarge his conception of human nature. Not the least among these he found in the brilliant literary and artistic society of Edinburgh, to which his mother's social position gave him entrance. Here, when only a lad, he met Robert Burns, then the pet and idol of the fashionable co
teries of the capital. Here he heard Henry Mackenzie deliver a lecture on German literature which turned his attention to the romantic poetry of Germany and led directly to his first attempts at ballad-writing. But much more vital than any or all of these influences, were those endless walking-tours which alone or in company with a boon companion he took over the neighboring country-side—care-free, roystering expeditions, which he afterwards immortalized as Dandie Dinmont's "Liddesdale raids" in Guy Mannering. Thirty miles across country as the crow flies, with no objective point and no errand, a village inn or a shepherd's hut at night, with a crone to sing them an old ballad over the fire, or a group of hardy dalesmen to welcome them with stories and carousal—these were blithe adventurous days such as could not fail to ripen Scott's already ardent nature, and store his memory with genial knowledge. The account of Dandie Dinmont given by Mr. Shortreed may be taken as a picture, only too true in some of its touches, of Scott in these youthful escapades: "Eh me, ... sic an endless fund of humor and drollery as he had then wi' him. Never ten yards but we were either laughing or roaring and singing. Wherever we stopped how brawlie he suited himsel' to everybody! He aye did as the lave did; never made himsel' the great man or took ony airs in the company. I've seen him in a' moods in these jaunts, grave and gay, daft and serious, sober and drunk—(this, however, even in our wildest rambles, was but rare)—but drunk or sober, he was aye the gentleman. He looked excessively heavy and stupid when he was fou, but he was never out o' gude humor." After this, we are not surprised to hear that Scott's father told him disgustedly that he was better fitted to be a fiddling peddler, a "gangrel scrape-gut," than a respectable attorney. As a matter of fact, however, behind the mad pranks and the occasional excesses there was a very serious purpose in all this scouring of the country-side. Scott was picking up here and there, from the old men and women with whom he hobnobbed, antiquarian material of an invaluable kind, bits of local history, immemorial traditions and superstitions, and, above all, precious ballads which had been handed down for generations among the peasantry. These ballads, thus precariously transmitted, it was Scott's ambition to gather together and preserve, and he spared no pains or fatigue to come at any scrap of ballad literature of whose existence he had an inkling. Meanwhile, he was enriching heart and imagination for the work that was before him. So that here also, though in the hair-brained and heady way of youth, he was engaged in his task of preparation.

Scott has told us that it was his reading of Don Quixote which determined him to be an author, but he was first actually excited to composition in another way. This was by hearing recited a ballad of the German poet Bürger, entitled Lenore, in which a skeleton lover carries off his bride to a wedding in the land of death. Mr. Hutton remarks upon the curiousness of the fact that a piece of "raw supernaturalism" like this should have appealed so strongly to a mind as healthy and sane as Scott's. So it was, however. He could not rid himself of the fascination of the piece until he had translated it, and published it, together with another translation from the same author. One stanza at least of this first effort of Scott sounds a note characteristic of his poetry:

Tramp! tramp! along the land they rode, Splash! splash! along the sea; The scourge is red, the spur drops blood, The flashing pebbles flee.

Here we catch the trumpet-like clang and staccato tramp of verse which he was soon to use in a way to thrill his generation. This tiny pamphlet of verse, Scott's earliest publication, appeared in 1796. Soon after, he met Monk Lewis, then famous as a purveyor to English palates of the crude horrors which German romanticism had just ceased to revel in. Lewis was engaged in compiling a book of supernatural stories and poems under the title of Tales of Wonder, and asked Scott to contribute. Scott wrote for this book three long ballads—"Glenfinlas," "Cadyow Castle," and "The Gray Brother." Though tainted with the conventional diction of eighteenth century verse, these ballads are not unimpressive pieces of work; the second named, especially, shows a kind and degree of romantic imagination such as his later poetry rather substantiated than newly revealed.

II

In the following year, 1797, Scott married a Miss Charpentier, daughter of a French refugee. She was not his first love, that place having been usurped by a Miss Stuart Belches, for whom Scott had felt perhaps the only deep passion of his life, and memory of whom was to come to the surface touchingly in his old age. Miss Charpentier, or Carpenter, as she was called, with her vivacity and quaint foreign speech "caught his heart on the rebound"; there can be no doubt that, in spite of a certain shallowness of character, she made him a good wife, and that his affection for her deepened steadily to the end. The young couple went to live at Lasswade, a village near Edinburgh, on the Esk. Scott, in whom the proprietary instinct was always very strong, took great pride in the pretty little cottage. He made a dining-table for it with his own hands, planted saplings in the yard, and drew together two willow-trees at the gate into a kind of arch, surmounted by a cross made of two sticks. "After I had constructed this," he says, "mamma (Mrs. Scott) and I both of us thought it so fine that we turned out to see it by moonlight, and walked backwards from it to the cottage door, in admiration of our magnificence and its picturesque effect." It would have been well indeed for them both if their pleasures of proprietorship could always have remained so touchingly simple.

Now that he was married, Scott was forced to look a little more sharply to his fortunes. He applied himself with more determination to the law. In 1799 he became deputy-sheriff of Selkirkshire, with a salary of three hundred pounds, which placed him at least beyond the reach of want. He began to look more and more to literature as a means of supplementing his income. His ballads in the Tales of Wonder had gained him some reputation; this he increased in 1802 by the publication, under the title Border Minstrelsy, of the ballads which he had for several years been collecting, collating, and richly annotating. Meanwhile he was looking about for a congenial subject upon which to try his hand in a larger way than he had as yet adventured. Such a subject came to him at last in a manner calculated to enlist all his enthusiasm in its treatment, for it was given him by the Countess of Dalkeith, wife of the heir-apparent to the dukedom of Buccleugh. The ducal house of Buccleugh stood at the head of the clan Scott, and toward its representative the poet always held himself in an attitude of feudal reverence. The Duke of Buccleugh was his "chief," entitled to demand from him both passive loyalty and active service; so, at least, Scott loved to interpret their relationship, making effective in his own case a feudal sentiment which had elsewhere somewhat lapsed. He especially loved to think of himself as the bard of his clan, a modern representative of those rude poets whom the Scottish chiefs once kept as a part of their household to chant the exploits of the clan. Nothing could have pleased his fancy more, therefore, than a request on the part of the lady of his chief to treat a subject of her assigning—namely, the dark mischief-making of a dwarf or goblin who had strayed from his unearthly master and attached himself as page to a human household. The subject fell in with the poet's reigning taste for strong supernaturalism. Gilpin Horner, the goblin page, though he proved in the sequel a difficult character to put to poetic use, was a figure grotesque and eerie enough to appeal even to Monk Lewis. At first Scott thought of treating the subject in ballad-form, but the scope of treatment was gradually enlarged by several circumstances. To begin with, he chanced upon a copy of Goethe's Götz von Berlichingen, and the history of that robber baron suggested to him the feasibility of throwing the same vivid light upon the old Border life of his ancestors as Goethe had thrown upon that of the Rhine barons. This led him to subordinate the part played by the goblin page in the proposed story, which was now widened to include elaborate pictures of medieval life and manners, and to lay the scene in the castle of Branksome, formerly the stronghold of Scott's and the Duke of Buccleugh's ancestors. The verse form into which the story was thrown was due to a still more accidental circumstance, i.e., Scott's overhearing Sir John Stoddard recite a fragment of Coleridge's unpublis
hed poem "Christabel." The placing of the story in the mouth of an old harper fallen upon evil days, was a happy afterthought; besides making a beautiful framework for the main poem, it enabled the author to escape criticism for any violent innovations of style, since these could always be attributed to the rude and wild school of poetry to which the harper was supposed to belong. In these ways The Lay of the Last Minstrel gradually developed in its present form. Upon its publication in 1805, it achieved an immediate success. The vividness of its descriptive passages, the buoyant rush of its meter, the deep romantic glow suffusing all its pages, took by storm a public familiar to weariness with the decorous abstractions of the eighteenth century poets. The first edition, a sumptuous quarto, was exhausted in a few weeks; an octavo edition of fifteen hundred was sold out within the year; and before 1830, forty-four thousand copies were needed to supply the popular demand. Scott received in all something under eight hundred pounds for the Lay, a small amount when contrasted with his gains from subsequent poems, but a sum so unusual nevertheless that he determined forthwith to devote as much time to literature as he could spare from his legal duties; those he still placed foremost, for until near the close of his life he clung to his adage that literature was "a good staff, but a poor crutch."

A year before the publication of the Lay, Scott had removed to the small country seat of Ashestiel, in Selkirkshire, seven miles from the nearest town, Selkirk, and several miles from any neighbor. In the introductions to the various cantos of Marmion he has given us a delightful picture of Ashestiel and its surroundings—the swift Glenkinnon dashing through the estate in a deep ravine, on its way to join the Tweed; behind the house the rising hills beyond which lay the lovely scenery of the Yarrow. The eight years (1804–1812) at Ashestiel were the serenest, and probably the happiest, of Scott's life. Here he wrote his two greatest poems, Marmion and The Lady of the Lake. His mornings he spent at his desk, always with a faithful hound at his feet watching the tireless hand as it threw off sheet after sheet of manuscript to make up the day's stint. By one o'clock he was, as he said, "his own man," free to spend the remaining hours of light with his children, his horses, and his dogs, or to indulge himself in his life-long passion for tree-planting. His robust and healthy nature made him excessively fond of all out-of-door sports, especially riding, in which he was daring to foolhardiness. It is a curious fact, noted by Lockhart, that many of Scott's senses were blunt; he could scarcely, for instance, tell one wine from another by the taste, and once sat quite unconscious at his table while his guests were manifesting extreme uneasiness over the approach of a too-long-kept haunch of venison, but his sight was unusually keen, as his hunting exploits proved. His little son once explained his father's popularity by saying that "it was him that commonly saw the hare sitting." What with hunting, fishing, salmon-spearing by torchlight, gallops over the hills into the Yarrow country, planting and transplanting of his beloved trees, Scott's life at Ashestiel, during the hours when he was "his own man," was a very full and happy one.