Marilyn Monroe Meets Anna Nicole Smith- Death Conspiracies
usf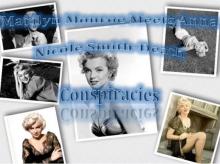 Table of Contents

Page 1: Table of Contents

Page 2: Introduction

Page 3: Marilyn Monroe's Life Until Death

Page 7: Marilyn Monroe After Death and Conspiracies

Page 14: Anna Nicole Smith

Page 16: The Comparison Between Marilyn Monroe and Anna Nicole Smith

Page 18: Works Cited

Page 19: Bibliography

Introduction

Anna Nicole Smith's death is mentioned in this book because Marilyn Monroe's death and Anna Nicole Smith's death are very similar.



The following ebook was put together by students of USF for a class project. The students were Cassie, Alexis, Danielle, Anthony, and Alex.

Marilyn Monroe's Life Until Death

Norma was born on June 1, 1926 known as Norma Jean Baker to Gladys (Monroe) Baker Mortenson in Los Angeles, California. Norma's mom became hospitalized which put her into a foster home at the age of seven. Her mother was diagnosed with paranoid schizophrenia. Norma had a half-brother and half-sister which were with their father. Norma, in this case, did not have the same father.

At this point Marilyn kept moving from foster home to foster home where she did not always get the best education. She alleged she was sexually assaulted during her time in foster care. Nor did she have a decent home life. Norma was placed in a foster home at the age of 16 when her foster parents decided they were going to move. This made Norma decide to get married. She married James Dougherty, but the marriage did not last long. The marriage ended not long after he joined the Marines. While he was away in New Guinea, she began to get lonely and got a job inspecting planes for a radio plane company. During this time, she got very lonely and began to drink alcohol.

In the midst of WWII, Marilyn worked for a radio plane company where photographers found her. She signed up to take a modeling course for three months. This is when she finally divorces Dougherty and made her way to Hollywood. There were screen tests at Twentieth Century Fox and this is when she signed her first contract. She signed a one year contract for one hundred twenty-five dollars a week with Ben Lyon, the head of casting. He was the one who suggested that she switch her name to Marilyn Monroe. But, before that name even came into the picture, they gave her the name Carol Lind. He thought that the name did not fit her very well. His favorite actress was Marilyn Miller. Norma liked the name Marilyn and then they just added her mother's maiden name- Monroe.

During the first year she acted, she did not do any acting and did not renew her contract. The first acting role she had was in Ladies of the Chorus through Columbia Pictures. After that, one role lead to another and she began landing many other roles such as Full House and Monkey Business.

After her appearance in Ladies of the Chorus, Marilyn meant a man named Fred Karger. He helped her when it came to her musical side of her career. When he saw how Marilyn was living she soon moved into his mother's house. Up until Marilyn died, his mother, Anna, still kept in contact. Marilyn fell in love with him. During this stay Marilyn and Fred began to have an affair. This resulted in several pregnancies that all ended in abortions. Fred ended up divorcing his wife. He had no intentions of being with Marilyn, but she wanted to marry him. Marilyn was absolutely crushed.

At this point she was so poor. This is because after six months Columbia dropped her contract and she had no money to survive. This left her no choice but to find someone to live with. She found a friend, Robert Slatzer. She at one point had sexual relations with him. They could barely make ends meet. Then the breakthrough in her career came when she posed nude for a calendar for a photographer, Tom Kelley. This developed into an outrage all over. Within the same year she meant Johnny Hyde. He was the one who convinced her to change her appearance. Soon Marilyn began having plastic surgery on her chin to remove scars, bleaching her hair, and supposedly went as far as getting her tubes tied. With his ties, he landed her a job once again with 20th Century Fox for $500 a week. Their affair ended when Hyde died from a heart attack.

After Hyde died she did attempt suicide. She did this by swallowing a bottle of sleeping pills. Her roommate found her unconscious and saved her life after calling for help. This was not the first time Marilyn tried to commit suicide, and it was not the last time.

In the early 1950's he pictures the Kelley took of her years before became a hit. This is when she became a sex symbol. On January 14, 1954 Marilyn married Joe Di Maggio. He was a Yankee baseball player. By October, their marriage already fell apart and they divorced because of the pressure of her being a sex symbol. Rumor has it that during their relationship he beat her for being an embarrassment to him. The scene in The Seven Year Itch where she's famous for being in a white dress and her skirt blowing up while on top of a sidewalk grate is what set him off.

In between this and Marilyn making her own studio, Marilyn Monroe Productions, she got married to a man named Arthur Miller on July 1, 1956. He wrote plays. She also won "best foreign actress of 1958" by Italian David di Donatello. She also renewed her contract with Fox and appeared in more films. During this time in the 60's, Marilyn was having nervous breakdowns and had many failed pregnancies. Marilyn became so stressed out and unable to handle her fame and her romantic life that she often showed up late to shootings of movies she was in. Not only did that make her career not look good, but her marriage wasn't looking too hot either. After not even five years of marriage, Marilyn divorced Arthur Miller. A year after the divorce, Marilyn entered a psychiatric clinic in New York. There she was diagnosed with borderline personality disorder. There she also got treated for barbiturates and alcohol.

Marilyn was in the psychiatric clinic for a brief time. If you read earlier, Marilyn's mom also had some psychiatric issues. Years after Marilyn's mother was diagnosed with paranoid schizophrenia, Marilyn's half-brother was being diagnosed with the same condition. When she got out she returned to her job at Fox. She got fired not long after that because she had some very disturbing emotional disturbances that they were not going to deal with.

During that same year she became involved with Frank Sinatra. During this time there was get parties where the Kennedy brothers, Robert Kennedy and President John F. Kennedy became rather fond of Marilyn. At parties the three where seen together dancing or in personal conversation. Close friends reported that she was rather fond of John though. During this relationship with the two brothers the FBI were watching her and the mafia has a special eye on Marilyn. She did not know entirely what she was getting into. The mafia had a special eye on her relation with the two boys.

Marilyn moved to her own place in California to be close to her psychiatrist. It began to be a full time job to watch over Marilyn and everything so he found a housekeeper to stay with Marilyn. Eunice Murray drove Marilyn places and cleaned the house as well as kept track of Marilyn's behavior. Marilyn began to become more depressed and her anxieties began to rise. She began to take too many of her sleeping pills and often overdosed. Her stomach had been pumped multiple times due to overdoses in the last couple year she was alive. At that point she heavily relied on her medication.

The public eye started to see the Kennedy boys with Marilyn more and more. Rumors had it that Bobby loves Marilyn, but she didn't feel the same exact way. Many say she had a sexual relationship with him as well. John often visited Marilyn in her new home. It was rumored that they often had sexual relations in one of the baths in her home in California. This is the location for where the affair happened.

Many people apparently started catching wind of the affair.
Some say that Marilyn was talking about coming clean about the affair. At this time Marilyn was very depressed. A week before Marilyn was found dead, she meant with Joe DiMaggio at Lake Tahoe and they talked about remarrying. Apparently, there was a mobster there to make sure Marilyn didn't leak anything about the Kennedy's. The Mobster, Sam Giancana, was very dangerous. The following week Marilyn was found dead.

Marilyn Monroe was found dead on August 4, 1962 in Brentwood, California. She was found with her phone in her hand and naked in bed. To people, Marilyn seemed happy. No one expected her death. But after all is said and done, they found out her diary was missing and the love letters to John F. Kennedy were also missing. Many believe she died because she knew too much.