Instruments of Night
Thomas H. Cook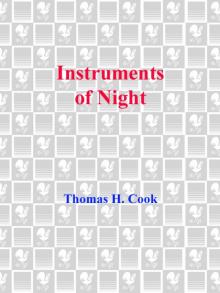 Lavish praise for Thomas Cook's

INSTRUMENTS OF NIGHT

"ANOTHER WINNER … BREATHTAKING."

—Alfred Hitchcock Mystery Magazine

"Emotional, powerful, and effective, a Gothic tale of obsession placed in a modern setting. FANS OF PSYCHOLOGICAL THRILLERS WILL NOT WANT TO MISS IT."

—Houston Chronicle

"No other suspense writer takes readers as deeply into the heart of darkness as Cook. THIS IS ONE POWERFUL STORY."

—Chicago Tribune

"With Cook's fondness for a twisted narrative line and his appreciation of the nuances of terror, he devises a plot that harnesses Graves's gloomy fantasies to a greater evil that should shock him out of his obsessive brooding—or shove him off his mental cliff. Although it's easy to miss the very real clues that Cook drops so artfully into the story, there's no ignoring his savage imagery, or escaping the airless chambers of his disturbing imagination."

—The New York Times Book Review

"With Instruments of Night, COOK AGAIN PROVES HIMSELF ONE OF THE MOST SKILLFUL, 'IMAGINATIVE' WRITERS ON THE MYSTERY SCENE TODAY. IT'S ONE OF THE YEAR'S BEST—A TALE THAT DARES YOU TO PUT IT DOWN. YOU WON'T."

—Lexington Herald-Leader

"Cook's last book, The Chatham School Affair, won the 1997 Edgar Award for best novel, and his haunting new one, Instruments of Night, could be a contender."

—Los Angeles Times

"Cook's previous novel, The Chatham School Affair, won the Edgar Award for Best Novel. His latest is every bit its equal, a beautifully composed tale with enough plot twists to satisfy even fans who have learned to expect surprises from this talented author…. [Cook delivers] ANOTHER INDELIBLY HAUNTING TALE THAT ONCE AGAIN DEMONSTRATES THAT HE IS AMONG THE BEST IN THE BUSINESS."

—Publishers Weekly (starred review)

"A POWERFUL NOVEL OF PASSION AND BETRAYAL THAT REACHES THE DEPTHS OF FEAR AND VIOLENCE … COOK, EXPLORING THE DEPTHS OF FEAR, MEMORY, AND IMAGINATION, HAS SCORED ANOTHER CRIME NOVEL OF MYSTERY AND SUSPENSE."

—Abilene Reporter-News

"An enthralling tale that cannily uses elements of the Gothic thriller."

—The Seattle Times/Seattle Post-Intelligencer

"YOU WILL BE ENTHRALLED … BY TOM COOK'S LATEST, DAZZLING AND SCARIFYING NOVEL…. THIS IS AN INTENSELY COMPELLING, BEAUTIFULLY WRITTEN JOURNEY INTO PASTS BOTH KNOWN AND UNKNOWN WITH A KNOCK-OUT ENDING."

—Mystery Lovers Bookshop News

"Edgar-winner Thomas Cook writes powerful layered novels with original heroes who choose to walk down paths that quietly, inexorably, lead them to ever darker places in the human heart, and ultimately to breathtaking and revelatory surprises at their journeys' ends. Hypnotic prose and fresh scenarios set his suspense fiction apart. Instruments of Night is up to his usual standards. … If you've not yet been haunted by a Thomas Cook novel, now is a fine time to start."

—Star-Tribune, Minneapolis

"AS BOTH A HAUNTING PSYCHOLOGICAL THRILLER AND A REAL STUMPER OF A MURDER MYSTERY, INSTRUMENTS OF NIGHT IS WOVEN BEAUTIFULLY, BY A MASTER STORYTELLER."

—Fort Worth Star-Telegram

"Cook's mysteries have always been montages of past and present, the eerie inevitability of déjà vu. His plots are tightly constructed, dark undercurrents seamlessly combined with a beguiling, almost idyllic storyline. Instruments of Night continues the Cook legacy…. THIS IS ANOTHER SPOOKY, OFTEN SCARY AND INEVITABLY ENTERTAINING NOVEL FROM A MASTER OF THE GENRE."

—St. Louis Post-Dispatch

"Fans of psychological thrillers—and especially fans of this Edgar Award-winning author—will flock to this title."

—Booklist

"ONE OF THE MOST COMPLEXLY TOLD THRILLERS I'VE EVER READ … YOU WILL BE 'HOOKED' WHEN YOU START READING…. COOK MANAGES TO COMBINE THE POWER OF A GOOD STORYTELLER WITH AN UNBLINKING LOOK INTO THE ABYSS OF HUMAN SAVAGERY."

—The Philadelphia Inquirer

"Cook teases readers throughout the narrative with tantalizing bits from Graves' own past…. But he also saves the best—and most shocking revelations—until practically the last page."

—The Orlando Sentinel

"Another winner. BREATHTAKING … HERE'S A WRITER WITH THE TONGUE OF A BARD, A SAGE'S EYE FOR CHARACTERS, AND THE IMAGINATION OF A VISIONARY. IT'S A DYNAMITE COMBINATION."

—Alfred Hitchcock Mystery Magazine

"A PENETRATING GLIMPSE INTO A MAN'S SOUL AFTER HE HAS LOOKED INTO THE FACE OF EVIL … Starkly compelling and brilliantly written, Thomas Cook's latest offering is powerful reading."

—Rendezvous

"Every once in a while you read a book you never forget. The excitement of it stays with you down the years, fresh and vital. Thomas H. Cook's latest novel [is] a dark, literate journey that sheds light on the past."

—barnesandnoble.com

"A FASCINATING, WELL-CRAFTED TALE OF HORROR AND MYSTERY THAT [IS] IMPOSSIBLE TO PUT DOWN … IT WOULD BE UNFAIR TO GIVE AWAY THE SIZZLING ENDING…. Cook is a master of subtlety as he weaves the past and present in and out of his own story."

—Milwaukee Journal Sentinel

"COOK IS A MASTER OF THE MULTILAYERED THRILLER."

—American Way

Also by Thomas H. Cook

FICTION

The Chatham School Affair

Breakheart Hill

Mortal Memory

Evidence of Blood

The City When It Rains

Night Secrets

Streets of Fire

Flesh and Blood

Sacrificial Ground

The Orchids

Tabernacle

Elena

Blood Innocents

NONFICTION

Early Graves

Blood Echoes

And coming soon in hardcover

from Bantam Books

Places in the Dark

For my mother, Mickie Cook.

And in loving memory of my father,

Virgil Cook (1917-1996).

Terror sharp as spurs.

—Paul Graves,

The Lost Child

PART ONE

The truth always whispers

in the ear of the deceiver.

—Paul Graves,

Into the Web

CHAPTER 1

Looking out over the city, imagining its once-coal-blackened spires, he knew that he did it to keep his distance, that he set his books back in time because it was only in that vanished place, where the smell of ginger nuts hung in the air and horse-drawn water wagons sprayed the cobblestone streets, that he felt truly safe.

It was nearly dawn, and from the narrow terrace of his apartment, Graves could see a faint light building in the east. He'd been up all night, typing furiously, following Detective Slovak through the spectral back streets of gaslight New York, the two of them—hero and creator—relentlessly pursuing Kessler from one seedy haunt to the next, the groggeries of Five Points, the whorehouses of the Tenderloin, its boy bars and child brothels, watching as Kessler's black coat slipped around a jagged brick corner or disappeared into a thick, concealing bank of nineteenth-century fog. Together, they'd questioned bill stickers and news hawkers and a noisy gaggle of hot-corn girls. They'd dodged rubberneck buses and hansom cabs and crouched in the steamy darkness of the Black Maria. For a time they'd even lingered with a "model artist" who'd just come from posing nude for a roomful of gawking strangers, Slovak mournfully aware of the woman's fate, his dark eyes watching silently as her youth and beauty dripped away, her life a melting candle. They'd finally ended up on the rooftop of a five-story tenement near the river. Slovak
teetered at the brink of it as he searched the empty fire escape, the deserted street below, amazed that Kessler had done it again, disappeared without a trace. It was as if he'd found some slit in the air, slipped through it into a world behind this world, where he reveled in the terror he created.

Graves glanced back into his apartment. The chaos that had accumulated during the night was spread throughout the room, small white cartons of Chinese food, dirty cups and glasses, a desk strewn with papers, his ancient manual typewriter resting heavily at the eye of it all. Compared to the sleek computer screens and ergonomic keyboards most other writers now used, the typewriter looked like a perverse relic of the Inquisition, a mechanical thumbscrew or some other infinitely refined instrument of medieval torture. Once, at an exhibition of such artifacts, Graves had seen a dagger made in the form of a crucifix, its handle cut in the shape of Christ's body to provide a better grip. Years later he'd written a scene in which Kessler had pressed an identical weapon into Sykes' trembling hand, forced him to draw it slowly across the sagging folds of an old woman's throat. Sykes. Kessler's cowering sidekick. The shivering, panicked instrument of Kessler's will.

Graves took a sip of coffee and let his eyes drift out over the East River, the bridges that spanned its gray waters, cars moving back and forth on them like ants along a narrow twig. Within an hour traffic would become an unbroken stream, the noise of the city steadily increasing down below, so that even from his high aerie, perched like an eagle's nest on the fortieth floor, he'd have to close the windows to keep it out.

It was nearly five hours before he had to catch a bus upstate, to the Riverwood Colony, where he'd been invited to spend the weekend. He'd need to get a little rest before then, since his mind was too easily alarmed by changing scenes, distant voices, unfamiliar smells for him ever to sleep in transit. Instead, he'd stare out the bus window, alert and edgy, as towns and villages flashed by, inventing tales as he went along. Passing an empty field, he might suddenly envision the moldering bones of some once-desperate girl, a runaway who'd knocked at the wrong door a hundred years before, young and vulnerable, pale and hungry, wrapped in a threadbare woolen shawl, snowflakes clinging to her lustrous hair, her small, childlike voice barely audible above the howl of the wind: I'm so sorry to disturb you, sir, but might I warm myself beside your fire? He could see the man beyond the door, imagine what he imagined, her quivering white breasts, the cold-stiffened nipples, feel his fingers probing the latch as he drew back to let her in, his voice sweet, unthreatening, Of course, my dear, come in.

It was always the isolated farmhouses that called up the most dreadful scenes. Graves knew firsthand the horror that could befall them, how vulnerable they were to sudden violence and death. Once, edging close to the forbidden, he'd actually described a young woman's murder in such a place: Kessler, the arch villain in all of Graves' books, directing Sykes through the brutal ritual while Slovak, Graves' tireless hero, knowing where Kessler was, what he was doing, and desperate to stop him, had pounded up the flickering, smoke-filled aisles of a stranded snowbound train, panting heavily by the time he'd finally reached the engine. But once there, he'd found the engineer too terrified by the storm to press onward, so that once again Kessler had escaped due to some unexpected cowardice, fear the servant upon which evil could most confidently rely. It was a circumstance often repeated in Graves' books, one of his abiding themes.

Graves drew in a breath and felt a wave of exhaustion settle over him. He knew where the weariness had come from and why it was so heavy. He and Slovak had just trudged up five flights of stairs, slammed through a thick wooden door, and raced across a wide black roof, arriving breathless and exhausted at its edge.

Now, looking out over the city, it seemed strange to Graves that within an instant he had transported himself to this quiet terrace where he stood, calmly sipping tepid coffee in the early morning light while in the world of his creation, Slovak remained on the other side of town, thirty blocks away in space and more than a century instant in time, staring out over the same enigmatic web of streets and rooftops as Kessler crept up from the rear, grinning as he drew the little silver derringer from beneath his coat, good and evil about to face each other squarely in the dawning light.

Graves left his apartment for the Port Authority Bus Terminal a full thirty-two minutes before he needed to. His early departure sprang from his sense that being on the move was safer than remaining in place. A bird in its nest, warming its eggs, with something to protect, that was the predator's best mark. To Graves, this truth amounted to a law of nature and applied equally to both animal and human worlds. To stop allowed the net to fall, the trap to spring, the hand to reach out from behind, to grasp the unsuspecting shoulder.

Once at the bus station, Graves remained on the move. He wandered through the terminal's wide corridors, watching strangers as they lounged near their boarding gates, his eyes roaming freely until they settled upon a particular person. It was a behavior he'd given to Kessler as well, directing him into densely packed railway stations, his keen, predatory eyes forever searching the throng for the one who was lonely or the one who was abandoned, cutting from the herd the straggler and the cripple, sniffing the air for the scent of open wounds. "Victims are born for my pursuit," Kessler had once written in one of the letters he used to taunt and torture Slovak. "Just as villains are born for yours."

On this particular morning Graves' attention was drawn to a woman with tangled gray hair who sat at Gate 35. She was eating a huge muffin, using a brown paper bag both as a plate and, occasionally, a napkin. Since the woman was neither young nor beautiful, Graves supposed that she might well be less alert, believing that none around her could possibly take an interest. If that were true, she would be the perfect victim for Kessler. Isolated, unobservant, dully focused on a slab of cornmeal rather than the black-coated figure who, in Graves' imagination, had just eased himself into the seat beside her.

Graves was still watching the woman a few minutes later, the tale developing effortlessly in his mind. By then Kessler had engaged her in conversation, the two of them nodding and smiling, the old woman quite flattered by the unexpected attention of such an interesting and well-mannered gentleman. While they talked, snow fell over the streets outside, blanketing Edwardian New York in a dream of purity, horse-drawn carriages struggling through its ever-deepening mounds. Inside the great terminal, gaslights flickered and coal glowed red in the heating stoves, steaming the nearby windows as Kessler gave the signal and Sykes crept forward tremblingly, his pale, boyish face in shadow beneath the wide bill of a tattered cap, his hands nervously slapping snow from the shoulders of a ragged wool cape.

The plan was now in operation. Graves could feel the odd heat that always rose in Kessler at such moments, how moist his fingers became as they toyed with the slender cord he kept coiled in the pocket of his leather coat.

Sykes' shadow had just fallen over the old woman's face when Graves heard the announcer call his destination. He rose and headed for his bus, glancing only briefly toward the woman with the muffin. She was alone now. Kessler was no longer seated beside her, but returned to Graves' mind, the gray chamber where he lived, silent, sinister, forever plotting his next violation, the instruments he would use to pass the night.

Despite the traffic, the bus moved smoothly up the West Side Highway, across the George Washington Bridge, and finally through a ring of squat suburban towns. The trees and fields swept in after that, and Graves gazed out the window and looked for deer, hoping that no human being would come into his view, since, inevitably, the sight of some isolated figure on a deserted country road would summon images he could not easily shake off.

It was mid-afternoon when the bus reached its destination of Britanny Falls, a village snuggled among the hills of the Hudson Valley. Graves remained seated while the other passengers left the bus. It was a tactic he routinely employed in order to avoid the uneasy sensation o
f having people close in from behind him. Just outside the window, he noticed a small, slender woman in a flowered dress. She had shimmering blond hair and looked to be in her early twenties. A little girl stood beside her, clinging to a cone of ice cream. The woman was talking to a short, portly man in drab work clothes, and as they talked, she often threw back her head and laughed. Watching her, Graves guessed that in all likelihood she could not imagine the possibility that at that very moment, as she bade good-bye to the man in work clothes and headed for her car, idly reaching for her daughter's hand, one of Kessler's countless minions might be peering through the slit in her kitchen curtains, staring out at her empty driveway, waiting. For as Graves knew, until it happened to you, until you'd seen it eye to eye, smelled its breath, you could not imagine how quickly terror could fall upon you, do its hideous damage, then leave you, if not dead, then partly dead. Dead to the love of open spaces and solitary walks. Dead to the pleasures of silence and the peace of empty rooms. Even dead to other people, to the as-yet-unharmed, the world irrevocably divided between those so darkened by experience they saw evil everywhere, and those who, having never felt its grip, saw it not at all. But more than anything, dead to the comforting notion that terror's depths were not infinitely deep, fear not the marrow in our bones.

CHAPTER 2

The invitation had instructed Graves to remain at the bus stop at Britanny Falls, assuring him that transportation to Riverwood would be provided. He sat on the wooden bench, watching as the town's life unfolded before him. In its leisurely pace and unruffled tone, it reminded him of the small North Carolina town not far from the farm where he'd lived for the first twelve years of his life with his mother and father and his older sister, Gwen. Like Britanny Falls, Claytonville had been a peaceful, unhurried place. Graves could remember how utterly unthreatened he'd felt as he moved freely down its one main street, how casually his mother had talked to Mr. Casey, who ran the general store, or to Mr. Banks, who sold farm goods and occasionally made small loans or extended credit to the farm families who lived in the surrounding area.