Places in the Dark
Thomas H. Cook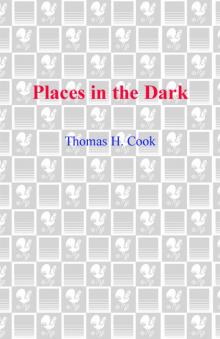 Lavish praise for Thomas Cook's

Places in the Dark

"A serpentine tale of long-buried secrets leading to murder and betrayal … Reminiscent of John Fowles' The French Lieutenant's Woman."

—The Orlando Sentinel

"A strong, suspenseful story … Cook accomplishes what he consistently does so superbly: He sets the tone, creates characters, [and] engages the reader."

—The Houston Chronicle

"Mr. Cook springs his share of effective plot surprises … Maybe the greatest is the wonderfully redemptive ending."

—The Wall Street Journal

"Skillfully blends flashbacks with current action and his deftly-drawn characters invoke both empathy and pity. In sum, a splendid performance by a gifted artist."

—San Diego Union-Tribune

"A brooding excursion into the depths of the human heart, full of surprises and dread, with a stunning ending."

—Portsmouth Herald

"[The] tale rush[es] toward its climax with all the doomy energy of its opening image: a swift-moving current pulling a helpless child toward rapids, a waterfall, and a watery grave."

—Kirkus Reviews

"Complex, multi-layered, and haunting, Places in the Dark is as chilling as a freezing rain, a novel that will get under your skin and stay there. This is a story that will make you a fan of Cook forever."

—Romantic Times

"Another lyrical, whispery mystery … Using his inimitable flashback style, Cook mesmerized this reader anyway with a tale of simple people whose fate ties them to resounding tragedy."

—Booked & Printed

"Cook is a master at portraying very original heroines that will inevitably draw you into a haunting and well written story."

—The Purloined Letter

"A sea-swept village on the coast of Maine … provides an effective backdrop for the inner torments of Cook's characters … Each mystery in his puzzle box of a book becomes another mystery entirely, drawing the reader into more and more complex assessments of motive and guilt until the unthinkable seems inescapable … Observing his main characters as they run amuck has the dread fascination of watching a slow-motion train wreck."

—Booklist (starred review)

"Haunting … Cook is a top-notch writer."

—The Sunday Oregonian

"Cook is an author who doesn't jolt readers as much as he hypnotizes them. Places in the Dark is elegantly written, conveying a gentle, almost English feel for characters development."

—St. Petersburg Times

Instruments of Night

"[A] once-in-a-lifetime masterpiece."

—Kirkus Reviews

"Cook writes powerful layered novels with original heroes who choose to walk down paths that quietly, inexorably, lead them to ever darker places in the human heart, and ultimately to breathtaking and revelatory surprises at their journey's ends."

—Minneapolis Star Tribune

"Probably no other suspense writer takes readers as deeply into the heart of darkness as Cook … As always, Cook's prose is precise, his storytelling slow and deliberate. This is one powerful story."

—Chicago Tribune

"Although it's easy to miss the very real clues that Cook drops so artfully into the story, there's no ignoring his savage imagery, or escaping the airless chambers of his disturbing imagination."

—The New York Times Book Review

"An excellent psychological thriller … Fans of psychological thrillers—and especially fans of this Edgar Award—winning author—will flock to this title."

—Booklist

"Starkly compelling and brilliantly written, Thomas Cook's latest offering is powerful reading."

—Rendezvous

"Cook's last book, The Chatham School Affair, won the 1997 Edgar Award for best novel, and his haunting new one, Instruments of Night, could be a contender … The denouement took me by surprise and disturbed me for days."

—Los Angeles Times

"An enthralling tale that cannily uses elements of the Gothic thriller."

—The Seattle Times/Seattle Post-Intelligencer

"Hypnotic prose and fresh scenarios set [Cook's] suspenseful fiction apart … If you've not yet been haunted by a Thomas Cook novel, now is a fine time to start."

—Star Tribune, Minneapolis

"A beautifully composed tale with enough plot twists to satisfy even fans who have learned to expect surprises from this talented author … [Cook] deliver[s] another indelibly haunting tale that once again demonstrates that he is among the best in the business."

—Publishers Weekly (starred review)

"Cook teases readers throughout the narrative with tantalizing bits from Graves' own past … But he also saves the best—and most shocking revelations—until practically the last page."

—The Orlando Sentinel

"Cook's latest novel is, in the words of Mystery Scene editor, Ed Gorman, the 'best of all' his mysteries, a fascinating tale of murder and small-town mayhem … A dark, literate journey that sheds light on the past."

—barnesandnoble.com

"This is not a novel for the faint of heart … Cook is a master of subtlety as he weaves the past and present in and out of his own story."

—Milwaukee Journal Sentinel

The Chatham School Affair

Edgar Award Winner for Best Novel

"A seductive book."

—The New York Times Book Review

"Cook is a master, precise and merciless, at showing the slow-motion shattering of families and relationships … The Chatham School Affair ranks with his best."

—Chicago Tribune

"Intelligent … compassionate … surprising."

—The Boston Sunday Globe

"Cook uses the genre to open a window onto the human condition…. Literate, compelling … Events accelerate with increasing force, but few readers will be prepared for the surprise that awaits at novel's end."

—Publishers Weekly (starred review)

"Powerful, engaging, and deeply moving … highly recommended."

—Booklist

"A remarkable novel of memory and buried secrets."

—The Armchair Detective

"Thomas Cook is an artist, a philosopher, and a magician; his story is spellbinding."

—The Drood Review of Mystery

"Swift, thoughtful and plausible … As in nearly all good crime fiction, the moral and practical complications … expand like ripples in a pond … The Chatham School Affair is the tragic, lyrically told story of a sordid scandal, the town's revenge on the perpetrators, and one man's long-delayed journey toward redemption."

—Boston Herald

"Moody, eloquent."

—San Francisco Sunday Examiner & Chronicle

"Cook is one of the most lyrical of today's novelists. His prose flows effortlessly, yet beneath its rhythm Cook's characters perform the most shocking and deadly of deeds … An extraordinary writer."

—Sun, Calgary, Alberta

"Transfixing suspense."

—Booknews from The Poisoned Pen

"[Cook's] portrait of a small—and ultimately small-minded—town is a skillful one. And just when you think the puzzle is complete, Cook artfully presents yet another piece—rearranging all your expectations."

—The Orlando Sentinel

Evidence of Blood

"In [his] previous novels … Cook has shown himself to be a writer of poetic gifts, constantly pushing against the presumed limits of crime fiction … In this fine new book, he has gone to the edg
e, and survived triumphantly."

—Charles Champlin, Los Angeles Times Book Review

"Gripping southern drama, with its byzantine family trees, old wives' tales, and overheated memories."

—Kirkus Reviews

Breakheart Hill

"Haunting, lyrical … a mesmerizing tale of love and betrayal."

—Alfred Hitchcock Mystery Magazine

"Intense … Impossible to put down."

—Rendezvous

"Cook has crafted a novel of stunning power, with a climax that is so unexpected the reader may think he has cheated. But there is no cheating here, only excellent storytelling."

—Booklist

"Cook's writing is distinguished by finely cadenced prose, superior narrative skills, and the author's patient love for the doomed characters who are the object of his attention…. Highly recommended."

—Library Journal (starred review)

Mortal Memory

"Cook builds a family portrait in which violence seems both impossible and inevitable. One of [Mortal Memory's] greatest accomplishments is the way it defies expectations … surprising and devastating."

—Chicago Tribune

"Haunting … Don't pick this up unless you've got time to read it through … because you will do so whether you plan to or not."

—Alfred Hitchcock Mystery Magazine

More praise for Thomas H. Cook

"Cook's night visions, seen through a lens darkly, are haunting."

—The New York Times Book Review

"A gifted novelist, intelligent and compassionate."

—Joyce Carol Oates, The New York Review of Books

Also by Thomas H. Cook

Fiction

*INSTRUMENTS OF NIGHT

*THE CHATHAM SCHOOL AFFAIR

*BREAKHEART HILL

*MORTAL MEMORY

*EVIDENCE OF BLOOD

THE CITY WHEN IT RAINS

NIGHT SECRETS

*STREETS OF FIRE

FLESH AND BLOOD

SACRIFICIAL GROUND

THE ORCHIDS

TABERNACLE

ELENA

BLOOD INNOCENTS

Nonfiction

EARLY GRAVES

BLOOD ECHOES

And coming soon in hardcover

from Bantam Books

THE INTERROGATION

*Available from Bantam Books

This book is dedicated to

IRVIN AND LUCILLE HARRIS

VENA AND T. L. GILLEY

DUARD AND VIOLET HARPER

EMORY AND RUTH HARPER

NELL AND STARLING DAVIS

MICKIE AND VIRGIL COOK

LILLIAN AND JULIAN RITTER

NOMA AND LEON TOWNSEL

JETTA AND RAYFORD CARSON

Salt of the Earth

and to

DANIEL FURMAN

Back at you on paper

It is so well known in every village,

how many have either died for love,

or voluntarily made away themselves,

that I need not much labour to prove it;

Death is the common Catastrophe

of such persons.

ROBERT BURTON

The Anatomy of Melancholy

Part One

PORT ALMA, MAINE

1937

Chapter One

More than anyone I ever knew, my brother Billy felt the rapid wings of summer, how it darted like a bird through the trees of Maine, skittered along streams and ponds, then soared away, bright and gleaming, leaving us behind, shivering in coats and scarves.

It was on one of those fleeting summer days that he saved Jenny Grover's life. He'd built a wooden raft out of planks discarded by a local sawmill, packed the space between the boards with rags and mud, then asked me to help him carry it to the spot where Fox Creek widened and deepened, its current growing turbulent again just beyond the bend, where it made its headlong rush toward Linder Falls.

"I'm going to make it all the way across," he declared. He was twelve years old, shirtless, barefoot, dressed only in a pair of cut-off trousers.

"It's going to sink, Billy," I warned him. "Believe me, it's going to sink like a stone."

He laughed. "If it sinks, we'll swim."

"We? I'm not going out on that thing."

"Oh, come on, Cal."

"No," I said. "Look at me."

Unlike Billy, I was fully dressed, having made no compromise with summer beyond a pair of sandals.

"Okay then," he said. "You can go back home."

"No, I'll wait."

"Why?"

"Because someone has to pull you out of the water," I told him. "That's why I came along. To save your life."

This was not entirely a joke. Five years older, I had long ago assumed the part of the vigilant, protective brother, certain that throughout our lives I would be there to protect him. I'd already caught him as he tumbled from chairs and staircases, tugged him away from blazing hearths, snatched his fingers from closing doors. Once I'd even managed to drag him off a rearing pony, lower him safely to the ground. My mother had scolded me for that. "He can't avoid getting hurt, Cal," she said. "Next time let him fall."

It was the sort of statement I'd come to expect from my mother, the great value she put on experience, especially painful experience.

It was not the sort of advice I cared to take, however. Nor, following it, did I in the least intend to let my brother sink into Fox Pond.

"Be careful, Billy," I cautioned as he stepped onto the raft, plunged his wooden paddle into the water, and pushed out into the current. "It's white water just around the bend."

His eyes sparkled. "You'll be sorry you didn't come with me."

"No, I won't."

"You miss all the good stuff, Cal."

I pointed to the trickle of water already seeping into his raft. "Like drowning?"

His smile was a light aimed at the world. "Like almost drowning," he replied. "See you on the other side, Cal."

With that, he shoved the handle against the rocky bottom again, this time with all his might, so that the raft shot forward with such force, it left a rippling wake behind it.

I watched as he floated out into the stream, then sprinted for the rickety wooden bridge that spanned it.

Billy had already made it a third of the way across the water by the time I reached the bridge. He was paddling furiously now, trying to reach the opposite bank before his inadequate makeshift raft sank beneath him. At midstream he grinned and waved to me.

"Will it make it?" I called, growing anxious now.

"Sure," he returned breathlessly, the raft still afloat but riding low in the water.

I bounded off the bridge, then along the edge of the water. Billy was two thirds across by then, grinning, triumphant that the raft was still afloat.

"Land ho," I yelled.

He laughed for an instant, then stopped, his eyes suddenly concentrated on some point in the distance.

It was at that moment that Jenny Grover swept out from under the bridge, clinging, terror-stricken, to a black rubber tube. She was moving swiftly on currents that had not yet tamed, and which would inevitably propel her across the still-turbulent surface that lay between the bridge and the lethal, churning waters that waited just beyond the bend, water that would, within minutes, carry her over Linder Falls.

The horrible truth hit me instantly. Jenny Grover,five years old, was going to die. It was an irrefutable fact. I might dive into the water, try to intercept her, but she would have long swept past any point I might reach along her path. There was nothing between Jenny and the falls, nothing that might grasp the rubber tube or direct it toward shore.

Nothing, that is, but my brother.

I spun around and saw that he stood in place, the paddle motionle
ss in his hands, the raft sinking beneath him, his gaze fixed on Jenny Grover. Instantly, I knew what he was thinking.

"No!" I shouted. "Don't!"

He looked at me, sunlight glistening in his wet hair, then turned and dove headlong into the water, a gleaming, graceful, fleeting thing, the white bird of summer.

I felt my heart quake, all my passion surge in a silent, shining prayer, Live!

Then I rushed into the stream myself, swimming madly toward Billy even as he swam away from me, his arms shooting in and out of the turbulent water, plowing with all his might toward Jenny Grover.

I had made it to the raft by the time he reached her, saw him grasp the black tube, then, with a fierce backward stroke, pull it toward him.

"Got her," he called. There was a strange, exultant happiness in his voice.

I swam out to him, grasped the tube, and together we hauled it back to shore.

Once on land, Jenny wept softly, wrapped tightly in my brother's arms.

"You're a hero, Billy," I said.

He looked at me, blue eyes sparkling.

"A real hero," I repeated.

My father, however, had a different view of what Billy did, one he made the mistake of declaring that same evening as we came to the end of dinner. I'd just finished telling the whole tale, Billy's raft, his sail out onto Fox Creek, how he'd leaped into the water, pulled Jenny Grover from death's way.

As I finished, Billy glanced at our mother, confirmed that she was unmistakably proud of what he'd done, then looked at our father, no doubt expecting the same admiring response.