Six Scary Stories
Stephen King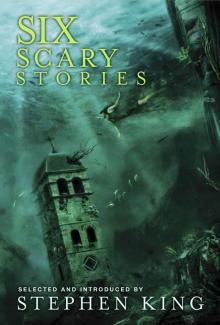 Contents

About Stephen King

Title Page

Copyright

Introduction to Six Scary Stories by Stephen King

Wild Swimming by Elodie Harper

Eau-de-Eric by Manuela Saragosa

The Spots by Paul Bassett Davies

The Unpicking by Michael Button

La Mort de L'Amant by Stuart Johnstone

The Bear Trap by Neil Hudson

ABOUT STEPHEN KING

No. 1 bestselling author Stephen King is an acclaimed master of novels and short stories. His collection The Bazaar of Bad Dreams received excellent reviews, with his story 'Obits' winning the Edgar Award for Best Short Story:

'King can sketch a full-blooded character in just a few pen strokes. This gift comes to the fore in his short stories, where every syllable counts' — Sunday Telegraph

'Short stories have a famous place in the King oeuvre, with the likes of The Body and Rita Hayworth and Shawshank Redemption finding second lives on the big screen as Stand By Me and The Shawshank Redemption . . . Like all the greats, though, his ability to grip the reader's mind, body and soul with his prose makes it all look easy' — USA Today

King won an O. Henry Award, he was recipient of the 2003 National Book Foundation Medal for Distinguished Contribution to American Letters and in 2015 he won America's National Medal of Arts. He is the author of more than fifty books, all of them international bestsellers, including Misery, On Writing: A Memoir of the Craft and End of Watch. He lives with his wife, novelist Tabitha King, in Maine and Florida.

Elodie Harper

Manuela Saragosa

Paul Bassett Davies

Michael Button

Stuart Johnstone

Neil Hudson

www.cemeterydance.com

Copyright © 2016 by Stephen King

INTRODUCTION copyright © 2016 by Stephen King

WILD SWIMMING copyright © 2016

EAU-DE-ERIC copyright © 2016

THE SPOTS copyright © 2016

THE UNPICKING copyright © 2016

LA MORT DE L'AMANT copyright © 2016

THE BEAR TRAP copyright © 2016

All rights reserved. No part of this book may be reproduced in any form or by any electronic or mechanical means, including information storage and retrieval systems, without permission in writing from the publisher, except by a reviewer who may quote brief passages in a review.

Cemetery Dance Publications

132-B Industry Lane, Unit #7

Forest Hill, MD 21050

http://www.cemeterydance.com

The characters and events in this book are fictitious.

Any similarity to real persons, living or dead,

is coincidental and not intended by the author.

eBook ISBN: 978-1-58767-569-0

eBook Design copyright © 2016 by Hodder & Stoughton Ltd.

eBook Cover Artwork copyright © 2016 by Vincent Chong

INTRODUCTION TO SIX SCARY STORIES

By Stephen King

I enjoy working with my British publisher, partly because the folks at Hodder have always been friendly and helpful, perhaps more because they have always published my books with joie de vivre and enthusiasm. They're also promotional wizards (for the current book, they have invented an amusing little grid-game, sort of like Battleship, where participants can win prizes for picking the right square). So when my editor, Philippa Pride, said Hodder wanted to have a short story competition to promote The Bazaar of Bad Dreams, I agreed to pick a winner. Entrants were encouraged to write something scary, based on a few lines I wrote in the introduction to Bazaar: 'There's something to be said for a shorter, more intense experience. It can be invigorating, sometimes even shocking, like a waltz with a stranger you will never see again, or a kiss in the dark.' A quick, unsettling encounter, in other words.

I'll admit that I had my reservations. I have judged similar competitions in the past, and found the quality of the entries to be . . . erm, shall we say lacking. It usually came down to picking the best of a bad lot. Still, the way this competition was set up made my part of the job look pretty easy. The avalanche of entries (over 800, as it turned out), would be winnowed down to twenty. These would be further winnowed to a short list of just six stories by a panel of judges that included redoubtable Ms Pride, Kate Lyall-Grant of Severn House Publishers, and Claire Armistead, the Books Editor at the Guardian. I felt that with such seasoned veterans separating the sheep from the goats, I would be able to select at least one story that wasn't too embarrassing.

I wasn't the only one with doubts. In her piece for the Guardian, Ms Armistead wrote, 'I have to admit that the prospect of ploughing through dozens of wannabe Carries and second-rate Shinings seemed like the roundabout route to Misery.'(This, dear reader, is known as British humour.) But she went on to say, 'It turned out to be a far more interesting task than I had expected, demonstrating that there are plenty of talented storytellers out there.'

Absolutely spot-on, Ms Armistead, and good on you. I was stunned – and absolutely delighted – to discover that all six of the stories sent on for my consideration were very good, indeed. In some cases the prose was a bit more felicitous than in others, but each and every one of them had an original slant, and in each and every one there was that icy frisson of fear, that quick stab of the literary ice-pick that we look for in tales of horror, terror, and the supernatural. Also – this is important, because scary stories are extremely delicate – each of the writers had internalised the most important rule when it comes to inducing unease: Never tell too much. The monster is always scarier when it is still under the child's bed; the intruder is more frightening when he (or it) is still a shadow on the wall, or a breathing presence behind the door.

After a lot of brow-furrowed cogitation and a great deal of shuffling the order of the stories around, I picked a winner (the extraordinarily atmospheric 'Wild Swimming', by Elodie Harper). That might have been the end, but I was unsatisfied, because the other five were all terrific, and of publishable quality. I suggested that it would be a treat for the writers – not to mention a gift for potential readers – if these stories could be published together. Phil Pride agreed, along with my friend Rich Chizmar at Cemetery Dance, and the slim but powerful volume (or Ebook) you hold in your hands is the result.

I could elucidate the charms of each individual story (part of me longs to do just that, because in my heart, I'm just another fanboy), but that would be unfair to you, Constant Reader, and even more unfair to the stories that follow. It would be violating the Prime Directive; it would be telling too much. When frightening stories work – when they actually raise our heart-rate and the short hairs of the backs of our necks – they do so because each one harbours a small, malignant secret. Each of the half-dozen stories that follow harbours such a secret, and you must discover them on your own. I'll have no part in spoiling the experience.

In closing, I want to repeat how extraordinary it was to find not just two or three of the final submissions were good, but all of them. I'm not sure what's up with you Brits, but if it's something in the water, my advice is keep drinking it.

All okay, then? I hope so, because this is where I let go of your hand and send you off with your six not entirely trustworthy guides. Enjoy the trip.

Stephen King

June 5, 2016

WILD SWIMMING

ELODIE HARPER

ELODIE HARPER

Elodie has
been making her living from storytelling for the last ten years in TV and radio current affairs. She is currently a reporter and presenter for ITV Anglia in the East of England. It's a part of the country she particularly loves, not least because it has its own drowned village – the medieval town of Dunwich off the Suffolk coast.

Before working as a journalist Elodie graduated from Oxford University with a first class degree in English and spent a couple of years employed as an actress. This included filming the ITV drama Jekyll and Hyde in Lithuania, where this story is set. She never went diving in any Lithuanian reservoirs, but has been wild swimming in the Lake District. Though unlike her heroine Chrissie, she found the sense of endless depth beneath her feet a bit too spooky.

Elodie is married with a young son. Her debut novel The Binding Song, a gothic thriller set in a Norfolk prison, will be published by Hodder's Mulholland Books in 2017.

ELODIE ON STEPHEN KING

'I love so many of his books. His work has shown me the importance of the story – and how the supernatural can be used in different ways. The Shining is an exceptional novel, not only terrifying but also unique for the way Stephen King uses the supernatural to give the reader an insight into alcoholism. Jack is such a tragic figure, somebody the reader really likes, and what happens to him is not just frightening but heartbreaking. Night Shift is my favourite collection of stories by any writer. Each one is a self-contained world – a joy to read.'

WILD SWIMMING

From: [email protected]

To: [email protected]

Date: 29 May 2015, 20:03

Dude!

Can you believe this place has Wi-Fi! Finally back in contact . . . How are you?

I'm in Vaiduoklis, this tiny little place next to a massive reservoir, a couple of hours' train ride from Vilnius. The capital was very pretty, in a John Lewis, biscuit tin kind of way, all cobbled streets, pastel colours and gilded spires. Great market selling just about EVERYTHING amber you can think of – not just necklaces and jewellery etc., but cutlery, key rings, doorstops (!) the lot. Only downer was somebody in the crowd nicked my phone, hence the lack of messages, sorry. It's insured so can get another, but going a bit crazy not being able to chat to anyone.

Anyway, Felix has been delayed by a few days (problem with the new flat he says, but I think problem with his new boyfriend is more likely . . .) so I decided to explore a bit on my own. Not much point to a wild swimming trip with no swimming! We're due to go to Lake Lusai, so I thought it would be good to put in a couple of days somewhere different. The guy at the tourist office suggested this place, not much to do, but very unspoiled. In fact, there's only one place to stay near the water, a guest house run by an old lady called Asta Jakovleva. It's not going to make it into the boutique listings any time soon – the amount of linen doilies is amazing (in a bad way) – but it's just a short walk to the edge of the lake, so perfect from that point of view. And the Wi-Fi is a bonus!

If I'm honest, the reservoir isn't the prettiest I've seen. Not much like the photo on the tourist office leaflet. For a start, although it's huge, the level's quite low, so you've got this ring of mud round the edge, which will make getting in and out a bit tricky, and it certainly spoils the look of things. And the landscape is flat, like a dull day on the Norfolk Broads, only with lots of fir trees.

Then there's Mrs Jakovleva. Given I'm her only guest, you'd think she'd be a bit friendlier. Things weren't too bad until I started asking her if she got many swimmers staying here, any advice about the water, safer spots etc.

'You can't swim here!' she barked, as if I'd just threatened to murder her budgie. (Yes, she really does have a budgie, a green one. It lives in the breakfast room, and is watching me right now as I type this on her ancient PC.)

I tried to explain about wild swimming, that the whole point is to pick open water that most people don't swim in, that I'm fully qualified and experienced, but she cut me off with what looked like a rude hand gesture.

'No swim,' she said. 'Shows disrespect. Dangerous.'

Then she walked off which was . . . helpful. So I don't know if it's just the idea of a twenty-something cavorting in a bikini that outrages her, or if there's anything about the reservoir I should know.

I guess it will all be clear tomorrow when I go for my first swim! Perhaps the sight of a wetsuit will mollify her. Though I doubt it.

Loads of love Chrissy xxxxxxx

From: [email protected]

To: [email protected]

Date: 30 May 2015, 16:57

So good to hear from you!

Particularly nice after the weird day I've had. Really glad the new job's going well and John is behaving himself. We'll all have to meet up at that new place when I'm back, sounds fab.

Still here in Vaiduoklis . . . Well, maybe I should have kicked my heels in Vilnius till Felix arrived. It's not awful, just odd. Will try and explain.

This morning, I got up really early for a swim, hoping to sneak past our scowling landlady. But she must have heard me creaking down the stairs, as she shot out into the hallway.

'Breakfast,' she said. It was more a statement than a question.

I didn't like to be rude so followed her into the dining room. She had laid out a monster amount of food. All that stuff they do on the Continent: boiled eggs, salami, ham, yoghurt, plastic packets of toast bread. And she was smiling away. Very different from last night.

There was no way I could eat all that – the last thing I wanted was to load up on carbs and get cramp in the lake, so I decided I would have to delay the swim for a while. You can't just ignore somebody making all that effort.

She poured us both coffee and sat down opposite.

'So, no swim today,' she said.

I didn't want to argue so hedged a bit. 'What's wrong with the water here?'

'Water fine, is what's beneath.'

'Was it a quarry then? I'm used to that, I know they can be deep.'

'Not industry. The old village. Still down there.'

'They flooded it? We've got a few of those in the UK, like at Haweswater. They don't really do that now.'

'Vaiduoklis not like anywhere else,' Mrs Jakovleva said, shaking her head. 'All still there.'

I've always been a bit intrigued by these sorts of stories. Like that whole village sunk off the Suffolk coast, Dunwich, where legend has it you can hear the old church bell ringing when the tide's low.

'How old is it? Do you get divers going to explore?'

Mrs Jakovleva looked at me as if I were mad. 'No diving! Worse than swimming. Terrible disrespect.' She had her sucking lemons face on again, and the green budgie was twittering.

'Well, I'm not a diver,' I said, sipping some of her coffee, which was far too strong. She looked a little reassured, so I pressed on. 'And what about the new village here? Is there much to see?'

The smile came out again at that. 'All modern,' she said proudly. 'Restored. You should see the church, beautiful glass.'

And that, I'm afraid, marked the start of a long, tedious monologue about the new village, to which I had to nod along with a fixed smile. When she finally ran out of steam I headed back to my room, to wait a bit before sneaking out again for a swim. I can't pretend that she hadn't made me feel a little uneasy, but having trudged all the way from Vilnius to Boringville, I couldn't face the thought of not getting in the water.

I started to trot out towards the lake, a coat over my wetsuit. She must have heard me, because the next thing I knew, there was a thump, thump, thump and she was banging on the glass of the kitchen window, waving frantically for me to stop. I pretended not to understand and waved cheerily back, then made it as fast as I could to the fir trees without actually running.

The reservoir is a serious challenge to get into. It seemed to be even lower than it looked yesterday.
I found a place where some tree roots helped me in (and more importantly would help me out) and slithered down the side, holding on to clumps of reeds as I went. By the time I hit the water I was caked in mud. But then, the joy. I know you're not a fan, Suse, but there's nothing like the adrenalin rush of hitting ice-cold water.

Even at the edge, the reservoir is really deep, metres of black below. I cut out sideways, not making for the middle, to make sure my body acclimatised. The place is vast, but, oddly, it doesn't give you that sense of empty space and wide horizons you normally get in a big lake. Maybe it's the steep sides, hemming you in, but with the flatness and the firs it felt a bit claustrophobic, like I was a fly swimming in a giant's soup bowl.

I headed into the middle to see if that would give me a better view. There's nothing like seeing Helm Crag reflected in the water from the middle of Grasmere, and although this place is flat, I thought distance might lend it a little majesty. It did look prettier further in, the wavering green and black lines of the trees matching their sturdy frames above, so I trod water for a bit, absorbing it all.

I'm very used to lakes, the fact that there's nothing but the dark below you, going down tens, often hundreds of feet. That's never bothered me. The sense of emptiness beneath, I even quite like it. But that's not what I felt here at Vaiduoklis. Rather than nothing-ness beneath me, I felt a something-ness. That it wasn't empty space, that there was something there. I peered down, and I swear I thought I saw something move. Not a fish, much bigger than that. It looked like someone was swimming several feet below me. I even saw a flash of pale flesh.

Becky Adlington couldn't have made it to the shore faster than I did. I shot up that root like a rat. At the top, I stood holding on to the tree, gasping for breath, looking out over the water, half expecting to see something burst to the surface. But once the disturbance I'd made died down, the water returned to its glass-like state, rippling slightly at the edge, reflecting back the dreary firs and grey sky.