Dolores Claiborne
Stephen King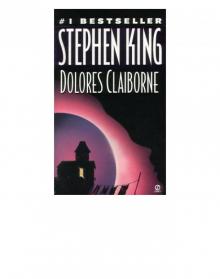 Table of Contents

Title Page

Copyright Page

Dedication

Epigraph

Foreword

Scrapbook

The inspiration for the film

Dolores Claiborne

starring Kathy Bates

and

Jennifer Jason Leigh--

from Castle Rock

"POWERFUL ... STARTLINGLY GOOD."

--Time

"WHAT A STORYTELLER. Stephen King is a magician at creating colorful characters and at spinning a yarn that casts a spell over the reader ... One will not easily forget [Dolores] ... compelling."

--Nashville Banner

"A LITERARY TRIUMPH. The finest of King novels... a plot of enormous energy... Read this book."

--Milwaukee Journal

"A DARING PERFORMANCE... spooky ... Dolores's voice rings true thoughout."

--Cleveland Plain Dealer

"The all-time master of horror has turned out a piece of genuine literature ... a finely wrought work ... emphasizing character."

--Minneapolis Star Tribune

"A DARK AND BROODING TALE of the psychological underbelly of a bad marriage... a morality play with an unusual heroine."

--Chicago Tribune

"Stephen King peeks beneath the simple horrors ... which makes Dolores's story moving."

--The New York Times

"SEDUCTIVE ... SUSPENSEFUL ... Dolores is a brilliantly realized character and her struggles will hook readers inexorably."

--Kirkus Reviews

"Reality-based horror reflecting the evil that men do to women ... This time King's boogeyman is the guy next door."

--New York Daily News

"UNFORGETTABLE ... STEPHEN KING IS A MAGNIFICENT STORYTELLER."

-Publishers Weekly

"A terrifying tale of desperation, abuse, and revenge that showcases King's talent as a powerful storyteller."

--Library Journal

"COMPELLING ... has a special kind of resonance that will echo for the reader long after the tale is told."

--Greensboro News and Record

"SHARP ... you feel the power of its decency."

--New York Newsday

"A FINE, SOLID, FASCINATING NOVEL, AND ARGUABLY THE BEST, MOST AFFECTING

WRITING."

--Locus

"ABSORBING ... FASCINATING ... a dark and brooding tale of a bad marriage that finally explodes in retribution and murder ... an honest and chilling story, very well told."

--Providence Sunday Journal

WORKS BY STEPHEN KING

NOVELS

Carrie

'Salem's Lot

The Shining

The Stand

The Dead Zone

Firestarter

Cujo

THE DARK TOWER I:

The Gunslinger

Christine

Pet Sematary

Cycle of the Werewolf

The Talisman

(with Peter Straub)

It

The Eyes of the Dragon

Misery

The Tommyknockers

THE DARK TOWER II:

The Drawing

of the Three

THE DARK TOWER III:

The Waste Lands

The Dark Half

Needful Things

Gerald's Game

Dolores Claiborne

Insomnia

Rose Madder

Desperation

The Green Mile

THE DARK TOWER IV:

Wizard and Glass

Bag of Bones

The Girl Who Loved Tom

Gordon

Dreamcatcher

Black House

(with Peter Straub)

From a Buick 8

THE DARK TOWER V:

Wolves of the Calla

AS RICHARD BACHMAN

Rage

The Long Walk

Roadwork

The Running Man

Thinner

The Regulators

COLLECTIONS

Night Shift

Different Seasons

Skeleton Crew

Four Past Midnight

Nightmares and

Dreamscapes

Hearts in Atlantis

Everything's Eventual

NONFICTION

Danse Macabre

On Writing

SCREENPLAYS

Creepshow

Cat's Eye

Silver Bullet

Maximum Overdrive

Pet Sematary

Golden Years

Sleepwalkers

The Stand

The Shining

Rose Red

Storm of the Century

SIGNET

Published by New American Library, a division of

Penguin Group (USA) Inc., 375 Hudson Street,

New York, New York 10014, USA

Penguin Group (Canada), 90 Eglinton Avenue East, Suite 700, Toronto,

Ontario M4P 2Y3, Canada (a division of Pearson Penguin Canada Inc.)

Penguin Books Ltd., 80 Strand, London WC2R ORL, England

Penguin Ireland, 25 St. Stephen's Green, Dublin 2,

Ireland (a division of Penguin Books Ltd.)

Penguin Group (Australia), 250 Camberwell Road, Camberwell, Victoria 3124,

Australia (a division of Pearson Australia Group Pty. Ltd.)

Penguin Books India Pvt. Ltd., 11 Community Centre, Panchsheel Park,

New Delhi - 110 017, India

Penguin Group (NZ), 67 Apollo Drive, Rosedale, North Shore 0632,

New Zealand (a division of Pearson New Zealand Ltd.)

Penguin Books (South Africa) (Pty.) Ltd., 24 Sturdee Avenue,

Rosebank, Johannesburg 2196, South Africa Penguin Books Ltd., Registered Offices:

80 Strand, London WC2R ORL, England Published by Signet, an imprint of New American Library, a division of Penguin Group (USA) Inc. Previously published in a Viking edition.

First Signet Printing, December 1993

Copyright (c) Stephen King, 1993 Illustrations copyright (c) Bill Russell, 1993

Map by Virginia Norey

All rights reserved

REGISTERED TRADEMARK--MARCA REGISTRADA

Without limiting the rights under copyright reserved above, no part of this publication may be reproduced, stored in or introduced into a retrieval system, or transmitted, in any form, or by any means (electronic, mechanical, photocopying, recording, or otherwise), without the prior written permission of both the copyright owner and the above publisher of this book.

PUBLISHER'S NOTE

This is a work of fiction. Names, characters, places, and incidents either are the product of the author's imagination or are used fictitiously, and any resemblance to actual persons, living or dead, business establishments, events, or locales is entirely coincidental.

The publisher does not have any control over and does not assume any responsibility for author or third-party Web sites or their content.

eISBN : 978-1-10113817-5

The scanning, uploading and distribution of this book via the Internet or via any other means without the permission of the publisher is illegal and punishable by law. Please purchase only authorized electronic editions, and do not participate in or encourage electronic piracy of copyrighted materials. Your support of the author's rights is appreciated.

https://us.penguingroup.com

For my mother, Ruth Pillsbury King

"What does a woman want?"

--Sigmund Freud

"R-E-S-P-E-C-T, find out what it means to me."

--Aretha Franklin

TOTAL ECLIPSE of the sun SATURDAY July 20, 1963

/> Foreword to Paperback Edition

In the northwestern part of Maine--in the area known as the Lakes District--the small town of Sharbot curves like a crescent around a beautiful body of water called Dark Score Lake. Dark Score is one of the deepest lakes in New England--better than three hundred feet in some places. Some of the locals have been known to claim it is bottomless ... but usually only after a few beers (in Sharbot, half a dozen is considered a few).

If one were to draw a straight line across a map of the state from northwest to southeast, beginning at the tiny cartographic point which represents Sharbot and continuing through the larger dot that marks the city of Bangor, one would eventually come to the smallest dot of all--a tiny green grain standing off in the Atlantic about sixteen miles from Bar Harbor. This small green grain is Little Tall Island, population 204 in the 1990 census, down from an all-time high of 527 in the census of 1960.

These two tiny communities, exactly one hundred and forty miles apart as the crow flies, bracket the island and coastal aspects of New England's largest state like a pair of nondescript book-ends. They have nothing whatever in common; one would be hard put, in fact, to find a citizen in either who had any knowledge of the other.

Yet in the summer of 1963, the last summer before America--and the whole world--would be changed forever by an assassin's bullet, Sharbot and Little Tall were linked by a remarkable celestial phenomenon: the last total eclipse visible in northern New England until the year 2016.

Both Sharbot, in far western Maine, and Little Tall Island, the state's easternmost spot, lay in the path of totality. And although over half the towns along the path of the eclipse were denied a view of the phenomenon by low-hanging clouds on that still, humid day, both Sharbot and Little Tall enjoyed perfect viewing conditions. For residents of Sharbot, the eclipse began at 4:29 P.M., EDT; for residents of Little Tall, it began at 4:34. The period of totality which raced across the state lasted almost exactly three minutes. In Sharbot, total darkness lasted from 5:39 until 5:41; on Little Tall, darkness was total from 5:42 until almost 5:43, a period of fifty-nine seconds, in fact.

As this strange darkness rolled its wave across the state, stars came out and filled the daytime sky; birds went to roost; bats circled aimlessly above chimneys; cows lay down in the fields where they had been cropping and went to sleep. The sun became a blazing fairy-ring in the sky, and as the world within that swatch of unnatural blackness lay suspended and hushed and the crickets began to sing, two people who would never meet sensed each other, turned toward each other as flowers turn to follow the heat of the sun.

One was a girl named Jessie Mahout--she was in Sharbot, at the western end of the state. The other was a mother of three named Dolores St. George--she was on Little Tall Island, at the eastern end of the state.

Both heard owls hoot in the daytime. Both lay in deep valleys of terror, nightmare geographies of which both believed they would never speak. Both felt the darkness was entirely fitting, and thanked God for it.

Jessie Mahout would marry a man named Gerald Burlingame, and her story is told in Gerald's Game. Dolores St. George would take back her birth name, Dolores Claiborne, and she tells her story in the pages that follow. Both are tales of women in the path of the eclipse, and of how they emerge from the darkness.

What did you ask, Andy Bissette? Do I "understand these rights as you've explained em to me"?

Gorry! What makes some men so numb?

No, you never mind--still your jawin and listen to me for awhile. I got an idear you're gonna be listenin to me most of the night, so you might as well get used to it. Coss I understand what you read to me! Do I look like I lost all m'brains since I seen you down to the market? That was just Monday afternoon, in case you lost track. I told you your wife would give you merry hell about buying that day-old bread--penny wise and pound foolish, the old saying is--and I bet I was right, wasn't I?

I understand my rights just fine, Andy; my mother never raised no fools. I understand my responsibilities too, God help me.

Anything I say might be used against me in a court of law, you say? Well will wonders never cease! And you can just get that smirk off your face, Frank Proulx. You may be a hot-shot town cop these days, but it hasn't been too long since I seen you runnin around in a saggy diaper with that same foolish grin on your face. I'll give you a little piece of advice--when you get around an old biddy like me, you just want to save that grin. I c'n read you easier'n an underwear ad in the Sears catalogue.

All right, we've had our fun; might as well get down to it. I'm gonna tell you three a hell of a lot startin right about now, and a hell of a lot of it prob'ly could be used against me in a court of law, if anyone wanted to at this late date. The joke of it is, folks on the island know most of it already, and I'm just about half-past give-a-shit, as old Neely Robichaud used to say when he was in his cups. Which was most of the time, as anyone who knew him will tell you.

I do give a shit about one thing, though, and that's why I come down here on my own hook. I didn't kill that bitch Vera Donovan, and no matter what you think now, I intend to make you believe that. I didn't push her down that frigging staircase. It's fine if you want to lock me up for the other, but I don't have none of that bitch's blood on my hands. And I think you will believe that by the time I'm finished, Andy. You was always a good enough boy, as boys go--fair-minded, is what I mean--and you've turned into a decent man. Don't let it go to your head, though; you grew up same as any other man, with some woman to warsh your clothes and wipe your nose and turn you around when you got y'self pointed in the wrong direction.

One other thing before we get started--I know you, Andy, and Frank, accourse, but who's this woman with the tape-recorder?

Oh Christ, Andy, I know she's a stenographer! Didn't I just tell you my Mamma didn't raise any fools? I may be sixty-six come this November, but I still got all my marbles. I know a woman with a tape-recorder and a shorthand pad's a stenographer. I watch all those courtroom shows, even that L. A. Law where nobody can seem to keep their clothes on for fifteen minutes at a time.

What's your name, honey?

Uh-huh ... and whereabouts do you hail from?

Oh, quit it, Andy! What else you got to do tonight? Was you plannin to go over to the shingle and see if you could catch a few fellas diggin quahogs without a licence? That'd prob'ly be more excitement than your heart could take, wouldn't it? Ha!

There. That's better. You're Nancy Bannister from Kennebunk, and I'm Dolores Claiborne from right here on Little Tall Island. Now I already said I'm going to do a country-fair job of talking before we're done in here, and you're going to find I wasn't lyin a bit. So if you need me to speak up or to slow down, just say so. You needn't be shy with me. I want you to get every goddam word, startin with this: twenty-nine years ago, when Police Chief Bissette here was in the first grade and still eatin the paste off the back of his pitchers, I killed my husband, Joe St. George.

I feel a draft in here, Andy. Might go away if you shutcha goddam trap. I don't know what you're lookin so surprised about, anyway. You know I killed Joe. Everybody on Little Tall knows it, and probably half the people across the reach in Jonesport know it, too. It's just that nobody could prove it. And I wouldn't be here now, admittin it in front of Frank Proulx and Nancy Bannister from Kennebunk if it hadn't been for that stupid bitch Vera, gettin up to more of her nasty old tricks.

Well, she'll never get up to any more of em, will she? There's that for consolation, at least.

Shift that recorder a little closer to me, Nancy, dear--if this is going to get done, it'll get done right, I'll be bound. Don't those Japanese just make the most cunning little things? Yes indeed... but I guess we both know that what's going on the tape inside that little cutie-pie could put me in the Women's Correctional for the rest of my life. Still, I don't have no choice. I swear before heaven I always knew that Vera Donovan'd just about be the death of me--I knew it from the first time I saw her. And look what she's done--just lo
ok what that goddamned old bitch has done to me. This time she's really stuck her gum in my gears. But that's rich people for you; if they can't kick you to death, they're apt to kiss you to death with kindness.

What?

Oh, gorry! I'm gettin to it, Andy, if you'll just give me a little peace! I'm just tryin to decide if I should tell it back to front or front to back. I don't s'pose I could have a little drink, could I?

Oh, frig ya coffee! Take the whole pot and shove it up your kazoo. Just gimme a glass of water if you're too cheap to part with a swallow of the Beam you keep in your desk drawer. I ain't--

What do you mean, how do I know that? Why, Andy Bissette, someone who didn't know better'd think you just toddled out of a Saltines box yesterday. Do you think me killin my husband is the only thing the folks on this island have got to talk about? Hell, that's old news. You, now--you still got some juice left in you.

Thank you, Frank. You was always a pretty good boy, too, although you was kinda hard to look at in church until your mother got you cured of the booger-hookin habit. Gorry, there were times when you had that finger so far up y'nose it was a wonder you didn't poke your brains out. And what the hell are you blushin for? Was never a kid alive who didn't mine a little green gold outta their old pump every now and again. At least you knew enough to keep your hands outta your pants and off your nuts, at least in church, and there's a lot of boys who never--

Yes, Andy, yes--I am gonna tell it. Jeezly-crow, you ain't never shook the ants out of your pants, have you?

Tell you what: I'm gonna compromise. Instead of telling her front to back or back to front, I'm gonna start in the middle and just kinda work both ways. And if you don't like it, Andy Bissette, you can write it up on your T.S. list and mail it to the chaplain.

Me and Joe had three kids, and when he died in the summer of '63, Selena was fifteen, Joe Junior was thirteen, and Little Pete was just nine. Well, Joe didn't leave me a pot to piss in and hardly a window to throw it out of--

I guess you'll have to fix this up some, Nancy, won't you? I'm just an old woman with a foul temper and a fouler mouth, but that's what happens, more often than not, when you've had a foul life.