The Dark Half
Stephen King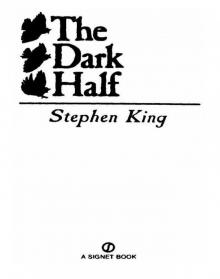 Table of Contents

Title Page

Copyright Page

Dedication

I - Fool's Stuffing

One - PEOPLE WILL TALK

Two - BREAKING UP HOUSEKEEPING

Three - GRAVEYARD BLUES

Four - DEATH IN A SMALL TOWN

Five - 96529Q

Six - DEATH IN THE BIG CITY

Seven - POLICE BUSINESS

Eight - PANGBORN PAYS A VISIT

Nine - THE INVASION OF THE CREEPAZOID

Ten - LATER THAT NIGHT

Eleven - ENDSVILLE

Twelve - SIS

Thirteen - SHEER PANIC

Fourteen - FOOL'S STUFFING

II - Stark Takes Charge

Fifteen - STARK DISBELIEF

Sixteen - GEORGE STARK CALLING

Seventeen - WENDY TAKES A FALL

Eighteen - AUTOMATIC WRITING

Nineteen - STARK MAKES A PURCHASE

Twenty - OVER THE DEADLINE

Twenty - one - STARK TAKES CHARGE

III - The Coming of the Psychopomps

Twenty - two - THAD ON THE RUN

Twenty - three - TWO CALLS FOR SHERIFF PANGBORN

Twenty - four - THE COMING OF THE SPARROWS

Twenty - five - STEEL MACHINE

Twenty - six - THE SPARROWS ARE FLYING

Epilogue

Afterword

Teaser chapter

About the Author

How Do You Kill Something

That Was Never Born . . .

THE DARK HALF

Thad Beaumont would like to say he is innocent.

He'd like to say he has nothing to do with the series of monstrous murders that keep coming closer to his home.

He'd like to say he has nothing to do with the twisted imagination that produced his bestselling novels.

He'd like to say he has nothing to do with the voice on the phone uttering its obscene threats and demanding total surrender.

But how can Thad disown the ultimate embodiment of evil that goes by the name he gave it--and signs its crimes with Thad's bloody fingerprints?

"A chiller."

--New York Times Book Review

AMERICA LOVES

THE BACHMAN BOOKS

"Fascinating."

--Philadelphia Inquirer

CARRIE

"Horrifying."

--Chicago Tribune

CHRISTINE

"Riveting."

--Playboy

CUJO

"Gut-wrenching."

--Newport News Daily Press

THE DARK HALF

"Scary."

--Kirkus Reviews

THE DARK TOWER: THE GUNSLINGER

"Brilliant."

--Booklist

THE DARK TOWER II: THE DRAWING OF THE THREE

"Superb."

--Chicago Herald-Wheaton

THE DARK TOWER III: THE WASTE LANDS

"Gripping."

--Chicago Sun-Times

THE DEAD ZONE

"Frightening."

--Cosmopolitan

DIFFERENT SEASONS

"Hypnotic."

--New York Times Book Review

DOLORES CLAIBORNE

"Unforgettable."

--San Francisco Chronicle

THE EYES OF THE DRAGON

"Masterful."

--Cincinnati Post

FIRESTARTER

"Terrifying."

--Miami Herald

STEPHEN KING

FOUR PAST MIDNIGHT

"Chilling."

--Milwaukee Journal

GERALD'S GAME

"Terrific."

--USA Today

IT

"Mesmerizing."

--Washington Post Book World

MISERY

"Wonderful."

--Houston Chronicle

NEEDFUL THINGS

"Demonic."

--Kirkus Reviews

NIGHT SHIFT

"Macabre,"

--Dallas Times-Herald

PET SEMATARY

"Unrelenting."

--Pittsburgh Press

'SALEM'S LOT

"Tremendous."

--Kirkus Reviews

THE SHINING

"Spellbinding."

--Pittsburgh Press

SKELETON CREW

"Diabolical."

--Associated Press

THE STAND

"Great."

--New York Times Book Review

THINNER

"Extraordinary."

--Booklist

THE TOMMYKNOCKERS

"Marvelous."

--Boston Globe

WORKS BY STEPHEN KING

NOVELS

Carrie

'Salem's Lot

The Shining

The Stand

The Dead Zone

Firestarter

Cujo

THE DARK TOWER I:

The Gunslinger

Christine

Pet Sematary

Cycle of the Werewolf

The Talisman

(with Peter Straub)

It

The Eyes of the Dragon

Misery

The Tommyknockers

THE DARK TOWER II:

The Drawing

of the Three

THE DARK TOWER III:

The Waste Lands

The Dark Half

Needful Things

Gerald's Game

Dolores Claiborne

Insomnia

Rose Madder

Desperation

The Green Mile

THE DARK TOWER IV:

Wizard and Glass

Bag of Bones

The Girl Who Loved Tom

Gordon

Dreamcatcher

Black House

(with Peter Straub)

From a Buick 8

THE DARK TOWER V:

Wolves of the Calla

THE DARK TOWER VI:

Song of Susannah

THE DARK TOWER VII:

The Dark Tower

AS RICHARD BACHMAN

Rage

The Long Walk

Roadwork

The Running Man

Thinner

The Regulators

COLLECTIONS

Night Shift

Different Seasons

Skeleton Crew

Four Past Midnight

Nightmares and

Dreamscapes

Hearts in Atlantis

Everything's Eventual

NONFICTION

Danse Macabre

On Writing

SCREENPLAYS

Creepshow

Cat's Eye

Silver Bullet

Maximum Overdrive

Pet Sematary

Golden Years

Sleepwalkers

The Stand

The Shining

Rose Red

Storm of the Century

SIGNET

Published by New American Library, a division of

Penguin Group (USA) Inc., 375 Hudson Street,

New York, New York 10014, USA

Penguin Group (Canada), 90 Eglinton Avenue East, Suite 700, Toronto,

Ontario M4P 2Y3, Canada (a division of Pearson Penguin Canada Inc.)

Penguin Books Ltd., 80 Strand, London WC2R 0RL, England

Penguin Ireland, 25 St. Stephen's Green, Dublin 2,

Ireland (a division of Penguin Books Ltd.)

Penguin Group (Australia), 250 Camberwell Road, Camberwell, Victoria 3124,

Australia (a division of Pearson Australia Group Pty. Ltd.)

Penguin Books India Pvt. Ltd., 11 Community Centre, Panchsheel Park,
>
New Delhi - 110 017, India

Penguin Group (NZ), 67 Apollo Drive, Rosedale, North Shore 0632,

New Zealand (a division of Pearson New Zealand Ltd.)

Penguin Books (South Africa) (Pty.) Ltd., 24 Sturdee Avenue,

Rosebank, Johannesburg 2196, South Africa

Penguin Books Ltd., Registered Offices:

80 Strand, London WC2R 0RL, England

Published by Signet, an imprint of New American Library, a division of Penguin Group (USA) Inc. Previously published in a Viking edition.

First Signet Printing, October 1990

Copyright (c) Stephen King, 1989

Illustrations copyright (c) Viking, a division of Penguin Group (USA) Inc., 1989 All rights reserved

The excerpt from Gerald's Game by Stephen King appears in a Viking edition, copyright (c) Stephen King, 1992. Grateful acknowledgment is made for permission to reprint an excerpt from "John Wesley Harding" by Bob Dylan. Copyright (c) Dwarf Music, 1968. All rights reserved. International copyright secured.

REGISTERED TRADEMARK--MARCA REGISTRADA

Without limiting the rights under copyright reserved above, no part of this publication may be reproduced, stored in or introduced into a retrieval system, or transmitted, in any form, or by any means (electronic, mechanical, photocopying, recording, or otherwise), without the prior written permission of both the copyright owner and the above publisher of this book.

PUBLISHER'S NOTE

This is a work of fiction. Names, characters, places, and incidents either are the product of the author's imagination or are used fictitiously, and any resemblance to actual persons, living or dead, business establishments, events, or locales is entirely coincidental.

The publisher does not have any control over and does not assume any responsibility for author or third-party Web sites or their content.

The scanning, uploading, and distribution of this book via the Internet or via any other means without the permission of the publisher is illegal and punishable by law. Please purchase only authorized electronic editions, and do not participate in or encourage electronic piracy of copyrighted materials. Your support of the author's rights is appreciated.

eISBN : 978-1-10113802-1

https://us.penguingroup.com

This book is for Shirley Sonderegger.

who helps me mind my business,

and for her husband. Peter.

Author's Note

I'm indebted to the late Richard Bachman for his help and inspiration. This novel could not have been written without him.

S.K.

Prologue

"Cut him," Machine said. "Cut him while I stand here and watch. I want to see the blood flow. Don't make me tell you twice. "

--Machine's Way

by George Stark

People's lives--their real lives, as opposed to their simple physical existences--begin at different times. The real life of Thad Beaumont, a young boy who was born and raised in the Ridgeway section of Bergenfield, New Jersey, began in 1960. Two things happened to him that year. The first shaped his life; the second almost ended it. That was the year Thad Beaumont was eleven.

In January he submitted a short story to a writing contest sponsored by American Teen magazine. In June, he received a letter from the magazine's editors telling him that he had been awarded an Honorable Mention in the contest's Fiction category. The letter went on to say that the judges would have awarded him Second Prize had his application not revealed that he was still two years away from becoming a bona fide "American Teen." Still, the editors said, his story, "Outside Marty's House," was an extraordinarily mature work, and he was to be congratulated.

Two weeks later, a Certificate of Merit arrived from American Teen. It came registered mail, insured. The certificate had his name on it in letters so convolutedly Old English that he could barely read them, and a gold seal at the bottom, embossed with the American Teen logo--the silhouettes of a crewcut boy and a pony-tailed girl jitterbugging.

His mother swept Thad, a quiet, earnest boy who could never seem to hold onto things and often tripped over his own large feet, into her arms and smothered him with kisses.

His father was unimpressed.

"If it was so goddam good, why didn't they give him some money?" he grunted from the depths of his easy-chair.

"Glen--"

"Never mind. Maybe Ernest Hemingway there could run me in a beer when you get done maulin him. "

His mother said no more . . . but she had the original letter and the certificate which followed it framed, paying for the job out of her pin-money, and hung it in his room, over the bed. When relatives or other visitors came, she took them in to see it. Thad, she told her company, was going to be a great writer someday. She had always felt he was destined for greatness, and here was the first proof. This embarrassed Thad, but he loved his mother far too much to say so.

Embarrassed or not, Thad decided his mother was at least partly right. He didn't know if he had it in him to be a great writer or not, but he was going to be some kind of a writer no matter what. Why not? He was good at it. More important, he got off on doing it. When the words came right, he got off on it in a big way. And they wouldn't always be able to withhold the money from him on a technicality. He wouldn't be eleven forever.

The second important thing to happen to him in 1960 began in August. That was when he began to have headaches. They weren't bad at first, but by the time school let in again in early September, the mild, lurking pains in his temples and behind his forehead had progressed to sick and monstrous marathons of agony. He could do nothing when these headaches held him in their grip but lie in his darkened room, waiting to die. By the end of September, he hoped he would die. And by the middle of October, the pain had progressed to the point where he began to fear he would not.

The onset of these terrible headaches was usually marked by a phantom sound which only he could hear--it sounded like the distant cheeping of a thousand small birds. Sometimes he fancied he could almost see these birds, which he thought were sparrows, clustering on telephone lines and rooftops by the dozens, the way they did in the spring and the fall.

His mother took him to see Dr. Seward.

Dr. Seward peeked into his eyes with an ophthalmoscope, and shook his head. Then, drawing the curtains closed and turning off the overhead light, he instructed Thad to look at a white space of wall in the examination room. Using a flashlight, he flicked a bright circle of light on and off rapidly while Thad looked at it.

"Does that make you feel funny, son?"

Thad shook his head.

"You don't feel woozy? Like you might faint?"

Thad shook his head again.

"Do you smell anything? Like rotten fruit or burning rags?"

"No. "

"What about your birds? Did you hear them while you were looking at the flashing light?"

"No," Thad said, mystified.

"It's nerves," his father said later, when Thad had been dismissed to the outer waiting room. "The goddam kid's a bundle of nerves. "

"I think it's migraine," Dr. Seward told them. "Unusual in one so young, but not unheard of. And he seems very . . . intense. "

"He is," Shayla Beaumont said, not without some approval.

"Well, there may be a cure someday. For now, I'm afraid he'll just have to suffer through them. "

"Yeah, and us with him," Glen Beaumont said.

But it was not nerves, and it was not migraine, and it was not over.

Four days before Halloween, Shayla Beaumont heard one of the kids with whom Thad waited for the schoolbus each morning begin to holler. She looked out the kitchen window and saw her son lying in the driveway, convulsing. His lunchbox lay beside him, its freight of fruit and sandwiches spilled onto the driveway's hot-top surface. She ran out, shooed the other children away, and then just stood over him helplessly, afraid to touch him.

If the big yellow bus with Mr. Reed at the wheel had pulled up any later, Tha
d might have died right there at the foot of the driveway. But Mr. Reed had been a medic in Korea. He was able to get the boy's head back and open an airway before Thad choked to death on his own tongue. He was taken to Bergenfield County Hospital by ambulance and a doctor named Hugh Pritchard just happened to be in the E. R., drinking coffee and swapping golf-lies with a friend, when the boy was wheeled in. And Hugh Pritchard also just happened to be the best neurologist in the State of New Jersey.

Pritchard ordered the X-rays and read them. He showed them to the Beaumonts, asking them to look with particular care at a vague shadow he had circled with a yellow wax pencil.

"This," he said. "What's this?"

"How the hell should we know?" Glen Beaumont asked. "You're the goddam doctor. "

"Right," Pritchard said dryly.

"The wife said it looked like he pitched a fit," Glen said.

Dr. Pritchard said, "If you mean he had a seizure, yes, he did. If you mean he had an epileptic seizure, I'm pretty sure he didn't. A seizure as serious as your son's would surely have been grand mal, and Thad showed no reaction whatever to the Litton Light Test. In fact, if Thad had grand mal epilepsy, you wouldn't need a doctor to point the fact out to you. He'd be doing the Watusi on the living room rug every time the picture on your TV set decided to roll. "

"Then what is it?" Shayla asked timidly.

Pritchard turned back to the X-ray mounted on the front of the light-box. "What is that?" he responded, and tapped the circled area again. "The sudden onset of headaches coupled with any lack of previous seizures suggests to me that your son has a brain tumor, probably still small and hopefully benign. "

Glen Beaumont stared at the doctor stonily while his wife stood beside him and wept into her handkerchief. She wept without making a sound. This silent weeping was the result of years of spousal training. Glen's fists were fast and hurtful and almost never left marks, and after twelve years of silent sorrow, she probably could not have cried out loud even if she had wanted to.

"Does all this mean you want to cut his brains?" Glen asked with his usual tact and delicacy.

"I wouldn't put it quite that way, Mr. Beaumont, but I believe exploratory surgery is called for, yes." And he thought: If there really is a God, and if He really made us in His Own image, I don't like to think about why there are so damned many men like this one walking around with the fates of so many others in their hands.

Glen was silent for several long moments, his head down, his brow furrowed in thought. At last he raised his head and asked the question which troubled him most of all.

"Tell me the truth, Doc--how much is all this gonna cost?"

The assisting O. R. nurse saw it first.

Her scream was shrill and shocking in the operating room, where the only sounds for the last fifteen minutes had been Dr. Pritchard's murmured commands, the hiss of the bulky life-support machinery, and the brief, high whine of the Negli saw.