Cujo
Stephen King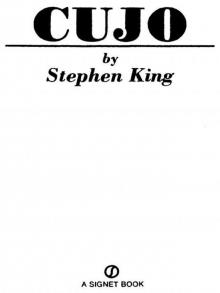 Table of Contents

Title Page

Copyright Page

Dedication

ONCE UPON A TIME,

a cognizant original v5 release november 13 2010

His Bite Is Worse Than His Bark . . .

CUJO

It happens innocently enough, but doesn't it always. A big, friendly dog chases a rabbit into a hidden underground cave--and stirs a sleeping evil crueler than death itself.

A terrified four-year-old boy sees his bedroom closet door swing open untouched by human hands, and screams at the unholy red eyes gleaming in the darkness.

The little Maine town of Castle Rock is about to be invaded by the most hideous menace ever to savage the flesh and devour the mind.

"Hits the jugular."

--New York Times

AMERICA LOVES

THE BACHMAN BOOKS

"Fascinating."

--Philadelphia Inquirer

CARRIE

"Horrifying."

--Chicago Tribune

CHRISTINE

"Riveting."

--Playboy

CUJO

"Gut-wrenching."

--Newport News Daily Press

THE DARK HALF

"Scary."

--Kirkus Reviews

THE DARK TOWER: THE GUNSLINGER

"Brilliant."

--Booklist

THE DARK TOWER II: THE DRAWING OF THE THREE

"Superb."

--Chicago Herald-Wheaton

THE DARK TOWER III: THE WASTE LANDS

"Gripping."

--Chicago Sun-Times

THE DEAD ZONE

"Frightening."

--Cosmopolitan

DIFFERENT SEASONS

"Hypnotic."

--New York Times Book Review

DOLORES CLAIBORNE

"Unforgettable."

--San Francisco Chronicle

THE EYES OF THE DRAGON

"Masterful."

--Cincinnati Post

FIRESTARTER

"Terrifying."

--Miami Herald

STEPHEN KING

FOUR PAST MIDNIGHT

"Chilling."

Milwaukee Journal

GERALD'S GAME

"Terrific."

--USA Today

IT

"Mesmerizing."

--Washington Post Book World

MISERY

"Wonderful."

--Houston Chronicle

NEEDFUL THINGS

"Demonic."

--Kirkus Reviews

NIGHT SHIFT

"Macabre."

--Dallas Times-Herald

PET SEMATARY

"Unrelenting."

--Pittsburgh Press

'SALEM'S LOT

"Tremendous."

--Kirkus Reviews

THE SHINING

"Spellbinding."

--Pittsburgh Press

SKELETON CREW

"Diabolical."

--Associates Press

THE STAND

"Great."

--New York Times Book Review

THINNER

"Extraordinary."

--Booklist

THE TOMMYKNOCKERS

"Marvelous."

--Boston Globe

WORKS BY STEPHEN KING

NOVELS

Carrie

'Salem's Lot

The Shining

The Stand

The Dead Zone

Firestarter

Cujo

THE DARK TOWER I:

The Gunslinger

Christine

Pet Sematary

Cycle of the Werewolf

The Talisman

(with Peter Straub)

It

The Eyes of the Dragon

Misery

The Tommyknockers

THE DARK TOWER II:

The Drawing

of the Three

THE DARK TOWER III:

The Waste Lands

The Dark Half

Needful Things

Gerald's Game

Dolores Claiborne

Insomnia

Rose Madder

Desperation

The Green Mile

THE DARK TOWER IV:

Wizard and Glass

Bag of Bones

The Girl Who Loved Tom

Gordon

Dreamcatcher

Black House

(with Peter Straub)

From a Buick 8

AS RICHARD BACHMAN

Rage

The Long Walk

Roadwork

The Running Man

Thinner

The Regulators

COLLECTIONS

Night Shift

Different Seasons

Skeleton Crew

Four Past Midnight

Nightmares and

Dreamscapes

Hearts in Atlantis

Everything's Eventual

NONFICTION

Danse Macabre

On Writing

SCREENPLAYS

Creepshow

Cat's Eye

Silver Bullet

Maximum Overdrive

Pet Sematary

Golden Years

Sleepwalkers

The Stand

The Shining

Rose Red

Storm of the Century

SIGNET

Published by New American Library, a division of Penguin Group (USA) Inc., 375 Hudson Street, New York, New York 10014, USA Penguin Group (Canada), 90 Eglinton Avenue East, Suite 700, Toronto, Ontario M4P 2Y3, Canada (a division of Pearson Penguin Canada Inc.) Penguin Books Ltd., 80 Strand, London WC2R 0RL, England

Penguin Ireland, 25 St. Stephen's Green, Dublin 2,

Ireland (a division of Penguin Books Ltd.)

Penguin Group (Australia). 250 Camberwell Road, Camberwell. Victoria 3124.

Australia (a division of Pearson Australia Group Pty. Ltd.)

Penguin Books India Pvt. Ltd., 11 Community Centre, Panchsheel Park, New Delhi - 110 017, India

Penguin Group (NZ), 67 Apollo Drive. Rosedale, North Shore 0632, New Zealand (a division of Pearson New Zealand Ltd.)

Penguin Books (South Africa) (Pty.) Ltd., 24 Sturdee Avenue,

Rosebank, Johannesburg 2196, South Africa

Penguin Books Ltd., Registered Offices:

80 Strand, London WC2R 0RL. England

First Signet Printing, June 1982

First Printing ($4.99 edition), November

Copyright (c) Stephen King. 1981

eISBN : 978-1-10113806-9

All rights reserved

Grateful acknowledgment is made to the following for permission to reprint copyrighted material: Ice Nine Publishing Company. Portions of text from the song "Sugaree," words by Robert Hunter, music by Jerry Garcia. Copyright (c) Ice Nine Publishing Company, 1971. All rights reserved.

Random House, Inc. An excerpt from "Musee des Beaux Arts" copyright W. H. Auden, 1940 and copyright (c) renewed 1968. Reprinted from W. H. Auden: Collected Poems by W. H. Auden, edited by Edward Mendelson.

REGISTERED TRADEMARK--MARCA REGISTRADA

Without limiting the rights under copyright reserved above, no part of this publication may be reproduced, stored in or introduced into a retrieval system, or transmitted, in any form, or by any means (electronic, mechanical, photocopying, recording, or otherwise), without the prior written permission of both the copyright owner and the above publisher of this book.

PUBLISHER'S NOTE

This is a work of fiction. Names, characters, places, and incidents either are the product of the author's imagination or are used fictitiously, and any resemblance to actual persons, living or dead, business establishment
s, events, or locales is entirely coincidental. The publisher does not have any control over and does not assume any responsibility for author or third-party Web sites or their content.

The scanning, uploading, and distribution of this book via the Internet or via any other means without the permission of the publisher is illegal and punishable by law. Please purchase only authorized electronic editions, and do not participate in or encourage electronic piracy of copyrighted materials. Your support of the author's rights is appreciated.

https://us.penguingroup.com

PUBLISHER'S NOTE

This novel is a work of fiction. Names, characters, places, and incidents are either the product of the author's imagination or are used fictitiously, and any resemblance to actual persons, living or dead, events, or locales is entirely coincidental.

This book is for my brother, David,

who held my hand crossing West Broad Street,

and who taught me how to make skyhooks

out of old coathangers. The trick was so

damned good I just never stopped.

I love you, David.

About suffering they were never wrong, The Old Masters: how well they understood Its human position; how it takes place While someone else is eating or opening a window or just walking dully along . . .

--W. H. AUDEN, "Musee des Beaux Arts"

Old Blue died and he died so hard He shook the ground in my back yard. I dug his grave with a silver spade And I lowered him down with a golden chain. Every link you know I did call his name, I called, "Here, Blue, you good dog, you."

--FOLK SONG

"Nope, nothing wrong here."

--THE SHARP CEREAL PROFESSOR

ONCE UPON A TIME,

not so long ago, a monster came to the small town of Castle Rock, Maine. He killed a waitress named Alma Frechette in 1970; a woman named Pauline Toothaker and a junior high school student named Cheryl Moody in 1971; a pretty girl named Carol Dunbarger in 1974; a teacher named Etta Ring-gold in the fall of 1975; finally, a grade-schooler named Mary Kate Hendrasen in the early winter of that same year.

He was not werewolf, vampire, ghoul, or unnameable creature from the enchanted forest or from the snowy wastes; he was only a cop named Frank Dodd with mental and sexual problems. A good man named John Smith uncovered his name by a kind of magic, but before he could be captured--perhaps it was just as well--Frank Dodd killed himself.

There was some shock, of course, but mostly there was rejoicing in that small town, rejoicing because the monster which had haunted so many dreams was dead, dead at last. A town's nightmares were buried in Frank Dodd's grave.

Yet even in this enlightened age, when so many parents are aware of the psychological damage they may do to their children, surely there was one parent somewhere in Castle Rock--or perhaps one grandmother--who quieted the kids by telling them that Frank Dodd would get them if they didn't watch out, if they weren't good. And surely a hush fell as children looked toward their dark windows and thought of Frank Dodd in his shiny black vinyl raincoat, Frank Dodd who had choked . . . and choked . . . and choked.

He's out there, I can hear the grandmother whispering as the wind whistles down the chimney pipe and snuffles around the old pot lid crammed in the stove hole. He's out there, and if you're not good, it may be his face you see looking in your bedroom window after everyone in the house is asleep except you; it may be his smiling face you see peeking at you from the closet in the middle of the night, the STOP sign he held up when he crossed the little children in one hand, the razor he used to kill himself in the other . . . so shhh, children . . . shhh . . . shhhh.

But for most, the ending was the ending. There were nightmares to be sure, and children who lay wakeful to be sure, and the empty Dodd house (for his mother had a stroke shortly afterwards and died) quickly gained a reputation as a haunted house and was avoided; but these were passing phenomena--the perhaps unavoidable side effects of a chain of senseless murders.

But time passed. Five years of time.

The monster was gone, the monster was dead. Frank Dodd moldered inside his coffin.

Except that the monster never dies. Werewolf, vampire, ghoul, unnameable creature from the wastes. The monster never dies.

It came to Castle Rock again in the summer of 1980.

Tad Trenton, four years old, awoke one morning not long after midnight in May of that year, needing to go to the bathroom. He got out of bed and walked half asleep toward the white light thrown in a wedge through the half-open door, already lowering his pajama pants. He urinated forever, flushed, and went back to bed. He pulled the covers up, and that was when he saw the creature in his closet.

Low to the ground it was, with huge shoulders bulking above its cocked head, its eyes amber-glowing pits--a thing that might have been half man, half wolf. And its eyes rolled to follow him as he sat up, his scrotum crawling, his hair standing on end, his breath a thin winter-whistle in his throat: mad eyes that laughed, eyes that promised horrible death and the music of screams that went unheard; something in the closet

He heard its purring growl; he smelled its sweet carrion breath.

Tad Trenton clapped his hands to his eyes, hitched in breath, and screamed.

A muttered exclamation in another room--his father.

A scared cry of "What was that?" from the same room--his mother.

Their footfalls, running. As they came in, he peered through his fingers and saw it there in the closet, snarling, promising dreadfully that they might come, but they would surely go, and that when they did--

The light went on. Vic and Donna Trenton came to his bed, exchanging a look of concern over his chalky face and his staring eyes, and his mother said--no, snapped, "I told you three hot dogs was too many, Vic!"

And then his daddy was on the bed, Daddy's arm around his back, asking him what was wrong.

Tad dared to look into the mouth of his closet again.

The monster was gone. Instead of whatever hungry beast he had seen, there were two uneven piles of blankets, winter bedclothes which Donna had not yet gotten around to taking up to the cut-off third floor. These were stacked on the chair which Tad used to stand on when he needed something from the high closet shelf. Instead of the shaggy, triangular head, cocked sideways in a kind of predatory questioning gesture, he saw his teddybear on the taller of the two piles of blankets. Instead of pitted and baleful amber eyes, there were the friendly brown glass balls from which his Teddy observed the world.

"What's wrong, Tadder?" his daddy asked him again.

"There was a monster!" Tad cried. "In my closet!" And he burst into tears.

His mommy sat with him; they held him between them, soothed him as best they could. There followed the ritual of parents. They explained there were no monsters; that he had just had a bad dream. His mommy explained how shadows could sometimes look like the bad things they sometimes showed on TV or in the comic books, and Daddy told him everything was all right, fine, that nothing in their good house could hurt him. Tad nodded and agreed that it was so, although he knew it was not.

His father explained to him how, in the dark, the two uneven piles of blankets had looked like hunched shoulders, how the teddybear had looked like a cocked head, and how the bathroom light, reflecting from Teddy's glass eyes, had made them seem like the eyes of a real live animal.

"Now look," he said. "Watch me close, Tadder."

Tad watched.

His father took the two piles of blankets and put them far back in Tad's closet. Tad could hear the coathangers jingling softly, talking about Daddy in their coathanger language. That was funny, and he smiled a little. Mommy caught his smile and smiled back, relieved.

His daddy came out of the closet, took Teddy, and put him in Tad's arms.

"And last but not least," Daddy said with a flourish and a bow that made both Tad and Mommy giggle, "ze chair."

He closed the closet door firmly and then put the chair against the door. When he came back to Ta
d's bed he was still smiling, but his eyes were serious.

"Okay, Tad?"

"Yes," Tad said, and then forced himself to say it. "But it was there, Daddy. I saw it Really."

"Your mind saw something. Tad," Daddy said, and his big, warm hand stroked Tad's hair. "But you didn't see a monster in your closet, not a real one. There are no monsters. Tad. Only in stories, and in your mind."

He looked from his father to his mother and back again--their big, well-loved faces.

"Really?"

"Really," his mommy said. "Now I want you to get up and go pee, big guy."

"I did. That's what woke me up."

"Well," she said, because parents never believed you, "humor me then, what do you say?"

So he went in and she watched while he did four drops and she smiled and said, "See? You did have to go."

Resigned, Tad nodded. Went back to bed. Was tucked in. Accepted kisses.

And as his mother and father went back to the door the fear settled on him again like a cold coat full of mist. Like a shroud stinking of hopeless death. Oh please, he thought, but there was no more, just that: Oh please oh please oh please.

Perhaps his father caught his thought, because Vic turned back, one hand on the light switch, and repeated: "No monsters, Tad."

"No, Daddy," Tad said, because in that instant his father's eyes seemed shadowed and far, as if he needed to be convinced. "No monsters." Except for the one in my closet.

The light snapped off.

"Good night, Tad." His mother's voice trailed back to him lightly, softly, and in his mind he cried out, Be careful, Mommy, they eat the ladies! In all the movies they catch the ladies and carry them off and eat them! Oh please oh please oh please--

But they were gone.

So Tad Trenton, four years old, lay in his bed, all wires and stiff Erector Set braces. He lay with the covers pulled up to his chin and one arm crushing Teddy against his chest, and there was Luke Skywalker on one wall; there was a chipmunk standing on a blender on another wall, grinning cheerily (IF LIFE HANDS YOU LEMONS, MAKE LEMONADE! the cheeky, grinning chipmunk was saying); there was the whole motley Sesame Street crew on a third: Big Bird, Ernie, Oscar, Grover. Good totems; good magic. But oh the wind outside, screaming over the roof and skating down black gutters! He would sleep no more this night.