Desperation
Stephen King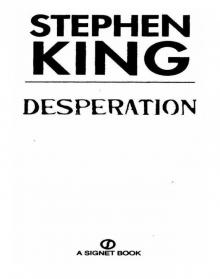 Table of Contents

Title Page

Copyright Page

Dedication

Acknowledgements

Epigraph

PART I - HIGHWAY 50: IN THE HOUSE OF THE WOLF, THE HOUSE OF THE SCORPION

CHAPTER 1

CHAPTER 2

CHAPTER 3

CHAPTER 4

CHAPTER 5

PART II - DESPERATION: IN THESE SILENCES SOMETHING MAY RISE

CHAPTER 1

CHAPTER 2

CHAPTER 3

CHAPTER 4

CHAPTER 5

PART III - THE AMERICAN WEST: LEGENDARY SHADOWS

CHAPTER 1

CHAPTER 2

CHAPTER 3

CHAPTER 4

CHAPTER 5

PART IV - THE CHINA PIT: GOD IS CRUEL

CHAPTER 1

CHAPTER 2

CHAPTER 3

CHAPTER 4

CHAPTER 5

PART V - HIGHWAY 50: EXCUSED EARLY

"A big, serious, scary novel. . . . King is at the top of his game."

--Entertainment Weekly

There's a place along Interstate 50 that some call the loneliest place on Earth. It's known as Desperation, Nevada.

It's not a very nice place to live. It's an even worse place to die.

Let the battle against evil begin.

Welcome to ...

Desperation

"Surreal, tragic, scary ... builds to an epic climax. Terror that resonates long after the book is finished."

--The Washington Post Book World

Incredible Praise for

Desperation and The Regulators

"King has created two of his most substantial characters. Desperation and The Regulators mark a return for Stephen King to his old stomping grounds: supernatural horror and multicharacter plots that entertain with a vengeance. Both of these novels, which provide entertainment with a moral, are sure to keep you turning pages well past midnight."

--The Denver Post

"A fascinating exercise in storytelling, one that makes us rethink the very idea of narrative.... In the interplay between these novels, King reveals his process in a startling, intimate way, inviting us to consider a range of possibilities and giving us unprecedented access to the play of his mind."

--Newsday

"Our best novelist of horror and our most serious anatomist of horror since Edgar Allan Poe. A tour de force.... King is having great fun ... vastly entertaining. He is a quintessentially American writer."

--The Atlanta Journal-Constitution

"[Desperation is] astonishing.... The terror is relentless."

--Publisher Weekly

"The pace never flags, the horror never abates, Stephen King, by any name, bowls us over again."

--St. Petersburg Times

"A performance of considerable technical skill ... the most formidable bad guy King has produced since Randall Flagg in The Stand."

--The Philadelphia Inquirer

"Each novel stands alone. You can read either by itself or both in any order. Both are tales of flat-out supernatural horror, narrated in the garrulous, folksy voice King has honed to a precision instrument. Desperation builds to a climax reminiscent of The Stand. Separately, each is a compelling tale of supernatural horror; together they constitute a tour de force.... His 'constant readers' will relish their visits to Wentworth and Desperation as much as the long trek down The Green Mile."

--The Washington Post Book World

"A gory, gut-wrenching exercise in fear and paranoia. Desperation is a fast-paced, in-your-face, heart-pounding, horrorthon that builds to an exciting conclusion."

--Detroit Free Press

"A literary diptych that relects upon faith, friendship, and courage in these times of random violence and changing values. [Desperation is] a claustrophobic nightmare of horror and madness."

--The Dallas Morning News

"Heaps and heaps of surefire thrills."

--Time

"No one is as deft with the carnage, or has as much fun with it.... King is the Winslow Homer of blood."

--The New Yorker

"[The Regulators is a] devilishly entertaining yarn of occult mayhem married to mordant social commentary. Call him Bachman or call him King, the bard of Bangor is going to hit the charts hard and fast with this white-knuckler knockout."

--Publishers Weekly (starred review)

WORKS BY STEPHEN KING

NOVELS

Carrie

'Salem's Lot

The Shining

The Stand

The Dead Zone

Firestarter

Cujo

THE DARK TOWER I:

The Gunslinger

Christine

Pet Sematary

Cycle of the Werewolf

The Talisman

(with Peter Straub)

It

The Eyes of the Dragon

Misery

The Tommyknockers

THE DARK TOWER II:

The Drawing

of the Three

THE DARK TOWER III:

The Waste Lands

The Dark Half

Needful Things

Gerald's Game

Dolores Claiborne

Insomnia

Rose Madder

Desperation

The Green Mile

THE DARK TOWER IV:

Wizard and Glass

Bag of Bones

Hearts in Atlantis

The Girl Who Loved Tom

Gordon

Dreamcatcher

Black House

(with Peter Straub)

From a Buick 8

AS RICHARD BACHMAN

The Long Walk

Roadwork

The Running Man

Thinner

The Regulators

COLLECTIONS

Night Shift

Different Seasons

Skeleton Crew

Four Past Midnight

Nightmares and

Dreamscapes

Everything's Eventual

NONFICTION

Danse Macabre

On Writing

SCREENPLAYS

Creepshow

Cat's Eye

Silver Bullet

Maximum Overdrive

Pet Sematary

Golden Years

Sleepwalkers

The Stand

The Shining

Storm of the Century

Rose Red

SIGNET

Published by New American Library, a division of

Penguin Group (USA) Inc., 375 Hudson Street, New York, New York 10014, USA Penguin Group (Canada), 90 Eglinton Avenue East, Suite 700, Toronto, Ontario M4P 2Y3, Canada (a division of Pearson Penguin Canada Inc.) Penguin Books Ltd., 80 Strand, London WC2R ORL, England

Penguin Ireland, 25 St. Stephen's Green, Dublin 2, Ireland (a division of Penguin Books Ltd.) Penguin Group (Australia), 250 Camberwell Road, Camberwell, Victoria 3124, Australia (a division of Pearson Australia Group Pty. Ltd.) Penguin Books India Pvt. Ltd., 11 Community Centre, Panchsheel Park, New Delhi - 110 017, India Penguin Group (NZ), 67 Apollo Drive, Rosedale, North Shore 0632, New Zealand (a division of Pearson New Zealand Ltd.) Penguin Books (South Africa) (Pty.) Ltd., 24 Sturdee Avenue, Rosebank, Johannesburg 2196, South Africa Penguin Books Ltd., Registered Offices: 80 Strand, London WC2R ORL, England Published by Signet, an imprint of New American Library, a division of Penguin Group (USA) Inc. Previously published in a Viking edition.

First Signet Printing, August

Copyright (c) Stephen King, 1996

All rights reserved

Grateful acknowledgment is made for permission to reprint excerpts from the following co
pyrighted works: "One Piece at a Time," by Wayne Kemp. Copyright (c) Sony/ATV Songs LLC, 1976. All rights admimstered by Sony/ATV Music Pubhshing, 8 Music Square West, Nashville. Tennessee 37203, All rights reserved. Used by permission.

"Baby Likes to Rock It," words and music by Steve Ripley and Wait Richmond. Copyright (c) Warner-Tamerlane Publishing Corp., Boy Rocking Music and Chinquapin Music, 1994. All rights on behalf of Boy Rocking Music administered by Warner-Tamerlane Publishing Corp. (BMI). Repinted by permission of Wamer Bros. Publications, Miami. Florida, and Don Williams Music Group, Encino Huts, California. All rights reserved.

"I Feel Lucky," words and music by Mary-Chapin Carpenter and Don Schlitz. Copyright (c) Don Schlitz Music (Almo Music Corp., Administrator), Getarealjob Music and EMI April Music Inc., 1992. Publications, Miami, Flonda. All rights reserved.

"Do You Believe in Magic," by John Sebastian. Copyright (c) Alley Music Corp. and Trio Music Co., Inc., 1965. Copynght renewed. Used by permission. All rights reserved.

"Leaving on a Jet Plane," words and music by John Denver. Copyright (c) Cherry Lane Music Publishing Company, Inc.. 1967, 1995 (renewed) (ASCAP). International copyright secured. All rights reserved.

"Good Lovin'," by Rudy Clark and Arthur Resnick. Copyright (c) Alley Music Corp. and Trio Music Co., Inc., 1965. Copyright renewed. Used by permission. All rights reserved.

REGISTERED TRADEMARK--MARCA REGISTRADA

Without limiting the rights under copyright reserved above, no part of this publication may be reproduced, stored in or introduced into a retrieval system, or transmitted, in any form, or by any means (electronic. mechanical, photocopying, recording, or otherwise), without the prior written permission of both the copyright owner and the above publisher of this book.

PUBLISHER'S NOTE .

This is a work of fiction. Names, characters, places, and incidents either are the product of the author's imagination or are used fictitiously, and any resemblance to actual persons, living or dead, business establishments, events, or locales is entirely coincidental.

The publisher does not have any control over and does not assume any responsibility for author or third-party Web sites or their content..

The scanning, uploading, and distribution of this book via the Internet or via any other means without the permission of the publisher is illegal and punishable by law. Please purchase only authorized electronic editions, and do not participate in or encourage electronic piracy of copyrighted materials. Your support of the author's rights is appreciated.

eISBN : 978-1-10113799-4

https://us.penguingroup.com

For Carter Withey

ACKNOWLEDGEMENTS

They're in order to four people in particular Rich Hasler, of the Magma Mining Corporation; William Winston, Episcopalian minister; Chuck Verrill, my long-time (and long-suffering, he might add) editor Tabitha King, my wife and keenest critic. Now you know the rest of the drill, Constant Reader, so let's say it together, shall we? For what's right, thank them; for what's wrong, blame me.

--S.K.

The landscape of his poetry

was stitt the desert . . .

Salman Rushdie

The Satanic Verses

PART I

HIGHWAY 50: IN THE HOUSE OF THE WOLF, THE HOUSE OF THE SCORPION

CHAPTER 1

1

"Oh! Oh, Jesus! Gross!"

"What, Mary, what?"

"Didn't you see it?"

"See what?"

She looked at him, and in the harsh desert sunlight he saw that a lot of the color had gone out of her face. leaving just the marks of sunburn on her cheeks and across her brow, where not even a strong sunblock cream would entirely protect her. She was very fair and burned easily.

"On that sign. That speed-limit sign."

"What about it?"

"There was a dead cat on it, Peter! Nailed there or glued there or some damned thing." He hit the brake pedal. She grabbed his shoulder at once. "Don't you even think about going back."

"But--"

"But what? Did you want to take a picture of it? No way, Jose. If I have to look at that again, I'll throw up."

"Was it a white cat?" He could see the back of a sign in the rearview mirror--the speed-limit sign she was talking about, presumably--but that was all. And when they'd passed it, he had been looking off in the other direction, at some birds flying toward the nearest wedge of mountains. Strictly attending to the highway was not something one had to do every second out here; Nevada called its stretch of U.S. 50 "The Loneliest Highway in America," and in Peter Jackson's opinion, it lived up to its billing. Of course he was a New York boy, and he supposed he might be suffering a cumulative case of the creeps. Desert agoraphobia, Ballroom Syndrome, something like that.

"No, it was a tiger-stripe," she said. "What difference does it make?"

"I thought maybe Satanists in the desert," he said. "This place is supposed to be filled with weirdos, isn't that what Marielle said?"

"'Intense' was the word she used," Mary said. "'Central Nevada's full of intense people.' Quote-unquote. Gary said pretty much the same. But since we haven't seen anybody since we crossed the California state line--"

"Well, in Fallon--"

"Pit-stops don't count," she said. "Although even there, the people ..." She gave him a funny, helpless look that he didn't see often in her face these days, although it had been common enough in the months following her miscarriage. "Why are they here, Pete? I mean, I can understand Vegas and Reno ... even Winnemucca and Wendover..."

"The people who come from Utah to gamble there call Wendover Bend Over," Peter said, grinning. "Gary told me that."

She ignored him. "But the rest of the state ... the people who are here, why do they come and why do they stay? I know I was born and raised in New York, so probably I can't understand, but--"

"You're sure that wasn't a white cat? Or a black one?" He glanced back into the rearview, but at just under seventy miles an hour, the speed-limit sign had already faded into a mottled background of sand, mesquite, and dull brown foothills. There was finally another vehicle behind them, though; he could see a hot sunstar reflection pricking off its windshield. Maybe a mile back. Maybe two.

"No, tiger-stripe, I told you. Answer my question. Who are the central Nevada taxpayers, and what's in it for them?"

He shrugged. "There aren't many taxpayers out here. Fallon's the biggest town on Highway 50, and that's mostly farming. It says in the guidebook that they dammed their lake and made irrigation possible. Cantaloupes is what they grow, mostly. And I think there's a military base nearby. Fallon was a Pony Express stop, did you know that?"

"I'd leave," she said. "Just pick up my cantaloupes and go."

. He touched her left breast briefly with his right hand. "That's a nice set of cantaloupes, ma'am."

"Thanks. Not just Fallon, either. Any state where you can't see a house or even a tree, in any direction, and they nail cats to speed-limit signs, I'd leave."

"Well, it's a zone-of-perception thing," he said, speaking carefully. Sometimes he couldn't tell when Mary was serious and when she was just gassing, and this was one of those times. "As someone who was raised in an urban environment, a place like the Great Basin is just outside your zone, that's all. Mine too, for that matter. The sky alone is enough to freak me out. Ever since we left this morning, I've felt it up there, pressing down on me."

"Me, too. There's too goddam much of it."

"Are you sorry we came this way?" He glanced up into the rearview and saw the vehicle behind them was closer now. Not a truck, which was just about all they'd seen since leaving Fallon (and all headed the other way, west), but a car. Really burning up the road, too.

She thought about it, then shook her head. "No. It was good to see Gary and Marielle, and Lake Tahoe--"

"Beautiful, wasn't it?"

"Incredible. Even this ..." Mary looked out the window. "It's not without beauty, I'm not saying that. And I suppose I'll remember i
t the rest of my life. But it's ..."

". . . creepy," he finished for her. "If you're from New York, at least."

"Damned right," she said. "Urban Zone of Perception. And even if we'd taken 1-80, it's all desert."

"Yep. Tumbling tumbleweeds." He looked into the mirror again, the lenses of the glasses he wore for driving glinting in the sun. The oncomer was a police-car, doing at least ninety. He squeezed over toward the shoulder until the righthand wheels began to rumble on the hardpan and spume up dust.

"Pete? What are you doing?"

Another look into the mirror. Big chrome grille, coming up fast and reflecting such a savage oblong of sun that he had to squint ... but he thought the car was white, which meant it wasn't the State Police.

"Making myself small," Peter said. "Wee sleekit cowrin beastie. There's a cop behind us and he's in a hurry. Maybe he's got a line on--"

The police-car blasted by, making the Acura which belonged to Peter's sister rock in its backwash. It was indeed white, and dusty from the doorhandles down. There was a decal on the side, but the car was gone before Pete caught more than a glimpse of it. DES-something. Destry, maybe. That was a good name for a Nevada town out here in the big lonely.

"--on the guy who nailed the cat to the speed-limit sign," Peter finished.

"Why's he going so fast with his flashers off?"

"Who's there to run them for out here?"

"Well," she said, giving him that odd-funny look again, "there's us."

He opened his mouth to reply, then closed it again. She was right. The cop must have been seeing them for at least as long as they'd been seeing him, maybe longer, so why hadn't he flipped on his lights and flashers, just to be safe? Of course Peter had known enough to get over on his own, give the cop as much of the road as he possibly could, but still--

The police car's taillights suddenly came on. Peter hit his own brake without even thinking of it, although he had already slowed to sixty and the cruiser was far enough ahead so there was no chance of a collision. Then the cruiser swerved over into the westbound lane.

"What's he doing?" Mary asked.

"I don't know, exactly."

But of course he knew: he was slowing down. From his cut-em-off-at-the-pass eighty-five or ninety he had dropped to fifty. Frowning, not wanting to catch up and not knowing why, Peter slowed even more himself. The speedometer of Deirdre's car dropped down toward forty.