Different Seasons
Stephen King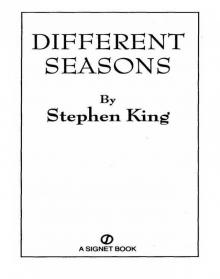 Table of Contents

Title Page

Copyright Page

Dedication

HOPE SPRINGS ETERNAL

Rita Hayworth and Shawshank Redemption

SUMMER OF CORRUPTION

Apt Pupil

FALL FROM INNOCENCE

The Body

A WINTER'S TALE

The Breathing Method

Afterword

From the Magical Penof Stephen King, Four Mesmerizing Novellas ...

DIFFERENT SEASONS

"Rita Hayworth and the Shawshank Redemption"

An unjustly imprisoned convict seeks a strange and startling revenge ... the basis for the Best Picture Academy Award(r) nominee The Shawshank Redemption.

"Apt Pupil"

Todd Bowden is one of the top students in his high school class and a typical American sixteen-year-old--until he becomes obsessed with the dark and deadly past of an older man in town. The inspiration for the film Apt Pupil from Phoenix Pictures.

"The Body"

Four rambunctious young boys plunge through the facade of a small town and come face-to-face with life, death, and intimations of their own mortality. The film Stand By Me is based on this novella.

"The Breathing Method"

A disgraced woman is determined to triumph over death.

"To find the secret of his success, you have to compare King to Twain and Poe--King's stories tap the roots of myth buried in all our minds."

--Los Angeles Times

AMERICA LOVES

THE BACHMAN BOOKS

"Fascinating."

--Philadelphia Inquirer

CARRIE

"Horrifying."

--Chicago Tribune

CHRISTINE

"Riveting."

--Playboy

CUJO

"Gut-wrenching."

--Newport News Daily Press

THE DARK HALF

"Scary."

--Kirkus Reviews

THE DARK TOWER: THE GUNSLINGER

"Brilliant."

--Booklist

THE DARK TOWER II: THE DRAWING OF THE THREE "Superb."

--Chicago Herald-Wheaton

THE DARK TOWER III: THE WASTE LANDS

"Gripping."

--Chicago Sun-Times

THE DEAD ZONE

"Frightening."

--Cosmopolitan

DIFFERENT SEASONS

"Hypnotic."

--New York Times Book Review

DOLORES CLAIBORNE

"Unforgettable."

--San Francisco Chronicle

THE EYES OF THE DRAGON

"Masterful."

--Cincinnati Post

FIRESTARTER

"Terrifying."

--Miami Herald

STEPHEN KING

FOUR PAST MIDNIGHT

"Chilling."

--Milwaukee Journal

GERALD'S GAME

"Terrific."

--USA Today

IT

"Mesmerizing."

--Washington Post Book World

MISERY

"Wonderful."

--Houston Chronicle

NEEDFUL THINGS

"Demonic."

--Kirkus Reviews

NIGHT SHIFT

"Macabre."

--Dallas Times-Herald

PET SEMATARY

"Unrelenting."

--Pittsburgh Press

'SALEM'S LOT

"Tremendous."

--Kirkus Reviews

THE SHINING

"Spellbinding."

--Pittsburgh Press

SKELETON CREW

"Diabolical."

--Associated Press

THE STAND

"Great."

--New York Times Book Review

THINNER

"Extraordinary."

--Booklist

THE TOMMYKNOCKERS

"Marvelous."

--Boston Globe

WORKS BY STEPHEN KING

NOVELS

Carrie

'Salem's Lot

The Shining

The Stand

The Dead Zone

Firestarter

Cujo

THE DARK TOWER I:

The Gunslinger

Christine

Pet Sematary

Cycle of the Werewolf

The Talisman

(with Peter Straub)

It

The Eyes of the Dragon

Misery

The Tommyknockers

THE DARK TOWER II:

The Drawing

of the Three

THE DARK TOWER III:

The Waste Lands

The Dark Half

Needful Things

Gerald's Game

Dolores Claiborne

Insomnia

Rose Madder

Desperation

The Green Mile

THE DARK TOWER IV:

Wizard and Glass

Bag of Bones

The Girl Who Loved Tom

Gordon

Dreamcatcher

Black House

(with Peter Straub)

From a Buick 8

AS RICHARD BACHMAN

Rage

The Long Walk

Roadwork

The Running Man

Thinner

The Regulators

COLLECTIONS

Night Shift

Different Seasons

Skeleton Crew

Four Past Midnight

Nightmares and

Dreamscapes

Hearts in Atlantis

Everything's Eventual

NONFICTION

Danse Macabre

On Writing

SCREENPLAYS

Creepshow

Cat's Eye

Silver Bullet

Maximum Overdrive

Pet Sematary

Golden Years

Sleepwalkers

The Stand

The Shining

Rose Red

Storm of the Century

SIGNET

Published by New American Library, a division of Penguin Group (USA) Inc., 375 Hudson Street, New York, New York 10014, USA Penguin Group (Canada), 90 Eglinton Avenue East, Suite 700, Toronto, Ontario M4P 2Y3, Canada (a division of Pearson Penguin Canada Inc.) Penguin Books Ltd., 80 Strand, London WC2R 0RL, England Penguin Ireland, 25 St. Stephen's Green, Dublin 2, Ireland (a division of Penguin Books Ltd.) Penguin Group (Australia), 250 Camberwell Road, Camberwell, Victoria 3124, Australia (a division of Pearson Australia Group Pty. Ltd.) Penguin Books India Pvt. Ltd., 11 Community Centre, Panchsheel Park, New Delhi - 110 017, India Penguin Group (NZ), 67 Apollo Drive, Mairangi Bay, Albany, Auckland 1311, New Zealand (a division of Pearson New Zealand Ltd.) Penguin Books (South Africa) (Pty.) Ltd., 24 Sturdee Avenue, Rosebank, Johannesburg 2196, South Africa Penguin Books Ltd., Registered Offices: 80 Strand, London WC2R 0RL, England Published by Signet, an imprint of New American Library, a division of Penguin Group (USA) Inc. Previously published in a Viking edition. First Signet Printing, August 1983 70

Copyright (c) Stephen King, 1982

All rights reserved

eISBN : 978-1-10113808-3

Grateful acknowledgment is made to the following for permission to reprint copyrighted material.

Beechwood Music Corporation and Castle Music Pty. Limited: Portions of lyrics from "Tie Me Kangaroo Down, Sport," by Rolf Harris. Copyright (c) Castle Music Pty. Limited, 1960. Assigned to and copyrighted (c) Beechwood Music Corp., 1961 for the United States and Canada. Copyright (c) Castle Music Pty. Limited for other territories. Used by permission. All rights reserved.

Big Seven Music Corporation
: Portions of lyrics from "Party Doll," by Buddy Knox and Jimmy Bowen. Copyright (c) Big Seven Music Corp., 1956. Portions of lyrics from "Sorry (I Ran All the Way Home)" by Zwirn/Giosasi. Copyright (c) Big Seven Music Corp., 1959. All rights reserved.

Holt, Rinehart and Winston, Publishers; Jonathan Cape Ltd.; and the Estate of Robert Frost: Two lines from "Mending Wall" from The Poetry of Robert Frost, edited by Edward Connery Lathem. Copyright (c) Holt, Rinehart and Winston, 1930, 1939, 1969. Copyright (c) Robert Frost, 1958. Copyright (c) Lesley Frost Ballantine, 1967.

REGISTERED TRADEMARK--MARCA REGISTRADA

Without limiting the rights under copyright reserved above, no part of this publication may be reproduced, stored in or introduced into a retrieval system, or transmitted, in any form, or by any means (electronic, mechanical, photocopying, recording, or otherwise), without the prior written permission of both the copyright owner and the above publisher of this book.

PUBLISHER'S NOTE

These are works of fiction. Names, characters, places, and incidents either are the product of the author's imagination or are used fictitiously, and any resemblance to actual persons, living or dead, business establishments, events, or locales is entirely coincidental.

The publisher does not have any control over and does not assume any responsibility for author or third-party Web sites or their content.

The scanning, uploading, and distribution of this book via the Internet or via any other means without the permission of the publisher is illegal and punishable by law. Please purchase only authorized electronic editions, and do not participate in or encourage electronic piracy of copyrighted materials. Your support of the author's rights is appreciated.

https://us.penguingroup.com

It is the tale, not he who tells it.

"Dirty deeds done dirt cheap."

--AC/DC

"I heard it through the grapevine."

--Norman Whitfield

Tout s'en va, tout passe, l'eau coule, et le coeur oublie.

--Flaubert

HOPE SPRINGS ETERNAL

For Russ and Florence Dorr

Rita Hayworth and Shawshank Redemption

There's a guy like me in every state and federal prison in America, I guess--I'm the guy who can get it for you. Tailormade cigarettes, a bag of reefer if you're partial to that, a bottle of brandy to celebrate your son or daughter's high school graduation, or almost anything else ... within reason, that is. It wasn't always that way.

I came to Shawshank when I was just twenty, and I am one of the few people in our happy little family willing to own up to what they did. I committed murder. I put a large insurance policy on my wife, who was three years older than I was, and then I fixed the brakes of the Chevrolet coupe her father had given us as a wedding present. It worked out exactly as I had planned, except I hadn't planned on her stopping to pick up the neighbor woman and the neighbor woman's infant son on their way down Castle Hill and into town. The brakes let go and the car crashed through the bushes at the edge of the town common, gathering speed. Bystanders said it must have been doing fifty or better when it hit the base of the Civil War statue and burst into flames.

I also hadn't planned on getting caught, but caught I was. I got a season's pass into this place. Maine has no death-penalty, but the District Attorney saw to it that I was tried for all three deaths and given three life sentences, to run one after the other. That fixed up any chance of parole I might have for a long, long time. The judge called what I had done "a hideous, heinous crime," and it was, but it is also in the past now. You can look it up in the yellowing files of the Castle Rock Call, where the big headlines announcing my conviction look sort of funny and antique next to the news of Hitler and Mussolini and FDR's alphabet soup agencies.

Have I rehabilitated myself, you ask? I don't even know what that word means, at least as far as prisons and corrections go. I think it's a politician's word. It may have some other meaning, and it may be that I will have a chance to find out, but that is the future ... something cons teach themselves not to think about. I was young, good-looking, and from the poor side of town. I knocked up a pretty, sulky, headstrong girl who lived in one of the fine old houses on Carbine Street. Her father was agreeable to the marriage if I would take a job in the optical company he owned and "work my way up." I found out that what he really had in mind was keeping me in his house and under his thumb, like a disagreeable pet that has not quite been housebroken and which may bite. Enough hate eventually piled up to cause me to do what I did. Given a second chance I would not do it again, but I'm not sure that means I am rehabilitated.

Anyway, it's not me I want to tell you about; I want to tell you about a guy named Andy Dufresne. But before I can tell you about Andy, I have to explain a few other things about myself. It won't take long.

As I said, I've been the guy who can get it for you here at Shawshank for damn near forty years. And that doesn't just mean contraband items like extra cigarettes or booze, although those items always top the list. But I've gotten thousands of other items for men doing time here, some of them perfectly legal yet hard to come by in a place where you've supposedly been brought to be punished. There was one fellow who was in for raping a little girl and exposing himself to dozens of others; I got him three pieces of pink Vermont marble and he did three lovely sculptures out of them--a baby, a boy of about twelve, and a bearded young man. He called them The Three Ages of Jesus, and those pieces of sculpture are now in the parlor of a man who used to be governor of this state.

Or here's a name you may remember if you grew up north of Massachusetts--Robert Alan Cote. In 1951 he tried to rob the First Mercantile Bank of Mechanic Falls, and the holdup turned into a bloodbath--six dead in the end, two of them members of the gang, three of them hostages, one of them a young state cop who put his head up at the wrong time and got a bullet in the eye. Cote had a penny collection. Naturally they weren't going to let him have it in here, but with a little help from his mother and a middleman who used to drive a laundry truck, I was able to get it for him. I told him, Bobby, you must be crazy, wanting to have a coin collection in a stone hotel full of thieves. He looked at me and smiled and said, I know where to keep them. They'll be safe enough. Don't you worry. And he was right. Bobby Cote died of a brain tumor in 1967, but that coin collection has never turned up.

I've gotten men chocolates on Valentine's Day; I got three of those green milkshakes they serve at McDonald's around St. Paddy's Day for a crazy Irishman named O'Malley; I even arranged for a midnight showing of Deep Throat and The Devil in Miss Jones for a party of twenty men who had pooled their resources to rent the films ... although I ended up doing a week in solitary for that little escapade. It's the risk you run when you're the guy who can get it.

I've gotten reference books and fuck-books, joke novelties like handbuzzers and itching powder, and on more than one occasion I've seen that a long-timer has gotten a pair of panties from his wife or his girlfriend... and I guess you'll know what guys in here do with such items during the long nights when time draws out like a blade. I don't get all those things gratis, and for some items the price comes high. But I don't do it just for the money; what good is money to me? I'm never going to own a Cadillac car or fly off to Jamaica for two weeks in February. I do it for the same reason that a good butcher will only sell you fresh meat: I got a reputation and I want to keep it. The only two things I refuse to handle are guns and heavy drugs. I won't help anyone kill himself or anyone else. I have enough killing on my mind to last me a lifetime.

Yeah, I'm a regular Neiman-Marcus. And so when Andy Dufresne came to me in 1949 and asked if I could smuggle Rita Hayworth into the prison for him, I said it would be no problem at all. And it wasn't.

When Andy came to Shawshank in 1948, he was thirty years old. He was a short, neat little man with sandy hair and small, clever hands. He wore gold-rimmed spectacles. His fingernails were always clipped, and they were always clean. That's a funny thing to remember about
a man, I suppose, but it seems to sum Andy up for me. He always looked as if he should have been wearing a tie. On the outside he had been a vice-president in the trust department of a large Portland bank. Good work for a man as young as he was especially when you consider how conservative most banks are ... and you have to multiply that conservatism by ten when you get up into New England, where folks don't like to trust a man with their money unless he's bald, limping, and constantly plucking at his pants to get his truss around straight. Andy was in for murdering his wife and her lover.

As I believe I have said, everyone in prison is an innocent man. Oh, they read that scripture the way those holy rollers on TV read the Book of Revelation. They were the victims of judges with hearts of stone and balls to match, or incompetent lawyers, or police frame-ups, or bad luck. They read the scripture, but you can see a different scripture in their faces. Most cons are a low sort, no good to themselves or anyone else, and their worst luck was that their mothers carried them to term.

In all my years at Shawshank, there have been less than ten men whom I believed when they told me they were innocent. Andy Dufresne was one of them, although I only became convinced of his innocence over a period of years. If I had been on that jury that heard his case in Portland Superior Court over six stormy weeks in 1947-48, I would have voted to convict, too.

It was one hell of a case, all right; one of those juicy ones with all the right elements. There was a beautiful girl with society connections (dead), a local sports figure (also dead), and a prominent young businessman in the dock. There was this, plus all the scandal the newspapers could hint at. The prosecution had an open-and-shut case. The trial only lasted as long as it did because the DA was planning to run for the U.S. House of Representatives and he wanted John Q. Public to get a good long look at his phiz. It was a crackerjack legal circus, with spectators getting in line at four in the morning, despite the subzero temperatures, to assure themselves of a seat.

The facts of the prosecution's case that Andy never contested were these: that he had a wife, Linda Collins Dufresne; that in June of 1947 she had expressed an interest in learning the game of golf at the Falmouth Hills Country Club; that she did indeed take lessons for four months; that her instructor was the Falmouth Hills golf pro, Glenn Quentin; that in late August of 1947 Andy learned that Quentin and his wife had become lovers; that Andy and Linda Dufresne argued bitterly on the afternoon of September 10th, 1947; that the subject of their argument was her infidelity.