Firestarter
Stephen King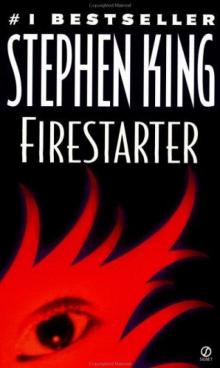 Table of Contents

Title Page

Copyright Page

Dedication

New York/Albany

Longmont, Virginia: The Shop

The Incident at the Manders Farm

Washington, D.C.

Tashmore, Vermont

Cap and Rainbird

In the Box

The Blackout

Small Fires, Big Brother

Endgame

Firestarter

Charlie Alone

AFTERWORD

Innocence and beauty ignite with evil and terror ...

FIRESTARTER

First, a man and a woman are subjects of a top-secret government experiment designed to produce extraordinary psychic powers.

Then, they are married and have a child. A daughter.

Early on the daughter shows signs of a wild and horrifying force growing within her. Desperately, her parents try to train her to keep that force in check, to "act normal."

Now the government wants its brainchild back--for its own insane ends.

"Terrifying and gripping."

--Miami Herald

AMERICA LOVES

THE BACHMAN BOOKS

"Fascinating."

--Philadelphia Inquirer

CARRIE

"Horrifying."

--Chicago Tribune

CHRISTINE

"Riveting."

--Playboy

CUJO

"Gut-wrenching."

--Newport News Daily Press

THE DARK HALF

"Scary."

--Kirkus Reviews

THE DARK TOWER: THE GUNSLINGER

"Brilliant."

--Booklist

THE DARK TOWER II: THE DRAWING OF THE THREE

"Superb."

--Chicago Herald-Wheaton

THE DARK TOWER III: THE WASTE LANDS

"Gripping."

--Chicago Sun-Times

THE DEAD ZONE

"Frightening."

--Cosmopolitan

DIFFERENT SEASONS

"Hypnotic."

--New York Times Book Review

DOLORES CLAIBORNE

"Unforgettable."

--San Francisco Chronicle

THE EYES OF THE DRAGON

"Masterful."

--Cincinnati Post

FIRESTARTER

"Terrifying."

--Miami Herald

STEPHEN KING

FOUR PAST MIDNIGHT

"Chilling."

--Milwaukee Journal

GERALD'S GAME

"Terrific."

--USA Today

IT

"Mesmerizing."

--Washington Post Book World

MISERY

"Wonderful."

--Houston Chronicle

NEEDFUL THINGS

"Demonic."

--Kirkus Reviews

NIGHT SHIFT

"Macabre."

--Dallas Times-Herald

PET SEMATARY

"Unrelenting."

--Pittsburgh Press

'SALEM'S LOT

"Tremendous."

--Kirkus Reviews

THE SHINING

"Spellbinding."

--Pittsburgh Press

SKELETON CREW

"Diabolical."

--Associated Press

THE STAND

"Great."

--New York Times Book Review

THINNER

"Extraordinary."

--Booklist

THE TOMMYKNOCKERS

"Marvelous."

--Boston Globe

WORKS BY STEPHEN KING

NOVELS

Carrie

'Salem's Lot

The Shining

The Stand

The Dead Zone

Firestarter Cujo

THE DARK TOWER I:

The Gunslinger

Christine

Pet Sematary

Cycle of the Werewolf

The Talisman

(with Peter Straub)

It

The Eyes of the Dragon Misery

The Tommyknockers

THE DARK TOWER II:

The Drawing

of the Three

THE DARK TOWER III:

The Waste Lands

The Dark Half

Needful Things

Gerald's Game

Dolores Claiborne

Insomnia

Rose Madder

Desperation The Green Mile

THE DARK TOWER IV:

Wizard and Glass

Bag of Bones

The Girl Who Loved Tom

Gordon

Dreamcatcher

Black House

(with Peter Straub)

From a Buick 8

AS RICHARD BACHMAN

Rage

The Long Walk

Roadwork

The Running Man

Thinner

The Regulators

COLLECTIONS

Night Shift

Different Seasons

Skeleton Crew

Four Past Midnight

Nightmares and

Dreamscapes

Hearts in Atlantis

Everything's Eventual

NONFICTION

Danse Macabre

On Writing

SCREENPLAYS

Creepshow

Cat's Eye

Silver Bullet

Maximum Overdrive

Pet Sematary

Golden Years

Sleepwalkers

The Stand

The Shining

Rose Red

Storm of the Century

SIGNET

Published by New American Library, a division of

Penguin Group (USA) Inc., 375 Hudson Street,

New York, New York 10014, USA

Penguin Group (Canada), 90 Eglinton Avenue East. Suite 700, Toronto,

Ontario M4P 2Y3, Canada (a division of Pearson Penguin Canada Inc.)

Penguin Books Ltd., 80 Strand, London WC2R ORL, England

Penguin Ireland, 25 St. Stephen's Green, Dublin 2.

Ireland (a division of Penguin Books Ltd.)

Penguin Group (Australia), 250 Camberwell Road. Camberwell, Victoria 3124,

Australia (a division of Pearson Australia Group Pty. Ltd.)

Penguin Books India Pvt. Ltd., 11 Community Centre, Panchsheel Park,

New Delhi - 110 017, India

Penguin Group (NZ), 67 Apollo Drive, Rosedale, North Shore 0632,

New Zealand (a division of Pearson New Zealand Ltd.)

Penguin Books (South Africa) (Pty.) Ltd.. 24 Sturdee Avenue,

Rosebank, Johannesburg 2196. South Africa

Penguin Books Ltd., Registered Offices:

80 Strand, London WC2R ORL, England

First Signet Printing, August 1981

Copyright (c) Stephen King, 1980, 1981

eISBN : 978-1-101-13809-0

All rights reserved

REGISTERED TRADEMARK--MARCA A REGISTRADA

Without limiting the rights under copyright reserved above, no part of this publication may be reproduced, stored in or introduced into a retrieval system, or transmitted, in any form, or by any means (electronic, mechanical, photocopying, recording, or otherwise), without the prior written permission of both the copyright owner and the above publisher of this book.

PUBLISHER'S NOTE

This is a work of fiction. Names, characters, places, and incidents either are the product of the author's imagination or are used fictitiously, and any resemblance to actual persons, living or dead, business establishments, events, or locales is entirely coincidental.

The publisher does not have any con
trol over and does not assume any responsibility for author or third-party Web sites or their content.

The scanning, uploading, and distribution of this book via the Internet or via any other means without the permission of the publisher is illegal and punishable by law. Please purchase only authorized electronic editions, and do not participate in or encourage electronic piracy of copyrighted materials. Your support of the author's rights is appreciated.

https://us.penguingroup.com

In memory of Shirley Jackson,

who never needed to raise her voice.

The Haunting of Hill House

The Lottery

We Have Always Lived in the Castle

The Sundial

"It was a pleasure to burn." .

--Ray Bradbury,

FAHRENHEIT 451

New York/Albany

1

"Daddy, I'm tired," the little girl in the red pants and the green blouse said fretfully. "Can't we stop?"

"Not yet, honey."

He was a big, broad-shouldered man in a worn and scuffed corduroy jacket and plain brown twill slacks. He and the little girl were holding hands and walking up Third Avenue in New York City, walking fast, almost running. He looked back over his shoulder and the green car was still there, crawling along slowly in the curbside lane.

"Please, Daddy. Please."

He looked at her and saw how pale her face was. There were dark circles under her eyes. He picked her up and sat her in the crook of his arm, but he didn't know how long he could go on like that. He was tired, too, and Charlie was no lightweight anymore.

It was five-thirty in the afternoon and Third Avenue was clogged. They were crossing streets in the upper Sixties now, and these cross streets were both darker and less populated.... But that was what he was afraid of.

They bumped into a lady pushing a walker full of groceries. "Look where you're goin, whyn't ya?" she said, and was gone, swallowed in the hurrying crowds.

His arm was getting tired, and he switched Charlie to the other one. He snatched another look behind, and the green car was still there, still pacing them, about half a block behind. There were two men in the front seat and, he thought, a third in the back.

What do I do now?

He didn't know the answer to that. He was tired and scared and it was hard to think. They had caught him at a bad time, and the bastards probably knew it. What he wanted to do was just sit down on the dirty curbing and cry out his frustration and fear. But that was no answer. He was the grownup. He would have to think for both of them.

What do we do now?

No money. That was maybe the biggest problem, after the fact of the men in the green car. You couldn't do anything with no money in New York. People with no money disappeared in New York; they dropped into the sidewalks, never to be seen again.

He looked back over his shoulder, saw the green car was a little closer, and the sweat began to run down his back and his arms a little faster. If they knew as much as he suspected they did--if they knew how little of the push he actually had left--they might try to take him right here and now. Never mind all the people, either. In New York, if it's not happening to you, you develop this funny blindness. Have they been charting me? Andy wondered desperately. If they have, they know, and it's all over but the shouting. If they had, they knew the pattern. After Andy got some money, the strange things stopped happening for a while. The things they were interested in.

Keep walking.

Sho, boss. Yassuh, boss. Where?

He had gone into the bank at noon because his radar had been alerted--that funny hunch that they were getting close again. There was money in the bank, and he and Charlie could run on it if they had to. And wasn't that funny? Andrew McGee no longer had an account at the Chemical Allied Bank of New York, not personal checking, not business checking, not savings. They had all disappeared into thin air, and that was when he knew they really meant to bring the hammer down this time. Had all of that really been only five and a half hours ago?

But maybe there was a tickle left. Just one little tickle. It had been nearly a week since the last time--that presuicidal man at Confidence Associates who had come to the regular Thursday-night counseling session and then begun to talk with an eerie calmness about how Hemingway had committed suicide. And on the way out, his arm casually around the presuicidal man's shoulders, Andy had given him a push. Now, bitterly, he hoped it had been worth it. Because it looked very much as if he and Charlie were going to be the ones to pay. He almost hoped an echo--

But no. He pushed that away, horrified and disgusted with himself. That was nothing to wish on anybody.

One little tickle, he prayed. That's all, God, just one little tickle. Enough to get me and Charlie out of this jam.

And oh God, how you'll pay... plus the fact that you'll be dead for a month afterward, just like a radio with a blown tube. Maybe six weeks. Or maybe really dead, with your worthless brains leaking out your ears. What would happen to Charlie then?

They were coming up on Seventieth Street and the light was against them. Traffic was pouring across and pedestrians were building up at the corner in a bottleneck. And suddenly he knew this was where the men in the green car would take them. Alive if they could, of course, but if it looked like trouble ... well, they had probably been briefed on Charlie, too.

Maybe they don't even want us alive anymore. Maybe they've decided just to maintain the status quo. What do you do with a faulty equation? Erase it from the board.

A knife in the back, a silenced pistol, quite possibly something more arcane--a drop of rare poison on the end of a needle. Convulsions at the corner of Third and Seventieth. Officer, this man appears to have suffered a heart attack.

He would have to try for that tickle. There was just nothing else.

They reached the waiting pedestrians at the comer. Across the way, DON'T WALK held steady and seemingly eternal. He looked back. The green car had stopped. The curbside doors opened and two men in business suits got out. They were young and smooth-cheeked. They looked considerably fresher than Andy McGee felt.

He began elbowing his way through the clog of pedestrians, eyes searching frantically for a vacant cab.

"Hey, man--"

"For Christ' sake, fellal"

"Please, mister, you're stepping on my do--"

"Excuse me ... excuse me ..." Andy said desperately. He searched for a cab. There were none. At any other time the street would have been stuffed with them. He could feel the men from the green car coming for them, wanting to lay hands on him and Charlie, to take them with them God knew where, the Shop, some damn place, or do something even worse--

Charlie laid her head on his shoulder and yawned.

Andy saw a vacant cab.

"Taxi! Taxi!" he yelled, flagging madly with his free hand.

Behind him, the two men dropped all pretense and ran.

The taxi pulled over.

"Hold it!" one of the men yelled. "Police! Policel"

A woman near the back of the crowd at the comer screamed, and then they all began to scatter.

Andy opened the cab's back door and handed Charlie in. He dived in after her. "La Guardia, step on it," he said.

"Hold it, cabby. Police!"

The cab driver turned his head toward the voice and Andy pushed--very gently. A dagger of pain was planted squarely in the center of Andy's forehead and then quickly withdrawn, leaving a vague locus of pain, like a morning headache--the kind you get from sleeping on your neck.

"They're after that black guy in the checkered cap, I think," he said to the cabby.

"Right," the driver said, and pulled serenely away from the curb. They moved down East Seventieth.

Andy looked back. The two men were standing alone at the curb. The rest of the pedestrians wanted nothing to do with them. One of the men took a walkie-talkie from his belt and began to speak into it Then they were gone.

"That black guy," the driver said, "whadde do? Rob a liqu
or store or somethin, you think?"

"I don't know," Andy said, trying to think how to go on with this, how to get the most out of this cab driver for the least push. Had they got the cab's plate number? He would have to assume they had. But they wouldn't want to go to the city or state cops, and they would be surprised and scrambling, for a while at least.

"They're all a bunch of junkies, the blacks in this city," the driver said. "Don't tell me, I'll tell you."

Charlie was going to sleep. Andy took off his corduroy jacket, folded it, and slipped it under her head. He had begun to feel a thin hope. If he could play this right, it might work. Lady Luck had sent him what Andy thought of (with no prejudice at all) as a pushover. He was the sort that seemed the easiest to push, right down the line: he was white (Orientals were the toughest, for some reason); he was quite young (old people were nearly impossible) and of medium intelligence (bright people were the easiest pushes, stupid ones harder, and with the mentally retarded it was impossible).

"I've changed my mind," Andy said. "Take us to Albany, please."

"Where?"The driver stared at him in the rearview mirror. "Man, I can't take a fare to Albany, you out of your mind?"

Andy pulled his wallet, which contained a single dollar bill. He thanked God that this was not one of those cabs with a bulletproof partition and no way to contact the driver except through a money slot. Open contact always made it easier to push. He had been unable to figure out if that was a psychological thing or not, and right now it was immaterial.

"I'm going to give you a five-hundred-dollar bill," Andy said quietly, "to take me and my daughter to Albany. Okay?"

"Jeee-sus, mister--"

Andy stuck the bill into the cabby's hand, and as the cabby looked down at it, Andy pushed ... and pushed hard. For a terrible second he was afraid it wasn't going to work, that there was simply nothing left, that he had scraped the bottom of the barrel when he had made the driver see the nonexistent black man in the checkered cab.

Then the feeling came--as always accompanied by that steel dagger of pain. At the same moment, his stomach seemed to take on weight and his bowels locked in sick, gripping agony. He put an unsteady hand to his face and wondered if he was going to throw up... or die. For that one moment he wanted to die, as he always did when he overused it--use it, don't abuse it, the sign-off slogan of some long-ago disc jockey echoing sickly in his mind--whatever "it" was. If at that very moment someone had slipped a gun into his hand--

Then he looked sideways at Charlie, Charlie sleeping, Charlie trusting him to get them out of this mess as he had all the others, Charlie confident he would be there when she woke up. Yes, all the messes, except it was all the same mess, the same fucking mess, and all they were doing was running again. Black despair pressed behind his eyes.