Song of Susannah dt-6
Stephen King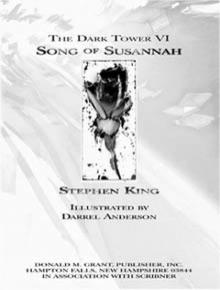 Song of Susannah

( Dark Tower - 6 )

Stephen King

There's something about a crippled, black, schizophrenic, civil rights activist-turned-gunslinger whose body has been hijacked by a white, pregnant demon from a parallel world that keeps a seven-volume story bracingly strong as it veers toward its Armageddon-like conclusion. When Susannah Dean is transported via a magic door on the outskirts of Calla Bryn Sturgis (the scene of much of The Dark Tower V: Wolves of the Calla) to New York City in the summer of 1999, the "demon-mother" who possesses her, Mia, has only one thing on her mind. She must give birth to her "chap" at a predetermined location in Manhattan's East 60s, as instructed by the henchmen-or "Low Men"-of the evil Crimson King. Pressed for time, Father Callahan, preteen Jake and talking pet "billy-bumbler" Oy follow Susannah and Mia's trail in an effort to prevent an act that would quicken the destruction of the Dark Tower and, in turn, of all worlds. Meanwhile, gunslingers Roland and Eddie travel to 1977 Maine in search of bookstore owner Calvin Tower, who is being hunted down by mobster Enrico Balazar and his gang, who first appeared in Eddie's version of New York in The Drawing of the Three Avid readers of the series will either be completely enthralled or extremely irritated when, in a gutsy move, the author weaves his own character into this unpredictable saga, but either way there's no denying the ingenuity with which King paints a candid picture of himself. The sixth installment of this magnum opus stops short with the biggest cliffhanger of King's career, but readers at the edge of their seats need only wait a few short months (Dark Tower VII: The Dark Tower) to find out how-and if-King's fictional universe will come to an end. 10 full-color illus. not seen by PW.

Stephen King

Song of Susannah

THE DARK TOWER VI: SONG OF SUSANNAH

Epigraph

For Tabby, who knew when it was done

Epigraph

"Go, then. There are other worlds than these."

John "Jake" Chambers

"I am a maid of constant sorrow

I've seen trouble all my days

All through the world I'm bound to ramble

I have no friends to show my way…"

Traditional

"Fair is whatever God wants to do."

Leif Enger

Peace Like a River

1st Stanza: Beamquake

One

"How long will the magic stay?"

At first no one answered Roland's question, and so he asked it again, this time looking across the living room of the rectory to where Henchick of the Manni sat with Cantab, who had married one of Henchick's numerous granddaughters. The two men were holding hands, as was the Manni way. The older man had lost a granddaughter that day, but if he grieved, the emotion did not show on his stony, composed face.

Next to Roland, holding no one's hand, silent and dreadfully white, sat Eddie Dean. Beside him, cross-legged on the floor, was Jake Chambers. He had pulled Oy into his lap, a thing Roland had never seen before and would not have believed the billy-bumbler would allow. Both Eddie and Jake were splattered with blood. That on Jake's shirt belonged to his friend Benny Slightman. That on Eddie's belonged to Margaret Eisenhart, once Margaret of Redpath, the lost granddaughter of the old patriarch. Both Eddie and Jake looked as tired as Roland felt, but he was quite sure there would be no rest for them this night. Distant, from town, came the sounds of fireworks and singing and celebration.

There was no celebration here. Benny and Margaret were dead, and Susannah was gone.

"Henchick, tell me, I beg: how long will the magic stay?"

The old man stroked his beard in a distracted fashion. "Gunslinger—Roland—I can't say. The magic of the door in that cave is beyond me. As thee must know."

"Tell me what you think. Based on what youdo know."

Eddie raised his hands. They were dirty, there was blood under the nails, and they trembled. "Tell, Henchick," he said, speaking in a voice, humble and lost, that Roland had never heard before. "Tell, I beg."

Rosalita, Pere Callahan's woman of all work, came in with a tray. There were cups on it, and a carafe of steaming coffee. She, at least, had found time to change out of her bloody, dusty jeans and shirt and into a housedress, but her eyes were still shocked. They peered from her face like small animals from their burrows. She poured the coffee and passed the cups without speaking. Nor had she gotten all the blood, Roland saw as he took one of the cups. There was a streak of it on the back of her right hand. Margaret's or Benny's? He didn't know. Or much care. The Wolves had been defeated. They might or might not come again to Calla Bryn Sturgis. That was ka's business. Theirs was Susannah Dean, who had disappeared in the aftermath, taking Black Thirteen with her.

Henchick said: "Ye ask of kaven?"

"Aye, father," Roland agreed. "The persistence of magic."

Father Callahan took a cup of coffee with a nod and a distracted smile, but no word of thanks. He had spoken little since they'd come back from the cave. In his lap was a book called'Salem's Lot, by a man of whom he had never heard. It purported to be a work of fiction, but he, Donald Callahan, was in it. He had lived in the town of which it told, had taken part in the events it recounted. He had looked on the back and on the rear flap for the author's photograph, queerly certain that he would see a version of his own face looking back at him (the way he'd looked in 1975, when these events had taken place, most likely), but there had been no picture, just a note about the book's writer that told very little. He lived in the state of Maine. He was married. He'd written one previous book, quite well reviewed, if you believed the quotations on the back.

"The greater the magic, the longer it persists," Cantab said, and then looked at Henchick questioningly.

"Aye," Henchick said. "Magic and glammer, both are one, and they do unroll from the back." He paused. "From the past, do'ee ken."

"This door opened on many places and many times in the world my friends came from," Roland said. "I would open it again, but just on the last two. The most recent two. Can that be done?"

They waited as Henchick and Cantab considered. The Manni were great travelers. If anyone knew, if anyone could do what Roland wanted—what they all wanted—it would be these folk.

Cantab leaned deferentially toward the old man, the dinh of Calla Redpath. He whispered. Henchick listened, his face expressionless, then turned Cantab's head with one gnarled old hand and whispered back.

Eddie shifted, and Roland felt him getting ready to break loose, perhaps to begin shouting. He put a restraining hand on Eddie's shoulder, and Eddie subsided. For the time being, at least.

The whispered consultation went on for perhaps five minutes while the others waited. The sounds of celebration in the distance were difficult for Roland to take; God knew how they must make Eddie feel.

At last Henchick patted Cantab's cheek with his hand and turned to Roland.

"We think this may be done," he said.

"Thank God," Eddie muttered. Then, louder: "ThankGod! Let's go up there. We can meet you on the East Road—"

Both of the bearded men were shaking their heads, Henchick with a kind of stern sorrow, Cantab with a look that was almost horror.

"We'll not go up to the Cave of the Voices in the dark," Henchick said.

"Wehave to!" Eddie burst out. "You don't understand! It's not just a question of how long the magic will or won't last, it's a question of time on the other side! It goes faster over there, and once it's gone, it's gone! Christ, Susannah could be having that baby right now, and if it's some kind of cannibal—"

"Listen to me, young f
ellow," Henchick said, "and hear me very well, I beg. The day is nigh gone."

This was true. Never in Roland's experience had a day run so quickly through his fingers. There had been the battle with the Wolves early, not long after dawn, then celebration there on the road for the victory and sorrow for their losses (which had been amazingly small, as things had fallen). Then had come the realization that Susannah was gone, the trek to the cave, their discoveries there. By the time they'd gotten back to the East Road battlefield, it had been past noon. Most of the townsfolk had left, bearing their saved children home in triumph. Henchick had agreed willingly enough to this palaver, but by the time they'd gotten back to the rectory, the sun had been on the wrong side of the sky.

We're going to get a night's rest, after all,Roland thought, and didn't know whether to be glad or disappointed. He could use sleep; that much he did know.

"I listen and hear," Eddie said, but Roland's hand was still on his shoulder, and he could feel the younger man trembling.

"Even were we willing to go, we couldn't persuade enough of the others to come wi' us," Henchick said.

"You're their dinh—"

"Aye, so you call it, and so I suppose I am, although it isn't our word, ye ken. In most things they'd follow me, and they know the debt they owe your ka-tet out of this day's work and would say thank ya any way they could. But they wouldn't go up that path and into that haunted place after dark." Henchick was shaking his head slowly and with great certainty. "No—that they will not do.

"Listen, young man. Cantab and I can be back at Redpath Kra-ten well before full dark. There we'll call our men-folk to the Tempa, which is to us as the Meeting Hall is to the forgetful folk." He glanced briefly at Callahan. "Say pardon, Pere, if the term offends ye."

Callahan nodded absently without looking up from the book, which he was turning over and over in his hands. It had been covered in protective plastic, as valuable first editions often are. The price lightly penciled on the flyleaf was$950. Some young man's second novel. He wondered what made it so valuable. If they ran into the book's owner, a man named Calvin Tower, he would surely ask. And that would only be the start of his questioning.

"We'll explain what it is ye want, and ask for volunteers. Of the sixty-eight men of Redpath Kra-ten, I believe all but four or five will agree to help—to blend their forces together. It will make powerful khef. Is that what ye call it? Khef? The sharing?"

"Yes," Roland said. "The sharing of water, we say."

"You couldn't fit anywhere that number of men in the mouth of that cave," Jake said. "Not even if half of them sat on the other half's shoulders."

"No need," Henchick said. "We'll put the most powerful inside—what we call the senders. The others can line up along the path, linked hand to hand and bob to bob. They'll be there before the sun goes rooftop tomorrow. I set my watch and warrant on it."

"We'll need tonight to gather our mags and bobs, anyway," Cantab said. He was looking at Eddie apologetically, and with some fear. The young man was in terrible pain, that was clear. And he was a gunslinger. A gunslinger might strike out, and when one did, it was never blindly.

"It could be too late," Eddie said, low. He looked at Roland with his hazel eyes. They were now bloodshot and dark with exhaustion. "Tomorrow could be too late even if the magichasn't gone away."

Roland opened his mouth and Eddie raised a finger.

"Don't say ka, Roland. If you say ka one more time, I swear my head'll explode."

Roland closed his mouth.

Eddie turned back to the two bearded men in their dark, Quakerish cloaks. "And you can't be sure the magic will stay, can you? What could be opened tonight could be closed against us forever tomorrow. Not all the magnets and plumb-bobs in Manni creation could open it."

"Aye," Henchick said. "But your woman took the magic ball with her, and whatever'ee may think, Mid-World and the Borderlands are well shed of it."

"I'd sell my soul to have it back, and in my hands," Eddie said clearly.

They all looked shocked at this, even Jake, and Roland felt a deep urge to tell Eddie he must take that back, must unsay it. There were powerful forces working against their quest for the Tower, dark ones, and Black Thirteen was their clearest sigul. What could be used could also be misused, and the bends o' the rainbow had their own malevolent glammer, Thirteen most of all. Was the sum of all, perhaps. Even if they had possessed it, Roland would have fought to keep it out of Eddie Dean's hands. In his current state of sorrowing distraction, the ball would either destroy him or make him its slave in minutes.

"A stone might drink if it had a mouth," Rosa said dryly, startling them all. "Eddie, questions of magic aside, think of the path that goes up there. Then think of five dozen men, many of them nigh as old as Henchick, one or two blind as bats, trying to climb it after dark."

"The boulder," Jake said. "Remember the boulder you have to kind of slide by, with your feet sticking out over the drop?"

Eddie nodded reluctantly. Roland could see him trying to accept what he couldn't change. Groping for sanity.

"Susannah Dean is also a gunslinger," Roland said. "Mayhap she can take care of herself a little while."

"I don't think Susannah's in charge anymore," Eddie replied, "and neither do you. It's Mia's baby, after all, and it'll be Mia at the controls until the baby—the chap—comes."

Roland had an intuition then, and like so many he'd had over the years, it turned out to be true. "She may have been in charge when they left, but she may not be able to stay in charge."

Callahan spoke at last, looking up from the book which had so stunned him. "Why not?"

"Because it's not her world," Roland said. "It's Susannah's. If they can't find a way to work together, they may die together."

Two

Henchick and Cantab went back to Manni Redpath, first to tell the gathered (and entirely male) elders about the day's work, and then to tell them what payment was required. Roland went with Rosa to her cottage. It stood up the hill from a formerly neat privy which was now mostly in ruins. Within this privy, standing useless sentinel, was what remained of Andy the Messenger Robot (many other functions). Rosalita undressed Roland slowly and completely. When he was mother-naked, she stretched beside him on her bed and rubbed him with special oils: cat-oil for his aches, a creamier, faintly perfumed blend for his most sensitive parts. They made love. They came together (the sort of physical accident fools take for fate), listening to the crackle of firecrackers from the Calla's high street and the boisterous shouts of thefolken, most of them now well past tipsy, from the sound.

"Sleep," she said. "Tomorrow I see you no more. Not me, not Eisenhart or Overholser, not anyone in the Calla."

"Do you have the sight, then?" Roland asked. He sounded relaxed, even amused, but even when he had been deep in her heat and thrusting, the gnaw of Susannah had never left his mind: one of his ka-tet, and lost. Even if there had been no more than that, it would have been enough to keep him from true rest or ease.

"No," said she, "but I have feelings from time to time, like any other woman, especially about when her man is getting ready to move on."

"Is that what I am to you? Your man?"

Her gaze was both shy and steady. "For the little time ye've been here, aye, I like to think so. Do'ee call me wrong, Roland?"

He shook his head at once. It was good to be some woman's man again, if only for a short time.

She saw he meant it, and her face softened. She stroked his lean cheek. "We were well-met, Roland, were we not? Well-met in the Calla."

"Aye, lady."

She touched the remains of his right hand, then his right hip. "And how are your aches?"

To her he wouldn't lie. "Vile."

&nbsp
; She nodded, then took hold of his left hand, which he'd managed to keep away from the lobstrosities. "And this un?"

"Fine," he said, but he felt a deep ache. Lurking. Waiting its time to come out. What Rosalita called the dry twist.

"Roland!" said she.

"Aye?"

Her eyes looked at him calmly. She still had hold of his left hand, touching it, culling out its secrets. "Finish your business as soon as you can."

"Is that your advice?"

"Aye, dearheart. Before your business finishes you."

Three

Eddie sat on the back porch of the rectory as midnight came and what these folk would ever after call The Day of the East Road Battle passed into history (after which it would pass into myth…always assuming the world held together long enough for it to happen). In town the sounds of celebration had grown increasingly loud and feverish, until Eddie seriously began to wonder if they might not set the entire high street afire. And would he mind? Not a whit, say thanks and you're welcome, too. While Roland, Susannah, Jake, Eddie, and three women—Sisters of Oriza, they called themselves—stood against the Wolves, the rest of the Calla-folkenhad either been cowering back in town or in the rice by the riverbank. Yet ten years from now—maybe even five!—they would be telling each other about how they'd bagged their limit one day in autumn, standing shoulder to shoulder with the gunslingers.

It wasn't fair and part of him knew it wasn't fair, but never in his life had he felt so helpless, so lost, and so consequently mean. He would tell himself not to think of Susannah, to wonder where she was or if her demon child had yet been delivered, and find himself thinking of her, anyway. She had gone to New York, of that much he was sure. But when? Were people traveling in hansom cabs by gaslight or jetting around in anti-grav taxis driven by robots from North Central Positronics?