Faithful
Stephen King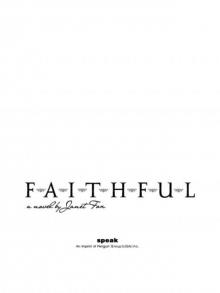 Faithful

Stephen King

Stewart O'Nan

Early in 2004, two writers and Red Sox fans, Stewart O'Nan and Stephen King, decided to chronicle the upcoming season, one of the most hotly anticipated in baseball history. They would sit together at Fenway. They would exchange emails. They would write about the games. And, as it happened, they would witness the greatest comeback ever in sports, and the first Red Sox championship in eighty-six years. What began as a Sox-filled summer like any other is now a fan's notes for the ages.

Amazon.com Review

Fans watching the 2004 baseball playoffs were often treated to shots of Stephen King sitting in the stands, notebook in hand. Given the bizarre events on the field, from the Red Sox's unprecedented comeback against their most hated rivals to their ace pitcher's bleeding, stitched-together ankle--not to mention the Sox's first championship in 86 years--you could be forgiven for thinking King was writing the script as he went along, passing new plot twists down to the dugouts between innings.

What he was writing, though, along with his friend and fellow novelist Stewart O'Nan, was Faithful, a diary of the 2004 Red Sox season. Faithful is written not from inside the clubhouse or the press room, but from the outside, from the stands and the sofa in front of the TV, by two fans who, like the rest of New England, have lived and died (mostly died) with the Sox for decades. From opposite ends of Red Sox Nation, King in Maine and O'Nan at the border of Yankees country in Connecticut, they would meet in the middle at Fenway Park or trade emails from home about the games they'd both stayed up past midnight to watch. King (or, rather, "Steve") is emotional, O'Nan (or "Stew") is obsessively analytical. Steve, as the most famous Sox fan who didn't star in Gigli, is a folk hero of sorts, trading high fives with doormen and enjoying box seats better than John Kerry's, while Stew is an anonymous nomad, roving all over the park. (Although he's such a shameless ballhound that he gains some minor celebrity as "Netman" when he brings a giant fishing net to hawk batting-practice flies from the top of the Green Monster.)

You won't find any of the Roger Angell-style lyricism here that baseball, and the Sox in particular, seem to bring out in people. (King wouldn't stand for it.) Instead, this is the voice of sports talk radio: two fans by turns hopeful, distraught, and elated, who assess every inside pitch and every waiver move as a personal affront or vindication. Full of daily play-by-play and a season's rises and falls, Faithful isn't self-reflective or flat-out funny enough to become a sports classic like Fever Pitch, Ball Four, or A Fan's Notes, but like everything else associated with the Red Sox 2004 season, from the signing of Curt Schilling to Dave Roberts's outstretched fingers, it carries the golden glow of destiny. And, of course, it's got a heck of an ending.

—Tom Nissley

From Publishers Weekly

Of all the books that will examine the Boston Red Sox's stunning come-from-behind 2004 ALCS win over the Yankees and subsequent World Series victory, none will have this book's warmth, personality or depth. Beginning with an e-mail exchange in the summer of 2003, novelists King and O'Nan started keeping diaries chronicling the Red Sox's season, from spring training to the Series' final game. Although they attended some games together, the two did most of their conversing in electronic missives about the team's players, the highs and lows of their performance on the field and the hated Yankees ("limousine longballers"). O'Nan acts as a play-by-play announcer, calling the details of every game (sometimes quite tediously), while King provides colorful commentary, making the games come alive by proffering his intense emotional reactions to them. When the Red Sox find themselves three games down during the ALCS, King reflects on the possibilities of a win in game four: "Yet still we are the faithful… we tell ourselves it's just one game at a time. We tell ourselves the impossible can start tonight." After the Sox win the Series, O'Nan delivers a fan's thanks: "You believed in yourselves even more than we did. That's why you're World Champions, and why we'll never forget you or this season. Wherever you go, any of you, you'll always have a home here, in the heart of the Nation." (At times, the authors' language borders on the maudlin.) But King and O'Nan are, admittedly, more eloquent than average baseball fans (or average sportswriters, for that matter), and their book will provide Red Sox readers an opportunity to relive every nail-biting moment of a memorable season.

Copyright © Reed Business Information, a division of Reed Elsevier Inc. All rights reserved.

Stewart O'Nan, Stephen King

FAITHFUL

Two Diehard Boston Red Sox Fans Chronicle the Historic 2004 Season

For Victoria Snelgrove,

Red Sox fan

Down by the river,

down by the banks of the River Charles.

That's where you'll find me,

along with

muggers, lovers and thieves.

THE STANDELLS

I put a spell on you,

cause you're mine.

SCREAMIN' JAY HAWKINS

Introduction

I wasn't always like this. I was born a World Champion, a third-generation Pirates fan, in early 1961.

A few short months before, the Bucs had taken the heavily favored Yankees to Game 7 in Forbes Field. The Yanks seemed to have the series in hand, up 7–4 in the eighth when Bill Virdon hit a simple double-play ball to short. As Tony Kubek charged, the ball took a bad hop off the alabaster plaster, hitting him in the Adam's apple, and both runners were safe. Two singles later, it was 7–6. The next batter, backup catcher Hal Smith, caught up to a Bobby Shantz fastball and parked it over the left-field wall for a 9–7 lead.

But the Pirates couldn't close it out, surrendering two in the next frame. With the game tied at nine, second baseman Bill Mazeroski led off the bottom of the ninth. He took the first pitch from Ralph Terry for a ball, and then, as every Pirates and Yankees fan knows, Maz cranked a high fastball over Yogi Berra and everything in left, and the fans stormed the field.

As a longtime Red Sox fan, I appreciate this history even more now, but, as a kid then, my perspective was limited. Living so close to the real-life setting of the legend (our library was right across the parking lot, and we'd walk over and touch the brick wall the ball cleared), I grew up pitying the Yankees as hard-luck losers.

As the '60s turned into the '70s, nothing happened to refute this. We won it all again in '71, beating an Orioles team with four 20-game winners, and made the playoffs nearly every year before succumbing to the Dodgers or the Big Red Machine. Roberto Clemente, tragically, was gone, but his spirit lingered over the Lumber Company, a colorful and monstrous offensive club that included hitters like Willie Stargell, Dave Parker, Al Oliver, Richie Zisk, Rennie Stennett and Manny Sanguillen. Earl Weaver's O's and Charlie Finley's A's ruled the AL. The bumbling Yankees, like the Brooklyn Dodgers or New York Giants, belonged to a flannel, white-bread past, hopelessly square.

About the time George Steinbrenner took them over, I traded my interest in baseball for cooler high school pursuits: music and cars, girls and cigarettes. I noticed with an offhand disgust that the Yankees had bought the heart of the A's dynasty to "win" two cheapies, but it didn't mean much to me. I was too busy messing around to bother with a kid's game.

That probably wouldn't have changed if the Pirates didn't go and win it all again in '79. I was going to school in Boston, lost in engineering problems and partying, but one of my best friends was an Orioles fan. Game 7 was excruciating for him. Just like in '71, they were playing in Baltimore, and just like in '71, the three-run homer the O's were waiting for never showed up. Rather than rub it in, I did my best to console my friend. That's ju
st how it went with the Pirates in Game 7—like the Steelers in the Super Bowl.

By Opening Day of 1980, the glow from winning it all hadn't worn off, and, living two blocks from Kenmore Square, I decided to take advantage of the neighborhood and visit Fenway Park for the first time. I didn't expect much. AL ball back then seemed boring to me, a slow, low-scoring game like soccer (since then, the leagues have swapped styles, maybe due to the DH, or the AL teams' new, smaller parks), but bleacher seats were only three dollars. The park reminded me of long-gone Forbes Field, with its green girders and cramped wooden seats and oddball dimensions. And that wall, the top hung with sail-like nets to catch home run balls. It made me think of the wire screen in right and the way Clemente anticipated every weird carom off it, gunning down runners chugging into second.

And the Sox surprised me. They played like an NL club—all hitting, no pitching. No speed or defense either. The stars of the great '75 and '78 teams were gone, sacrificed to free agency by the old-school Yawkeys. The only survivors were Jim Rice, Dwight Evans and the fast-aging Yaz, anchoring a lineup of journeymen. They were a slower, less talented version of the old Pirates, a Lumbering Company, just hoping to outslug the other team. They weren't good but they weren't really bad either. They were entertaining, and Fenway provided me with the amenities of an actual park—a green space in the middle of the city where I could pass the hours reading and doing my homework. I watched the games and I liked the team enough, but I didn't kid myself that they were contenders.

And that was okay. Between championships the Pirates went through long stretches in the cellar. This was better, skirting .500. The farm system was in good shape, and eventually we'd develop some pitchers.

You could say I didn't know what I was getting myself into, but game after game I happily shelled out my three bucks at the barred ticket window outside Gate C and staked my claim to Section 34 in straight center, right beside Channel 38's camera, where you could call balls and strikes and let the opposing center fielder know he was on the road.

The Sox weren't a tough ticket then, and I was surrounded by a scruffy tribe of regulars. My favorite was the General, a scrawny, grizzled guy in his late twenties with rotten teeth who wore a squashed Civil War cap and challenged all comers with his portable Othello board. And then there was the husky dude with receding hair who always came late with his dinner in a Tupperware bowl and bellowed, "WAAAAAAAAAAAAADE!"

After the '84 season, I left for a job on Long Island, and was living there when Roger Clemens and the '86 club made the playoffs. I was there for Game 6 of the World Series, deep in the heart of Mets country. I remember us being one strike away again and again. I was ready to jump up from my chair and dance. It was late, and I was watching by myself, the TV turned down so it wouldn't wake the baby. When the ball rolled through Billy Buck's legs, I heard the cheers of my neighbors.

One pitch—say, one of Pedro's change-ups—and I wouldn't be writing this. But no, we placed our faith in Calvin Schiraldi (who blew leads in both the eighth and the tenth in Game 6).

I've been to disappointing games since then—a string of playoff losses to Cleveland, the phantom-tag game in the '99 ALCS, last year's Pedro-Zimmer brawl—but none of those teams, no matter how far they went, even last year's overachievers, were true contenders. We were always at least two players away, and one of those was usually a closer. Even in '86, the odds were on the Mets (who, if you remember, were touted as one of the greatest teams of all time, a claim that now seems like the New York hype it was).

This year was different. With the addition of Curt Schilling and Keith Foulke, it looked like we had the horses. Months before pitchers and catchers were scheduled to report, the pressure on the team was already intense. Anything short of a World Championship would be considered a failure, and with the new owners trying to juggle too many high-priced contracts (including Nomar and Pedro in the last year of their deals), it appeared this was the only shot the Sox would have for a long time.

Add to that a new, largely unproven manager, Terry Francona, whose previous experience with the Phillies had been less than successful. After last year's Game 7 debacle, the front office (led by whiz kid and Bill James disciple Theo Epstein) canned the Chauncey Gardner–like Grady Little, the latest in a parade of weak field managers with no input into personnel moves. Francona inherited a team with several notorious prima donnas, a brutal local media and a demanding fan base. He had a three-year contract, but if he didn't produce a winner immediately, he knew he might as well pack his bags.

Along with those overarching dramas, there were questions about how the failed A-Rod deal would play out with Nomar and Manny Ramirez. The Yankees also picked up former Sox closer Tom Gordon, who they hoped would be the missing setup man they'd needed since promoting Mariano Rivera to closer. The Sox were still hoping Ramiro Mendoza would come around, and submariner Byung-Hyun Kim, but, emotionally, Sox fans were pulling harder for prodigal sons Brian Daubach and Ellis Burks. (Daubach's drama started early: he was a nonroster invitee to training camp, and, as has been the case his entire career, had to scrap to stay in the majors.) And of course there was the question of Pedro and his shoulder, Pedro and his back, Pedro and his mouth. Plus whatever controversy came up. This Sox clubhouse, like the Yankees' back when they had personality, was known for soap opera.

It would be an interesting year, whichever way it went. If the Sox contended, all of New England would catch pennant fever. If they tanked, the carnage would be spectacular. Either way, Steve and I would be following them, watching them, listening to them, taking in games at Fenway, reading the box scores, checking the website, discussing them endlessly with friends and family and total strangers. Like any devoted Sox fans, we'd been waiting for this season since the end of Game 7, and our hopes were both impossibly high and cautiously guarded. Because as much as we love them, the Sox had broken our hearts over and over, and that probably wouldn't change.

But what if? No one expected the Patriots to ever win a Super Bowl, let alone two. Our rotation was the best in the majors, and we actually had a closer now. Last year's offense had outslugged the '27 Yankees. More than any team we'd fielded since '78 (that wonderful, terrible season), this squad had a bona fide shot. In February, before a single pitch had been thrown, millions of us believed this would be the year.

This book should reflect the depth of our obsession as well as how quickly the tone of a season changes. To get the emotions while they were fresh, the book is in double diary form. We didn't chase the team like journalists, looking for total coverage. We just did our best to have a regular Sox-filled summer. For each day or game that we naturally came in contact with the Sox and found something remarkable—from spring training to the very last out—we wrote separate entries or reflections.

Besides the diary entries, for games or streaks that especially thrilled us or pissed us off (and with the Sox, we didn't lack for those), we've attached spur-of-the-moment e-mail exchanges that show us firmly in the grip of the beast, feeding it.

In baring our relationship with the Sox, we hope to illuminate readers' feelings for their own favorite teams. We also hope there's something funny about owning up to the silliness of obsession yet being unable to break free of it—like Woody Allen or David Foster Wallace being painfully aware of their neuroses even as they navigate situations bound to freak them out. Sox fans are like any anxious sports fans, except we have good reason to be paranoid, so that even an 8–1 laugher against Tampa Bay can turn—in a matter of a couple of base runners, a couple of knuckleheaded pitching changes—into pure torture. And like hardcore followers of any sport, Sox fans are expert at taking a game apart and examining its most intricate components, especially when the worst happens.

We knew all of this coming into the 2004 season, and yet, for all the heartbreak, there we were again, psyched that Tommy Brady and the Pats might show up on Opening Day the way they did i
n 2002. Fenway was sold out for the season, and ticket prices on eBay were through the roof. The Sox and Yanks were both stocked and talking smack, from the front office down to the scalpers. The waiting was over—finally, it was next year.

Stewart O'Nan,

February 29th, 2004

Spring Training

WELCOME TO NEXT YEAR

February 21st

After the Schilling acquisition, and during the A-Rod negotiations, I felt distinctly weird…out of kilter as a Red Sox fan. I started to think, "I'm going to come back to a team of superhero strangers wearing Red Sox uniforms. Who are these guys?" It was a dreamlike feeling, both pleasant and unpleasant…like getting gas at the dentist and knowing it's going to hurt like almighty hell later on. Then the A-Rod deal fell through—the same old Red Sox problem: lots of cash, just not quite enough cash. And the Yankees got him. And the tabloids gloated. And even the New York Times, that supposedly staid gray lady, got in a crack; the Yankees, one of their columnists said, continued to show the Red Sox how to win, winter and summer. That was when the unpleasant dreamlike feeling burst, and I woke up to real life, smelling not the coffee but the peanuts and Cracker Jacks: Ah yes, screwed again. Hello, world, I'm a Red Sox fan. For better or worse, I'm a Red Sox fan, and I've just been screwed again. Same as it ever was. So bring on the Yankees, and may Alex Rodriguez bat .240.

We're going to spring training, the whole family. It's a surprise, my birthday present, a long weekend in Fort Myers. I've always wanted to go, ever since I was a kid in Pittsburgh listening to the Bucs warm up in sunny Bradenton. Trudy says she's sick of listening to me yap about it, so here it is, a folder with the plane tickets, the hotel reservations, the rental-car agreement. We can't afford it, but I can't say that.