Chiral Mad 3
Stephen King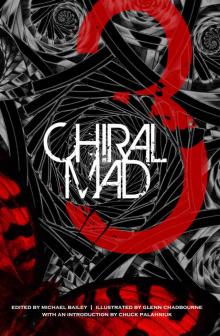 CHIRAL MAD

3

AN ANTHOLOGY OF PSYCHOLOGICAL HORROR

BY WRITTEN BACKWARDS

Edited by Michael Bailey

WWW.NETTIRW.COM

WWW.DARKREGIONS.COM

Also by Written Backwards

ANTHOLOGIES

Pellucid Lunacy

Chiral Mad

Chiral Mad 2

Qualia Nous

The Library of the Dead

( illustrated by GAK )

NOVELLAS

At the Lazy K, by Gene O'Neill

( illustrated by L.A. Spooner )

NOVELS

The Cal Wild Chronicles, by Gene O'Neill

( illustrated by Orion Zangara )

The Confessions of St. Zach

The Burden of Indigo

The Near Future

The Far Future

CHIRAL MAD 3 © 2016 by Written Backwards, an imprint of Dark Regions Press, LLC

Anthology edited by Michael Bailey

Cover and interior design by Michael Bailey

Illustrations © 2016 by Glenn Chadbourne

Introduction © 2016 by Chuck Palahniuk

Individual works © 2016 by individual authors, unless stated below.

"The Last Rung of the Ladder," copyright © 1978 by Stephen King; from NIGHT SHIFT by Stephen King. Used by permission of Doubleday, an imprint of the Knopf Doubleday Publishing Group, a division of Penguin Random House LLC. All rights reserved.

No part of this work may be reproduced or transmitted in any form or by any means, elec-tronic or mechanical, including photocopying, scanning, recording, broadcast or live per-formance, or duplication by any information storage or retrieval system without permission, except for the inclusion of brief quotations with attribution in a review or report. Requests for reproductions or related information should be addressed to [email protected].

The stories and poems within this collection are works of fiction. All characters, products, corporations, institutions, and/or entities of any kind in this book are either products of the respected authors' twisted imaginations or, if real, used fictitiously without intent to describe actual characteristics. All lyrics are what you make of them.

Dark Regions Press, LLC

6635 N. Baltimore Avenue, Suite 245

Portland, OR 97203

United States of America

DarkRegions.com

Written Backwards

nettirw.com

Trade eBook

ISBN: 978-1-62641-146-3

CHIRAL MAD

3

INTRODUCTION: OBSERVATIONS ON HORROR BURNOUT CHUCK PALAHNIUK

FICTION

01. THE POETRY OF LIFE RICHARD CHIZMAR

02. THE LAST RUNG ON THE LADDER STEPHEN KING

03. A RIFT IN REFLECTION HAL BODNER

04. WINDOWS, MIRRORS, DOORS JASON V BROCK

05. PRAYER MORT CASTLE

06. THE AGONIZING GUILT OF RELIEF (LAST DAYS OF A READY-MADE VICTIM) PAUL MICHAEL ANDERSON

07. THE BLACK CROW OF BODDINSTRAßE EMILY B. CATANEO

08. A FLASH OF RED ERINN L. KEMPER

09. RED RUNNER VS. THE SURGEON, ISSUE 18 JESSICA MAY LIN

10. THE DEAD COLLECTION MERCEDES M. YARDLEY

11. WATCH ME MEGHAN ARCURI

12. THE BIGGER BEDROOM JOSH MALERMAN

13. THAT PERILOUS STUFF SCOTT EDELMAN

14. KNOW YOUR CODE RAMSEY CAMPBELL

15. 3-DOT PEOPLE GENE O'NEILL

16. SILVER THREAD, HAMMER RING GARY A. BRAUNBECK

17. THE OFFERING ON THE HILL RICHARD THOMAS

18. THOSE WHO WATCH FROM ON HIGH ERIC J. GUIGNARD

19. BLOOD DUST MAX BOOTH III

20. THE WHIPPING GIRLS DAMIEN ANGELICA WALTERS

21. SECONDS JACK KETCHUM

POETRY

01. FAIR P. GARDNER GOLDSMITH

02. FAIL-SAFE JONATHAN BALOG

03. FOLIE À DEUX SYDNEY LEIGH

04. REFLECTING ON REFLECTIONS BRUCE BOSTON

05. MIRROR IMAGE MARGE SIMON

06. BLACK RIVER #1 ELIZABETH MASSIE

07. PRESCIENCE ROSE BLACKTHORN

08. THE SPEED OF SOUND CIARÁN PARKES

09. WELCOME HOME, DARLING STEPHANIE M. WYTOVICH

10. WHISPER #1 (A WARNING) ERIK T. JOHNSON

11. WHISPER #2 (A PROPHECY) ERIK T. JOHNSON

12. PUT ME TO DREAM STEPHANIE M. WYTOVICH

13. RECOGNIZING TREES CIARÁN PARKES

14. ARBITRATION ROSE BLACKTHORN

15. BLACK RIVER #2 ELIZABETH MASSIE

16. REFLECTIONS THROUGH THE RAVEN'S EYE MARGE SIMON

17. BEYOND SYMMETRY BRUCE BOSTON

18. FOLIE À PLUSIEURS SYDNEY LEIGH

19. INSOMNIA IN REVERSE JONATHAN BALOG

20. PROMISE P. GARDNER GOLDSMITH

OBSERVATIONS ON

HORROR BURNOUT

CHUCK PALAHNIUK

IT'S NO SURPRISE that horror appeals to a younger audience. Older people forget how it feels to lack agency in life. To be controlled by circumstances beyond our control. The young are arbitrarily thrown together with peers who might be budding psychopaths, junior murderers in the making, and this mix of strangers is expected to coalesce around the goal of getting an education. Let's not pretend. The education system too often becomes a predator-versus-prey situation. The sadist stalks, testing potential victims until he or she targets someone to attack.

Stephen King gets it right. For most teens, being beaten or raped isn't their greatest fear. In many ways, hands-off bullying is worse than physical violence. In books like Carrie and Christine, and stories like The Body we see King's protagonists publically humiliated. All human beings want dignity, and older ones have many means to attain it: money, education, skills, associations, social position, talent, wit. But the only advantage most young people possess is their vitality. Their youth and attractiveness. Once a villain strips away their public dignity, they have nothing on which to fall back.

To be beaten, physically beaten, and survive grants the victim a measure of public respect. Plus a more realistic expectation of legal recourse. But to be humiliated is a living death. More often leading to an actual death by suicide than a murderous, vengeful lashing out.

Conditions improve after high school, but then the young person is faced with the fear that vitality is dwindling and must be quickly replaced by a new advantage. College or military service offers a new structure with potential skills and connections, but the fear lingers. How will you fare in the outside world? Once the structure of school is complete, will you find a career? Success? A mate? Older people forget that young people live with this terror.

My personal formula for a successful plot is to show the reader his or her worst-case scenario. Show a character subjected to it, and show that character survive. In my books Fight Club and Choke, it's public humiliation, because for young readers that trumps any monster.

Studies done by the United States military conclude that what women fear most is physical pain. What men fear most is humiliation, public ridicule, loss of social status.

Max Brooks tells me that World War Z hit such a cultural nerve because his generation has been subjected to media hype about a new apocalypse every few months for their entire lives. From Swine Flu to Bird Flu, Ebola, AIDS, Y2K, climate change, and 2012. With the zombie, Max's generation has one unified metaphor to carry all its doomsday anxiety. Effective or not. George Romero told me that zombie culture isn't the goldmine it appears to be. At
the time, only the film Zombieland had been profitable. So maybe even the zombie is losing steam.

Other friends, friends who teach on the high school and college levels, say horror is dying out as a genre because of psychotropic medication. Their students are so anti-depressed and mood-equalized that nothing ruffles their feathers. Should a zombie invasion occur, these well-medicated kids won't bat an eye.

To me, the best horror has always centered around a topic the current culture couldn't openly discuss. It's said the vampire represented venereal disease or the emigration of Jews from Eastern Europe. The Frankenstein monster stood for the Industrial Revolution or the fact that medical science was able to save so many mutilated soldiers in World War I, and civilians on the street were forced to see living, breathing evidence of the horrors of war. The Boys from Brazil stood for our fear that Fascism was still incubating, somewhere. Burnt Offerings was about how we're enslaved and destroyed trying to maintain our property and possessions. No really good horror story is about what it appears to be about.

That said, our culture seems to hide nothing these days. Every topic is fair game. If the monster was the mediator, we don't seem to need one.

My personal, crackpot, half-baked theory is that the vampire and the zombie serve the same function for current audiences. They both represent the homosexual. For heterosexual women, the vampire is the well-groomed, cultured consort who will never make sexual demands of them. For heterosexual men, the zombie is the menacing, infectious "other" who wants nothing more than to infect/recruit and consume them.

Whatever the case, horror stories serve as an inoculation. A small dose of a larger contagion, meant to prevent us from ever contracting a full-blown case. Maybe older people no longer need their booster shots. They've already seen friends die, and family members. They've weathered school systems and careers. It could be that the next monster will be a metaphor for mammoth student loan debt. Or the collapse of the real estate market—wasn't that the first season of American Horror Story: a family trapped in a dream home they couldn't sell as it slowly isolated and destroyed them?

Horror stories are a buffer between us and our real fears. Who knows? Maybe future generations will laugh over the global warming message of The Day After Tomorrow the way we laugh over the nuclear and chemical hysteria of the giant desert Tarantula and The Incredible Shrinking Man.

For me ghost stories seldom count as horror. Yes, sometimes they present an unresolved crime which must be set right. Too often they simply demonstrate life after death, ultimately comforting us. Seldom do they really scare me.

For a writer, the greatest achievement is to create the next great monster. For that is to foresee the future. To be the truest truth teller.

Whatever that next great monster will be, I miss being scared by the make-believe.

THE POETRY OF LIFE

RICHARD CHIZMAR

I'M FORTY-EIGHT YEARS OLD and have been a music teacher for twenty-seven of those years, and I still believe there is no sweeter sound in this world than the sound of a child's laughter.

Sometimes, when I hear it, I stop and listen and almost wish I could somehow bottle it up to save for later. This might happen when I am teaching a class or shopping for groceries or walking past one of the two playgrounds that bookend the neighborhood in which I live. I'll pretend to find a reason to stop—my shoelace is untied or perhaps I need to check the price on a particular can of soup—and I'll stand there and close my eyes and just drink it in. That beautiful melody.

Regrettably, I've never had any children of my own. Never married. Never found that kind of love.

I came close once. A long time ago when I was attending university. But it wasn't to be.

I say regrettably, but only because of my deep affection for children. I have never once complained or second guessed my lot in life, not even during those infrequent long sleepless nights that sometimes come to me when I have no choice but to lay there and stare at the dark ceiling and fight my troubling thoughts.

People often worry about me, that I am secretly sad or lonely or depressed. No shortage of pity for the spinster. But they needn't be concerned.

I have my books and my television and my students. An older sister in Florida who emails me jokes and cute videos of kittens. A four-year-old Border Collie named Ginger. No cats, yet.

And then there is Shirley, my best friend and next door neighbor.

Shirley is a beautiful black woman. Sixty. Widowed. Mother of two adult boys who live out of state and rarely visit. We take turns at each other's houses several times per week. Playing cards and watching our shows. Sometimes we cook or share Chinese delivery. And while she will never warm my bed on a cold winter night, she warms my heart in a different way. I love her very much.

Shirley is also a kind woman and always smiles when I talk about how hearing a child's laughter fills my heart, how it fuels me. She is the one who first started calling it the poetry of life. We were sitting on the front porch one summer evening, drinking lemonade and doing crossword puzzles, and I fell in love with those words the moment she said them.

The poetry of life.

It was the perfect description of not only the sound itself, but also how I felt when I heard a child's laughter.

It was poetry. It was life.

I even started using it in my classes. I invented a lesson plan where each student would think about what constituted the poetry of life for them and then they would write down those thoughts. Then I would help each student turn those thoughts into a song.

Of course, many of the boys wrote about basketball or football or video games. And, of course, many of the girls wrote about their best friends or Taylor Swift or Justin Bieber. They were ten years old, after all.

But there were also some surprises.

Some poetry.

One little girl wrote about sunrises and how they reminded her of the little sister she had lost a year earlier to cancer.

Another girl wrote about flowers and how they helped her forget all the sadness and ugliness in the world.

Yet another wrote about spider webs and how if she stared at them long enough they looked like maps to her, maps to imaginary worlds.

And then there was my favorite: the little boy who wrote about thunderstorms and how they sounded like music inside his head, how they filled his heart to the point of bursting.

The poetry of life.

But I will never hear another song now.

Not after the message I received on my phone an hour ago.

Not after what the school board has decided.

I'd tried to call Shirley right away. Shirley had a way of calming me when my mind went dark and troubled. I called her twenty-two times, but she wasn't answering.

So I'd gone to the playground next. Thinking that if I could just hear that sweet sound one more time it might bring me peace and guidance.

But it hadn't worked.

The poetry was gone.

I'd felt nothing.

This not only confused me, it terrified me.

And for the first time in my life, I felt truly alone.

I have time to think all this as I pull into a parking spot and turn off my car and listen to the ticking of the cooling engine.

I have time to think all this as I walk across the parking lot and into the school.

I have to walk slow.

The guns are heavy.

FAIR

P. GARDNER GOLDSMITH

In the forest I see you once again

Whispering, listening, with sunlight in your eyes

It's a joy

To see you smiling once again

Temporarily, but sometimes rules will bend

It's a joy

To see you standing there

Stark white

Hair flowing in the air

It's a joy

To watch you waiting there

Smile so peaceful

> Slicing through the air

In the window I see you now and then

Blissful, catalogical, the list begins again

Then the memory comes back to me my friend

Terminating but impossible to end

It's a joy

To see you standing there

Eyes white

Staring though the air

It's a joy

To know you're waiting there

On the threshold

Beckoning, so fair.

THE LAST RUNG ON THE LADDER

STEPHEN KING

I GOT KATRINA'S LETTER yesterday, less than a week after my father and I got back from Los Angeles. It was addressed to Wilmington, Delaware, and I'd moved twice since then. People move around so much now, and it's funny how those crossed-off addresses and change-of-address stickers can look like accusations. Her letter was rumpled and smudged, one of the corners dog-eared from handling. I read what was in it and the next thing I knew I was standing in the living room with the phone in my hand, getting ready to call Dad. I put the phone down with something like horror. He was an old man, and he'd had two heart attacks. Was I going to call and tell him about Katrina's letter so soon after we'd been in L.A.? To do that might very well have killed him.

So I didn't call. And I had no one I could tell … a thing like that letter, it's too personal to tell anyone except a wife or a very close friend. I haven't made many close friends in the last few years, and my wife Helen and I divorced in 1971. What we exchange now are Christmas cards. How are you? How's the job? Have a happy New Year.

I've been awake all night with it, with Katrina's letter. She could have put it on a postcard. There was only a single sentence below the "Dear Larry." But a sentence can mean enough. It can do enough.