Kissing Lessons
Sophie Jordan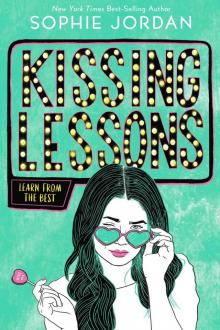 Contents

* * *

Title Page

Contents

Copyright

Dedication

Lesson #1

Lesson #2

Lesson #3

Lesson #4

Lesson #5

Lesson #6

Lesson #7

Lesson #8

Lesson #9

Lesson #10

Lesson #11

Lesson #12

Lesson #13

Lesson #14

Lesson #15

Lesson #16

Lesson #17

Lesson #18

Lesson #19

Lesson #20

Lesson #21

Lesson #22

Lesson #23

Lesson #24

Lesson #25

Lesson #26

Lesson #27

Lesson #28

Lesson #29

Lesson #30

Lesson #31

Lesson #32

Lesson #33

Lesson #34

Lesson #35

Lesson #36

Lesson #37

Lesson #38

Sample Chapter from ME I MEANT TO BE

Buy the Book

More Books from HMH Teen

About the Author

Connect with HMH on Social Media

Copyright © 2020 by Sharie Kohler

All rights reserved. For information about permission to reproduce selections from this book, write to [email protected] or to Permissions, Houghton Mifflin Harcourt Publishing Company, 3 Park Avenue, 19th Floor, New York, New York 10016.

hmhbooks.com

Title hand-lettering by Mary Claire Cruz

Cover art and design by Mary Claire Cruz based on a photo by Ellie Baygulov/Stocksy

Library of Congress Cataloging-in-Publication Data

Names: Jordan, Sophie, author.

Title: Kissing lessons / Sophie Jordan.

Description: Boston : Houghton Mifflin Harcourt, [2020] | Audience: Ages 14 and up. | Audience: Grades 10–12. | Summary: Hayden Vargas is a girl with a bad reputation who really just wants to finish high school and get away from her alcoholic mother and the whole boring high school dating scene, so when Emmaline Martin offers to pay her for lessons in attracting and managing boys it seems like a way to pick up some easy money for her post-high school life—but she did not count on the attraction she feels for her client's brother, Nolan, who is not only gorgeous, but actually interesting.

Identifiers: LCCN 2019029208 (print) | LCCN 2019029209 (ebook) | ISBN 9781328977076 (hardcover) | ISBN 9780358067412 (ebook)

Subjects: LCSH: High school students—Juvenile fiction. | Interpersonal relations—Juvenile fiction. | Dating (Social customs)—Juvenile fiction. | Reputation—Juvenile fiction. | Children of alcoholics—Juvenile fiction. | Mothers and daughters—Juvenile fiction. | Young adult fiction. | Romance fiction. | CYAC: High schools—Fiction. | Schools—Fiction. | Interpersonal relations—Fiction. | Dating (Social customs)—Fiction. | Love—Fiction. | Alcoholism—Fiction. | Mothers and daughters—Fiction. | LCGFT: Romance fiction.

Classification: LCC PZ7.J76845 Ki 2020 (print) | LCC PZ7.J76845 (ebook) | DDC 813.6 [Fic]—dc23

LC record available at https://lccn.loc.gov/2019029208

LC ebook record available at https://lccn.loc.gov/2019029209

v1.0520

For Lily, my treasured compass throughout this book . . .

Lesson #1

Parties are the Perfect Hunting Ground.

x Hayden x

Hayden was having serious doubts about this party.

It was a big gathering, spilling out onto the front yard and into the cul-de-sac. The number of people on the lawn wouldn't even fit crammed inside her small house. Big parties likes this usually got shut down because someone called the police. It would be a shame if that happened. Her hair and makeup were on point tonight. If she went home early, it was a lot of effort for nothing.

Hayden stood on the sidewalk contemplating whether it was worth going inside, watching as girls stood shivering in their skirts and strappy tops. It was January and forty-five degrees, but hypothermia clearly didn't worry them.

High school parties (and parties in general) weren't usually her thing, but Dorian had begged her to come.

Dorian was a guy in her health class. Coach Alvarez teamed up students for a lot of the assignments and Dorian had appointed himself her partner in all things.

They'd made out a couple times in the east stairwell. He was cute and linebacker big, even though he played tennis. Good hair. Long on the top. High and tight on the sides. He smelled nice. Hayden appreciated a well-groomed guy who smelled of deodorant and mint toothpaste.

This week he had brought her a brownie. A brownie wrapped in foil. His mom made them. Dorian had a mom who baked brownies. God. As if that didn't scream they were from two different worlds. But Dorian was cute and into her, so hooking up was pretty inevitable. Dating, however, was not. Not even all the homemade brownies in the world could change that.

He'd been bugging her to hang out more outside of school. He asked her out on dates. Never mind that she didn't date. He even hinted about the winter formal in February. A dance. As if she would go to one of those.

She knew what it all meant. He was interested in taking their stairwell make-out sessions to the next level. And while there would never be anything serious between them, she'd caved and agreed to meet him at this party.

Her gaze swept over the scene spread out before her. The beautiful, popular people were in attendance. The people who had their own lunch tables and moms that made brownies. She didn't belong here. And she didn't think that with any amount of bitterness. She didn't want to belong here. High school was just this thing she had to get through to arrive at the next stage in life.

Hopefully, a better stage.

There had to be a better stage.

She only had to make it until June and she'd be out. Away. Free.

As Hayden turned off the sidewalk onto the front walkway, a gorilla of a guy ran out the front door chasing a girl with a pitcher of water. The girl shrieked delightedly and let herself get caught. One of his gorilla arms wrapped around her waist and lifted her off her feet. She squealed as he dumped the water down the front of her white shirt, soaking her. She laughed, spreading her arms wide and showcasing her boobs now on full display through her transparent tee. With a Tarzan shout, he tossed her over his shoulder and marched back into the house with her.

Hayden expelled a heavy breath. Punch me. Hard.

This was not her scene. She didn't get a lot of nights off from work, and this wasn't how she preferred to spend them. She should have agreed to meet Dorian somewhere else.

She should have known better. Boredom propelled her, she guessed. And avoidance. She really didn't want to deal with Mom, who apparently had no plans for the night and was staying in. So here she was.

Stepping inside the loud and crowded party, Hayden scanned faces for Dorian.

She spotted the majority of the football team along with its cheerleaders milling about. There were also the basketball players, baseball players, and soccer players. All the athletes. Funny how they mattered so much in high school. As though they would all grow up to compete in the Olympics instead of being ordinary people living ordinary lives. Less than ordinary, if her mother was any indication of a Travis High School star athlete.

Mom still held the district record for the eight hundred meters, and last week Hayden found her passed out in the driveway, still sitting in the driver's seat with the car running. Her snores could be heard through the glass. Hayden almost had to break the window to rouse her.
/>
"Hey! Hayden!"

She turned sharply, the sound of her name startling over the din of music and voices. She didn't expect to know many people here. That was the benefit of attending a large school. You could be a stranger among your own classmates. A ghost in the halls. Faces were familiar but names unknown.

Her gaze landed on a skinny kid. She didn't know his name, but she'd seen him with Dorian before.

"You looking for Dorian?" he called. Apparently he knew more about her than her name if he knew she was here for Dorian.

She nodded and he jerked a thumb behind him, toward a hallway. "That way. Through the mudroom and into the garage."

"Thanks." She passed him, heading in the direction he'd motioned, ignoring a drunken guy stumbling across her path. Beer sloshed over the rim of his cup, soaking the front of his sweater, but he didn't care.

He stopped hard at the sight of her. "Hey, girl." His chest puffed out, drawing attention to the dark beer stain that resembled the shape of Florida. "You looking for me? You must be." He belched and gave a smile she knew he thought was seductive and not total ridiculousness.

Sidestepping him, she debated whether to continue on to the mudroom. The night wasn't off to a great start. Except she'd come all this way, so she might as well let Dorian know she'd made the effort.

She was almost to the mudroom when her phone started vibrating. Hayden paused and pulled it from her pocket, sighing when she read her mom's name. She could ignore her, but she would just keep calling. Or worse. Her mom might even get in her car and track her down using the app she'd installed on Hayden's phone. She'd done it before. Sharon loathed being ignored.

"Hey, Mom." She couldn't hide the lack of enthusiasm in her voice.

"Hayden, I need you to bring home some pizzas. Three. No! Four. I invited some friends over." From the slur of her mom's words, she could tell she didn't have to worry about her mom noticing her lack of enthusiasm. She was well on her way to forgetting her own name.

"I'm not at work, Mom." She worked at the Tasty Freeze, but they shared a building with Tony's Pizza. It worked out well for the two businesses. People loved to grab a cone after their pizza.

"Oh. Well, so what? Swing by and get a few pepperonis."

"Mom, I don't have any cash on me—"

"Oh, your boss likes you—"

"I don't get free food, Mom." She'd explained to her mother before that she didn't work at Tony's and that even if she did, the manager there didn't give free food to employees either.

"Look, I put a roof over your head, don't I?" Her voice turned shrill in her ear. "Pick up some pizzas or there will be hell to pay."

There was always hell to pay. Even when she did what her mom wanted. Of course, it wouldn't do any good to say something like that. Those were fighting words, and Sharon loved nothing more than a fight.

Hayden closed her eyes. Just one more semester. Just one more semester. "I'll do what I can."

Because there was no use arguing with her. It never helped.

"Good." Mom gave a happy gasp. "Oh! They're here." The phone went dead in her ear. She wasn't even worth a goodbye. Her friends had arrived.

Hayden shoved the phone back in her pocket with a sigh that made her feel old. Her mom would probably get caught up in her friends and a bottle of Tito's and forget she had even called Hayden in the first place. She didn't need to bother with the pizzas. There was that at least.

She studied the closed door leading to the garage. She was close enough she could hear shouting and cheering coming from the other side. Any party was better than going home at this point.

With that happy thought, she stepped inside the garage.

Lesson #2

Leave room for the unexpected.

x Nolan x

Nolan was getting his ass kicked.

He bounced on the balls of his feet, swinging the paddle at the ball as though he was trying to launch it into outer space.

His opponent never missed, smacking the ball back at him again and again and again until, inevitably, Nolan was breathing raggedly and swinging and missing more than he liked.

Priscilla sidled close to him, as close as she dared while he was whacking the ball with his paddle like a madman. "You know Dorian is like a tennis god, right?"

He was well aware of the fact that the guy he was playing happened to be their school's best tennis player and had a decided advantage over him. It didn't matter. When Nolan played a game, he played to win.

He didn't know how not to give his all to win. Although losing did feel inevitable in this situation. Dorian played with a cocky grin on his face, not even out of breath. Nolan swung his paddle like he was trying to murder the ball.

Then Dorian did the unexpected and quit.

He didn't set his paddle down or anything, but his head definitely left the game. His gaze strayed away from the table somewhere beyond Nolan's shoulder just as Nolan landed the ball in the corner of the table, sending it launching across the garage.

Dorian's friends hissed and booed.

Dorian himself didn't seem to care. He didn't even look at the table or Nolan or his friends. No, he was looking toward the door.

Nolan swung around to see what had snared Dorian's attention. The object of his friend's sudden interest was—shocker!—a girl.

She strode through the garage by herself—but there wasn't the slightest bit of insecurity in her. She wore skinny jeans and a crop top that showed off her flat gold-skinned belly. His gaze traveled up, skimming over perky breasts. Her dark hair fell in ribbons of rippling ink over her shoulders and down her back.

He'd seen her before. She was kind of hard to miss in the halls. Even in a school as big as Travis, she definitely stood out. She was the type of girl who got noticed. The type guys talked about. There were always stories. Rumors. He never paid too much attention to them, but he recalled snippets of gossip about her.

She reached Dorian and turned so that he had a view of her from behind. The things those jeans did to her body . . . He swallowed hard. He hated noticing. Hated to be that leering guy. He had a girlfriend. He shouldn't stare at her. He knew that.

He looked away, uncomfortable.

Nolan's girlfriend was smart and pretty and nice and happened to be an extremely popular cheerleader. He didn't need to gaze at some other girl, no matter how much he liked the way she looked.

And it appeared that Nolan wasn't the only one who liked the way she looked. Most of the guys in the garage were drooling after her. A quick glance around verified their glassy-eyed stares fixed on her. Though some of it was probably the beer.

Dorian said something to her and left her alone for a moment. He joined Nolan, slapping his paddle against his chest, forcing him to take the paddle or let it drop between them. "Sorry, Nol. You're gonna have to find another partner to crush you. I'm out of here."

"You leaving? I thought we were all going to head to Whataburger."

"Nah, man. Hayden just showed up. She's all the meal I need." Dorian winked and nodded at the girl where she stood across the garage. Nolan rolled his eyes at the awfulness of that line. Fortunately for Dorian no one else overheard.

The girl nodded back at Dorian in acknowledgment, her lips curving in a slight smile. "I invited her tonight, but I didn't think she would show." Again, a wink. "Guess my charm and persistence finally paid off."

"Lucky you," Nolan murmured, trying not to stare at the girl. He didn't know what it was about her that affected him, but she did. She was beautiful, but so were a lot of girls. His girlfriend included.

Dorian winked and brushed his knuckles against the front of his shirt in an overexaggerated gesture. "Guess she couldn't resist this."

Nolan couldn't help but roll his eyes again.

Priscilla moved in and wrapped
an arm around Nolan's waist. "Hayden Vargas? Really, Dorian?" Her voice rang with disapproval. "Does your mother know?" Dorian's mother was a teacher at the high school.

"I'm my own man," Dorian replied, still grinning.

"Be careful," Priscilla warned.

"He's not going to war," Nolan snapped. He couldn't help it. This was a girl. Not the Terminator, and Priscilla didn't need to warn Dorian away from her like she was something dangerous. Sometimes she could be so judgmental.

A flicker of hurt flashed across Priscilla's eyes and Nolan felt bad then. To make up for it, he pulled her in closer to his side.

Dorian chuckled. "I don't know about that. I hear she leave marks."

That produced an image that Nolan promptly shoved from his mind.

"You laugh, but watch yourself," Priscilla warned, and then glanced over at Hayden Vargas again, her gaze narrowing slightly in speculation. "I hear she's a man eater."

Hayden was no longer alone. Several guys surrounded her.

Dorian laughed harder. "That's what I'm hoping for, Pris."

Priscilla clucked in disapproval and swatted Dorian on the arm. "You're so gross." She looked at Nolan. "I'm going to get my coat."

Priscilla walked away, her hips doing that natural roll of hers. Nolan turned back to look at Dorian . . . only to find him admiring her departure.

"Hey, man. Mind not checking out my girlfriend?"

Dorian glanced back at Nolan and shrugged without apology. "She's nice to check out."

"Well, have some respect. Besides. You're here with someone else."

"Yeah, but Pris has it all . . . she's the kind of girl you can bring home to your mom." Dorian glanced back over to Hayden Vargas. He wasn't saying the words, but it was understood. Hayden was not the kind of girl you brought home to Mom. That's what he meant.

Dorian lifted one shoulder in a shrug and added, "Hayden will do for now. She'll do just fine."

With a nod goodbye, Dorian wove his way toward Hayden, sliding up beside her and resting his hand on the small of her back. She smiled up at him and it didn't take long for the other guys to scatter. Dorian was too much competition for the faint of heart. On and off the Ping-Pong table.