Once a Charmer
Sharla Lovelace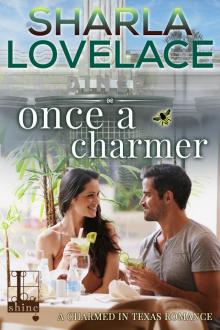 Cover Copy

Charmed, Texas, is a close-knit small town where people's dreams of love can come true. That's not to say that some people aren't still waiting, and dreaming . . .

By day, Allie Greene stays busy with her family diner, and keeping tabs on her teenage daughter. What's really exhausting Allie, however, are the nights. Not that she minds Bash Anderson unbuttoning her naughty desires—if only in her dreams. But what was he doing there at all? He's her best friend, and a father figure to her girl. Talk about awkward. Talk about

OMG-heat-and-fireworks that are flipping fifteen years of normal upside down. And now, when Allie needs him as a friend more than ever, logic doesn't stand a chance against his lips and irresistible deep-blue eyes . . .

Sure, Bash has fantasized about Allie, but there's no way he'd act on it. She and her daughter are the closest thing to family he's ever known. With the exception of one drunken moment fifteen years ago, he and Allie have stayed on this side of the line—until that impulsive kiss of hers knocked him on his butt. That's just one hurdle. Not only does Allie need Bash's help to save her diner, but his apiary is in trouble, too. To stir the pot further, they've been roped into vying for the town's Honey King and Queen contest—a sweet event that's making them closer than ever. Something's bound to come undone. Bash just hopes it's not the friendship he's worked so hard to hold on to.

Visit us at www.kensingtonbooks.com

Books by Sharla Lovelace

Charmed in Texas Novels

Charmed Little Lie

Lucky Charmed

Once a Charmer

"Enchanted By You," a novella included in

The Cottage on Pumpkin and Vine

Once a Charmer

Sharla Lovelace

LYRICAL SHINE

Kensington Publishing Corp.

www.kensingtonbooks.com

To the extent that the image or images on the cover of this book depict a person or persons, such person or persons are merely models, and are not intended to portray any character or characters featured in the book.

LYRICAL SHINE BOOKS are published by

Kensington Publishing Corp.

119 West 40th Street

New York, NY 10018

Copyright © 2017 by Sharla Lovelace

All rights reserved. No part of this book may be reproduced in any form or by any means without the prior written consent of the Publisher, excepting brief quotes used in reviews.

All Kensington titles, imprints, and distributed lines are available at special quantity discounts for bulk purchases for sales promotion, premiums, fund-raising, educational, or institutional use.

Special book excerpts or customized printings can also be created to fit specific needs. For details, write or phone the office of the Kensington Sales Manager: Kensington Publishing Corp., 119 West 40th Street, New York, NY 10018. Attn. Sales Department. Phone: 1-800-221-2647.

Lyrical Shine and Lyrical Shine logo Reg. U.S. Pat. & TM Off.

First Electronic Edition: October 2017

eISBN-13: 978-1-5161-0127-6

eISBN-10: 1-5161-0127-8

First Print Edition: October 2017

ISBN-13: 978-1-5161-0128-3

ISBN-10: 1-5161-0128-6

Printed in the United States of America

Dedication

To my mother-in-law Janell, up there in that fancy book club in the sky…now you'll always have the first copy. :) Love you.

CHAPTER ONE

"Damn it, Bash, get out of my head."

It wasn't the first time I'd muttered that sentence over my travel mug lately on the way to the diner, but it was the first time it had made me late.

Actually, my teenaged daughter was the culprit on that one, attempting a sick day and dragging the morning out, but the not hearing my alarm part was on me. Or on Bash. My best friend. My really hot best friend that I couldn't quit having very vivid dreams about.

Yes.

Those kinds of dreams.

About Sebastian Anderson doing things to me I had no business thinking about him doing. Thoughts you aren't supposed to have about someone who's been your rock, your buddy, your confidante, and has had your back for everything for fifteen years. Until a few months ago, when I stupidly showed my hand in a moment of weakness. A really old, never-supposed-to-be-seen-again hand that came out waving during a crisis and now spent the twilight hours slapping me silly with fantasies. Before leaving me tossing and turning in frustration until the alarm went off. Too many nights of that, and the alarm ceases to matter.

I rolled my head on my shoulders as I walked through the front doors of the Blue Banana Grille, shaking off all the rest. I couldn't think any more about sex dreams or Bash Anderson. This mattered right now, whatever was going on here. My diner. My legacy, passed to me by my father, and maybe one day to my daughter, Angel. After finishing high school, college, medical school, and joining the Peace Corp and saving the world. Maybe. I didn't really see her as wanting to come run a small-town diner in Charmed, Texas, after all that excitement, but stranger things had happened.

Assuming she got out of her phone long enough to finish high school and quit trying to play hooky.

I smiled at Lanie McKane, Nick's wife, who looked up from a crossword puzzle and cup of coffee to wave and mouth a Hey, Allie! at me. Nick McKane was my star head chef, and had patrons coming day after day to devour his creations. He was also easy on the eyes for most of the female population, so while his wife was most likely just waiting for him to take a break, I had a feeling that she also liked making an appearance now and then. I didn't blame her. Running a diner, I'd seen almost everything at one time or another, and if there was one thing I knew for sure, it was that women can't be trusted.

No, I wasn't selling out my people. I just called things as I saw them. And most of the women in this town had sold me out a long time ago.

I nodded at a few of my regulars that came several times a week for Nick's breakfast specials, and I picked up old Mr. Wilson's napkin that had fallen from his lap for probably the twelfth time. Our ex-mayor, Dean Crestwell, sat by the window on the far end eating his eggs like he wanted to hide under his jacket and beard. Sully Hart, the owner of the Lucky Charm, sat three tables away facing the other direction reading a newspaper. If I had my guess, one of them faced those directions on purpose to avoid looking at each other. My every-morning-at-the-counter-for-coffee old salts were already perched on their stools, flannel shirts tucked in, and white socks peering out from underneath trousers that were a little too short.

I glanced to my right, and bam.

Kick to the belly with all the tingling feels, as a certain pair of major blue eyes looked my way and did a little head nod as Bash sat talking to another man. Shit! Instantly, I was transported back a few hours to a particularly lusty dream where those same eyes were heated and dark and looking up at me from—

"Oh my God," I said under my breath, turning away immediately, my hand going directly to my messy bun—for what? To see if I looked okay? "Jesus, I'm pathetic," I added, yanking my hand back down.

I looked back at them sideways after getting behind the bar and tying on my black apron. I didn't recognize the other guy. Not that that was weird. Bash met with many people there at the diner, as plenty of others did. It was a good central location for all kinds of meet-ups, plus the food couldn't be beat. Bash Anderson was a major presence as the owner of the largest bee apiary in the area, and he could easily be talking to a new investor or client. Anderson's Apiary kept the town a
nd probably a quarter of Texas supplied in honey, beeswax products, and beehives for hire. But while not knowing his breakfast partner over there wasn't a standout moment, the guy himself practically glowed with I'm not from here.

We were a pretty relaxed lot in Charmed. Casual was the basic dress plan, and stepping up—at least in my opinion—was just nicer jeans and maybe some killer shoes. Guys didn't even need the shoes. In stark contrast, this guy with Bash wore black slacks and a sweater, what appeared to be leather penny loafers on his feet and too much hair gel making his locks shiny. He looked like he belonged in a J. Crew catalog from the nineties. More than that was the leather bag slung over the back of his chair like a purse.

Definitely not from here.

Kerri, a college student I'd hired as a waitress two months ago, who still hadn't learned to memorize orders, came rushing over.

"Miss Greene, Nick said to tell you he needs to talk to you ASAP," she said.

"Okay," I said, glancing through the open window section to the kitchen where Nick was cooking with a scowl on his face.

"Also, that section over there by the Ficus and the bookshelf?" she added, pointing.

"Otherwise known as tables ten through fourteen?" I asked.

Kerri nodded. "Yes. It's leaking over them again. Has been ever since we turned on the heat."

Great. I made a mental note to call someone out to get up on the roof, or maybe Nick would take pity on me and do it later. I nodded toward J. Crew and lowered my voice.

"Who's that with Bash Anderson? Someone about the Lucky Charm?"

Charmed was getting an overhaul in the form of an entertainment complex along our pond. The Lucky Charm was the baby of Sullivan Hart, who came to town a few months back, an ex-carnie from the Lucky Hart carnival that had frequented our town for decades. Restaurants and shopping and rides and a boardwalk—it was already partially underway with a few rides and shops, and the town was in a constant state of chaos. Contractors, investors, businesspeople wanting to expand or kick off startups, they were as stirred up as an ant pile. For the diner, this was a good thing, as most all of them met up under my roof for a good meal.

Kerri followed my look. "No idea, but he was asking for you earlier."

I looked at her with a question. "For me?"

"Right before Mr. Anderson showed up," she said, nodding. "Nick talked to him for a minute, though, so maybe he knows."

I frowned back in the men's direction, where Bash looked to be hanging on every word J. Crew was saying. He did a quick double take my way, which sent the butterflies skittering again until he said something and pointed. The other guy turned toward me with a polite smile.

A smile that didn't quite reach his dark eyes. They remained distracted, and a weird familiar metallic taste filled my mouth as I looked into them. A déjà vu that wasn't pleasant. Which was ludicrous. I'd never seen this man before.

"Good deal," I said, also taking in the manicured hands, the fork in his left hand that was just poking at the food instead of eating it, and the expensive watch on his right wrist. "Get them some more water. Stand toward the new guy's right to fill it."

She frowned, glancing his way. "Why?"

"He's a leftie." She looked at me blankly. "He's new here. He's barely touching his food. So he'll be more approachable, less defensive, and more likely to leave a good tip if you serve him on his weaker side."

Kerri's eyebrows lifted. "Wow."

"Yeah, it's rocket science," I said under my breath as I pushed open the doors to the kitchen. "What's up, Nick? You know Lanie's out there, right?"

He didn't look up, focusing instead on folding some cream into a bowl of sliced strawberries that would go into his famous strawberry cake. That's what I loved about this guy. It was strawberries and cream, and he treated it like it came straight from a cow with a golden udder.

"Yep," he said. "I was just waiting for David to get here so I can run to the bank with her to do some paperwork."

I tilted my head. "She's taking her break from the bank, to come here to get you on your break, to go back to the bank?"

"That's what I said, but Lanie said if she waited on me, I'd get caught up in what I was doing and forget." Nick shrugged. "And she's probably right."

"You do get a little tunnel-visioned," I said.

"So did he introduce himself?" he asked, picking up a spatula to turn the strawberries gently.

"Who?"

Dark eyes darted my way. "The guy out there that looks like his mom dressed him to get beat up at school," he said.

I choked back a laugh as I plucked a strawberry slice from the top and popped it into my mouth. "No, he's meeting with Bash about something." I moaned around the berry. "Oh man, I need about forty more of these."

"I have the feeling you might want to double that," he said, frowning as he grabbed another bowl. "This guy—something's up."

I rose from the stool I'd just rested on. "Why?"

"I don't know, he's odd. He only wanted to talk to you, but now he's eating with Bash?" Nick said, shaking his head as he worked.

"What did he say?" I asked.

Nick glanced up. "It has something to do with your dad."

Something that felt like cold little fingers traced a path down my spine. Something old and familiar.

"Wh—why?" I asked, resisting the urge to reach out for the wall, the door, the sink nearby. Anything tangible and touchable that could ground me and yet make me vulnerable at the same time. Don't show weakness.

"He said he was here to talk to you on behalf of Oliver Greene."

On behalf of…

I stared at Nick, nodding slowly as I turned for the door. The man's face came into view as I emerged on the other side of it as he shook hands with a smiling Bash and the two men parted ways. J. Crew came up to the counter in front of me and sat on a stool, lacing his fingers. Instantly, I knew what the taste was about, the unpleasant sensation, the déjà vu. I'd never laid eyes on this man before, but I'd seen the others before him. They all had that same useless look about them.

I held out my hand.

"Allie Greene," I said. "What did he lose?"

* * *

My father was a good man. He had a heart of gold with hands of steel that had worked hard his whole life before illness stripped him of that. He also had a weakness. If there was a deal or a sham, a poker table or a get-rich-quick scheme within ten miles, he couldn't resist. If he had five dollars in his pocket, it would burn a hole until he was forced to spend it, and frequently that was aimed at something with chips or a bigger pocket. Especially during stressful times.

I loved my dad with everything I had, but I watched him gamble all our savings away after my mom died. The only new truck he'd ever owned was trailered and gone. Our house—I would never forget the man that came for that. I was seven, and that man's face would forever be etched in my memory as the person that took my room with the purple flowers and sent us to the trailer park.

This man had the same empty eyes.

"I'm Landon Lange," he said, gripping my hand. "I'm an acquaintance of your father's."

A tall woman with big blonde hair came through the door, striding straight up to the counter. "Hi!" she said, her voice perky, teeth flashing. "Can I get a cup of coffee?"

"Sure thing," I said, letting go of the man's hand and reaching for the nearby coffeepot robotically, pouring a cup. "Sugar and creamer are right there," I said, pointing without looking.

"Thanks, hon," she said. "Great place."

I met her eyes. Another stranger. I guessed bringing in a tourist attraction was going to bring that
in, too.

"Thanks," I said. "Do you need a table?"

"No ma'am," she said, smiling so warmly I felt it around me like a blanket. "I'm meeting that handsome man over there," she said, pointing at Sully with a wink.

"Enjoy," I said, hoping I came across that welcoming. I felt my eyebrows lift, looking back at Lange as the woman walked away, taking her warmth with her. "So, an acquaintance," I said, smiling. "That's a new one. Although I'm curious how you know him recently since he's been homebound all this last year."

"It's actually been a little while," he said. "I was hoping maybe he'd come through."

"How much?" I asked, closing my eyes.

Landon Lange appeared to study his manicured nails on the countertop, then pulled a piece of paper from his man-purse.

"I own fifty-one percent of this diner," he said.

My eyes popped open. My everything popped open.

"What?"

"There's this—" he began, smoothing the paper on the counter. My counter. The counter I'd cleaned 4,394,839,409 times and now held a paper that said—

"No," I said. "That's not—"

"Miss Greene."

"That's not possible," I said, bringing the word down to a whisper. A hiss. An utterance of no-fucking-way. "This is my diner. It's ours. It belongs to my family. It doesn't go on the table—ever."

That was the deal. That was always the deal. Please God, don't take away the deal.

"Miss Greene."

"Stop saying my name," I said, hearing my voice rise but unable to control it. It was like someone else held the remote and was watching the show. The blonde lady moved as far over to the right as she could, and Lanie moved slowly up to take her place as if she might need to vault it to kick somebody's ass.

"Everything okay?" she asked quietly.

"Why don't we go in your office," Nick said, miraculously appearing behind me.