The Starter
Scott Sigler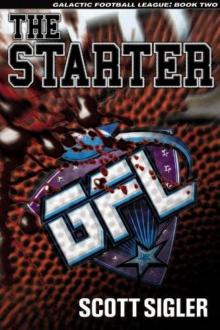 THE

STARTER

Galactic Football League: Book Two

Scott Sigler

THE STARTER

September 2010

This is a work of fiction. Names, characters, places, and incidents either are the product of the author's imagination or are used fictitiously. Any resemblance to actual persons, living or dead, events, or locales is entirely coincidental.

All rights reserved

Copyright © 2010 by Scott Sigler

www.scottsigler.com

Library of Congress Cataloging-in-Publication Data

Sigler, Scott

The Starter / Scott Sigler. — 1st ed.

p. cm.

1. Science Fiction—Fiction. 2. Sports—Fiction.

Library of Congress Control Number: 2010931183

ISBN: 978-0-615-36542-8

Book design by Donna Mugavero, Sheer Brick Studio

Published in the United States of America

by Dark Øverlord Media

Limited Edition

This book is dedicated to Alan Roark,

for showing us that playing hard

and leaving it all on the field

is the only way to truly live.

Also by Scott Sigler

Infected

Contagious

Ancestor

Books in the Galactic Football League series

The Rookie

The Starter

Acknowledgments

The starting line-up, who make this benchwarmer look All-Pro:

A "Future Hall-of-Famer" Kovacs

publisher, talent scout and secret weapon

Donna "Chalkboard" Mugavero

interior book design

W. Seth "The Hammer" Hanisek

color insert design, jacket art direction

Jerry "SI Coverboy" Scullion

jacket design

Special Thanks

This book exists due to the hard work and dedication of a team of talented folks:

Editing Street Team of Døøm:

Josh Meyer

Arioch Morningstar

Julayne Morningstar Hughes

Maryann Radulski

Tier One team logo design:

Casey Alden: Chillich Spider-Bears

Adrian Bogart: Yall Criminals

Ben Clifford: Sala Intrigue, Coranadillana Cloud Killers, Hittoni Hullwalkers, Lu Juggernauts

W. Seth Hanisek: Vik Vanguard

Steve Henry: Alimum Armada, Jang Atom Smashers

Len Peralta: Isis Ice Storm

Scott E. Pond: Shorah Warlords, To Pirates, New Rodina Astronauts, Themala Dreadnaughts

Larry Purcell: Bartel Water Bugs

James Schmill: D'Kow War Dogs, Bord Brigands

A. P. Stephens: Jupiter Jacks

Team Dark Øverlord:

Arioch Morningstar: audio production

Carmen Wellman: Siglerpedia Czar

CONTENTS

Acknowledgments

Special Thanks

BOOK ONE: PRE-SEASON, 2683

1. PRE-SEASON: WEEK ONE

2. PRE-SEASON: WEEK TWO

3. PRE-SEASON: WEEK THREE

4. PRE-SEASON: WEEK FOUR

BOOK TWO: REGULAR SEASON, 2683

5. WEEK ONE: IONATH KRAKENS at ISIS ICE STORM

6. WEEK TWO: THEMALA DREADNOUGHTS at IONATH KRAKENS

7. WEEK THREE: SHORAH WARLORDS at IONATH KRAKENS

8. WEEK FOUR: IONATH KRAKENS at TO PIRATES

9. WEEK FIVE: WABASH WOLFPACK at IONATH KRAKENS

10. WEEK SIX: BYE WEEK

11. WEEK SEVEN: IONATH KRAKENS at LU JUGGERNAUTS

12. WEEK EIGHT: IONATH KRAKENS at ALIMUM ARMADA

13. WEEK NINE: IONATH KRAKENS at CORANADILLANA CLOUD KILLERS

14. WEEK TEN: CRIMINALS at IONATH KRAKENS

15. WEEK ELEVEN: HITTONI HULLWALKERS at IONATH KRAKENS

16. WEEK TWELVE: IONATH KRAKENS at JUPITER JACKS

17. WEEK THIRTEEN: MARS PLANETS at IONATH KRAKENS

BOOK THREE: POST SEASON

18. FINAL STANDINGS

BOOK ONE:

PRE-SEASON, 2683

PRE-SEASON: WEEK ONE

THEY CAME HOME AT NIGHT. They came home champions.

Quentin stayed in his room aboard the Touchback. He was too nervous about the return trip — wouldn't it be ironic to fight through the war that was his rookie season, win the Tier Two tournament and reach Tier One, then fly back from Earth only to have the team bus crash on the way home? Since he started every intergalactic trip assuming he was going to crash anyway, the concept of such a cruel fate made for a tense flight.

He waited. Waited for the punch-out, for the Touchback to slip into normal space.

The ship started to vibrate, shake a little.

It's fine, it's fine, it's fine, just relax.

He repeated the familiar mantra in his head, but it didn't help. This was it, he'd die on this stupid ship before he played a single down of Tier One, before he lived his dream.

It's fine, it's fine, it's fine, just relax.

He kept his eyes shut. Best not to see it happen. Maybe this time he wouldn't hurl.

It's fine, it's fine, it's fi—

The reality wave started cascading over the ship — just because he couldn't see it didn't mean he couldn't feel it. Quentin's eyes squeezed even tighter, so hard that his upper lip curled. His stomach churned; an oily, queasy feeling that threatened to coax the dinner out of his belly.

The feeling of splitting, of spreading, of being in several places at once. It pulled at his mind, told the part repeating "it's fine" that it was completely full of crap, because any sane sentient knew that things were most certainly not fine.

And then it was over.

Quentin Barnes opened just his left eye, just a little, to see if anything was shimmering, was waving. Everything looked solid. He let his breath out in a long rush, then sprinted for the bathroom as his stomach rebelled.

• • •

QUENTIN HAD JUST FINISHED brushing his teeth free of the taste of vomit when the computer voice chimed through his room.

[FIRST SHUTTLE PASSENGERS TO THE LANDING BAY]

He spit, then smiled. The first shuttle trip to Ionath City was for key players, for starters who had established themselves as vital parts of the Krakens franchise. That list of players included him.

He walked out of the bathroom and took one last look around. His few belongings were packed into flight crates. Gredok the Splithead, owner of the Krakens, was retrofitting all the players' rooms as part of an overall upgrade to the Touchback. Sure, Gredok was a gangster, a thug, and a killer, but he took his duties as team owner very seriously — he wanted his players to have facilities that rivaled those of any Tier One team.

Quentin left his room with a strange sense of anticipation. He would spend the next four weeks planet-side. Training, practice, holo-study — all the things needed to prepare for his first Tier One game. The next time he saw this room, it would be for the trip to planet Tower and the season opener against the Isis Ice Storm.

He walked down the corridor, appreciating the orange walls and the black and white carpet more than ever. He loved his team colors. No matter where his football career might take him, he knew he'd have a permanent place in his heart for the orange and the black.

He heard the now-familiar, rapid-fire of pounding footsteps behind him. Quentin automatically put his back against the wall, making room for the sprinting Sklorno.

The Sklorno, it seemed, were always sprinting.

A pair of them shot down the corridor. He recognized them — Milford and Denver, two of his fellow rookies from last year. Their big feet hit
the carpet hard as they stopped.

"Quentin Barnes Quentin Barnes Quentin Barnes!" Milford said.

"Hey," Quentin said, in a calm voice, lest he excite them further. When Sklorno got excited, Sklorno drooled. Never a fun thing.

Milford and Denver were among the few Krakens taller than Quentin. Denver stood eight feet, ten inches tall, just two inches shorter than Milford. They both wore their Krakens jerseys — Denver was number 81, Milford number 82 — but that was the only clothing that blocked their strange, see-through bodies. Sklorno jersey numbers had to go on the sides, not in front, because their coiled arms stuck out of their chests right where the numbers would ordinarily be placed on a Human jersey.

The jerseys only covered part of their bodies. On the exposed areas, translucent chitin showed the semitransparent muscles flexing beneath and clear blood coursing through them like pumping water, all of it supported by black skeletons. Semi-visible internal organs fluttered here and there.

Nowhere did they have more muscle than in their thick legs that folded backward like those of a grasshopper. Coarse, black fur jutted out of their knee and ankle joints. The legs supported a slender, back-curving body-stalk. On top of that body, the strangest part of a Sklorno — the head.

They each had two raspers, long rolls of skin-covered muscle embedded with thousands of small teeth. Usually the raspers stayed rolled up behind a thick chin plate, but whenever the ladies talked to Quentin the raspers tended to hang down like a dog with a three-foot-long double tongue. Above the chin plate sat a small crop of coarse black hairs. Out of that hair jutted four eyestalks. Each stalk moved independently, looking in all directions at once like curious cobras rising up to strike.

"Quentin Barnes QuentinBarnes QuentinBarnes!" Denver shouted again. "We are on first shuttle with you!"

Quentin nodded and started to say something, but apparently the conversation was over. The two receivers took off on a dead sprint, headed for the shuttle bay. Quentin followed them, but at a slightly more casual pace.

The shuttle bay's fifty-foot-high domed ceiling held the usual assortment of equipment, machines, and stacked metal crates, everything meticulously arranged and organized. Outside of the players' individual rooms, everything was meticulous and organized courtesy of Messal the Efficient, the Krakens team manager.

Quentin looked up, looked to the words that floated in the center of the shallow dome. A sentence made of large, holographic letters ran the length of the bay. The glowing letters never moved, never faded, and they were never turned off, even during ship-night. They read: THE IONATH KRAKENS ARE ON A COLLISION COURSE WITH A TIER ONE CHAMPIONSHIP. THE ONLY VARIABLE IS TIME.

The words made Quentin's chest feel all fluttery, stopped his breath short. He'd seen the sign many times during the Tier Two season, but Coach Hokor had changed the words slightly. Before, it had read the Ionath Krakens are on a collision course with a Tier One berth. The only variable is time.

Well, they had turned that dreamy prophecy into a hard-won truth. Now Hokor was setting the goal higher, as high as it gets — a Galaxy Bowl championship, a Galactic Football League title. The thought scared Quentin a little, made him wonder if they could live up to such expectations. Scared him... and also thrilled him.

He wasn't here to chase mediocrity.

He was here to capture glory.

He stared at the sign, then nodded.

Quentin walked toward the shuttle, which was painted in Krakens' orange and trimmed in black and white. A large Krakens logo — the iconic reddish-orange "I" inside a yellow shield, with six white, stylized tentacles spreading off behind it — decorated the side.

Other first-shuttle Krakens filtered into the landing bay. Quentin saw the blue-skinned Don Pine, two-time Galaxy Bowl winner and now Quentin's backup. Denver and Milford, along with Scarborough and Hawick, the starting Sklorno receivers. Mum-O-Killowe, the twelve-foot-long Ki defensive tackle that had gone from rookie to starter in one season, just like Quentin had done at the quarterback position. Aleksander Michnik and Ibrahim Khomeni, the monstrous, knuckle-dragging HeavyG defensive ends, each 525 pounds and nearly seven feet tall. Kill-O-Yowet, the dominant offensive tackle and seeming alpha sentient of the Krakens' seventeen Ki players. Third-string quarterback Yitzhak Goldman, who enjoyed first shuttle privileges because he had been born and raised in Ionath City, and as such was a local hero. And the big, tattooed, wild-eyed, and semi-sane Human middle linebacker, John Tweedy.

Standing next to John was Yassoud Murphy, the Krakens starting running back by default. Default because 'Soud was the only one left on the roster — starter Mitchell "The Machine" Fayed had died, and backup Paul Pierson had lost a leg.

Yassoud and John had become Quentin's closest friends. He worked hard to spend time with everyone on the team, but John and 'Soud were Human. Quentin had spent nineteen years of his life being programmed to think that Human was the only race that mattered. Logically, he could separate himself from that propaganda, but emotionally, he still felt more comfortable with his own kind.

"Hey 'Soud, Uncle Johnny," Quentin said.

John turned, his crazy stare-into-nothing changing to a smile. ARE YOU READY FOR SOME FOOTBALL? scrolled across his face. John had a sub-dermal tattoo, thousands of tiny light emitters embedded under his skin. With his cyberlink control, John could dial up any words or phrases he liked. Quentin was getting used to it, but seeing letters dance across John's face was still a bit disturbing.

"Q," John said, and held out his fist. Quentin reached out his own for the obligatory fist-bump, then did the same for Yassoud.

"Hey," Quentin said to the running back, "did you braid your beard?"

"It's called a Persian, big boy," Yassoud said, then stroked the eight inches of matted, black, curly beard he'd bound together with a thin, orange string. "Orange and black, Q, Ionath-style."

Quentin smiled and nodded appreciatively. Yassoud loved the Krakens just as much as Quentin did.

Most of the first-shuttle team was there, save for Virak the Mean and Choto the Bright, two Quyth Warrior outside linebackers.

"Hey, Uncle Johnny, where are Virak and Choto?"

"Off doing some work for Gredok," John said. "Rumor is they're at Buddha City Station for the heavyweight championship fight."

"No way," Yassoud said. "Oh yep, I got to get on Gredok's good side. Virak and Choto get all the fun."

Fun. That wasn't how Quentin saw it. Before he'd arrived last season, Virak and Choto had been football players second, gangland thugs first. Any time they accompanied Gredok, the two were probably involved in something illegal, something that could get them hurt. And if they got hurt, that affected the team. Hopefully nothing would happen. The season was just a few weeks away.

The shuttle's entire side hung open, lowered via a bottom hinge that turned it into a ramp. Head coach Hokor the Hookchest stood at the top of that ramp. It still struck Quentin as strange that Hokor, a Quyth Leader, was technically part of the same species as Virak and Choto. Where Virak was 6-foot-2 and 375 pounds, Hokor was only 3-foot-1, probably 90 pounds if he'd been swimming and his black-striped yellow fur was soaked with water. Leaders and Warriors alike were bipedal, standing on folded legs that had one segment rising up from the hips to a knee, then a foreleg that pointed down, connecting to a long, three-toed foot. Their middle arms had a similar design: upper arm that pointed up and back, then a forearm that pointed down parallel to the upper arm, ending in a thick, three-fingered pincer. Their chests continued up from the middle arms, tapering to a head with a single eye. On either side of and below the eye, a set of pedipalps ended in dexterous, finger-like appendages. The middle hands were for heavy lifting and grunt work, while the pedipalps handled fine skills, like art or computers.

Hokor wore a tiny little orange and black Krakens jacket and a tiny little black baseball hat with a Krakens logo glowing on the bill. He al
ways dressed in team colors.

At the base of the ramp stood three Krakens players, all wearing jerseys that Quentin had never seen before. Krakens home jerseys were black with orange numbers, away jerseys were orange with black numbers — these players wore white. White jerseys with orange numbers and letters trimmed in black. Orange sleeves led to black-trimmed orange flashes running down the flanks.

Where had he seen these before? It hit him — he'd seen those jerseys in the stands, worn by some of the thousands of fans packing Ionath Stadium.

Throwback jerseys.

Paul Pierson wore one of the white jerseys, number 31. Paul refused to wear a realistic prosthetic lower left leg — instead, he wore a chromed post that ended in a metallic foot. The leg had been torn off by Yalla the Biter, a Quyth Warrior linebacker for the Sky Demolition. Since Paul had lost his leg "in combat," as he called it, he wanted the universe to know he'd given his all on the gridiron.

Next to Paul stood the Ki lineman Wen-Eh-Daret, number 66, a right guard who had hurt his back in the Tier Two semi-final game against the Texas Earthlings. The injury had proven more severe than anyone thought, forcing the Ki's retirement. Aka-Na-Tak, the backup, had also been hurt in that semi-final. Aka-Na-Tak was still recovering — he wouldn't see the field until the third week of the season.

Around twelve feet long, the Ki body bent at the middle. Six feet of body stayed parallel to the ground, supported by three pairs of legs. The body bent up at the front. Two pair of arms stuck out near the thick neck and head. The head? That was the stuff of nightmares. A row of five equidistant eyes gave the species three hundred and sixty degree vision. Six leathery lips covered the six black teeth of their hexagonal mouths. Vocal tubes stuck up from the top of the head, making the Ki look a bit like a Human with smooth, short dreadlocks.