An Ember in the Ashes
Sabaa Tahir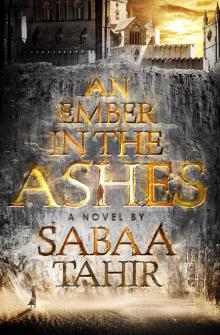 Page 1

PART I: THE RAID

I: Laia

My big brother reaches home in the dark hours before dawn, when even ghosts take their rest. He smells of steel and coal and forge. He smells of the enemy.

He folds his scarecrow body through the window, bare feet silent on the rushes. A hot desert wind blows in after him, rustling the limp curtains. His sketchbook falls to the floor, and he nudges it under his bunk with a quick foot, as if it's a snake.

Where have you been, Darin? In my head, I have the courage to ask the question, and Darin trusts me enough to answer. Why do you keep disappearing? Why, when Pop and Nan need you? When I need you?

Every night for almost two years, I've wanted to ask. Every night, I've lacked the courage. I have one sibling left. I don't want him to shut me out like he has everyone else.

But tonight's different. I know what's in his sketchbook. I know what it means.

"You shouldn't be awake. " Darin's whisper jolts me from my thoughts. He has a cat's sense for traps—he got it from our mother. I sit up on the bunk as he lights the lamp. No use pretending to be asleep.

"It's past curfew, and three patrols have gone by. I was worried. "

"I can avoid the soldiers, Laia. Lots of practice. " He rests his chin on my bunk and smiles Mother's sweet, crooked smile. A familiar look—the one he gives me if I wake from a nightmare or we run out of grain. Everything will be fine, the look says.

He picks up the book on my bed. "Gather in the Night," he reads the title.

"Spooky. What's it about?"

"I just started it. It's about a jinn—" I stop. Clever. Very clever. He likes hearing stories as much as I like telling them. "Forget that. Where were you?

Pop had a dozen patients this morning. "

And I filled in for you because he can't do so much alone. Which left Nan to bottle the trader's jams by herself. Except she didn't finish. Now the trader won't pay us, and we'll starve this winter, and why in the skies don't you care?

I say these things in my head. The smile's already dropped off Darin's face.

"I'm not cut out for healing," he says. "Pop knows that. "

I want to back down, but I think of Pop's slumped shoulders this morning.

I think of the sketchbook.

"Pop and Nan depend on you. At least talk to them. It's been months. "

I wait for him to tell me that I don't understand. That I should leave him be. But he just shakes his head, drops down into his bunk, and closes his eyes like he can't be bothered to reply.

"I saw your drawings. " The words tumble out in a rush, and Darin's up in an instant, his face stony. "I wasn't spying," I say. "One of the pages was loose.

I found it when I changed the rushes this morning. "

"Did you tell Nan and Pop? Did they see?"

"No, but—"

"Laia, listen. " Ten hells, I don't want to hear this. I don't want to hear his excuses. "What you saw is dangerous," he says. "You can't tell anyone about it. Not ever. It's not just my life at risk. There are others—"

"Are you working for the Empire, Darin? Are you working for the Martials?"

He is silent. I think I see the answer in his eyes, and I feel ill. My brother is a traitor to his own people? My brother is siding with the Empire?

If he hoarded grain, or sold books, or taught children to read, I'd understand. I'd be proud of him for doing the things I'm not brave enough to do.

The Empire raids, jails, and kills for such "crimes," but teaching a six-year-old her letters isn't evil—not in the minds of my people, the Scholar people.

But what Darin has done is sick. It's a betrayal.

"The Empire killed our parents. " I whisper. "Our sister. "

I want to shout at him, but I choke on the words. The Martials conquered Scholar lands five hundred years ago, and since then, they've done nothing but oppress and enslave us. Once, the Scholar Empire was home to the finest universities and libraries in the world. Now, most of our people can't tell a school from an armory.

"How could you side with the Martials? How, Darin?"

"It's not what you think, Laia. I'll explain everything, but—"

He pauses suddenly, his hand jerking up to silence me when I ask for the promised explanation. He cocks his head toward the window.

Through the thin walls, I hear Pop's snores, Nan shifting in her sleep, a mourning dove's croon. Familiar sounds. Home sounds.

Darin hears something else. The blood drains from his face, and dread flashes in his eyes. "Laia," he says. "Raid. "

"But if you work for the Empire—" Then why are the soldiers raiding us?

"I'm not working for them. " He sounds calm. Calmer than I feel. "Hide the sketchbook. That's what they want. That's what they're here for. "

Then he's out the door, and I'm alone. My bare legs move like cold molasses, my hands like wooden blocks. Hurry, Laia!

Usually, the Empire raids in the heat of the day. The soldiers want Scholar mothers and children to watch. They want fathers and brothers to see another man's family enslaved. As bad as those raids are, the night raids are worse.

The night raids are for when the Empire doesn't want witnesses.

I wonder if this is real. If it's a nightmare. It's real, Laia. Move.

I drop the sketchbook out the window into a hedge. It's a poor hiding place, but I have no time. Nan hobbles into my room. Her hands, so steady when she stirs vats of jam or braids my hair, flutter like frantic birds, desperate for me to move faster.

She pulls me into the hallway. Darin stands with Pop at the back door. My grandfather's white hair is scattered as a haystack and his clothes are wrinkled, but there's no sleep in the deep grooves of his face. He murmurs something to my brother, then hands him Nan's largest kitchen knife. I don't know why he bothers. Against the Serric steel of a Martial blade, the knife will only shatter.

"You and Darin leave through the backyard," Nan says, her eyes darting from window to window. "They haven't surrounded the house yet. "

No. No. No. "Nan," I breathe her name, stumbling when she pushes me toward Pop.

"Hide in the east end of the Quarter—" Her sentence ends in a choke, her eyes on the front window. Through the ragged curtains, I catch a flash of a liquid silver face. My stomach clenches.

"A Mask," Nan says. "They've brought a Mask. Go, Laia. Before he gets inside. "

"What about you? What about Pop?"

"We'll hold them off. " Pop shoves me gently out the door. "Keep your secrets close, love. Listen to Darin. He'll take care of you. Go. "

Darin's lean shadow falls over me, and he grabs my hand as the door closes behind us. He slouches to blend into the warm night, moving silently across the loose sand of the backyard with a confidence I wish I felt. Although I am seventeen and old enough to control my fear, I grip his hand like it's the only solid thing in this world.

I'm not working for them, Darin said. Then whom is he working for?