The Night Parade
Ronald Malfi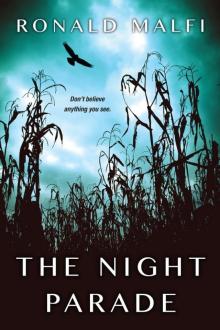 Praise for the work of Ronald Malfi

Little Girls

"Malfi builds incredible levels of tension using the

psychological impact of the secrets lurking within the pages

of Little Girls and by balancing the supernatural with the

ordinary. Weaving together the horror, mystery, and

psychological thriller genres, Malfi's Little Girls is a complex

and richly layered ghost story that slowly but surely creeps

under your skin."

—The Horror Bookshelf

"Little Girls is much more than a haunted house or a ghost

story. It's a literary horror tale filled with lovely prose. The

story itself is a slow build, giving up its secrets sparingly,

providing plenty of questions. Recommended for fans of

literary horror and ghost stories."

—Cemetery Dance

"A must for Malfi fans and a great read for those of you who love classically told ghost stories."

—iHorror

"The perfect ghost story, with just the right amount of psychological thriller added in for good measure."

—HorrorBuzz

December Park

"A complex and chilling tale of friends, family, and the often

murderous secrets that hide in the dark. Ronald Malfi takes

you for a terrifying visit to December Park."

—Robert McCammon

"Some novelists find something that works and stick with it

for years; others like to jump around, experimenting with

genres and writing styles. Malfi appears to be one of the

latter. Although most of his novels fall into the thriller,

horror, or SF genre, they are stylistically quite different. This

one, about a group of teenage friends living in a Maryland

beach community from which some children have gone

missing, feels a bit like Stephen King crossed with Dennis

Lehane—specifically, the early portions of King's It melded

with Lehane's Mystic River. But, just as Lehane doesn't sound

very much like King, so Malfi doesn't sound much like either

of them. He has his own voice, and he's telling his own story,

one that begins with some disappearances, segues into

murder, and ends with a violent confrontation. Malfi is a sort

of literary version of Mel Blanc (the "man of a thousand

voices"), but all of his voices are captivating, though none of

them are quite the same. Horror and crime fans will find

much to like here."

—Booklist

"Malfi is truly gifted when it comes to writing . . . I am going to eagerly devour all the books from Mr. Malfi that I can get my chubby fingers on."

—Haunted Bookcase

"Malfi is a master at horror, and his expertise shines through in this thriller set in the small town of Harting Farms. Skillfully plotted with carefully placed clues, the novel progresses like a map leading to the exhilarating ending."

—RT Book Reviews

"An intensely dark tale."

—Fresh Fiction

The Narrows

"Malfi (Floating Staircase) brings a cinematic vividness to this

story of a dying small town whose fate manifests as a

nightmare of supernatural horror. Cross-cutting among the

increasingly bizarre experiences of several principal characters,

Malfi constructs a panoramic narrative in which the despair of

individuals sharpens the sense of horror overwhelming the

town. This smartly written novel succeeds as both an allegory

of small-town life and a tale of visceral horror."

—Publishers Weekly

"So here is a book that should appeal to most horror aficionados: well-drawn characters, horrific creatures, gruesome deaths, plenty of blood for you gore hounds, a soupçon of mystery and an atmosphere of dread that just oozes from the pages."

—Dread Central

Floating Staircase

"A clever, emotionally resonant foray into horror."

—Booklist

"Malfi's lyrical prose and sensitive approach only heighten his tale's emotional impact, and the final turn of events is both surprising and expertly set up."

—Publishers Weekly

"Floating Staircase deserves to stand alongside a Stephen King or a Dean Koontz—at their best. Floating Staircase is a mature horror yarn, but deep down it is also an exploration of obsessions and in particular the obsession it takes to be a writer."

—New York Journal of Books

"A thoughtful, multilayered tale . . ."

—Rue Morgue

"Mixing elements of both horror and mystery, Malfi has put together a page-turner that even when finished leaves you wanting more. Powerful and chilling, Floating Staircase is one ghost story that horror fans should not miss. Highly recommended!"

—MonsterLibrarian

"This is a super haunted-house ghost story with an interesting protagonist and a great final turn-of-the-screw twist."

—Midwest Book Review

"An outstanding achievement in the supernatural horror genre."

—The Crows Caw

"A must-read novel that just might garner some Stoker attention."

—Horrorworld

"Ronald Malfi . . . has for years been a rising star in the horror genre. His lyricism and sense of character stand with the very best of the genre, and though I am hesitant to make comparisons, one cannot help but think of writers like Peter Straub, Chet Williamson, F. Paul Wilson, and Stephen King when reading.... The sense of dread and tension are palpable, recalling another great writer, Charles L. Grant. His language is stirring and evocative."

—FearNet

Cradle Lake

"Malfi deftly maintains the tension and engrossing atmosphere of horror by stepping up the pace and frequency of bizarre events. . . ."

—Publishers Weekly

"Riveting, idiosyncratic horror at its best."

—Fresh Fiction

"This is, very often, a haunting and disturbing read. In places genuinely terrifying, it's also a book concerned with themes of hope, redemption, and how your past can poison your present."

—Horror Novel Reviews

"A haunting and terrifying novel of madness and despair."

—HorrorNews.Net

"A tense thriller."

—Genre Go Round Reviews

The Ascent

"A thrilling edge-of-your-seat ride that should not be missed.... If you love thrillers that keep you guessing, this is a must-read."

—Suspense Magazine

"Malfi delivers a nearly straightforward adventure story of man against the elements, with man being the most dangerous element of all."

—Publishers Weekly

"Malfi, like the great documentarians, really makes us feel as though we are there. Another fine effort from this increasingly interesting writer."

—Booklist

Snow

"A genuine page-turner that grabs you from the very first word and doesn't stop cranking until the very last."

—House of Horrors

"Some 'old school' horror storytelling of the highest degree."

—Bloody-Disgusting.com

"Malfi's descriptive writing captures the cold and desperate scene in a way that will lure new fans to the genre."

—Las Vegas Review-Journal

"An impressive work that leaves the r
eader eager to see more from this talented writer . . . Ronald Malfi's fast-paced plotting, smooth prose, and strong, believable characters make Snow one of the best novels to bear the Leisure imprint in some time."

—Dark Scribe Magazine

"Snow is a throwback to some of the best horror writing of the late '70s and early '80s. . . . Malfi has written a novel that is absolutely brilliant . . . a must-read for every lover of horror fiction. Very highly recommended—you really don't want to pass this one by."

—Horror World Reviews

"An impressively atmospheric novel with a wicked streak."

—Dread Central

"An absolutely top-notch horror novel."

—Famous Monsters of Filmland

Shamrock Alley

"This is a bottom-of-the-ninth, two-out grand-slam home run of a book."

—Lorenzo Carcaterra, author of Sleepers and Chasers

"The author's previous books have garnered him acclaim and a small but devoted audience; this one could easily lift him into the mainstream."

—Booklist

The Mourning House

"Lyrical prose creates an atmosphere of eerie claustrophobia, flawless pacing, and a plot that unfolds into a quietly shattering climax. Fans of literary horror will enjoy this compelling, haunting story."

—Publishers Weekly

THE NIGHT PARADE

RONALD MALFI

KENSINGTON PUBLISHING CORP.

www.kensingtonbooks.com

All copyrighted material within is Attributor Protected.

Table of Contents

Praise for the work of Ronald Malfi

Title Page

Copyright Page

Dedication

Epigraph

1

2

3

4

5

6

7

8

9

10

11

12

13

14

15

16

17

18

19

20

21

22

23

24

25

26

27

28

29

30

31

32

33

34

35

36

37

38

39

40

41

42

43

44

45

46

47

48

49

50

51

52

53

54

55

56

57

58

59

60

61

62

63

64

65

66

ACKNOWLEDGMENTS

ABOUT THE AUTHOR

Teaser chapter

KENSINGTON BOOKS are published by

Kensington Publishing Corp.

119 West 40th Street

New York, NY 10018

Copyright © 2016 Ronald Malfi

All rights reserved. No part of this book may be reproduced in any form or by any means without the prior written consent of the publisher, excepting brief quotes used in reviews.

Excerpt of "Slowly You Spoke" from George Seferis: Collected Poems, 1924–1955 by Edmund Keeley and Philip Sherrard, eds. Copyright © 1995 by Princeton University Press. Reprinted by permission.

KENSINGTON and the K logo are Reg. U.S. Pat. & TM Off.

ISBN: 978-1-4967-0386-6

First Electronic Edition: August 2016

ISBN-13: 978-1-4967-0387-3

ISBN-10: 1-4967-0387-1

For Maddie and Hayden.

Big smiles, Little Spoons.

"Five seconds; and what's happened in the wide world?"

—GEORGE SEFERIS, "Slowly You Spoke"

1

David Arlen's daughter woke up ten miles outside Fredericksburg. She had begun to stir just as the lights of the city receded in the Oldsmobile's rearview mirror, intermittently whining and sobbing in her sleep from the backseat. But now she sat up, almost too abruptly, and the image of her eclipsing the distant city lights in the rearview mirror caused David's heart to jump. It was as if he'd forgotten she was back there.

"Where are we?" She sounded hoarse.

He raked a set of fingers down the left side of his face and neck, feeling the fresh stubble there. He wondered if he should grow a beard. Maybe dye his hair. "I'm not sure. Heading south right now."

"I want my mom."

He had no response for that. He wanted her, too.

"Where are we?" she insisted.

"Please," he said, shaking his head and briefly closing his eyes.

"I want to sit up front with you," she said.

"Not just yet."

"Why?"

"Just sit back. Please. Try to go back to sleep."

"I'm not tired anymore."

"Please, Ellie," he said.

She sat back, her silhouette sinking below the rearview mirror. The lights of Fredericksburg were gone now, obscured by black trees along the sloping road and the heavy drapery of night.

David glanced at the Oldsmobile's dashboard clock. It was just after midnight. He tried to do the math and figure out how long he'd been awake, but found even the simplest brain work next to impossible. Two days? Longer? In his exhaustion, even his vision threatened mutiny: The sodium lamps that flanked the shoulder of the highway occasionally blurred into smeary arcs of colorless light.

For what seemed like the millionth time since they'd hit the road, he took mental inventory of the items he'd managed to squirrel away in the trunk: extra clothes, some food, approximately six hundred dollars in cash, some books and board games to keep Ellie's mind off the whole thing. There was a handgun and two boxes of ammo back there, too, in a stolen pink suitcase. He'd never fired a gun in his life. When he had come across it in Burt Langstrom's bedroom, he'd felt the world tilt slightly and time seemed to freeze. The weapon had seemed unreal. Until that moment, it had never occurred to him that he might need a weapon, a firearm. But there it had been, like a sign from God, and its mere presence was enough to drive home the gravity of their situation. He'd picked it up, surprised to find that much of it was made of plastic—he had always just assumed handguns were cast from iron or steel or something—and for some reason that made it seem all the more deadly. Quiet and unassuming, like a sleek black snake weaving through a flower bed. And for the first time he had wondered, Could I kill a person? If it comes down to it, could I do it? Could I point this thing at someone, pull the trigger, bring them down?

Now, gripping the steering wheel of the Olds with both hands, he thought of what was at stake and imagined that he could.

When he motored past a police cruiser tucked along a dirt passage between the trees just beyond the shoulder, he swore under his breath, then stared at the speedometer. He was cruising at just below seventy miles per hour. What was the speed limit on this particular stretch of highway? He racked his brain but couldn't remember the last time he'd spotted a speed limit sign. Goddamn careless. His eyes flicked back up to the rearview mirror. Holding his breath, he waited to see if the cruiser would pull out onto the highway in pursuit. Any second, those headlights would blink on, growing in size as the cruiser drew closer until the rack lights came alive and doused the world in alternating blue and red flashers.

But the cop car never slid out onto the highway.

It wasn't until a good ten minutes later that he allowed himself to relax. With any luck, they weren't even looking for him yet.

&n
bsp; "I'm hungry."

Her voice startled him. He had assumed she had fallen back asleep. But she sounded clear, lucid.

"Can't it wait?" he asked her.

"Wait for what?"

That was a good question. He had no answer for her. No plan. Not yet, anyway.

"Listen," he said. "I've got some food in the trunk. Let me pull over and I'll get some out for you."

"Food in the trunk," she said. It wasn't a question, though he could tell by her tone that she was marveling over the peculiarity of it all.

David's eyes kept skirting to the shoulder of the road. With the exception of the police car, they hadn't passed another vehicle in over fifteen minutes. Desolate. Nonetheless, he wondered if he'd draw more attention to himself parked along the shoulder rifling through his trunk than if he just went to a rest stop where they could blend in more easily. What if the cop had decided to follow him after all, and happened to drive up as he stood rifling through the Oldsmobile's trunk? A stolen Oldsmobile.