Treasure Island (Barnes & Noble Classics Series)
Robert Louis Stevenson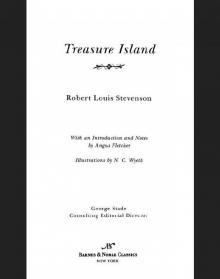 Table of Contents

From the Pages of Treasure Island

Title Page

Copyright Page

Robert Louis Stevenson

The World of Robert Louis Stevenson and Treasure Island

Introduction

Dedication

TO THE HESITATING PURCHASER

PART I - The Old Buccaneer

I - The Old Sea-dog at the Admiral Benbow

II - Black Dog Appears and Disappears

III - The Black Spot

IV - The Sea-chest

V - The Last of the Blind Man

VI - The Captain's Papers

PART II - The Sea Cook

VII - I Go to Bristol

VIII - At the Sign of the Spy-glass

IX - Powder and Arms

X - The Voyage

XI - What I Heard in the Apple Barrel

XII - Council of War

PART III - My Shore Adventure

XIII - How My Shore Adventure Began

XIV - The First Blow

XV - The Man of the Island

PART IV - The Stockade

XVI - Narrative Continued by the Doctor: How the Ship Was Abandoned

XVII - Narrative Continued by the Doctor: The Jolly-boat's Last Trip

XVIII - Narrative Continued by the Doctor: End of the First Day's Fighting

XIX - Narrative Resumed by Jim Hawkins: The Garrison in the Stockade

XX - Silver's Embassy

XXI - The Attack

PART V - My Sea Adventure

XXII - How My Sea Adventure Began

XXIII - The Ebb-tide Runs

XXIV - The Cruise of the Coracle

XXV - I Strike the Jolly Roger

XXVI - Israel Hands

XXVII - "Pieces of Eight"

PART VI - Captain Silver

XXVIII - In the Enemy's Camp

XXIX - The Black Spot Again

XXX - On Parole

XXXI - The Treasure-hunt—Flint's Pointer

XXXII - The Treasure-hunt—The Voice Among the Trees

XXXIII - The Fall of a Chieftain

XXXIV - And Last

Endnotes

Inspired by Treasure Island

Comments & Questions

For Further Reading

From the Pages of Treasure Island

Squire Trelawney, Dr. Livesey, and the rest of these gentlemen having asked me to write down the whole particulars about Treasure Island, from the beginning to the end, keeping nothing back but the bearings of the island, and that only because there is still treasure not yet lifted, I take up my pen in the year of grace 17—and go back to the time when my father kept the Admiral Benbow inn and the brown old seaman with the sabre cut first took up his lodging under our roof. (page 11 )

"Fifteen men on the dead man's chest—

Yo-ho-ho, and a bottle of rum!

Drink and the devil had done for the rest—

Yo-ho-ho, and a bottle of rum!" (page 16)

"Heard of him, you say! He was the bloodthirstiest buccaneer that sailed. Blackbeard was a child to Flint. The Spaniards were so prodigiously afraid of him that, I tell you, sir, I was sometimes proud he was an Englishman." (page 45)

Long John Silver, he is called, and has lost a leg; but that I regarded as a recommendation, since he lost it in his country's service, under the immortal Hawke. (page 53)

It was Silver's voice, and before I had heard a dozen words, I would not have shown myself for all the world, but lay there, trembling and listening, in the extreme of fear and curiosity, for from these dozen words I understood that the lives of all the honest men aboard depended upon me alone. (page 75)

The cry he gave was echoed not only by his companions on board but by a great number of voices from the shore, and looking in that direction I saw the other pirates trooping out from among the trees and tumbling into their places in the boats. (page 118)

"A man who has been three years biting his nails on a desert island, Jim, can't expect to appear as sane as you or me. It doesn't lie in human nature." (page 131)

Indeed, as we found when we also reached the spot, it was something very different. At the foot of a pretty big pine and involved in a green creeper, which had even partly lifted some of the smaller bones, a human skeleton lay, with a few shreds of clothing, on the ground. I believe a chill struck for a moment to every heart. (page 216)

Published by Barnes & Noble Books

122 Fifth Avenue

New York, NY 10011

www.barnesandnoble.com/classics

The Sea Cook, or Treasure Island was serialized in Young Folks between October 1881 and January 1882, then published in volume form in 1883 as Treasure Island.

Published in 2005 by Barnes & Noble Classics with new Introduction, Notes, Biography, Chronology, Inspired By, Comments & Questions, and For Further Reading.

Introduction, Notes, and For Further Reading

Copyright © 2005 by Angus Fletcher.

Note on Robert Louis Stevenson, The World of Robert Louis Stevenson and

Treasure Island, Inspired by Treasure Island, and Comments & Questions

Copyright © 2005 by Barnes & Noble, Inc.

All rights reserved. No part of this publication may be reproduced or transmitted in any form or by any means, electronic or mechanical, including photocopy, recording, or any information storage and retrieval system, without the prior written permission of the publisher.

Barnes & Noble Classics and the Barnes & Noble Classics colophon are trademarks of Barnes & Noble, Inc.

Treasure Island

ISBN-13: 978-1-59308-247-5 ISBN-10: 1-59308-247-9

eISBN : 978-1-411-43334-2

LC Control Number 2004112103

Produced and published in conjunction with:

Fine Creative Media, Inc.

322 Eighth Avenue

New York, NY 10001

Michael J. Fine, President and Publisher

Printed in the United States of America

QM

9 10 8

Robert Louis Stevenson

The name Robert Louis Stevenson is synonymous with adventure, romance, and the exotic—qualities that characterized the author's life as well as his fiction. Born in Edinburgh on November 13, 1850, Stevenson contracted in his early years what was probably tuberculosis, a condition that would cause repeated bouts of illness throughout his life. But frequent confinement to the sickbed did not stifle the child's imagination. The young boy wrote tales based on biblical passages and Scottish history and soon gained a reputation as a storyteller.

In 1867 Stevenson enrolled in Edinburgh University. His family expected that he would join the distinguished line of Stevenson engineers; instead he chose to study the law. But conventional study was, he later claimed, the farthest thing from his mind. "To play the fiddle, to know a good cigar, or to speak with ease and opportunity to all varieties of men"—these were Stevenson's youthful pursuits, which he sought despite academic and familial consequences.

This self-professed idler was a devoted student of the curriculum he devised for himself. Sometimes on the verge of grave illness, Stevenson wandered through the wilder quarters of Edinburgh, and he worked at honing his writing skills by imitating his favorite authors, among them Defoe, Hazlitt, and Montaigne. In 1875 he passed the bar exam, but rather than take up legal practice, he set out for the European continent; his time there is recounted in early essays and travel narratives. While in France Stevenson fell in love with Fanny Osbourne, a married American woman ten years his senior. He joined Fanny in th
e United States in 1879. Upon her divorce in 1880 she and Stevenson were married; they lived for a short time af terward in northern California.

Stevenson then returned to Edinburgh with Fanny and her son from her first marriage, Lloyd Osbourne. Stevenson's health was so fragile for the next several years that sometimes he was bedridden; at other times he and his family traveled to the south of France and Switzerland in hopes of restoring his well-being. As in his youth, sickness galvanized rather than diminished his imagination; during this period he composed such classics as Treasure Island (1883), A Child's Garden of Verses (1885), and The Strange Case of Dr. Jekyll and Mr. Hyde and Kidnapped (both 1886). From 1884 to 1887 the family lived in Bournemouth, a resort on England's south coast.

After his father's death in 1887, Stevenson and his mother, wife, and stepson moved to America. The author's vagabond spirit and quest for better health led the family on a South Seas voyage that would prove to be his greatest adventure; in 1888 they visited the islands of the Marquesas, Tahiti, and Hawaii. During the journey Stevenson suffered a lung hemorrhage, and the family settled in Samoa to attend to his failing health. Stevenson's works of the period, including In the South Seas (1890), which chronicle the clash between Eastern and Western cultures and champion the Samoan people, shocked his friends in Scotland, drew fire from local warring political factions, and nearly provoked his banishment from Samoa.

As Stevenson's health seriously worsened he felt nostalgia for his native country, although he knew he would not survive a voyage home to Scotland. He collapsed of a brain hemorrhage while at work on his unfinished novel Weir of Hermiston and died on December 3, 1894, in Samoa.

The World of Robert Louis Stevenson and Treasure Island

1850 Robert Louis Stevenson is born on November 13 in Edinburgh, the only child of Thomas and Margaret (née Balfour) Stevenson. As a child, he suffers from an illness, probably tuberculosis, which will plague him throughout his life.

1858 Poor health keeps Stevenson bedridden, and he attends school infrequently; tutors educate him at home.

1859 Darwin's On the Origin of Species is published, as is Charles Dickens's A Tale of Two Cities.

1865 Lewis Carroll's Alice's Adventures in Wonderland is published.

1867 Thomas Stevenson enrolls his son in Edinburgh University with the hope that he will join the family engineering firm. The romantic, often sickly young man delights his professors but takes his formal studies lightly. Instead he fraternizes with the citizens of Edinburgh and spends time imitating the writing style of Michel de Montaigne, William Hazlitt, and Daniel Defoe.

1871 To his father's dismay, Stevenson leaves his engineering studies to pursue a law degree. He continues to develop his true interest, writing. Royal Albert Hall opens in London.

1872 Lewis Carroll's Through the Looking-Glass and George Eliot's Middlemarch are published.

1874 Thomas Hardy's Far from the Madding Crowd appears.

1875 Stevenson passes the bar but decides not to practice law, choosing instead to write and to travel to Europe.

1876 A boat trip down the river Oise in France inspires

Stevenson to write the travel narrative An Inland Voyage. In France he meets Fanny Osbourne, a married American

1878 woman ten years his senior; the two fall in love. An Inland Voyage is published. Fanny returns to the United States, leaving Stevenson depressed and melancholy . He sets out on a journey through the mountains of France's Massif Central and documents it in a narrative that becomes the book Travels with a Donkey in the Cevennes, published the following year.

1879 In August Stevenson sets out for California to see Fanny. A severe chest infection leaves him on the verge of death.

1880 Having been granted a divorce, Fanny weds Stevenson and nurses him in northern California. The two then return to Edinburgh. During the next four years, between bouts of illness, the couple travels to southern France and Switzerland.

1881 Stevenson, inspired by a map he made with his stepson, Lloyd Osbourne, begins thinking about the plot for a story about a search for buried treasure.

1883 Treasure Island is published in book form and becomes a favorite among British readers.

1884 While traveling in southern France, Stevenson is struck by illness. He, Fanny, and Lloyd return to Britain and live from 1884 to 1887 in Bournemouth, a resort on the southern coast of England. Stevenson composes numerous works in the following two years. He also develops a friendship with Henry James.

1885 A Child's Garden of Verses is published.

1886 The Strange Case of Dr. Jekyll and Mr. Hyde and Kidnapped are published.

1887 Stevenson's father dies in May. The remaining family members-Stevenson's mother, wife, and stepson—journey to America. Memories and Portraits is published.

1888 Stevenson, Fanny, her son, and Stevenson's mother set sail for the South Seas on the Casco. The family visits many islands, including those of the Marquesas, Tahiti, and Hawaii.

1889 Stevenson visits a leper colony in Molokai to investigate —and exonerate—a missionary named Father Damien. The Master of Ballantrae is published.

1890 Stevenson sails throughout the Eastern Pacific until a lung hemorrhage leads him to settle in Samoa. In the South Seas and Father Damien are published.

1891 The Picture of Dorian Gray, by Oscar Wilde, is published.

1892 Stevenson begins to campaign for Samoan rights against the encroaching Western powers; he publishes A Footnote to History: Eight Years of Trouble in Samoa.

1893 Stevenson is accused of sedition when he supports the position of a Samoan chief, nearly causing his banishment from Samoa. Knowing his health will not permit him to return to Scotland, Stevenson feels deep nostalgia for his native country.

1894 Samoa experiences peace, and Stevenson is hailed as a hero. While working on his novel Weir of Hermiston, Stevenson dies of a brain hemorrhage on December 3. He is buried atop Mount Vaea in Samoa.

Introduction

Treasure Island is one of the great stories, and like most books of its kind it takes ideas and details from many other stories told before its time. Since the early 1880s, when it appeared in print, readers have asked how such enthralling narratives come into being. Where do they come from? What is their creative source? Is it the author's schooling to become a writer, facts in history books, what we traditionally call creative genius, or all three? Only a few writers have been able to combine the excitement of daydreaming with a tough knowledge of actual life, and hence only a few have created classics of adventure, stories of the soul's youthful dreams. Robert Louis Stevenson was one of those rare creators, a master storyteller.

Memorable storytelling is the voice of ancient beliefs and common tradition, their mythical voice. No single part of the tale belongs to any one particular property-owner, and grown-ups need to remember this. Stories are not like real estate, houses, office buildings, automobiles, and other such personal property. Yet Stevenson wanted to get paid for his writing and thus had to lay claim to his own work; like every other modern writer who needs copyright protection, he required official recognition that he was the owner of Treasure Island, in order to sell the book to the public. Otherwise he knew that such stories belong to all of us and are merely spoken by the author. His early stories and essays had brought him some fame, but not enough money to live on. He had a family to support. It was therefore ironic that when he adopted the ancient communal role of storyteller, he began to make money, for Treasure Island soon became a best-seller and stayed one for more than a hundred years.

The book is a classic partly because it has the economical design of an exciting heroic quest. Here we may get the wrong idea of heroism, which absolutely does not mean acquiring an unexpected material reward. Instead, this is the story of a young boy becoming a man, of his discovering his own character, his strengths and weaknesses, hopes and fears, gallantry and uncertainty all rolled up together into one remarkable person. For Jim
Hawkins this is the story of seeking independence by confronting outward threats to his physical and emotional balance. Jim finds himself teamed up with some truly devious and dangerous compatriots. He finds himself more than once torn by accident from his older guardians and friends, alone on a forbidding island, under attack. More than once he must join battle with ominous superstitions. Somehow he survives, no doubt because there is scarcely a trace of sentimental foolishness about him; he is physically strong, shrewd, and well equipped psychologically to enter upon a voyage of discovery. In the course of the thrill-packed twists and turns of his story he learns that the goal of his quest is self-knowledge. Such a quest defines heroism, and through this voyage he achieves the status of a young, but impressively mature person.

The tone of the story and the quality of its mythical voice are therefore realistic and tough-minded, and will perhaps change a modern reader's ideas of what to expect from a Victorian adventure story written about a long-gone time of buccaneering exploits. Written at great speed, one chapter per day, the book was designed with one unexpected episode chasing another, as can be guessed from the chapter titles, such as those that begin the book: "The Old Sea-dog at the Admiral Benbow," "Black Dog Appears and Disappears," "The Black Spot," "The Sea-chest," "The Last of the Blind Man," and "The Captain's Papers." The action moves rapidly from placid, uninterrupted daily life to danger and mutiny on the high seas, and that is only the beginning. Because Stevenson is a master of uncanny coincidences, the tone of the book builds mainly on its pragmatic treatment of chance, good and bad luck, and their ef fects on human destiny. There is nothing placid about this treatment. By taking action, often in a flash, Jim weakens the awesome grip of fear, changing his dangerous situation to allow space for new hopes.