Brooklyn House Magician's Manual
Rick Riordan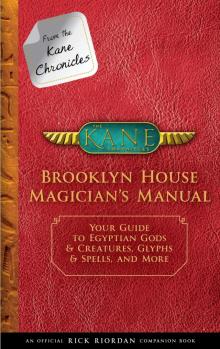 Illustrations by James Firnhaber

Hieroglyphs by Michelle Gengaro-Kokmen

Copyright © 2018 by Rick Riordan

Cover design by Beth Meyers

Cover photographs © Anton Ivanov and K. Narloch-Liberra/Shutterstock

All rights reserved. Published by Disney • Hyperion, an imprint of Disney Book Group. No part of this book may be reproduced or transmitted in any form or by any means, electronic or mechanical, including photocopying, recording, or by any information storage and retrieval system, without written permission from the publisher. For information address Disney • Hyperion125, West End Avenue, New York, New York 10023.

ISBN 978-1-368-01189-1

Visit www.DisneyBooks.com

Follow @ReadRiordan

A special thank-you to Stephanie True Peters

for her help with this book

To all young magicians

May your wands never break

and your hieroglyphs always glow bright

CONTENTS

Title Page

Copyright

Dedication

A WORD OF WARNING

THE BOOK OF THIS BOOK

THERE'S NO PLACE LIKE NOME

THE DO-WHAT?

IN THE ZONE

THE FIRST FAMILY OF GODS AND GODDESSES

RA

TEFNUT

SHU

NUT & GEB

OSIRIS

SET

ISIS

NEPHTHYS

HORUS

ANUBIS

OTHER MAJOR GODS AND GODDESSES

BES

THOTH

NEITH

KHONSU

PTAH APOPHIS

THE ANIMAL GODS AND GODDESSES

TAWARET

BAST

A FINAL WORD

ABOUT THE MAGICIANS

GLOSSARY

HIEROGLYPH KEY

ABOUT THE AUTHOR

TRANSLATION: Well, now you've done it. By finding this book, you've alerted nearby monsters and enemy magicians that you have magic powers. Soon they'll be coming after you. To escape, place your paw on the book's cover. A portal will open. Jump in. We'll be waiting on the other side to greet you (and hand you a Duat sickness bag if you need it).

Oh, and just so you know…things could get a little weird from here on out.

—Khufu, resident baboon of Brooklyn House

A little weird. Yeah, that's one way of putting it.—Sadie

To avoid being devoured, please feed one (1) frozen turkey to Freak, our semi-domesticated griffin. Tur-keys are located in the ice pyramid provided by Felix, trainee in slush, snow, ice, and air-conditioning magic.

—Carter Kane

GREETINGS, initiate! Welcome to Brooklyn House. I'm Carter Kane. My sister, Sadie, and I are in charge here—and yes, we really are siblings even though we look nothing alike. I take after our father, Julius, who has brown eyes and dark skin. That is, he used to have dark skin. It's more blue now…I'll explain why later. Sadie looks like our mother, Ruby—pale, blond, and blue-eyed. Mum's really pale now. Transparent, even. But then, she's a ghost, so…yeah.—Sadie

Sadie and I don't sound alike, either. She has an English accent Um, no, Carter—you have an American accent.—Sadie because she grew up in London with our grandparents after Mom died. Meanwhile, I traveled around with our dad, a famous Egyptologist. That might sound fun, but trust me, living out of a suitcase got old quick.

That's all in the past now. Today, Sadie and I live here in Brooklyn House, the headquarters of the Twenty-First Nome of the House of Life. A nome is a region or district. Not a whimsical garden figurine with a pointy red hat. Common mistake.—Sadie There are three hundred and sixty nomes in the Per Ankh—that's Egyptian for the House of Life, the ancient global organization of Egyptian magicians. Not pull-a-rabbit-out-of-a-hat magicians—people who can do actual magic. People like me and Sadie. And people like you. Surprise!

How do we know you can do magic? Because you found this book, and you made it here in one piece. These accomplishments signal that you have the blood of the pharaohs flowing through your veins. You don't have the pharaohs' actual blood flowing through your veins. That would be disgusting, not to mention unsanitary. Just wanted to clarify that.—Sadie That means you're descended from ancient Egyptian royalty, and you have powers. Magic powers. More on that later, I promise. For now, I want to tell you how this book came about.

My girlfriend, Zia Rashid, and I were standing in line, ordering lunch at our favorite food-court restaurant. Suddenly, Zia snatched a plastic knife and brandished it like a weapon. "Carter, look! Someone is in trouble!"

I instantly tensed. "What? Where? Who?"

She stabbed her utensil at a HELP WANTED sign by the cash register.

I relaxed. "Yeah, um, that's not a cry for help, actually." I explained that Meat on a Stick had job openings and handed her one of the application forms from the pile on the counter.

As she scanned the paper, her expression darkened. "Good Ra, look at this." She showed me the section marked PERSONAL INFORMATION. "A devious trick to learn an applicant's ren, no doubt!"

A little background on Zia: she was raised by a two-thousand-year-old Egyptian magician in a secret headquarters hidden beneath Cairo. Some aspects of modern life are still mysterious to her.

I'm not wild about correcting my girlfriend—she has a rather fiery temper—but I feared she might attack the restaurant workers if I didn't. That would have been bad because 1) mall security frowns on the use of plasticware as deadly weapons, and 2) I was really hungry and wanted my food.

So I casually eased the knife from her fist and said, "I don't think people who serve meat on a stick at a restaurant called Meat on a Stick are into secret names. They probably don't even know what a ren is, or the incredible power that comes with learning it."

Unconvinced, Zia put the application on her food tray and brought it to our table, where she proceeded to read it aloud. "'Past Experience.' Wouldn't you like to know," she muttered between bites. "'Tell Us More About Yourself.' No, I don't believe I will."

Just then, my cell phone buzzed. I glanced at the text. "Walt's asking us to come back to Brooklyn House. A bunch of new recruits just arrived."

Let me pause for a moment to introduce you to Walt Stone. He's directly descended from King Tut, the world-renowned boy pharaoh with the treasure-filled tomb. Walt didn't inherit any treasure from his famous ancestor. (At least, I don't think he did.) But he did get something else: a death curse. Not too long ago, he succumbed to that curse.

Okay, you might be asking yourself, if Walt is dead, how did he text you? Is he a ghost?

Answer: Walt is not a ghost—not that there's anything wrong with ghosts. My mother is one, and she's very nice. (There are nasty ghosts, too. The worst is Setne, an evil magician with delusions of immortality. Don't worry about him, though. He's imprisoned inside a snow globe on my desk. Feel free to give the globe a good shake sometime. He hates that.) The reason Walt is still around is because he merged with Anubis, the Egyptian god of death.

That last statement probably raises a second question: What????

Let me explain. To exist in our world, an Egyptian god needs a host. An artifact or an animal or even an element like water or earth will do, but most gods prefer to join with mortals. In exchange for sharing brain space, the human host, or godling, gains full access to the deity's power.

Sadie and I have been godlings. Zia, too—twice, actually. I'm not going to lie: having the power of a god is incredible. But merging with a deity ca
n be very dangerous. Disturbing, too, especially when the god tries to strike up a conversation in your head. Given a choice, I'll stick to my own inner monologue, thank you very much.—Sadie. Gods like to be in control. Let them into your mind, and they start pressuring you to do what they want. Resistance is almost impossible, and the risk of insanity and death by power overload is high. That's why we don't go the godling route anymore—except for Walt, who is a special case because he is, technically, dead.

Okay, on with the story…

Zia and I flew back to Brooklyn House courtesy of my griffin, Freak. As we dismounted—carefully, because his wings are deadly sharp—Walt joined us on the rooftop.

"How was Meat on a Stick?" he asked as we followed him down to the second-floor balcony.

"Delicious," I said.

"Dangerous," Zia corrected darkly. She waved the job application. "I'm going to warn Sadie about this. Don't want her falling victim to such a trap."

Once she was out of earshot, I filled Walt in about the mall incident. "Zia knows so much about ancient Egypt and magic that I forget she knows so little about modern life."

"That's one advantage to my dual personality." He tapped his head. "Walt knows modern, and Anubis knows magic."

"You're lucky."

"Dead lucky," he agreed.

Voices rose up from the Great Room, reminding me that we had new trainees. I peered down at them as they milled nervously around the thirty-foot-tall black marble statue of Thoth. I shook my head. "How much do you think they know about the gods and goddesses or any of the magic stuff they're going to encounter here?"

"Not enough," Walt said gravely. Gravely. Very punny, Carter.—Sadie

I leaned on the railing. "So, they might misunderstand the most basic magical concepts. Just like Zia misunderstood the job application."

"Probably." Walt shrugged. "But what can we do about it?"

I didn't answer because just then Sadie waltzed up to claim Walt. Claim? You make me sound so possessive! I simply saw one of the recruits eyeballing my boyfriend and decided the sooner he knew Walt was mine, the better.—Sadie I turned away from their public display of affection. My gaze fell on the items the statue of Thoth was holding—a papyrus scroll and a stylus—and then I knew the answer to Walt's question.

"A book!" I blurted.

Walt and Sadie broke apart. "Don't look now," Walt stage-whispered, "but Carter is yelling out random nouns."

"Better than some other things he could yell," Sadie replied.

I rolled my eyes. "I meant we should write a book about Egyptian magic."

Sadie made a face. "I don't write. I talk, and people listen."

I ignored her. "A book just for initiates. You know, so they have a clue about what they're getting into here. We'd explain the Duat, and the deities, and the path of the gods. Throw in some stories about our experiences. We could get the other Brooklyn House residents to contribute. Magicians from other nomes, too. And maybe …"

Sadie raised her eyebrows. "The gods?"

I nodded. "Yeah. The gods. So, what do you think? Should we write this book?"

Long story short, we wrote this book. I can't speak for everyone else, but I had fun putting it together. The experience wasn't all bad, and my bits are quite worth reading.—Sadie In fact, I'm thinking of writing a companion volume. I'll call it Brooklyn House's Manual to Modern Life. I know at least one magician who might find it useful. If you want to help, just stop by my room. Or visit me at Meat on a Stick. Apparently, someone filled out the job application in my name, and they want to hire me.

In the meantime, read on, initiate. And welcome to the world of Egyptian magic.

Hi. Sadie here, the younger and more fashion-forward Kane sibling. Carter isn't usually irresponsible—I pride myself in leading in that category—so I was surprised he left the manuscript for this book unattended. And by "unattended" I mean securely locked in his desk drawer. Honestly, anyone capable of casting a combination sahad–w'peh spell—that's unlock–open—could easily penetrate his worthless defenses. As a follower of Isis, goddess of magic, I am more than capable, so before you could say Jelly Baby, his papyrus was in my hands. Since words are my thing, I went ahead and added a few more. Then I bound them to his papyrus with a hi-nehm joining spell. I mean, I couldn't have Carter deleting my hard work, now could I?

AH, SADIE. YOU DIDN'T NOTICE THAT YOUR SAHAD–W'PEH SPELL NICKED MY SNOW GLOBE PRISON, DID YOU, DOLL? YEAH, IT SPRUNG A LEAK. WATER SEEPED OUT. WATER…AND ME, YOUR OLD PAL, SETNE.

SERIOUSLY, THOUGH, I OWE YOU AND CARTER BIG-TIME FOR BRINGING ME INTO BROOKLYN HOUSE. I WOULDN'T BE HERE WITHOUT YOU. NOW I'M GOING TO ROAM AROUND AND LOOK FOR A CERTAIN BOOK YOU TOOK FROM ME. YOU KNOW THE ONE I MEAN. IT CONTAINS POWERFUL SPELLS, SECRET INFO ABOUT THE GODS—OH, AND MY PERSONAL FAVORITE, INSTRUCTIONS FOR BECOMING IMMORTAL.

SPEAKING OF, I'VE GOT A WHOLE NEW APPROACH TO MY UNDYING QUEST FOR IMMORTALITY NOW. (UNDYING. HA! THAT'S A GOOD ONE. SOMEONE SHOULD BE WRITING THIS DOWN.) IT CAME TO ME AFTER YOU INTRODUCED ME TO A GUY WITH UNUSUAL POWERS. UNUSUAL FOR EGYPT, ANYWAY. LET ME TELL YOU, WHEN I TRANSFORM FROM GHOST TO GOD, IT'S REALLY GOING TO MAKE WAVES.—SETNE

BROOKLYN House has everything fledgling magicians need to live and learn in comfort. It has some secrets, too. Let me explain.

Brooklyn House has been in our family for generations. Our dad and his younger brother, Amos, grew up here. Yet Sadie and I never knew the mansion existed until Uncle Amos transported us here in his magical boat—and we only came then because Dad had been imprisoned in a golden sarcophagus by Set, the god of evil, and we needed a safe place to stay. (Turns out it wasn't that safe, but we didn't discover that until later.)

The first morning Sadie and I spent at Brooklyn House, she literally blew the doors off the library so we could get a look inside. Since then, we've explored every part of this grand five-story mansion, from the rooftop portal and the bedrooms to the training room, the infirmary, and the Great Room. We've circled the wraparound terrace with its open-air dining facility and crocodile-length pool a dozen times. We've even peeked inside the supply closet and bathrooms. Yeah, that doesn't make us sound creepy at all.—Sadie We know every nook and cranny of Brooklyn House.

At least, we thought we did. Then we discovered a small trapdoor hidden beneath a rug on the ground floor. A small, locked trapdoor that wouldn't open even when Sadie hit it with her most forceful ha-di spell. It takes some serious protective magic to hold up against that much destructive power.

Mystified, we contacted Uncle Amos to see if he knew anything about it. After all, he lived in our family mansion for years. In reply, he sent us an old cross-section drawing of Brooklyn House, made sometime before it was elevated to its current position above the abandoned warehouse, along with this note:

Kids,

I'm flabbergasted by your find! "Flabbergasted" would be a great word for a spell.—Sadie

Near as I can make out, Brooklyn House was originally built over a mastaba, a type of ancient Egyptian tomb that resembles a pyramid with the point sliced off. Such tombs had a shaft leading from a rooftop opening to the actual burial chamber located far below the floor. The ground-level floor had a secret room, called a serdab, that held a statue of the deceased's ka, and another chamber with afterlife offerings. Why a mastaba was constructed beneath Brooklyn House, and whether anyone was ever buried there, are mysteries to me. From these sketches, it seems the trapdoor originally led into the rooftop shaft opening. Brooklyn House now hovers high above the mastaba, but the two may still be connected magically. Which brings me back to the trapdoor. The magic sealing it shut is likely intended to keep Brooklyn House residents out…or to keep something imprisoned within the mastaba. If the latter, well, that "something"—a ghost of a long-dead Egyptian relative would be my best guess—probably won't b
e looking to play patty-cake with you if it gets out. So just STAY AWAY.

Best,

Amos

Surprisingly, Sadie has stayed away. But I know she's still thinking about that trapdoor and who might lurk in the tomb beneath Brooklyn House. You know me only too well!—Sadie. I am, too.

But don't worry. We've taken precautions to keep Brooklyn House residents safe. We added a drowah boundary spell around the trapdoor—that's the strange light in the corner—and beefed up the exterior hieroglyphs in case the whatever-or-whoever escapes and tries to circle back in. We've put Philip of Macedonia, our albino crocodile shabti—a figurine shaped out of wax and brought to life with magic—on high alert. Trust me: no ghost is going to get in through that trapdoor.

AN ANCIENT MASTABA WITH A POSSIBLY MALEVOLENT SPIRIT? NOW WE'RE TALKING! MORTAL MAGICIANS MIGHT NOT BE ABLE TO PENETRATE THAT MAGICAL TRAPDOOR, BUT A GHOST MAGICIAN? EASY-PEASY TAS-RIBBON SQUEEZY!—SETNE

WHAT are you staring at? You've never seen a lump of wax shaped like a man with no legs holding a clipboard before? You're eyeballing 100 percent grade-A shabti here, my friend, so wipe that smile off your face and listen up.

Carter put me in charge of issuing equipment to new initiates. I take the job very seriously, because it gets me out of his magician's box. If you think it's fun being locked in a box all day, I've got a sarcophagus I'd like you to meet.

First on the list: clothing. Let's see what you brought with—Oh, you have got to be kidding me. A goose-down jacket? Give me that. Didn't anyone tell you clothes made from animals get in the way of magic? Don't even get me started on leather. And stop whining about your coat. Your bedroom closet has a full supply of linen tops and bottoms. Last thing any of us wants is a house full of naked magicians.

Next item: a wand made of hippo ivory. Oh, you have your own, do you, big shot? Let me see that. Hmm. Family heirloom? Nice etching on the sides. Images of Tawaret and Bes, if I'm not mistaken. Good protective symbols. I approve. It was broken at some point, but judging by those ivory pegs, whoever did the repair knew what he was doing. A fine piece. Don't dishonor it by using it like a boomerang. Oh, it happens. It happens.