The Trouble with Flirting
Rachel Morgan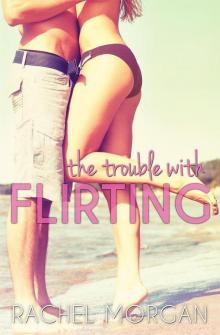 The Trouble with Flirting

By Rachel Morgan

Copyright © 2014 Rachel Morgan

Cover and interior design by Morgan Media

Summary:

Labeled a nerd for most of high school, Livi sees her first year of university as a chance to redefine herself. She can finally enter the popular crowd and maybe even land herself a super hot boyfriend. But Livi's about to discover that the price of popularity may be more than she's willing to pay, and that what—and who—she wants most has always been right in front of her.

This is a work of fiction. Names, places, characters, and incidents are either the product of the author's imagination or, if real, used fictitiously. The author makes no claims to, but instead acknowledges, the trademarked status and trademark owners of the word marks, products, and/or brands mentioned in this work of fiction.

All rights reserved. No part of this book may be reproduced, distributed, or transmitted in any form or by any means without prior written permission from the author, except in the case of brief quotations embodied in critical articles and reviews. For more information please contact the author.

Mobi ISBN 978-0-9922339-4-5

Print ISBN 978-0-9922339-5-2

I had everything perfectly planned for my first year of university: I would be accepted to study my degree of choice; I would get into one of the best residences; I would secure myself an intelligent and attractive boyfriend; and, most importantly, I would finally ditch my high school nerd status. So eager was I to carry out my perfect plan, that—despite living on the other side of the world playing constant entertainer and caregiver to two German brats for the year leading up to Perfect Freshman Year—I had all my forms filled out and submitted long before any deadlines.

That, apparently, was a mistake.

Perhaps my forms landed at the bottom of the pile. Perhaps they were so early they ended up lost and someone only found them after the deadline had passed. Whatever the case, some grumpy admin lady took a look at my meticulously filled out residence application and came up with one word: rejected. My parents told me I should at least be grateful I was accepted to study my first choice of degree—a BBusSci in Marketing—at my number one university—UCT—but neither of them stayed in res when they were studying, so they have no idea what I'm missing out on.

Nevertheless, I moved onto Plan B. Digs. A room in a flat or a house. Surely I could find a group of people who needed a new housemate this year. After contacting everyone I had even the vaguest sort of friendship with at school, I found the light at the end of my darkened tunnel with Nicky, a fellow violinist from orchestra. "My dad owns a flat in Rondebosch," she told me, "and there's a second bedroom. I've been using it as a study, but I think Dad would appreciate the rent."

Great. Sorted. I was back on track for Almost Perfect Freshman Year. That is, until three minutes ago when Nicky sent me a message that completely annihilated Plan B.

I'm SO sorry to do this to you a week before registration, but I can't offer you a place at the flat anymore. With the divorce and everything, my dad decided he has to sell it, so I'm going to stay with my aunt in Kenilworth. I'm so, so sorry. But I'm sure you'll find something.

Panics tightens my chest as I stare at the message. She's sorry? She's sure I'll find something? One freaking week before registration? THIS IS NOT HAPPENING! And I can't even get mad at her because her parents' divorce has been super messy, so I'll come across as mean and uncaring if I express my intense frustration.

My phone starts playing Dario Marianelli's Mrs Darcy from Pride and Prejudice. Sarah. Number one best friend, epic storyteller, and recent university dropout—which sounds a lot worse than it actually is. I flop back onto my queen-sized bed and answer the phone.

"Congratulations!" Sarah shouts before I can say anything.

"What?" For a moment I have no idea why she's congratulating me. Then I remember that this day hasn't been completely terrible. "Oh, yeah. Thanks."

"What do you mean, 'What?'?" she demands. "You pass your driver's test on the first go, and an hour later you've forgotten about it?"

"I happen to be having a housing crisis that is currently shadowing the euphoria of becoming a licensed driver."

"A housing crisis? In that gigantic mansion you call home?"

"Not this house, silly. You know I'm supposed to be moving into a flat in Cape Town with Nicky next week?"

"Oh dear."

"Yeah. Her father's selling the flat."

"What?" Sarah sounds suitably horrified. "Where are you supposed to live then?"

"Well, at this point, I'll be camping in Adam's lounge." Adam. Number two best friend, fellow classic music lover, and UCT freshman this year.

Sarah laughs. "Does Adam know this?"

"Not yet."

"You should tell him. Not just to find out if his couch is available, but because he might know somewhere else you can stay."

"I doubt it." I pull a blanket over my legs, then reach for the aircon's remote control on my bedside table and increase the temperature a few degrees. "I'm pretty sure everyone's made a plan already for this year."

"Well, I guess that leaves Adam's couch then," Sarah says with a sigh. "It shouldn't be too bad. Waking up every morning with three guys walking through your living quarters, one of whom is Adam's Gross Cousin."

"Ew, okay, you're right. I should definitely ask him if he knows somewhere else I can stay."

"Or, you know, your parents could just buy a flat for you to live in. Or five flats. Then you can move around when you get bored."

"Ha ha," I say, injecting as much sarcasm into my words as I can. "You know how monumentally stingy my parents are when it comes to their one and only child. I have to learn how to provide for myself, blah, blah, blah."

"Yeah, yeah, I've heard it all before. It's a miracle they're paying for your tuition and rent and not forcing you to use your au pair money for that."

I wind a strand of unruly orange-red hair around my finger. "Don't worry, I'll be using that for all my other expenses."

"Well, let's hope it—oh, hang on." I twist another piece of hair around my finger and listen to the muffled noises coming from Sarah's side of the phone. "I'm sorry," she says a moment later. "I've gotta go. Aiden just arrived."

"Ooh." I make some kissing noises while Sarah tells me to shut up. We both end up giggling, and then I let her go so she can make out with the newfound love of her life.

I slide my phone into my shorts pocket, then roll off the bed and cross the room. I open the French sliding doors that lead onto my balcony and step outside to warm up in the baking sun. In a few minutes I'll be wilting, at which point it'll be time to go back into my air-conditioned room. I lean on the railing and look out across the golf course. Beyond it, the sea is like flat, blue glass. A perfect day to be on the beach.

I wonder if I'll miss this place. The perfectly maintained fairways, the infinity pools, the golf cars zipping around.

Probably not. I'm ready to say goodbye. I'm ready for my next adventure.

I remove my phone from my pocket and search for Adam's number. He was the first person I called after Plan A fell through. Like me, he took a gap year and then decided to head to UCT this year, so he was also looking for accommodation in Cape Town for the first time. I got to him too late, though—he'd already made a plan with Gross Cousin Luke. Luke spent last year in a house with two other guys, one of whom decided to move back home at the end of last year, leaving a room free for Adam. Adam's Plan A wo
rked out perfectly.

I've just found Adam's name under my recent contacts when the main theme from Pirates of the Caribbean starts playing, and Adam's face appears on the screen. I'm tempted to leave it ringing for a while because I love the music so much, but my housing dilemma is more important.

I answer with, "Sarah told you, didn't she." I'm surprised she removed her lips from her boyfriend's long enough to make contact with anyone else.

"She just sent me a message," Adam says, his voice distorted against a noisy background.

"Where are you?" I ask.

"Home. Sorry, just—" I hear a shout, then a loud bang like the slamming of a door, and then the noise disappears. "Sorry, my brother's got this new habit of blasting his music as loud as possible the moment he gets home from school."

"Annoying."

"Yip. Anyway, I phoned to give you some awesome news."

"Oh yeah?" I head back inside and slide the French doors closed. "What's that?"

"Mike's transferring from UCT to Wits," Adam says, as excited as if he just presented me with a brand new car. Which, incidentally, I could use now that I'm a licensed driver.

"Who's Mike, and why is that good news?"

"It's good news for you, because Mike is one of the guys I was going to be sharing a house with this year."

I freeze in the middle of my bedroom. "What? Seriously?"

"Seriously."

"There's a room up for grabs?"

"There is."

"Ohmygosh, ADAM! You are a LIFESAVER!" I jump onto my bed and hug the nearest cushion while squealing with delight. "Oh. Wait. You're a guy."

"I am."

"And so is your cousin."

"Well, that's debatable."

"Ugh, my parents wanted me to stay with girls." I punch the cushion. "They were pretty insistent on that, remember? That's why I was so happy when I discovered Nicky had a spare room. Quiet, hardworking, female student. My parents thought it was perfect."

"Well, your parents have to realise that you don't have many options at this point. And they know me, which will probably help."

"Maybe."

"Play up the whole safety aspect. It's safer to stay with guys because they can beat up any criminals who break in."

"Yeah, I'm not sure mentioning criminals is going to help."

"Well, remind them how amazing I am, and then say it's either this or they buy a flat for you."

I consider that for a moment. "That could actually work."

"It will work."

"Okay, I'll let you know tonight."

"You'd better." I hear the squeak of Adam's desk chair as he spins around on it. "The news is already out there that we have a free room now, so it's bound to go quickly."

"Eeek! Okay, chat later."

I put the phone down and start praying. "Please, please, please …"

From: Alivia Howard

Sent: Mon 3 Feb, 7:39 pm

To: Adam Anderson

Subject: I send emails cos I'm old fashioned that way

I'm in!!!

___________________________________

"Road trip!" I jump down the last three stairs into the entrance hall and throw my arms around Sarah.

"I wish I could go with you," she wails into my hair.

I step back and gather my wavy mess of hair over one shoulder. "Sorry, didn't mean to choke you. And yes. I wish we were still doing Take One: Livi and Sarah Road-Trip to Cape Town." I peek into our olympic swimming pool-sized living area, then turn back to Sarah and lower my voice. "Take two of this adventure is going to be super awkward. I've never spent so many hours with my mom in one go. We'll run out of things to talk about after twenty minutes."

"Hey, this is a good thing, remember?" Sarah leaves her handbag on the entrance hall table and slides her phone into her pocket. "She wants to, like, bond with you, or whatever."

I let out a dramatic sigh. "Right, because she's spent the past nineteen years choosing her job over me, and now she's suddenly realised I might be leaving home for the last time."

"Exactly." Sarah pokes my arm. "So you'd better make the most of the next few days."

"Fine," I say with a groan, even though I know she's right.

"So, am I too late to help you pack?" Sarah asks.

"Too late?" I take her arm and drag her up the stairs. "Sarah, my dear, I've barely begun." We reach my doorway, and Sarah gasps at the clothes, shoes, books, DVDs and other belongings strewn across my bedroom. It's as if every cupboard, drawer and shelf threw up.

"Oh my catastrophe. Livi! You're leaving at 5 am tomorrow morning. How are you going to get everything packed before then?"

"Well, because you're going to help me."

"I can't even see the floor. Where are we supposed to stand?"

"Don't be silly." I nudge shoes, a music stand, and a pile of photo frames out the way with my feet. I reach the bed and perch on top of the Harry Potter Marauder's Map cushion Sarah, Adam and Logan gave me for my fifteenth birthday. "Look, there's a path now," I tell Sarah.

"Uh huh." She doesn't sound convinced.

"Okay, so there's my one suitcase—" I point "—and there's the other. And there are a whole lot of boxes in the bathroom. So we're just going to pack as much stuff as will fit into my car, and then we'll be done."

"Oh, your car! I haven't seen it yet."

"It's hiding in the garage. It feels embarrassed in front of all the fancy Zimbali cars."

Sarah laughs as she climbs over a pile of sheet music and leans into my bathroom. "I know how that feels." She tosses an empty cardboard box to me, then fetches another one for herself.

"You should have seen my parents' faces when I brought it home," I continue. "My dad was like, 'You paid money for this piece of crap?'"

Sarah shakes her head, then points to the sheet music at her feet. "Are you taking all this?"

"Um, yes. So I told him that if he felt like donating a small amount of his obscenely large salary to his one and only daughter, I'd be happy to use it towards a new car."

"I'm guessing that didn't work."

"No." I start hunting my bedroom floor for shoes and packing them into the box. "So them I told them that my car is actually a Transformer in hiding, and if it wanted to, it could transform into a sleek new Ferrari or a Lamborghini or any one of those posh cars whose names I don't know."

Sarah smiles. "I bet they had no clue what you were talking about."

"Of course not."

I move on to choosing a selection of my favourite DVD's while Sarah starts folding all the clothes I threw onto the chair in the corner. "You said this was the 'yes' pile, right?" she asks after a few minutes. "The clothes you are taking with?"

"Yes." I tape the box of DVDs closed and look up.

"Are you sure you want to take this?" She holds up a black lacy nightgown.

"Whoa! What the bleep? That isn't mine."

"Okay." Sarah lets out a relieved laugh. "I was about to say you've got some explaining to do."

"No, gross, that must be my mom's." And I do not want to think about her wearing it.

Sarah throws the nightgown into the passage. "Well, we definitely don't need Adam or Gross Cousin Luke seeing you in that."

"Ew! No, no, no."

"You know, he might not be gross anymore," Sarah says. "We haven't seen him since … grade nine?"

"Yeah, I think so. He didn't seem to visit Adam much after that." I sit on the floor beside my sock and underwear drawer and cross my legs. I have way too many socks—all crammed together in mismatched
pairs on one side of the drawer—so it's time to chuck the old ones. "Anyway, maybe he's not gross anymore, but all I can think of is that last summer holiday and how he used to stare at us every time we visited Adam."

"And he had that dirty blond hair that was actually, like, dirty for real, not just dirty in colour."

"Yeah, all greasy and long." I aim for the bin in the corner of my room and send two pairs of socks sailing towards it. "And it would hang in his face."

"And he would suck the ends of it!"

"So creepy," I say, my giggle joining Sarah's laughter. I toss a knotted bundle of old socks at her and laugh even harder when it bounces off the side of her head and lands inside one of the handbags hanging on my wall.

"We shouldn't laugh, you know," she says, reaching up for the sock bundle and throwing it back at me. I dodge, and it knocks a tube of hand cream off my bedside table. "I mean, we were hardly the definition of cool back then. The popular crowd at school probably called us gross."

That wipes the smile off my face. "Really? They called us gross?"

"Yeah, you see? It's not nice being called gross," she teases.

"Hey, you called him Gross Cousin Luke just as much as I did." I'm starting to feel a little guilty, though. Nobody deserves to be called gross, not even if they suck their hair or frequently do the creepy stalker staring thing. Or play in the school orchestra or sing in the choir. "Did they really call us gross?" I ask as I gather up a pile of underwear and add it to my suitcase.

"No idea," Sarah says. "Who cares, anyway? You shouldn't worry about what people think of you, Liv."

"I know," I say, hoping I sound like I mean it. I do worry, though. The nerd label never bothered Sarah and Adam that much, but it bothered me. And clearly it bothered Logan too, since he cut off all communication with his nerd friends after the four of us left high school. "Hey, you haven't heard anything from Logan, have you?" I ask.