Overpowered by the events, Page 1
Quelli di ZEd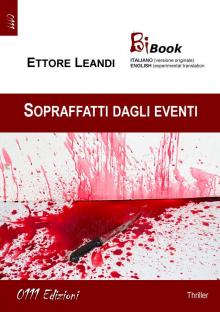 English version (hybrid)

This is an integral Hybrid English translation.

The hybrid translation has been effected with automatic translators that, even if highly professional, they always stay also "automatic" and therefore polluted by the defects typical of these translations.

The Hybrid version of our ebooks can be elaborate and corrected by whoever knows well the language of pertinence and that, naturally feels like doing it.

Who will do it, further to have his own name on the cover of the new version ("Translation taken care of from… "), it will earn a quota on the sales of the ebook.

Before risking you in the correction of a text translated in hybrid formality, you always verify that the relative elaboration is still available. If yes, book it! In this way you will have the certainty that any other can perform and to deliver the job before you, at least up to the expiration of the term of delivery pre-visa.

Besides it is possible, that on some jobs is offered some incentives. It verifies here: https://www.quellidized.it/zedlab

Ettore Leandri

OVERPOWERED BY THE EVENTS

www.quellidized.it

Overpowered by the events

Copyright © 2012

Zerounoundici Edizioni

ISBN: 978-88-6578-198-2

Cover: Image Shutterstock

To Rosanna, Diletta and Matilde,

thanks to do departs of my life!

May 23 rd 2012, New York

An annoying sound was giving her boredom, but he/she didn't succeed in understanding if it were inside its head or in the room. With notable effort he/she succeeded to open the eyes and of hit it got up from bed realizing that the telephone had already spread in the ether a discreet quantity of rings. While it was racing toward the cordless above the tavolino, it diverted the look toward the clock retroilluminato that he/she met in the journey, it marked the 03:15.

«Hello!»

«Noemi, are you?»

«Who speaks?»

«I am Marta, your aunt. You have to reenter in Italy, your parents have had an accident»

June 5 th 2012, Rimini

Her liked so much to go soon on the beach the morning, between the 7:00 and the 8:00 when there was no confusion and the nature it was so near; it was the best way to rearrange the ideas. A celestial cloth was brought and you/he/she was positioned to some meter by the waterline, after the end of the long series of bunks and ombrelloni of the bath. It was a splendid day and the sun it already made to feel his/her heat through the rays that slightly made to shine the surface of the calm sea as if you/he/she had covered of so many small mirrors. The only present people were those attachés to the cleaning of the beach, attentively observed by about ten immovable gulls on the rock-cliffs that seemed to display all of their beauty and majesty. A light breeze sometimes brought probably toward the shore taste of sea and due fish to the presence of small animals and algas on the waterline. Of ideas to be rearranged it had so many of it, perhaps too, it hoped that the surrounding environment would have relaxed her allowing to develop her more acute and perspicacious thoughts. Besides you/he/she was brought from house an a little greater metallic casket of a box for shoes and closed with a padlock. He/she probably knew thing there was inside, but you/he/she had not dared open him/it yet. It moved the wrap from the cloth on his/her thighs and it wound him/it with the braccias as he/she wanted to embrace him and his/her mind it started to reflect.

Despite you/he/she had not had a good relationship with his/her parents in the last five years and that is from when you/he/she had left away Italy to work in New York thanks to deserves her/it degree in Economy and commerce and relative Master, it always considered them people on which to count and above all not susceptible of the events had been provoking for the time, particularly the death. Now that 10 days had passed by the funeral of both he/she didn't even know her thing it tried: on one side the sense of guilt to have them neglected and not to have been a good daughter, from the other the pain for the loss, not so much of two dear people, but of two figures protagonists of the history of its life and of which remembered beautiful moments, especially from child. But besides this Noemi he/she didn't succeed in making sense of himself/herself/themselves what had happened: his/her mother Marta was dead for hemorrhage following the suffered stab while it was being found in house and his/her father Francis you/he/she had been found I deprive of life behind the sidewalk, exactly three plain under in the terrace and it brought only the due wounds to the ugly fall.

The police had hypothesized an attempt of theft: something had to have gone twisted, perhaps the rebellion from his/her/their mother or of his/her dad and the following violence of the kidnappers that however you/they had not left trace. Certainly the room and the kitchen were upside-down, but imprints had not been found by any part, even on the great knife to cut the meat that the wound had provoked to his/her mother, except obviously those of his/her/their parents.

You/he/she had not been held necessary to develop the autopsies for the evidence of the facts and there were not however elements on which to investigate; you/they had been around turned some questions of circumstance to the houses, but they were too much distant to have seen or felt something. And however even if was you/he/she treated of a crime passionate succession from a suicide then, by now the protagonists you/they were passed to good life and would not to find the truth have changed the things, would you/he/she have been able to reveal not to the family secret or behaviors too much edifying rather; for which whether to risk to stain the life of two people by now dead? Then other closed case and before the next one!!

It was what you/he/she had thought Noemi when the commissioner had held opportune to quickly close the matter.

However she knew qualcos'altro, he/she remembered the 2 month-old phone call before:

«Ready»

«Hi dear, as are you?»

«Hi mother, how come this phone call?»

«So, to feel if you are well.»

«Mother tell me, has something happened?»

«No... cannot nothing of detail, phone that is my daughter?»

«Certain, but considering that our phone calls fall only for my birthday and Easter, understand that can think about some problem! Is his/her dad well?»

«It is well here,.. some strange is lately alone, it will be the stress, you know with the economic crisis, despite both manager of the bank there is so many problems to resolve.»

«Thing means strange?»

«And' always very nervous, irascible, it always seems angry. The other day is gone out to throw the garbage and, after having seen a dachshund that its needs did in front of the gate, you/he/she has taken a baton and you/he/she has started to beat him/it up to when you/he/she has not intervened his/her owner that to try to stop a blow is picked him/it up and you/he/she is ended to earth. Luckily it was a young girl and you/he/she has not brought consequences. Then I have convinced her with a gift not to go to stick out report.»

«In effects dad has never been a calm type, however this behavior seems me some excessive, even if you know him/it that you/he/she has never borne that the dogs used its ownership as I bathe. It tries to bring him/it the doctor for controls or checks and you feel some what it tells you.»

«Yes, I will try to feel what it recommends me.. you, does thing tell me instead?»

«Usual things, the job takes a lot me. My firm in week has a meeting for a possible promising fusion and we is all in fibrillation for this event, and, as you will understand, being the vice-president, I have to take care of different aspects.»

«I understand, then good luck for the fusion!»

«You crack..
. I now have to leave you mother..»

«You also go, hi dear.»

You/he/she had not given a lot of weight to that phone call because his/her father in the life of strangeness had done different of it and you/he/she had a very impulsive character. Nevertheless it didn't understand how come his/her mother that knew well it, had made her that call; the possible things were two: or the situation was more serious than that described by Marta or it was an extreme attempt of his/her mother to make to feel her/it in duty to mostly worry himself/herself/themselves about its parents with the objective to make to return her/it in Italy.

Noemi returned only generally to his/her native Country for the vacations of Christmas and his/her mother you/he/she was never resigned to see once her a year; therefore it was probable that the second hypothesis was that true.

Then honestly taken by the job, it had almost forgotten the phone call even if on the moment you/he/she was proposed to recall Marta after about twenty days to verify that everything was resolved.

They were by now 5 years that he/she lived in New York.

You/he/she had officially departed for job, but practically because he/she didn't succeed in serenely living in his/her house and the only way to resolve the problem anymore you/he/she had been that to leave very distant. From small you/he/she had been very beloved from both his/her parents, but, once teen-ager, his/her father had become more and more possessive, you/he/she didn't do her/it go out with the friends, you/he/she didn't allow her to dress as he wanted, you/he/she didn't share his/her friendships and his/her behaviors.

AND SO, ACCOMPLICES TWO STRONG CHARACTERS IT IS IMPULSIVE, Á. NOT HAD STARTED BLACKBERRIES THAN ACCORD TO GO; MARTA, DESPITE IT DIDN'T SHARE THE POSITION OF HIS/HER/THEIR HUSBAND, YOU/HE/SHE HAD ALMOST NEVER TAKEN THE DEFENSES OF NOEMI AND THEREFORE HIS/HER NEUTRALITY À. THE END HAD LINED UP HER FROM THE PART OF FRANCIS.

Just ended the studies Noemi it accepted the proposal of job to the foreign countries without thinking twice of us. His/her father non express to seem negative to his/her travel allowance, contrarily of his/her mother that didn't want to estrange from the only daughter. Then its great working appointment and the stubbornness of his/her/their father had frozen the situation waiting for some event that however there had not been never.

6 April 2012 Rimini, Marta

Marta as every morning prepared the breakfast to Francis, stained coffee with three teaspoons of sugar and slices biscottate with any jam's type; a ritual had become and lately you/he/she had also started to prepare him a tisana before going in bed, with the excuse that he/she saw more it shaken.

It was more nervous and irascible, there was no doubt.

Marta worked in a pharmacy of which it was owner; in reality you/he/she had been back a gift of his/her/their husband so many years when he saw in that project a good investment. It didn't deal with the usual pharmacy, but it was very more, because it had the structures and the abilities (over that the permission naturally) to produce a certain quantity and typology of medicines. This last phase was still developing, but it started to give the first satisfactions. Marta, that didn't have particular notions of pharmacy, with the time you/he/she had grieved to the sector, and, studying so much, you/he/she had succeeded in arriving to an enviable level.

His/her husband was very proud of the activity of his/her/their wife, because at the end you/he/she had been one idea of his and him you/he/she loved to feel himself/herself/themselves to the center of the scene and you/he/she desired the prestige and the power. He liked to consider him one of the more people in sight of the city and that endowed with greater charisma; in the job it tried to satisfy all and if possible it granted some favor, so that power to proper time to complain something in change. Economic problems ever had, coming down from entrepreneurs that you/they had put aside a discreet sum of money. Also his/her house, a put villa some kilometer in the hinterland in Rimini, was formed from four floors that contained everything that of which one could have need, inclusive room cinema and room games. It was very attractive, edged by 2000mq of garden composed by fruit trees, pineta and naturally swimming pool. To the last floor they were situated the rooms of the guests that could have a room and kitchen to the inferior plan for the most complete convenience and autonomy. The plans were connected over that with the staircases in marble, through an elevator that as freight elevator worked for also the transport of the materials to the tallest plans.

5 March 2012 Rimini, Marta

That was one special day 25 years of marriage.

His/her husband as usual if you/he/she would not be remembered him/it, it labored even at times to remember his/her date of birth; it was not a thing that it liked her, however you/he/she had learned to accept her/it. You/he/she had organized everything in the least details: gone out anticipated from the pharmacy (practically only a few times of job), appointment from the parrucchiera, expense and withdrawal of some ready dishes already in rosticceria and then of run in house to prepare the supper and to systematize the room where you/they would have eaten.

You/he/she had thought of a first moment to go to a restaurant, however you/he/she would have been an informal situation and therefore at the end you/he/she had decided only for a more intimate solution and for them two.

The recurrence gave her the occasion for once so much to find a moment of break in the chaotic and frantic life that you/they had been taking place for a few months, so much that at times days when you/they found the alone time to greet him passed; it was a sad thing certain, however it seemed that there were not alternative.

Their life of couple had always been all right up to the departure of Noemi that unconsciously you/he/she had ruined the equilibrium that was created and suddenly you/they were found again to the threshold of the fifty years without a reference and without an alternative purpose to that to grow and to educate a daughter.

They fundamentally loved, but the love was not expressed and therefore their life together resembled more to a relationship between brother and sister rather than to that between husband and wife.

Then the evening of the anniversary would have been a good occasion to find again a space of dialogue and sharing.

With the loaded auto of shopping baskets and the retired dishes, Marta fell on time him in direction of house to complete the preparations; his/her husband would not have returned before two hours and therefore you/he/she would have had the time to create a pleasant environment.

With the remote control it opened the automatic gate that allowed to access the avenue of around 200metri that it brought auto placed to around 50 meters from the house to the playpen. The path had been from a little covered with tiles to dry of vigorous cement and the grass he/she anchors stentava to grow you between one and the other. A thick hedge of boxwood to the sides finished up the brief run and made him/it almost always shaded and fresh; besides with the beautiful day and the plants in ferment for the approssimarsi in the spring, he breathed an air slightly soaked with a perfume similar to the grass just cut.

Marta was always complained about the place auto because it was too far from the house and with the shopping baskets it was fatiguing to cover the space toward the residence; you/he/she could not bring the nearest auto not to waste the lawn and the small bushes, that had been planted around the structure with mastery, interrupted only by the frontal pedestrian access, so that to create a colored ring, almost a natural and magic protection toward the external world.

You/he/she would have had to find the empty playpen, instead they were present two autos, that of his/her husband and a five hundred white. It stopped the car holding turns on her/it, thinking about the motive for that unexpected presence, then it continued and it parked the auto in the only available place.

Because his/her husband had reentered to that time? And whose was the other auto? The instinct convinced her/it to go down and to cautiously draw near to the house without taking nothing of that that you/he/she had bought; he/she thought bad
ly immediately and that is to a possible female presence, but you/he/she could not be, it fed too trust toward Francis.

When it almost reached the door of house it lifted the look and he/she saw that the finestrone of their matrimonial room was open and immediately heard the moans of two people that were consuming a sexual relation; instantly an anger climbed her from inside, you/he/she would have liked to climb the staircases and with a baton to storm in the room and to fill them with barrel. But to thing you/he/she would have served?

No, it had to do him her to pay and very dear also; it returned back in his/her own footsteps, it brought the auto out of the ownership, so much the noise of the motor was not audible from the house and parked a little far her in a secondary stradina. Then it returned to the residence and him it hid behind a magnolia in the right side of the structure: it was not enough for her to have felt, he/she wanted to see them with his/her own eyes so that to be engraved together himself/herself/themselves in the mind an indelible memory of them two; this would have given her the strength, the anger and the determination to take revenge. You have to wait for about twenty minutes and then he/she saw them go out, first her, a young girl, will have had maximum 25-30 years, blackberry, physical slender and well done with a short skirt as that she cataloged «it will satin-pass» and then him that the footstep expedited for reaching her/it and supported a hand on its fondoschiena.

You stopped him, they were said something that Marta didn't succeed in understanding and then they were kissed.

To that point Marta waited that the two autos went, then it returned to take his, not before having thrown what you/he/she had bought in the nearest can.

The evening developed him as all the others, he didn't remember nothing and her it didn't say anything; he/she ate the pizza that was made to deliver to house and it went in bed, it had a plan to organize.