Spring-Heeled Jack
Philip Pullman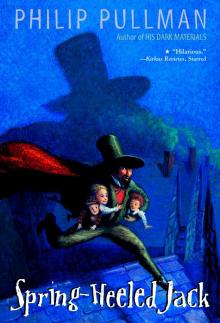 BOOKS BY PHILIP PULLMAN

HIS DARK MATERIALS

The Golden Compass

The Subtle Knife

The Amber Spyglass

Lyra's Oxford

Once Upon a Time in the North

Two Crafty Criminals!

The Scarecrow and His Servant

I Was a Rat!

Spring-Heeled Jack

Count Karlstein

The White Mercedes

The Broken Bridge

THE SALLY LOCKHART MYSTERIES

The Ruby in the Smoke

The Shadow in the North

The Tiger in the Well

The Tin Princess

Spring-Heeled Jack

Philip Pullman

Alfred A. Knopf

New York

This is a work of fiction. Names, characters, places, and incidents either are the product of the author's imagination or are used fictitiously. Any resemblance to actual persons, living or dead, events, or locales is entirely coincidental.

Text copyright © 1989 by Philip Pullman

Cover art copyright © 2002 by Kevin Hawkes

Illustrations copyright © 1989 by David Mostyn

All rights reserved. Published in the United States by Alfred A. Knopf, an imprint of Random House Children's Books, a division of Penguin Random House LLC, New York. Previously published in hardcover in the United States by Alfred A. Knopf, an imprint of Random House Children's Books, a division of Penguin Random House LLC, New York, in 1991. Originally published in hardcover in Great Britain by Transworld Publishers, London, in 1989.

Knopf, Borzoi Books, and the colophon are registered trademarks of Penguin Random House LLC.

Visit us on the Web! randomhousekids.com

Educators and librarians, for a variety of teaching tools, visit us at RHTeachersLibrarians.com

The Library of Congress has cataloged the hardcover edition of this work as follows:

Names: Philip Pullman ; illustrated by David Mostyn.

Title: Spring-Heeled Jack / Philip Pullman

Description: New York : Knopf, Distributed by Random House, c1991. | Summary: Three children make their escape from a London orphanage and, after a series of misadventures, are reunited with their father through the efforts of the legendary Spring-Heeled Jack. | Identifiers: LCCN: 90005151 (print) | ISBN 978-0-679-81057-5 (trade)

Subjects: Orphans—Fiction. | Adventure and adventurers—Fiction. | London (England)—Fiction.

Classification: LCC PZ7.P968 Sp 1991 (print)

ISBN 978-1-5247-6499-9 (ebook)

First Ebook 2017

ISBN 9780440418818

Ebook ISBN 9781524765019

Random House Children's Books supports the First Amendment and celebrates the right to read.

v4.1

a

CONTENTS

Cover

Books by Philip Pullman

Title Page

Copyright

Dedication

Prologue

Chapter One

Chapter Two

Chapter Three

Chapter Four

Chapter Five

Chapter Six

Chapter Seven

Chapter Eight

Chapter Nine

Chapter Ten

Chapter Eleven

Chapter Twelve

About the Author

THE LEGEND OF SPRING-HEELED JACK

In Victorian times, before Superman and Batman had been heard of, there was another hero who used to go around rescuing people and catching criminals.

This was Spring-Heeled Jack.

No one knew what his real name was; all they knew was that he was dressed like the devil, that he could leap over houses with the help of springs in the heels of his boots, and that any evildoer who came up against him met a very unpleasant end.

Naturally, a character as mysterious as Spring-Heeled Jack had a lot of stories told about him. And when people heard that Spring-Heeled Jack had been seen, they stayed indoors and didn't look out of their windows. Because he might have been a man, and he might not. And some of his deeds were a little too devilish for comfort…

For Tom

CHAPTER ONE

"It was a dark and stormy night…"

Alexandre Dumas, The Three Musketeers

It was a dark and stormy night. In the city of London the wind was tossing the boats on the river and driving the rain down every alley, up every flight of steps, and in through every broken window.

No one was out if they had any excuse to stay in. No one respectable, that is. Only alley cats and criminals had any business in the streets that night, and even they took cover when they could.

High up on the third floor of the Alderman Cawn-Plaster Memorial Orphanage, though, something was stirring.

Rose, Lily, and little Ned had been in the Alderman Cawn-Plaster Memorial Orphanage for eighteen months, ever since their father's ship had sunk in the Indian Ocean. He'd gone to seek his fortune in the gold fields of Australia, and he'd never been heard from since. Their mother had died soon afterward, and the children had been taken into the Alderman Cawn-Plaster Memorial Orphanage, where the porridge was as thin as the blankets, and as cold as the smiles on the guardians' faces. No wonder they wanted to run away.

The only thing they had to remind them of their mother was a gold locket on a chain. Rose had it still, in spite of the rules of the orphanage, which said that children should give up any jewelry they had to the guardians.

But they'd had enough.

Spangle was quite happy to go with them. There wasn't much love where she came from, and the children had some to spare.

They huddled themselves up against the rain and the wind, and hurried off through the dark streets toward the Docks. At least, they thought they were going toward the Docks, but the streets were so dark, and the night was so foggy, that very soon they hadn't the faintest idea where they were.

They settled down in the doorway. What a place to sleep! Fog Row was the dirtiest, dankest, miserablest spot in the whole of the East End—and only a spit and a stride from a certain bunch of garbage cans.

And so they settled down to sleep.

The trouble with that particular bunch of garbage cans was this:

This was Mack the Knife, the most evil villain in London, and the garbage can concealed the way in to his secret hideout. There'd never been a more evil man than Mack the Knife. Cats fled, rats fled, policemen fled, murderers fled when Mack arrived. He was the King of Crime.

Oh, the folly of youth, thought Mack the Knife, climbing out from behind the garbage cans. How innocent they are! How simple! How lucky I am!

And he bent down low, trying to spot a gleam of gold in the shadows.

All of a sudden Spangle pricked up her ears and smelled him.

"You thief! You villain!" yelled little Ned. "That locket's going to pay for our escape to America!"

"No, it ain't," said Mack the Knife. "It's going to pay for a meat pie and a bottle of brandy. Now hand it over."

"Never!" cried Ned.

And he and Spangle threw themselves at Mack the Knife, punching and kicking and snarling and biting and spitting, and it did them no good at all.

But with Rose to one side and Lily to the other, and not knowing which of them had the locket, Mack the Knife was foxed. If he went after Lily and Rose had it, he'd get nothing; but if Lily had it and he went after Rose, he'd still get nothing.

On the other hand, he had Ned already.

They just didn't know what to do.

"Don't give it to him, sisters!" cried Ned. "Be indomitable!"

"Such languag
e," said Mack. "Well, I tell you what. You bring that locket here by daybreak, and you can have your little brother back in one piece. If you don't, you can have him back in lots of pieces. It's up to you."

"But—but—"

"Come along, cully!"

And off he went, sneaking away into the shadows with Ned folded up under his arm.

A pitiful state of affairs!

Just then, a troubling rumble of thunder trundled across the sky. The wisps of fog were whisked aside, and the girls looked up at the stars and saw—

The devil?

Well, if he wasn't the devil, then who the devil was he?

Then the figure sprang through the air like a firework, and landed—

Right in front of the girls.

Who SCREAMED!

Spring-Heeled Jack blinked. It was as if someone today had said, "Who's Batman?"

Rose and Lily followed as Spring-Heeled Jack led them through a maze of narrow alleys, past crumbling warehouses and sordid opium dens, and on the way they told him their story.

When they'd finished, Spring-Heeled Jack scowled with anger.

"I'll stop at nothing!" he said. "Your little brother will be restored, and you shall have your tickets to America. I know a safe retreat where you can stay. Fear not, for Spring-Heeled Jack is on the way…"

And off they went, at top speed, through the back streets and the squares and the alleyways, toward a certain pub in Blackfriars.

CHAPTER TWO

"Meanwhile, back at the ranch…"

A Western

Meanwhile, back at the orphanage, the Superintendent's assistant had made a horrid discovery.

"Mr. Killjoy!" she said, bursting into the office, where the Superintendent was doing the accounts. He often did them late at night, to avoid being overseen.

"What? What? What?" he said, hiding the brandy.

She told him.

"Item: Rose Summers. Item: Lily Summers. Item: Ned Summers," she said. "Condition: missing, together with one institutional blanket, one loaf of institutional bread (last week's quality), and one item of personal property, to wit, a forbidden locket and chain."

He gaped in horror.

"And when was this discovered?" he said.

"At half-past eight," said Miss Gasket, "when I was a-going on my rounds, as laid down in my conditions of service. All the beds I looked in, every blessed one, was full of kids, and all asleep, as per the rules, in the regulation posture, hands by sides and eyes shut. All but three, that is. And there was a window open."

"Do my ears deceive me?" said Mr. Killjoy. "We'll have to get 'em back at once. Ooh, they'll be punished when I gets hold of 'em. Think of Clause 44, Miss Gasket! Think of that, and shiver!"

She did.

Extracts from the Rules and Regulations

Clause 44.

The wages of the guardians shall be paid only while the inmates number the maximum possible, and shall be discontinued if the number falls below that, and shall not be paid until the deficiency is made up.1

Mr. Killjoy's mighty brain was starting to hum.

"We'll go straight to my friend Sergeant Pincher at the Hangman's Wharf Police Station," he said. "We'll have all the minions of the law combing London for the little perishers. Besides…"

Mr. Killjoy locked the accounts away, just in case anyone should come across them by chance and fail to understand them, and then he and his assistant put on their coats and hats and went out to see Sergeant Pincher.

* * *

1. In other words, if they didn't cram in as many kids as the place would hold, they didn't get any wages.

CHAPTER THREE

"What happened next

   We'll very soon see…"

Janet and Allan Ahlberg, The Jolly Postman, or Other People's Letters

What happened next took place on board the good ship Indomitable. She was snug in dock, and all kinds of nautical activities were taking place. Sailors were belaying the taffrail to the bowsprit, boxing the compass, and splicing the binnacle. There was a lot to do before the ship sailed in the morning.

Captain Webster was sitting up in the bridge looking at charts when Jim Bowling, an Able Seaman, came up and saluted.

"Gentleman to see you, sir," he said. "A Mr. Summers."

"Summers," said the Captain. "I know that name…Well, show him up, show him up!"

The Captain stowed the charts and turned to face his visitor. And then he remembered Mr. Summers, who'd been a passenger on his ship some time before.

They sat down together and called for grog.

"The last time we met," said the Captain, "you were coming to England on business, if I remember."

"That's right," said Mr. Summers. "It seems a long time ago now. Remarkably fine grog, Andrew."

"No," said Mr. Summers, "I've searched high and low in every part of the country, and found…nothing. I can stay in England no longer. I must go abroad, and start a new life in a distant country. Have you room for a passenger?"

"My dear old chap!" said the Captain. "There's always room for you. But you're just in time—we sail with the morning tide."

Jim Bowling saluted smartly and left. The Captain showed Mr. Summers to a comfortable cabin, and the sailors went on reefing the foremast, furling the capstan, and holystoning the futtock shrouds. It was a busy ship.

CHAPTER FOUR

"It was a gloomy old place with high brick walls…"

Shirley Hughes, It's Too Frightening for Me

In the murkiest, slimiest, darkest corner of the East End, there was a crumbling old warehouse that even the rats had deserted. One side of it leaned crazily out over the river, and the other side leaned gloomily out over the street.

It was called Turner and Luckett's Medicinal Sarsaparilla Warehouse, but there'd been no sarsaparilla stored there for years. People believed it was haunted. Mysterious lights used to gleam behind the broken windows high up on the top floor, and hideous noises came filtering out over the rooftops in the middle of the night.

It was the headquarters of Mack the Knife and his appalling gang.

When he reached the warehouse, with little Ned still struggling under his arm, Mack went straight to the top floor, where a bunch of gangsters were sitting around a table playing cards by the light of a stolen candle.

Their names were Quinlan, Peregrine, Auberon, and Filthy.

The gang hadn't met a cheeky victim before, and they didn't like it. They'd have been very nasty indeed to Ned if Mack hadn't stopped them.

"Get back!" he said, beating them off. "The little feller's right, you're the ugliest bunch I've ever seen. Come on, where's that rope?"

Filthy handed him a length of rope. Mack took out his knife to cut through a knot in it.

"Here, go steady, boss," said Filthy. "That rope's got sentimental value for me. They hanged my Uncle Charlie with it last week."

"More fool him for getting caught," said Mack. "Now hold him still while I truss him up."

"Hark at him, Filthy, what eloquence!" said Mack, when they'd finally gotten him tied up. "If you ever get out of this son, take my advice: become a lawyer. It's the same as thieving, only respectable, and there's no risk of getting caught."

Ned blew a raspberry that shook the window frames.

"Dear, dear, dear," said Peregrine. "Can't have that. Shall I snite his snitch?"1

"Shall I mill his rattlers?"2 said Auberon.

"Shall I nob him on the canister?"3 said Quinlan.

"No, no, no," said Mack the Knife. "You know your trouble, boys? You got no craft. You got no imagination. This little feller's going to make us a lot of money. Quinlan, go and steal me some fish and chips. And a bottle of brandy while you're at it."

Now all that tim
e, little Spangle had been faithfully following Ned's scent. It wasn't easy for her, because she was very short, and Mack the Knife had carried Ned in the air for a long way; but finally she reached the sarsaparilla warehouse and squeezed her way through a hole in the wall.

Up the dark stairs she trotted, all in the dark, until she reached the room where the gangsters were tying Ned up.

The moment she saw what they were up to, she sprang in fearlessly.

But it was no use. Brave as she was, she just wasn't big enough, and although she managed to nip them all, they very soon had her under control.

"Tut, tut," said Mack. "I can't abide all these harsh feelings. I'm going next door to play me violin. Sling him in the corner—where the spiders are."

So poor Ned was put in the darkest, spideriest corner of the warehouse, and soon the air was filled with hideous howls and screeching sounds as Mack played hymns on his violin.