The Firework-Maker's Daughter
Philip Pullman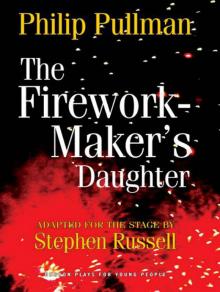 THE FIREWORK-MAKER'S DAUGHTER

Phillip Pullman

THE FIREWORK-MAKER'S

DAUGHTER

Adapted for the stage by Stephen Russell

OBERON BOOKS

LONDON

First published in 2010 by Oberon Books Ltd

Electronic edition published in 2012

Oberon Books Ltd

521 Caledonian Road, London N7 9RH

Tel: 020 7607 3637 / Fax: 020 7607 3629

e-mail: [email protected]

www.oberonbooks.com

Reprinted in 2011

The Firework-Maker's Daughter stage adaptation copyright © Stephen Russell 2010

The Firework-Maker's Daughter copyright © Phillip Pullman 1995

Stephen Russell is hereby identified as author of this stage adaptaion in accordance with section 77 of the Copyright, Designs and Patents Act 1988. The author has asserted his moral rights.

All rights whatsoever in this stage adaptation are strictly reserved and application for performance etc. should be made before commencement of rehearsal to The Agency (London) Ltd., 24 Pottery Lane, Holland Park, London, W11 4LZ ([email protected]). No performance may be given unless a licence has been obtained, and no alterations may be made in the title or the text of the play without the author's prior written consent.

You may not copy, store, distribute, transmit, reproduce or otherwise make available this publication (or any part of it) in any form, or binding or by any means (print, electronic, digital, optical, mechanical, photocopying, recording or otherwise), without the prior written permission of the publisher. Any person who does any unauthorized act in relation to this publication may be liable to criminal prosecution and civil claims for damages.

A catalogue record for this book is available from the British Library.

PB ISBN: 978-1-84943-069-2

EPUB ISBN: 978-1-84943-518-5

Cover Photography by Sophie O'Reirdan

Cover design by James Illman

Printed, bound and converted in Great Britain by CPI Group (UK) Ltd., Croydon, CR0 4YY.

Visit www.oberonbooks.com to read more about all our books and to buy them. You will also find features, author interviews and news of any author events, and you can sign up for e-newsletters so that you're always first to hear about our new releases.

The Birmingham Stage Company's production of Philip Pullman's The Firework-Maker's Daughter was first performed at The Everyman Theatre, Cheltenham on 20 October 2010 with the following cast:

LILA, Laura Durrant

CHULAK, Ben Wong

LALCHAND, Chris Talman

RAMBASHI, Craig Painting

GODDESS OF THE LAKE, Natasha Lewis

HAMLET THE ELEPHANT, Matt Williamson

HUNGRY PIRATE, Iwan Tudor

KING, Jak Poore

FRANGIPANI, Jennifer O'Neill

CROCODILE, Alexander Scott

Creative team

Adapted by Stephen Russell

Director, Phil Clark

Designer, Jackie Trousdale

Lighting, Jason Taylor

Music, Jak Poore

Sound, Mike Beer

Puppeteer, Toby Olie

Costume Supervisor, Gemma Hughes

Production Manager, Digby Robinson

CSM, Simon Sinfield

DSM, Judith Barrow

Sound Operator, Matt Gibson

Contents

Characters

ACT 1

ACT 2

Characters

LILA

CHULAK

LALCHAND

RAMBASHI

GODDESS OF THE LAKE

HAMLET THE ELEPHANT

HUNGRY PIRATE

KING

FRANGIPANI

CROCODILE

ACT 1

1 - LALCHAND'S WORKSHOP

LALCHAND's workshop. Workbenches, chemicals, rockets, etc. A fuse is laid leading to a firework. A scruffy and dirty girl, LILA, comes onstage. She carefully adds a tiny amount of delicate powder to the firework, thinks about it, adds a tiny bit more. She thinks "why not" and pours a load in. She steps back and lights the fuse. It burns quickly towards the firework. LILA takes cover offstage.

A man, LALCHAND the Firework-Maker, walks into the workshop. He watches the fuse for a moment, then stands on it, putting it out.

LALCHAND: Lila!

LILA returns.

LALCHAND: What's this?

LILA: A rudimentary experiment, father.

LALCHAND grunts.

LILA: A standard Java Light, with cloud powder instead of flowers of salt.

LALCHAND: (Impressed.) Have you given it a name?

LILA: Tumbling Demons.

LALCHAND: Excellent. If it works I'll put it in the New Year Festival display.

LILA: That's three of my fireworks in your display.

LALCHAND: I know, and I'll let everybody else know too, if I win.

LILA: When you win.

LALCHAND: From your mouth to the King's ears, eh?

LILA throws some matches to LALCHAND. LALCHAND strikes a match.

LILA: There's a poster in the market. They've announced the other competitors.

LALCHAND's interested and forgets about the lit match.

LALCHAND: Who do I have to beat this year?

LILA: The usual lot. The greatest firework-makers in the world.

LALCHAND: Who are the favourites?

LILA: Herr Puffenflasch, of course.

LALCHAND: The King likes him. Ouch!

The match burns LALCHAND's fingers.

LILA: The King loves him, but he can't win three years in a row.

LALCHAND lights another match, sets it to the fuse and steps back.

LILA: And there's an American - Colonel Sam Sparkington. No one knows anything about him.

LALCHAND: You know what the Americans are like, they never go anywhere unless they're sure they're going to win.

(re. firework.)

Did you put anything else in this?

LILA: A little scorpion oil.

LALCHAND: One drop or two?

LILA: A teaspoon.

LALCHAND: (Horrified.) A teaspoon!?

The firework explodes. LALCHAND and LILA have all but had the clothes blown off them.

LILA: That's too much, isn't it.

LALCHAND: You could've blown up the whole city! You don't know enough to use those ingredients.

LILA: If you made me your apprentice I'd learn about things like that.

LALCHAND: So it's my fault you nearly killed us, is it? You're such an ignorant girl!

LILA: I know about most things.

LALCHAND: What are the ingredients of fly-away powder?

LALCHAND waves his hand and creates a shower of sparks in the air.

LILA: I don't know that.

LALCHAND: Where do you find thunder-grains?

LALCHAND throws a thunder-grain at LILA's feet. It makes a loud bang. LILA jumps.

LILA: Or that.

LALCHAND: There's no limit to the things you don't know.

LILA: I know about the secret!

LALCHAND: What?

LILA: I know about the secret. The secret all Firework-Maker's have to know.

LALCHAND: What is it?

LILA: I don't know what it is. I just know there is one.

LALCHAND: That's different. Let's get this Tumbling Demon in a bucket of water.

LILA: Aren't you going to tell me what it is?

LALCHAND: No.

LILA: Why not?

LALCHAND: It's a secret.

LILA: Father? Pleas
e? Help me. How else will I become a Firework-Maker?

LALCHAND: Don't be silly, Lila.

LILA: I'm almost grown...

LALCHAND: And look at the state of you. Thank God your mother's dead. She'd die all over again if she saw you today. I should have sent you to my sister Jembavati. A dancer, that's the job for you.

LILA: I don't like dancing. I like fireworks.

LALCHAND: We all like them. It's not just big bangs and colours in the sky. It's a divine profession. You treat it like a cook mixing cakes.

LILA: Cooks don't blow up cities. I'm ready.

LALCHAND: You aren't.

LILA: Help me.

LALCHAND: No, Lila.

LILA's about to protest more. LALCHAND cuts her off.

LALCHAND: No! You'll never be ready! Listen to what I say - you aren't going to be a Firework-Maker.

LILA: What?

LALCHAND: Hair like a pit of vipers, fingers all stained and burned... I can't remember the last time you had any eyebrows. How am I going to find you a husband looking like that?

LILA: (Horrified.) A husband?

LALCHAND: Of course! You can't stay in my workshop for ever. You've got to get married.

LALCHAND and LILA stare at each other.

LILA: You want that? For me?

2 - A MARKET

A busy market with stalls, rickshaws, frog and cricket traders, snake charmers, beggars on trolleys, etc. pushes onto the stage around LALCHAND and LILA. LILA's in shock.

A huge White Elephant, Hamlet, appears in the market, with a boy, CHULAK, on his back. HAMLET creeps up on LILA, but she turns around before he can tap her on the shoulder. CHULAK and HAMLET are disappointed.

CHULAK: Breathing too loudly, Hamlet. Got to hold your breath!

HAMLET snorts, then has a quick check round to see if anyone's listening. He has two large adverts fly-posted onto his rump. One reads: EAT AT THE GOLDEN LANTERN. The other: CHANG LOVES LOTUS BLOSSOM - TRUE XXX.

HAMLET: Hello, Lila.

LILA: Hello, Hamlet.

HAMLET: (re. adverts.) Have you seen these? The obnoxious brat's turned me into a walking billboard.

CHULAK: Stop fussing. Chang gave me a whole rupee for the message to Lotus Blossom.

HAMLET: The filthy shame.

LILA: You charge people money to advertise on him?

CHULAK: It's a public service. It's lucky to have your name on a White Elephant.

(Pointed to HAMLET.)

They'd pay even more if they knew you were a talking White Elephant.

HAMLET: People don't stare enough? The boy would have me dancing in a tutu for half a rupee!

CHULAK: We were saving up to run away...

LILA: (s/v.) Chulak? Are you trying to lose your head? The King has spies everywhere.

They look round the market. A spy pops his head out of the snake charmer's basket. One of the beggars takes a photo. The King has spies everywhere.

CHULAK: It doesn't matter now, he doesn't want to go. He's fallen in love with a lady elephant at the zoo.

HAMLET: Frangipani.

Music plays. HAMLET looks wistful

HAMLET: Though she won't spare me the ghost of a dirty glance. Lila, I hope you never form an unrequited emotional attachment. There's no greater sadness...

LILA: I'm not sure about that.

HAMLET: Something ails you?

LILA: My father.

CHULAK: Old Lalchand? He's all right, isn't he? Not having trouble with his ticker again?

LILA: He doesn't want me to be a Firework-Maker.

CHULAK: Is that all?

LILA: It's serious. He's keeping something from me.

CHULAK: What?

LILA: The secret of firework-making. I've learned all about spark repellent, glimmer-juice and salts-of-shadow. And I'll learn about scorpion oil and thunder-grains. But there's something else. A special secret.

CHULAK: Tricky. Don't worry, I'll find it out.

LILA: Why would he tell you, when he won't tell me?

CHULAK: I'm too clever for him. He won't have a choice.

The laid-back ELEPHANT MASTER strolls into the market.

ELEPHANT MASTER: You've been at it again, haven't you Chulak?

CHULAK: (innocently.) At it, Master?

ELEPHANT MASTER: This Royal White Elephant is plastered in promotional materials.

CHULAK: I can't understand how it happens, Master.

ELEPHANT MASTER: It is your job to prevent this occurrence.

CHULAK: It's the traffic. I watch those rickshaw-drivers like a hawk. I can't look out for flyposters as well.

ELEPHANT MASTER: There's a good ten minutes work here.

On a ladder.

CHULAK: It's a mystery, isn't it? Shall I clean them off?

ELEPHANT MASTER: I would, yes. The King has a job for his animal and he needs to be absolutely sparkling. Toe to tusk.

CHULAK starts to tear off the posters.

CHULAK: Who's the job?

ELEPHANT MASTER: Lord Parakit.

CHULAK: Lord Parakit? The Special and Particular Royal Toady?

ELEPHANT MASTER: He was the Special and Particular Royal Toady. Sacked.

CHULAK: But surely he's the finest sycophant in the world?

ELEPHANT MASTER: I'd've said so, he's done some magnificent grovelling.

Marching and trumpets are heard in the distance. The ELEPHANT MASTER is suddenly frightened and frenetic.

ELEPHANT MASTER: Quickly, Chulak! The King!

CHULAK finishes the job. The SPECIAL and PARTICULAR BODYGUARD marches into the market, knocking stalls out of the way.

SPECIAL AND PARTICULAR BODYGUARD: Prostrate yourselves before your sovereign!

All prostrate themselves as the KING (an austere and frightening man who commands immediate respect.) is carried into the market on a palanquin followed by an entourage which includes a cringing LORD PARAKIT.

LORD PARAKIT: Did I fail to flatter you sufficiently, Your Majesty? Would you like me to be more unctuous? Less unctuous? I can be any kind of toady you want...

KING: It's a great honour to have my noble White Elephant to stay, Lord Parakit. Don't you want to see that the King's pet has the very best your money can buy?

LORD PARAKIT looks sick.

LORD PARAKIT: Of course, Your Majesty.

KING: Good. He has many special requirements. He must bathe in tiger's milk every night...

LORD PARAKIT winces.

KING: He must have the finest yak wool carpets beneath his feet...

LORD PARAKIT sinks to his knees.

KING: And he must never step on the same carpet twice!

LORD PARAKIT whimpers. The Royal entourage exits.

HAMLET knocks over the barrel of frogs and bellows.

CHULAK: What're you doing, you vandal?

HAMLET: Another job. Another poor man to bankrupt. I hate Turkish Delight. I detest silk sheets. I loathe gold leaf on my tusks. I wish I was a normal dull grey elephant.

CHULAK: It's only Toady Parakit. It'll be fun.

HAMLET snorts derisively.

CHULAK: Are you sure you don't want to run away?

HAMLET: My heart belongs to Frangipani.

Music plays.

HAMLET: I must remain, despite my sorrows.

CHULAK sees LALCHAND.

CHULAK: Ah! There's your father.

LILA: He won't tell you.

CHULAK: Too clever. No choice.

3 - LALCHAND'S CART

CHULAK arrives at his close friend LALCHAND's cart.

LALCHAND: Chulak, street-urchin-who-leads-daughter-astray.

CHULAK: Lalchand, esteemed-father-of-wayward-friend.

LALCHAND: The White Elephant's going to Lord Parakit? How long will his money last?

CHULAK: A week.

LALCHAND: He's richer than I thought.

CH
ULAK: (s/v.) Between you and me, we might run away before then.

LALCHAND: (s/v.) Don't say that. You stupid boy. The King loves his elephant.

CHULAK: I've nearly got enough money to get us to India. We'll be safe there.

LALCHAND: Safe - maybe. Poor - definitely! How will you earn a living?

CHULAK: I thought I might do a bit of firework-making. Nice trade.

LALCHAND: Nice trade, my backside! Firework-making is an ancient and sacred art. You need talent, dedication and the favour of the gods to be a Firework-Maker.

CHULAK: All right, calm down. Remember the old...

(CHULAK pats his heart.)

It doesn't look difficult.

LALCHAND: Well it is.

CHULAK: How did you become one, then?

LALCHAND: I was apprenticed to my father for many years. Then I was tested to see if I had the Three Gifts.

CHULAK: Did you have them?

LALCHAND: Of course I did.

CHULAK: I've got more than three gifts.

LALCHAND: That's not all. There's an especially treacherous and dangerous part to the apprenticeship... that I can't tell you about.

CHULAK: That's a bit convenient, isn't it? Is it as dangerous as being stepped on by an elephant?

LALCHAND: Is it dangerous to travel to the Grotto of Razvani the Fire-Fiend, in the heart of Mount Merapi?

CHULAK: Mount Merapi, the volcano, famous for it's frequent and unpredictable eruptions of molten lava?

LALCHAND: Yes. That one.

CHULAK: Easy. I could do that.

LALCHAND: And is it easy to bring back...

(Confidential.)

Royal Sulphur?

CHULAK: What is...

(Confidential.)

Royal Sulphur?

LALCHAND: It's the prize ingredient for the finest fireworks. Without Royal Sulphur, no-one can ever be a true Firework-Maker.

CHULAK: And that's the special secret?

LALCHAND: Yes.

CHULAK: You're right. Firework-making's difficult and dangerous. I'll do something else.

LALCHAND: Good.

CHULAK starts to go.

CHULAK: (Business-like.) Mount Merapi? Razvani the Fire-Fiend's Grotto? Royal Sulphur?

LALCHAND: Yes, you pestilential boy! And, hey, remember... It's a secret.