The Elephanta Suite
Paul Theroux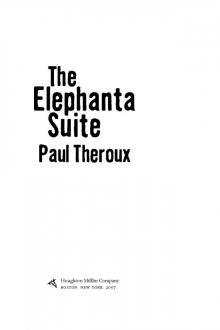 Table of Contents

Title Page

Table of Contents

Copyright

Monkey Hill

1

2

3

4

5

6

The Gateway of India

1

2

3

4

5

6

7

8

The Elephant God

1

2

3

4

5

6

7

8

Copyright © 2007 by Paul Theroux

ALL RIGHTS RESERVED

For information about permission to reproduce selections from this book, write to Permissions, Houghton Mifflin Company, 215 Park Avenue South, New York, New York 10003.

www.houghtonmifflinbooks.com

Library of Congress Cataloging-in-Publication Data

Theroux, Paul.

The Elephanta suite / Paul Theroux.

p. cm.

ISBN-13: 978-0-618-94332-6

ISBN-10: 0-618-94332-3

1. Americans—India—Fiction. 2. India—Fiction. I. Title.

PS3570.H4E44 2007

813'.54—dc22

2007013978

Book design by Lisa Diercks

The text of this book is set in Monotype Dante.

Printed in the United States of America

MP 10 9 8 7 6 5 4 3 2 1

Monkey Hill

1

They were round-shouldered and droopy-headed like mourners, the shadowy child-sized creatures, squatting by the side of the sloping road. All facing the same way, too, as though silently venerating the muted dirty sunset beyond the holy city. Motionless at the edge of the ravine, they were miles from the city and the wide flat river that snaked into the glow, the sun going gray, smoldering in a towering heap of dust like a cloudbank. The lamps below had already come on, and in the darkness the far-off city lay like a velvety textile humped in places and picked out in squirts of gold. What were they looking at? The light dimmed, went colder, and the creatures stirred.

"They're almost human," Audie Blunden said, and looked closer and saw their matted fur.

With a bark like a bad cough, the biggest monkey raised his curled tail, lowered his arms, and thrust forward on his knuckles. The others, skittering on smaller limbs, followed him, their tails nodding; and the distinct symmetry of the roadside disappeared under the tumbling bodies as the great troop of straggling monkeys moved along the road and up the embankment toward the stringy trees at the edge of the forest.

"They scare me," Beth Blunden said, and though the nearest monkey was more than fifteen feet away she could feel the prickle of its grubby fur creeping across the bare skin of her arm.

She remembered sharply the roaring baboon in Kenya which had appeared near her cot under the thorn trees like a demon, its doggy teeth crowding its wide-open mouth. The thing had attacked the guide's dog, a gentle Lab, bitten its haunch, laying it open to the bone, before being clubbed away by the maddened African. That was another of their trips.

"I hate apes," Beth said.

"They're monkeys."

"Same thing."

"No. Apes are more like us," Audie said, and in the darkness he covertly picked his nose. Was it the dry air?

"I think it's the other way around."

But Audie hadn't heard. He was peering into the thickening dusk. "Incredible," he said in a whisper. "I think they were watching the sunset, just lingering for the last warmth of the sun."

"Like us," she said.

And Beth stared at him, not because of what he'd said but the way he'd said it. He sounded so pompous chewing on this simple observation. They traveled a lot, and she had noticed how travel often made this normally straightforward man pretentious.

They were at the edge of a low summit, one of the foothills of the Himalayas, above the holy city. Farther up the ridge from where they were staying—a health spa called Agni—on a clear day they could see snow-topped peaks. They had come to Agni for their health, planning to stay a week. The week passed quickly. They stayed another, and now they renewed their arrangement from week to week, telling themselves that they'd leave when they were ready. They were world travelers, yet they'd never seen anything like this.

Still, the file of monkeys hurried up the road with a skip-drag gait, the big bold monkey leader up front, now and then barking in his severe cough-like way.

"Good evening."

A man emerged from the twilit road, stepping neatly to allow the monkeys to pass by. The Blundens were not startled. Their three weeks here had prepared them. They had not seen much of India, but they knew that whenever they had hesitated anywhere, looking puzzled or even thoughtful, an Indian had stepped forward to explain, usually an old man, a bobble-headed pedant, urgent with irrelevancies. This one wore a white shirt, a thick vest and scarf, baggy pants, and sandals. Big horn-rimmed glasses distorted his eyes.

"I see you are in process of observing our monkeys."

Like the other explainers, this one precisely summed up what they'd been doing.

"Do not be perplexed," he went on.

It was true—they had been perplexed.

"They are assembling each evening. They are taking last of warmth into bodies." He had the voluptuous and slightly starved way of saying "bodies," giving the word flesh.

"I figured so," Audie said. "That's what I said to my wife— didn't I, Beth?"

"They are also looking at smoke and fires at temple in town."

That was another thing they'd found. Indians like this never listened. They would deliver a monologue, usually informative but oddly without emphasis, as though it were a recitation, and did not appear to be interested in anything the Blundens had to say.

"What temple?" "What town?" the Blundens asked at once.

The Indian was pointing into the darkness. "When sun is down, monkeys hasten away—see—to the trees where they will spend night hours, safe from harm's way. Leopards are there. Not one or two, but abundant. Monkeys are their meat."

"Meat" was another delicious word, like "body," which the man uttered as if tempted by it, giving it the sinewy density and desire of something forbidden. But he hadn't answered them.

"There's leopards here on Monkey Hill?" Audie asked.

The old man seemed to wince in disapproval, and Audie guessed it was his saying "Monkey Hill"—but that was what most people called it, and it was easier to remember than its Indian name.

"It is believed that Hanuman Giri is exact place where monkey god Hanuman plucked the mountain of herbals and healing plants for restoring life of Rama's brother Lakshman."

Yes, that was it, Hanuman Giri. At first they had thought he was answering their question about leopards, but what was this about herbals?

"As you can find in Ramayana," the Indian said, and pointed with his skinny hand. "There, do you see mountain beyond some few trees?" and did not wait for a reply. "Not at all. It is empty space where mountain once stood. Now it is town and temple. Eshrine, so to say."

"No one mentioned any temple."

"At one time was Muslim mosque, built five centuries before, Mughal era, on site of Hanuman temple. Ten years ago, trouble, people invading mosque and burning. Monkeys here are observing comings and goings, hither and thither."

"I have a headache," Beth said, and thought, Inwading? Eshrine?

"Many years ago," the Indian man said, as though Mrs. Blunden had not spoken—Was he deaf? Was any of this interesting?—"I was lost in forest some three or four valleys beyond here, Balgiri side. Time was late, afternoon in winter season, darkness coming on. I saw a tro
op of monkeys and they seemed to descry that I was lost. I was lightly clad, unprepared for rigors of cold night. One monkey seemed to beckon to me. He led, I followed. He was chattering, perhaps to offer reassurance. Up a precipitous cliff at top I saw correct path beneath me. I was thus saved. Hanuman saved me, and so I venerate image."

"The monkey god," Beth said.

"Hanuman is deity in image of monkey, as Ganesh is image of elephant, and Nag is cobra," the Indian said. "And what is your country, if you please?"

"We're Americans," Beth said, happy at last to have been asked.

"There are many wonders here," the Indian said, unimpressed by what he'd just heard. "You could stay here whole lifetime and still not see everything."

"We're up at Agni," Audie said. "The lodge. Just took a walk down here to see the sunset."

"Like the monkeys."

The Indian wasn't listening. He was scowling at the valley he had described, where the mountain had been uprooted.

"How old do you think I am?" he asked. "You will never guess."

"Seventy-something."

"I am in my eighty-third year. I do yoga meditation every morning for one hour. I have never tasted meat nor alcoholic beverage. Now I will go home and take little dhal and puri and curd, that is all."

"Where do you live?"

"Just here. Hanuman Nagar."

"Your village?"

The old man exploded with information. "Township of Hanuman Nagar is substantial, with a market and textiles weaving and sundry spheres of commercial enterprise, including iron mongeries, pot-making, clay-baking, for house tiles, kilns and enameling."

"No one mentioned a town," Audie said.

"As well as fruit and nut trees. I myself am wholesaling nut meats. Also, as mentioned, Hanuman eshrine. Ancient temple. I bid you good evening."

With that he stepped into the darkness. The Blundens walked up the road in the opposite direction, remarking, as they went, on the poise of the old man, his self-possession, his pedantry. How easy it was to jeer at him, yet he had told them several things they hadn't known: the town, its industries, the Hanuman story, the temple business. He was faintly ridiculous, yet you couldn't mock him—he was real. What they had been thinking of as simply Monkey Hill had a history, and drama, an Indian name, and now on that lower slope a neighboring settlement.

"Did you understand what he said about the mosque and the temple?"

Audie shrugged and said, "Beth, you get these Indians talking and they flog a dead horse into dog food."

They had a surprise walking back up the road to the lodge. They passed through a large gateway. They had seen the gateway coming down, but they had not seen the signs: Right of Entry Prohibited Except by Registered Guests and No Trespassing and Authorized Vehicles Only.

"This means you!" Audie said, shaking his finger into the darkness. "Get your happy ass out of here!"

"You're awful, Butch," Beth said, and giggled because it was dark and they were in India, on this broken road, alone, dust in their nostrils, the obscure sense of smoky air, a smell of burning cow dung, a rocky hillside, and here he was making a joke, being silly. His unruly behavior was usually a comfort; she had loved him for it and regarded it as a form of protection for more than thirty years of marriage. She felt safe in his humor.

Beyond the gateway they saw the lights of the lodge and Agni itself, the former maharajah's residence, a baronial mansion, and in the bamboo grove the spa buildings, the pool, the palm trees, the yoga pavilion, glowing in spotlights, the whole place crowning the summit of the hill he had been told was Monkey Hill, though it had a local name too, the one that old Indian had used that they found impossible to remember.

Staff members passing them on the path pressed their hands in prayer and said namaste or namaskar, and some of the Tibetans, in an attractive gesture, touched their right hand to their heart. Audie did the same in return and found himself moved by it.

At the entrance to the restaurant, Beth saw an Indian couple smile at them.

"Namaste," she said, and clapped her hands upright under her chin.

"Hi there," the Indian man said. He was quick to put his hand out and pumped Audie's reluctant hand. "I'm Rupesh—call me Bill. This is Deena. Looks crowded tonight."

The Indian girl at the door said, "Very crowded. There's a wait, I'm afraid. Unless you wish to share a table."

Audie smiled at the girl. The nameplate pinned to her yellow and white sari was lettered Anna. She was lovely—he'd seen her at the spa in the white pajamas the massage therapists wore.

"No problem here," the Indian said.

"If you don't mind," Beth said.

"I could seat you quicker if you sat together," the Indian girl, Anna, said.

Audie tried to catch his wife's eye to signal "we'll wait"—eating with strangers affected his digestion—but she had already agreed. He hated to share. He hated the concept, the very word; he had spent his life in pursuit of his own undivided portion of the world.

Within minutes of their being seated, the Indian (Bill?) had told him that he lived in Chevy Chase, Maryland; that he owned a company that leased vending machines ("bottled and canned beverages and mineral waters") and his budget projections had never been better; that he had an acre of warehouse space and a large house; that his elderly father lived with them, and he had two children, one attending Georgetown, a boy, economics major, and a daughter, a Johns Hopkins graduate, now a stock analyst for Goldman Sachs, doing very well, loved her work. This was their second day at Agni. They had family in Dehra Dun, one more day and they'd be back in Delhi, preparing to take the direct flight to Newark, a new service, so much better than having to make stops in Frankfurt or London.

"Very spiritual here," he said after an awkward pause, having gotten no response from Audie.

Audie smiled. How was it possible for people to talk so much that they were oblivious of their listener? Yet Audie was relieved—he didn't want to give out information about himself. He did not want to lie to anyone, and knew that if anyone asked a direct question he would give an evasive or misleading reply. Talkative people made it so easy for him to be anonymous.

"What do you do for a living?" he was sometimes asked.

"Whole bunch of things," he would reply. "I've got a bunch of companies. I'm involved in some start-ups and rebrandings. We're in housewares. Hard furnishings. White goods. We used to do a lot of mail order, catalogue inventory, and now it's mostly online."

The Indian woman said to him, "Where do you live?"

"Tough question," Audie said. "This time of year we're usually in our house in Florida. We've got an apartment in New York. We mostly spend our summers in Maine. We've got a condo in Vermont, ski country. Take your pick."

But the woman wasn't listening to him. She was talking about her daughter, who lived in New York City and was now twenty-seven and a little overdue to be married. They—mother and father—were in India to meet the parents of a boy they hoped would be a suitable husband. The boy happened to be living in Rochester, New York, where he taught engineering.

"Arranged marriage," she said. "Best way."

She seemed to be twinkling with defiance, challenging Audie to question her adherence to the custom of arranged marriage. He enjoyed hearing her overselling it.

"Rupesh and I were arranged by our parents. Americans find it so funny." She shrieked a little and wobbled her head. "I didn't know his name. Only his horoscope. He was almost stranger to me. Almost thirty years together now!"

While insisting on her approval of the custom of arranged marriage, she was also presenting herself as an antique, if not an oddity, and wished to be celebrated that way. She lived in the USA; she had shocked her American friends with this sort of talk and was defying Audie to be shocked. But Audie decided to defy her in return by smiling at her.

"Beth was a stranger to me when we met, too," he said. "Picked her up in a bar."

He overheard the Indian man—Bill? Rupesh?—say, "vas vesting a
way" and "his own urine"—and he turned away from the man's disappointed wife.

"My father," the man said, glad for another listener. "He was in intensive care at Georgetown Medical Center. They said they couldn't do any more for his condition, which was inoperable cancer of pancreas. 'He will be more comfortable at home.' They were abandoning him, no question. He was wasting. As last resort we saw a yogi. He prescribed the urine cure. My father was instructed to drink a beaker of his own urine first thing in morning. He did so. After a week he grew stronger. Appetite came back. Hunger was there. Thirst was there. Second week, my God, he began to put on weight. Skin better, head clear. Third week he was walking a bit. Balance was there. Two months of this, drinking urine, and body was clear. Doctor said, 'Miracle.'"

That was another thing: one minute it was budget projections and stock analysis, the next minute it was horoscopes and arranged marriages and the wonder of drinking your own whiz.

"I tell you, India is booming," the man said when Audie did not react. "There is no stopping it. Bangalore is next Silicon Valley. Innovation!"

"So I heard," Audie said, "but all I see in India"—and he smiled at the couple—"all I see in India is people reinventing the flat tire."

Soon after that the couple smiled, and said they'd enjoyed meeting them, and excused themselves; and only then did Audie take notice of them, because he was unable to tell from their manner whether they were offended and abruptly ducking out or else actually meant what they said. It was a kind of inscrutability he had not associated with Indians. He was impressed.

"He seemed nice," Beth said.

"Nice doesn't seem like the right word for Indians," Audie said. "It's a little too bland. Lavish, outlandish, pious, talkative, overbearing, in your face, slippery, insincere, holy—I'm thinking they are Indian words. That talk about drinking number one—did you ever hear anything like it?"

"I wasn't listening. I thought he was handsome. That's the trouble with you—you expect them to make sense."

"What do you do?"

"I look at them talking. I don't listen. Didn't you notice he had lovely eyes?"

They had gotten up and were leaving the table when they heard a sharp "Hello." An Indian man was bowing, another one who'd materialized next to them. He was carrying a clipboard.