Mysteria Nights
P. C. Cast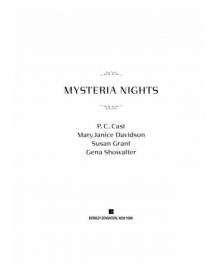 Table of Contents

Title Page

Copyright Page

Introduction

MORTAL IN MYSTERIA

One

Two

Three

Four

Five

Six

Seven

Eight

Nine

Ten

Eleven

Twelve

Thirteen

Fourteen

ALONE WOLF

ACKNOWLEDGMENTS

AUTHOR'S NOTE

Prologue

One

Two

Three

Four

Five

Six

Seven

Eight

Nine

Ten

Eleven

Twelve

Thirteen

Fourteen

Fifteen

Sixteen

THE WITCHES OF MYSTERIA AND THE DEAD WHO LOVE THEM

One

Two

Three

Four

Five

Six

Seven

Eight

CANDY COX AND THE BIG BAD (WERE)WOLF

ACKNOWLEDGMENTS

One

Two

Three

Four

Five

Six

Seven

Eight

Nine

Ten

Eleven

Epilogue

DISDAINING TROUBLE

ACKNOWLEDGMENTS

Prologue

One

Two

Three

Four

Five

Six

Seven

Eight

Nine

Ten

Eleven

Twelve

Thirteen

Fourteen

Fifteen

Sixteen

Seventeen

THE NANNY FROM HELL

Prologue

One

Two

Three

Four

Five

Six

Seven

Eight

Nine

Ten

A TAWDRY AFFAIR

One

Two

Three

Four

Five

Six

Seven

Eight

Nine

IT'S IN HIS KISS . . .

One

Two

Three

Four

Five

Six

Seven

Eight

Nine

Ten

PRAISE FOR MYSTERIA LANE

"Fabulous paranormal tales of things that go bump in the night."

—Romance Reviews Today

"This super quartet of talent brings an off-kilter and humorous viewpoint to magic, romance, and daily life. Much fun."

—Romantic Times

MYSTERIA

"Splitting the difference between Desperate Housewives and The X-Files, this paranormal romance brings magic and monsters to the steamy suburbs in four satisfying novellas about the town of Mysteria. There's magic, heat, and lots of laughs."

—Publishers Weekly

"Charming, funny, and quite offbeat, this collection highlights the vast talents of these authors. The perfect escape read!"

—Romantic Times

"Four enchanting paranormal romantic novellas."

—Midwest Book Review

"This [anthology] has all of the elements that I just love to read about. I had such fun reading this book. I really didn't want these stories to end. I loved the town of Mysteria and hope these authors see fit to visit the townspeople . . . again!"

—The Best Reviews

"Desperate Housewives meets Charmed, this collection of novellas is as varied in its content as the authors who've written them. From sweet and passionate to dark and sexy, the werewolves, vampires, demons, witches, fairies, and humans of Mysteria are as engaging and fun as they are diverse and compelling."

—Fresh Fiction

THE BERKLEY PUBLISHING GROUP

Published by the Penguin Group

Penguin Group (USA) Inc.

375 Hudson Street, New York, New York 10014, USA

Penguin Group (Canada), 90 Eglinton Avenue East, Suite 700, Toronto, Ontario M4P 2Y3, Canada

(a division of Pearson Penguin Canada Inc.)

Penguin Books Ltd., 80 Strand, London WC2R 0RL, England

Penguin Group Ireland, 25 St. Stephen's Green, Dublin 2, Ireland (a division of Penguin Books Ltd.)

Penguin Group (Australia), 250 Camberwell Road, Camberwell, Victoria 3124, Australia

(a division of Pearson Australia Group Pty. Ltd.)

Penguin Books India Pvt. Ltd., 11 Community Centre, Panchsheel Park, New Delhi—110 017, India

Penguin Group (NZ), 67 Apollo Drive, Rosedale, Auckland 0632, New Zealand

(a division of Pearson New Zealand Ltd.)

Penguin Books (South Africa) (Pty.) Ltd., 24 Sturdee Avenue, Rosebank, Johannesburg 2196, South Africa

Penguin Books Ltd., Registered Offices: 80 Strand, London WC2R 0RL, England

This is a work of fiction. Names, characters, places, and incidents either are the product of the authors' imagination or are used fictitiously, and any resemblance to actual persons, living or dead, business establishments, events, or locales is entirely coincidental. The publisher does not have any control over and does not assume any responsibility for author or third-party websites or their content.

Copyright © 2011 by Penguin Group (USA) Inc.

"Mortal in Mysteria" by Susan Grant copyright © 2006 by Susan Grant. Previously published in Mysteria.

"Alone Wolf" by MaryJanice Davidson copyright © 2006 by MaryJanice Alongi. Previously published in Mysteria.

"The Witches of Mysteria and the Dead Who Love Them" by Gena Showalter copyright © 2006 by Gena Showalter. Previously published in Mysteria.

"Candy Cox and the Big Bad (Were)Wolf" by P. C. Cast copyright © 2006 P. C. Cast. Previously published in Mysteria.

"Disdaining Trouble" by MaryJanice Davidson copyright © 2008 by MaryJanice Alongi. Previously published in Mysteria Lane.

"The Nanny from Hell" by Susan Grant copyright © 2008 by Susan Grant. Previously published in Mysteria Lane.

"A Tawdry Affair" by Gena Showalter copyright © 2008 by Gena Showalter. Previously published in Mysteria Lane.

All rights reserved.

No part of this book may be reproduced, scanned, or distributed in any printed or electronic form without permission. Please do not participate in or encourage piracy of copyrighted materials in violation of the authors' rights. Purchase only authorized editions. BERKLEY® SENSATION and the "B" design are trademarks of Penguin Group (USA) Inc.

PRINTING HISTORY

Berkley Sensation trade paperback edition / July 2011

Library of Congress Cataloging-in-Publication Data

Mysteria nights / P. C. Cast . . . [et al.].—Berkley Sensation trade pbk. ed.

p. cm.

ISBN : 978-1-101-52919-5

1. Erotic stories, American. 2. Occult fiction, American. I. Cast, P. C.

PS648.E7M97 2011

813'.087660806—dc22

2011013832

http://us.penguingroup.com

Introduction

Once upon a time in a land closer than anyone might be comfortable with, a demon high lord was sent to destroy a small, starving (and, let's face it, weird) band of settlers who were fleeing the last town they'd tried to settle in (a place ev
entually known as Kansas City, Missouri, the Show Me State, which did indeed show them tar and feathers and the road west). The group was composed of magical misfits and outcasts: a bloodaphobic vampire, a black-magic witch and her white-magic husband, a pack of amorous (translation: hump-happy) werewolves, and a man named John, who had gotten confused and joined the wrong wagon train. When the demon spied this ragged, rejected bunch, he (for a reason known only to himself but which had to do with uncontrollable random acts of kindness) decided not just to spare them but to create a magical haven for them.

And so, nestled in a beautiful valley in the Rocky Mountains, the town of Mysteria was founded. Over the years, it became a refuge for creatures of the night and those unwanted by traditional society. No one—or thing—was turned away. Magic thrived, aphrodisiacs laced the pollen, and fairy tales came true.

The first settlers eventually died (those that weren't already dead or undead, that is), but they left pieces of themselves behind. The vampire invented a powerful blood-appetite suppressant for any other vampires with a fear of blood. The witch and the warlock created a wishing well—a wishing well that swirled and churned with both white and black magic, a dangerous combination. The hump-happy werewolves left the essence of perpetual springtime and love (translation: they peed all around the boundary of the city, so that everyone— or thing—that entered or left Mysteria was, well, marked). John, the only nonmagical being in the group, left his confused but mundane genes, founding a family that would ultimately spawn more humans of nonmagical abilities who remained in Mysteria because finding their way out was just too much like geometry.

Each of the settlers thought, as their spirits floated to the heavens—all right, some of them went straight to hell, the naughty sinners—that their best contribution to the fantastical town of Mysteria was a happily-ever-after for their descendants. If only they could have known the events that would one day unfold . . .

MORTAL IN MYSTERIA

Susan Grant

For my three children:

Connor and Courtney (the human ones)

and Tala (the furry one).

All my love.

One

The dirty, sweat-soaked demon dropped to his knees. His hands, bound at the wrists with chains, rested awkwardly at the small of his back. Nevertheless, he formed his mouth into a smile he hoped appeared as contrite as his posture. 'Tis better if you do not infuriate the boss any more than you have already, he thought. "I am prepared to pay for my transgressions, Master."

"And pay for them, you shall!" The Devil's forked tongue darted out to moisten thin, malice-curved lips. "I have thought long and hard about your crimes," he hissed with the very faintest of lisps. "Now, prepare to receive your sentence, Demon."

"Aye, Master." All the demons were named "Demon" down here in Hell. To their master they were all but indistinguishable. Only Lucifer stood apart, with his trademark black goatee, the horns, the pitchfork, and the crimson suit. Proof that the whimsies of fashion in Hell had been at a standstill since the birth of time.

Fashion? Hell's bells, didn't he have more important things to worry about? Like losing his head, or some other body part of which he'd grown fond? The demon winced. His concentration simply wasn't what it used to be after the century of torture he'd endured for his crimes. Or had it been two or three centuries that he'd been paying for his terrible deeds? It had become difficult to keep track. Ah, but what was an extra century or two in the grand scheme of things? He'd existed for more than ten thousand years, tasked to bring the worst sort of doubt into the miserable, pitifully abbreviated lives of human beings. Far from being just any demon, he was a demon lord, and one of the most ancient of them all: the Demon High Lord of Self-Doubt and Second Thoughts, the bane of many a human failure, simpering creatures all too eager to listen to the fears that he could so easily plant in their weak minds. You can't, he'd whisper until they believed it. You won't. Try, and you will surely fail.

Countless men who could have ruled the world had never stepped beyond their front doors because he'd made them doubt their abilities, made them afraid to take chances, to risk failure. Nor were women any safer from his dark murmurings through the eons. He'd frightened countless wenches, silencing their voices by playing up their fears of sounding too shrill, too stupid, too . . . different.

Humanity's failures—he'd been the force behind so many of them. Until that fateful day when he'd glimpsed true courage and couldn't bring himself to destroy it, giving the Will-to-Go-On to a small, starving band of settlers wandering in the snowy woods of the Rocky Mountains. He wasn't sure exactly why he'd spared them, why he'd given them the inner strength to push themselves until they reached warmth and shelter, but he had—and it had felt damned good, too. In fact, it had felt so damned good being good to the damned that he repeated the deed all around the globe, losing himself for years in a virtual frenzy of beneficence. That is, until he was finally caught red-handed in the midst of one of those random acts of kindness, a crime considered so heinous that Lucifer himself had marched upstairs and dragged him back down to Hell.

On the positive side, he'd come out the other side with all his body parts intact, the important body parts, at any rate. It could have gone much worse for him. And perhaps it still would. The devil, as always, was in the details.

The demon bowed his head. "Tell me what I must do to appease you, Master."

"There will be no appeasement! None! There is but one fitting punishment for such atrocities. Banishment!"

The demon's head jerked up. "Banishment?"

"Yes." The fiery red orbs that passed for Lucifer's eyes narrowed to pulsing slits. "I hereby banish you from Hell."

It cannot be! The demon had expected a reduction in rank, the loss of freedom to come and go as he pleased, perhaps, but permanent eviction? His salary, his benefits—phoosh, gone! Just like that. Hell's bells, he'd slaved ten thousand years—for nothing! Done the Devil's deeds only to end up like this: out of date, out of use, and without a transferable retirement plan!

"Is this truly to be forevermore?" the demon almost croaked, knowing how the Devil so enjoyed toying with his minions.

Lucifer chuckled. "Not really. I have made you mortal, as well."

"Mortal . . ." The mere word tangled around the demon's tongue like a serving of snake entrails.

"Never fear. Because of your newly finite life, you won't have many years to fret your fate. Consider it a favor for your years of service to the Dark Empire." Lucifer waved a clawed hand. "No need to thank me."

A growl rumbled in the demon's throat. Of all the many things he'd like to give Lucifer at that moment, thanks was not one of them. Yet, something told him it wasn't mortality itself he needed to fear as much as the locale in which he would suffer it. "Where am I to be sent?"

"Why, to the very epicenter of your initial act of kindness." Lucifer spat out that last word. Literally. A glob of moisture sizzled in one of the many fires burning deep within the bowels of the earth. "Mysteria. I trust you remember the place."

He remembered it, all right. Remembered it all too well. The settlers he'd helped had founded the village.

The demon shifted his weight on aching knees as he mulled over his options, which were near zero, as far as he could tell. Time was running out to reverse course, so he did what he did best and sowed the seeds of self-doubt. "Are you certain this is the best plan for me, Master? The best punishment? Are you absolutely sure?"

The Devil's voice turned deadly. "What do you mean?"

"What if it doesn't work out? What if they don't want me amongst them?" You can't . . . you won't. Try, and you will surely fail. . . . "Imagine it, the Demon High Lord of Self-Doubt and Second Thoughts living across the street, mowing the lawn. Coaching Little League?" The demon curved his lips into a between-us smile. "Absurd, is it not?
"

Lucifer shrieked in incredulity. The sound of a thousand screams filled the chamber. Goblins and gargoyles somersaulted through the shadows, fleeing the chamber as a rumbling began under the cold stone slab of a floor. "Your dark magic does not work with me!"

"I'm merely suggesting that you look at all sides of the equation—"

But Lucifer continued to roar. Somewhere far above them, on the surface, the ground also shook. The demon half-wondered how many casualties there would be this time. But that was no longer his job. He'd been fired. He would no longer be tasked with planting defeat in the survivors' minds, riddling their psyches with despair. At that, something close to relief filtered through him. Doing good has taken the fun out of doing evil.

Aye, it had. The demon sensed he'd never be 100 percent good. Yet, neither could he ever return to being 100 percent bad.

Lucifer grew in size until he towered above the demon, his clothing splitting and hissing as muscled flesh bulged and tore it apart. Horns sprouted from a ridged skull, curling upward, until they, too, were lost in the swirling mist of the chamber. Finally, he spoke. "I do not doubt, fallen one. I do not err. I do not have second thoughts!"

That much was obvious. Couldn't Lucifer have made the point without all the needless death and destruction? Without the unneeded suffering? A growl vibrated deep in the demon's throat. He'd witnessed such showy outbursts many times during his long existence, but this time, for the first time, a reaction to the master's wrath formed inside the demon, as if he had a temper of his very own.

He made fists. It caused the manacles to bite into his wrists, pain he welcomed as a ball of heat swelled and exploded in his chest, a conflagration he couldn't recognize or explain, for he didn't have feelings. Never had. He couldn't have performed his duties if he'd been created any other way. And yet, he felt something now, aye, something too wonderful and terrible to absorb, a sensation too new and yet inexplicably ancient at the same time. The pressure built and built until something finally gave.