Eternal: More Love Stories with Bite
P. C. Cast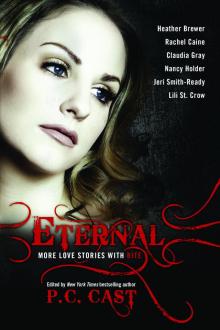 Prelude

"Through the blood of a dying Goddess your people will be saved. "

More than one hundred years ago, women began disappearing from a green, prosperous land called Partholon. At first the disappearances were sporadic, seemingly random. It wasn't until an invading horde attacked MacCallan Castle, slaughtered the Clan's brave warriors and enslaved their women that the awful truth became known. The Fomorians, a race of winged demons, were using human women to breed a new race of monsters. It meant nothing to the vampiric creatures that birthing the mutant fetuses caused the death of the unwilling mothers. The human women were incubators - their deaths were no more than an evil means to a ghastly end.

The Goddess Epona's rage was terrible, and through her Chosen One, the Goddess Incarnate Rhiannon, and her centaur lifemate ClanFintan, the peoples of Partholon united to defeat the Fomorians.

The demon race was destroyed, but the people of Partholon did not realize that the war's legacy was more than death and evil. In the Wastelands, far away from the heart of Partholon, winged children were born to human mothers who miraculously survived. Part demon, part human the small group of hybrid beings struggled to carve a life for themselves out of the Wastelands. They held firm to their humanity, even when refusing the call of their fathers' dark blood caused them pain. . . pain that slowly eroded their will until madness became their only respite.

"Through the blood of a dying Goddess your people will be saved. "

But Epona had not forgotten the women who never lost hope and stayed faithful to their Goddess, though they could not return to Partholon with their winged children. The great Goddess whispered The Prophecy to her deposed children, and the promise of salvation breathed hope into the race of half-demons.

A century turned slowly and the winged people waited for the answer to their prayers. Partholon recovered and prospered again, and the Fomorian War became a memory, entombed in history.

And then a child was born, part human and part centaur. Touched by Epona's powerful hand the babe was given the name Elphame. Through dreams she called to Lochlan, the leader of the winged half-demons who waited in the Wastelands. The child grew to adulthood, and Lochlan followed the threads of his dreams to MacCallan Castle where Elphame awakened more than the stones of the ancient ruin.

"Through the blood of a dying Goddess your people will be saved. "

Out of love for Lochlan and trust in her Goddess, Elphame fulfilled The Prophecy, sacrificing a piece of her own humanity as well as her brother's heart to save the race of hybrid Fomorians. Now this new breed of beings was finally coming home. But their struggle had just begun. Remember, the Path of the Goddess was not an easy one to tread. . .