Complete Works of Oscar Wilde, Page 1
Oscar Wilde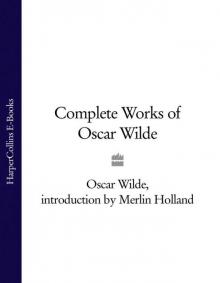 Complete Works of Oscar Wilde

Oscar Wilde

Introduction by Merlin Holland

Table of Contents

Cover Page

Title Page

THE CONTRIBUTORS

INTRODUCTION TO THE 1994 EDITION by MERLIN HOLLAND

INTRODUCTION TO THE 1966 EDITION by VYVYAN HOLLAND

THE STORIES OF OSCAR WILDE

Introduction by OWEN DUDLEY EDWARDS

THE PICTURE OF DORIAN GRAY

LORD ARTHUR SAVILE'S CRIME

THE CANTERVILLE GHOST

THE SPHINX WITHOUT A SECRET

THE MODEL MILLIONAIRE

THE YOUNG KING

THE BIRTHDAY OF THE INFANTA

THE FISHERMAN AND HIS SOUL

THE STAR-CHILD

THE HAPPY PRINCE

THE NIGHTINGALE AND THE ROSE

THE SELFISH GIANT

THE DEVOTED FRIEND

THE REMARKABLE ROCKET

THE PORTRAIT OF MR. W. H.

THE PLAYS

Introduction by TERENCE BROWN

THE IMPORTANCE OF BEING EARNEST

LADY WINDERMERE'S FAN

A WOMAN OF NO IMPORTANCE

AN IDEAL HUSBAND

SALOMÉ

THE DUCHESS OF PADUA

VERA, or THE NIHILISTS

A FLORENTINE TRAGEDY

LA SAINTE COURTISANE or THE WOMAN COVERED WITH JEWELS

THE POEMS

Introduction by DECLAN KIBERD

POEMS EDITORIAL NOTE

YE SHALL BE GODS

CHORUS OF CLOUD MAIDENS

FROM SPRING DAYS TO WINTER

REQUIESCAT

SAN MINIATO

BY THE ARNO

ROME UNVISITED

LA BELLA DONNA DELLA MIA MENTE

CHANSON

UNTITLED

UNTITLED

THE DOLE OF THE KING'S DAUGHTER

LOVE SONG

TRISTITIAE

THE TRUE KNOWLEDGE

HEART'S YEARNINGS

THE LITTLE SHIP

ΘPHNΩIΔIA

LOTUS LAND

DÉSESPOIR

LOTUS LEAVES

UNTITLED

A FRAGMENT FROM THE AGAMEMNON OF AESCHYLOS

A VISION

SONNET ON APPROACHING ITALY

SONNET

IMPRESSION DE VOYAGE

THE THEATRE AT ARGOS

URBS SACRA AETERNA

THE GRAVE OF KEATS

SONNET

EASTER DAY

SONNET

ITALIA

VITA NUOVA

E TENEBRIS

QUANTUM MUTATA

TO MILTON

AVE MARIA GRATIA PLENA

WASTED DAYS

THE GRAVE OF SHELLEY

SANTA DECCA

THEORETIKOS

AMOR INTELLECTUALIS

AT VERONA

RAVENNA

MAGDALEN WALKS

THE BURDEN OF ITYS

THEOCRITUS

NOCTURNE

ENDYMION

CHARMIDES

BALLADE DE MARGUERITE

LA BELLE GABRIELLE

HUMANITAD

ATHANASIA

THE NEW HELEN

PANTHEA

PHÈDRE

QUEEN HENRIETTA MARIA

LOUIS NAPOLEON

MADONNA MIA

ROSES AND RUE

PORTIA

APOLOGIA

QUIA MULTUM AMAVI

SILENTIUM AMORIS

HER VOICE

MY VOICE

ΓΛYKYΠIKPOΣ EPΩΣ

THE GARDEN OF EROS

AVE IMPERATRIX

PAN

THE ARTIST'S DREAM OR SEN ARTYSTY

LIBERTATIS SACRA FAMES

SONNET TO LIBERTY

TAEDIUM VITAE

FABIEN DEI FRANCHI

SERENADE

CAMMA

IMPRESSION DU MATIN

IN THE GOLD ROOM

IMPRESSIONS

IMPRESSION

HÉLAS!

TO V.F.

TO M. B. J.

IMPRESSIONS

LE JARDIN DES TUILERIES

THE HARLOT'S HOUSE

FANTAISIES DÉCORATIVES

UNDER THE BALCONY

TO MY WIFE

ON THE SALE BY AUCTION OF KEATS' LOVE LETTERS

THE NEW REMORSE

CANZONET

WITH A COPY OF 'A HOUSE OF POMEGRANATES'

SYMPHONY IN YELLOW

LA DAME JAUNE

REMORSE

IN THE FOREST

THE SPHINX

THE BALLAD OF READING GAOL

POEMS IN PROSE

THE ARTIST

THE DOER OF GOOD

THE DISCIPLE

THE MASTER

THE HOUSE OF JUDGMENT

THE TEACHER OF WISDOM

ESSAYS, SELECTED JOURNALISM, LECTURES AND LETTERS

Introduction by MERLIN HOLLAND

THE HOUSE BEAUTIFUL

THE DECORATIVE ARTS

PERSONAL IMPRESSIONS OF AMERICA

MRS LANGTRY AS HESTER GRAZEBROOK

WOMAN'S DRESS

MR WHISTLER'S TEN O'CLOCK

DINNERS AND DISHES

HAMLET AT THE LYCEUM

OLIVIA AT THE LYCEUM

A HANDBOOK TO MARRIAGE

BALZAC IN ENGLISH

A RIDE THROUGH MOROCCO

THE AMERICAN INVASION

TWO BIOGRAPHIES OF KEATS

ARISTOTLE AT AFTERNOON TEA

MR MORRIS ON TAPESTRY

LONDON MODELS

DE PROFUNDIS

TWO LETTERS TO THE DAILY CHRONICLE

THE DECAY OF LYING

PEN, PENCIL AND POISON

THE CRITIC AS ARTIST

THE TRUTH OF MASKS

THE SOUL OF MAN UNDER SOCIALISM

THE RISE OF HISTORICAL CRITICISM

A FEW MAXIMS FOR THE INSTRUCTION OF THE OVER-EDUCATED

PHRASES AND PHILOSOPHIES FOR THE USE OF THE YOUNG

APPENDIX A: CHRONOLOGICAL TABLE

APPENDIX B: ORDER OF POEMS (1882)

APPENDIX C: LIST OF ORIGINAL DEDICATIONS IN WILDE'S PUBLISHED WORKS

APPENDIX D: INDEX OF FIRST LINES OF POEMS

BIBLIOGRAPHY

Copyright

About the Publisher

THE CONTRIBUTORS

Owen Dudley Edwards, a Dubliner, was initially trained in historical research by Sir Rupert Hart-Davis, who was then editing The Letters of Oscar Wilde (1962). His own books include The Fireworks of Oscar Wilde (1989), and he has a biography of Oscar Wilde in preparation. He is now Reader in History at the University of Edinburgh, and is also a writer, broadcaster and theatre critic, whose first play will be staged at the Edinburgh Festival Fringe in 1994.

Terence Brown holds a personal chair in the School of English in Trinity College, Dublin. He is a Fellow of Trinity College and also a member of the Royal Irish Academy. He has written and edited many books. Among his publications are Louis MacNeice: Sceptical Vision (1975), Northern Voices: Poets from Ulster (1975), Ireland: a Social and Cultural History (1981, 2nd edition 1985), and Ireland's Literature: Selected Essays (1986). He has recently published an edition of James Joyce's Dubliners (1992), was a contributing editor of the Field Day Anthology of Irish Writing (1992), and is currently at work on a book on Yeats. He has lectured on Anglo-Irish Literature in many parts of the world.

Declan Kiberd lectures in Anglo-Irish Literature at University College, Dublin. He is author of Synge and the Irish Language (1979, second edition 1993) and Men and Feminism in Modern Literature (1985). He edited the section on Wil
de in the Field Day Anthology of Irish Writing (1991) and has lectured on the author in more than fifteen countries. Among his other scholarly commentaries are The Students' Annotated Ulysses (Penguin 1992) and Anglo-Irish Attitudes (Derry, 1984).

Merlin Holland, son of Vyvyan Holland and grandson of Oscar Wilde, writes, lectures and broadcasts regularly on all aspects of Wilde's life and works. For twenty-five years he has been in the unique position, through having to administer the few remaining copyrights in Wilde's writings (mostly letters and unpublished fragmentary manuscripts), of being in close touch with the latest academic research while presenting his grandfather to a wider general audience. He is the wine-correspondent of Country Life.

After Wilde's conviction, his wife, Constance, and their sons were forced to change their name to Holland after being refused accommodation at a Swiss hotel. The family has never reverted to the name Wilde.

INTRODUCTION TO THE 1994 EDITION

by

MERLIN HOLLAND

At an international conference on Wilde in May 1993, a highly respected academic and specialist in Anglo-Irish literature put to his audience the question: 'Is Oscar Wilde really a great writer?' I suspect that his own mind had already been made up, for he added by way of a guideline, 'Why do so many of those who study his works end up by calling him "Oscar" in a rather over-familiar fashion?', as if an author worthy of serious study should make himself less accessible and behave with somewhat more decorum. It is a question which his critics have been asking repeatedly for a hundred years and for which there still seems to be no satisfactory answer.

Within days of his death the Pall Mall Gazette was saying 'Mr Wilde's gifts included supreme intellectual ability, but nothing he ever wrote had strength to endure.' In 1910 Edmund Gosse wrote to Andre Gide: 'Of course he was not a "great writer"…his works, taken without his life, present to a sane criticism, a mediocre figure.' An Evening Standard article by Arnold Bennett in 1927 treats him as outmoded and his style as lacking in permanence but grudgingly concedes 'Wilde, even if he was not a first rate writer, had given keen pleasure to simpletons such as my younger self; and he was a first rate figure.' And as late as 1950, the Times Literary Supplement said rather condescendingly, 'Apart from one perfect play, one memorable poem and De Profundis, Wilde left little with which, as literature, posterity need seriously concern itself.'

Yet forty-four years on, Oscar Wilde's reputation stands higher than at any time since his theatrical triumphs of the 1890s. His works are never out of print and some of them have been rendered in to languages as diverse as Catalan and Arabic, Yiddish and Chinese. Scarcely a day passes when he is not quoted in the press or on the airwaves and the spring of 1993 saw the simultaneous West End revival of An Ideal Husband and The Importance of Being Earnest—the very same plays which were delighting packed houses on the eve of his arrest nearly a century before.

This popularity in defiance of the critics is his ultimate, unanswerable paradox, thrown down like a challenge from beyond the grave. His readers love him as much for his weakness and his fallibility as they do for his wit, his satire and his fin de siècle daring, and they remain endlessly fascinated by his outrageous behaviour. The same public which crucified him for his lack of conformity and respect for Victorian values in 1895, today holds him up as a martyr for individuality. 'I was a man.' he says in De Profundis, 'who stood in symbolic relations to the art and culture of my age. I treated Art as the supreme reality, and life as a mere mode of fiction: I awoke the imagination of my century so that it created myth and legend around me: I summed up all systems in a phrase, and all existence in an epigram.' The unabashed arrogance of that when it was published in 1905, a mere five years after his death, must have been difficult to swallow, but today we are forced to see the truth of it. Wilde's life and his work survive side by side, in a symbiotic relationship with each other, and despite all attempts by his critics to prise them apart and subject each to scrutiny, they remain more closely entwined than ever.

How could it be otherwise? The story of his life is, in a sense, the one great play he lived out and never wrote. It has all the elements of Greek theatre so familiar to him as a classical scholar: the hero apparently in control of his destiny; the hubris; the tragic flaw; and finally the nemesis. His end, though, was not a mercifully quick death but rather a Promethean torment. Five long years of suffering followed his downfall: prison, bankruptcy, disgrace and, the ultimate indignity for one of his generosity, poverty and having to borrow money from friends. Small wonder then that public opinion refuses to allow his life and his work to be separated. To some extent, however, it has created an imbalance which threatens to play into the hands of the critics. The great majority of books written about Wilde has concentrated on the man, and passed fleetingly over the works as being merely secondary expressions of his life as an art form, a problem for which he himself is partly to blame. He has left us with that enduring vision of Wilde as the supreme showman whom nobody, at his peril, should attempt to take seriously. 'Art,' as he said, 'is the only serious thing in the world. And the artist is the only person who is never serious.' Both were themes which dominated his life.

It is this apparent lack of seriousness on which the greater part of his popular reputation rests and anecdote has done little to change it. Two of the permanent hallmarks of Wildean humour, for example, were an affected indifference to hard work as well as the effortless ease of his own genius. Asked by the critic W. E. Henley how often he went into the office during his editorship of the Woman's World, Oscar replied, 'I used to go three times a week for an hour a day, but I have since struck off one of the days.' And when George Alexander asked him to cut the 'Gribsby' scene from The Importance of Being Earnest (restored in the present edition) Wilde could not resist remarking, 'Do you realise, Alec, this scene you feel is superfluous cost me terrible exhausting labour and heart-rending nerve-racking strain. I assure you on my honour that it must have taken fully five minutes to write.'

Even while he was still at Oxford, Wilde was at pains to cultivate this image of creative idleness. He would read the 19th century poets rather than studying the classical texts for his degree course, or at least that was the impression he liked to give. One of his contemporaries though, David Hunter-Blair, recalled many years later, 'Of course Wilde worked hard for the high academic honours which he achieved at Oxford. He liked to pose as a dilettante trifling with his books; but I knew of the hours of assiduous reading often into the early hours of the morning. He read surreptitiously in his small and stuffy bedroom. Books lay in apparently hopeless confusion though he knew where to lay his hands on each in every corner.'

This is the Wilde most of us are accustomed to see, the Wilde who admitted to Andre Gide 'J'ai mis tout mon génie dans ma vie, je n'ai mis que mon talent dans mes oeuvres.' He persuaded us of its authenticity a hundred years ago and it is still the form in which the public wishes to enjoy his company—witty, nonconformist and faintly perfumed with decadence. Under-standably, they are not qualities which persuade those who inhabit the rarefied atmosphere of pure literary criticism to grant him first division status.

But in the last thirty years, parts of the academic world have started to reassess Oscar Wilde on their own terms, digging beneath the veneer of superficiality and revealing a very different character to the one we thought we knew. All the old magic remains but it is given an added dimension by seeing him occasionally without his mask. We begin to see that, far from lounging nonchalantly through life, very early on he showed a strong determination to succeed as a writer. Put him alongside any ambitious young journalist of the 1990s and compare their paths to success. A couple of youthful literary indiscretions, a period of probation as a critic and reviewer, the editorship of a national magazine and the succès de scandale of a first novel, and the whole liberally peppered with self-publicity—plus ça change. And if Wilde did not have the power of radio
and television to rely on, at least he had the lecture hall and the theatre to reach his public direct.

From the moment he left Oxford he was hard at work promoting himself. He made it his business to be seen at any social gathering of importance and at first nights, and courted the friendship of actresses in the public eye – Ellen Terry, Lillie Langtry and Sarah Bernhardt. Then, with little more than a volume of self-published poems to his credit, he was offered a lecture tour in America by Richard D'Oyly Carte to coincide with his production of Patience. Naturally he seized the opportunity. But the programme, originally planned to last four months stretched to nearly a year and it was far from being just as a sedate lecture tour for the self-appointed 'Professor of Aesthetics', a young dandy in velvet knee-breeches, rising languidly at mid-day to parade himself across the country as a live 'aesthete' for the audiences of Gilbert and Sullivan's comic opera. In reality detailed research has shown that he faced a punishing schedule of 140 lectures in 260 days from the East to the West coast and up into Canada without the help of air travel and fast trains. He also made sure that he met Walt Whitman, Henry Longfellow and Oliver Wendell Holmes; he arranged for Vera to be staged in New York the following year; and was commissioned to write The Duchess of Padua. He had taken the calculated risk of ridicule and turned it entirely to his advantage both financially and in terms of his reputation.

On his return to England Wilde added his 'Personal Impressions of America' to his repertoire and continued lecturing as a source of income until 1888. Indeed, from 1883 until early in 1885 it was almost his only source of income. He was acutely aware of this and tried on several occasions to have himself made an inspector of schools, as Matthew Arnold had done before him, but without success. In 1885 he even writes to an unidentified correspondent: 'Believe me that it is impossible to live by literature. By journalism a man may make an income but rarely by pure literary work. I would strongly advise you to make some profession, such as that of a tutor, the basis and mainstay of your life, and to keep literature for your finest, rarest moments. Remember that London is full of young men working for literary success, and that you must carve your way to fame. Laurels don't come for the asking.' Shortly afterwards he took his own advice and his career in journalism lasted from 1885 until 1891. In addition to helping with the family finances it enabled him to publish most of the stories and essays contained in this volume and played a part in his literary development, the importance of which has been largely underestimated.