Single Mom
Omar Tyree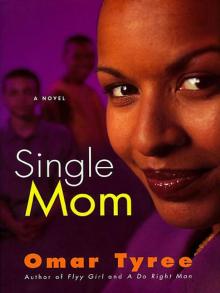 ALSO BY OMAR TYREE

Diary of a Groupie

Leslie

Just Say No!

An Interview with a Loverboy

For the Love of Money

Sweet St. Louis

A Do Right Man

Flyy Girl

Capital City

BattleZone

Single MOM

A NOVEL

Omar Tyree

SIMON & SCHUSTER PAPERBACKS

NEW YORK LONDON TORONTO SYDNEY

SIMON &SCHUSTER PAPERBACKS

Rockefeller Center 1230 Avenue of the Americas New York, NY 10020

www.SimonandSchuster.com

This book is a work of fiction. Names, characters, places, and incidents either are products of the author's imagination or are used fictitiously. Any resemblance to actual events or locales or persons, living or dead, is entirely coincidental.

Copyright © 1998 by Omar Tyree

All rights reserved, including the right of reproduction in whole or in part in any form.

SIMON & SCHUSTER PAPERBACKS and colophon are registered trademarks of Simon & Schuster, Inc.

For information regarding special discounts on bulk purchases, please contact Simon & Schuster Special Sales at 1-800-456-6798 or [email protected]

Designed by Karolina Harris

Manufactured in the United States of America

15 17 19 20 18 16 14

The Library of Congress has cataloged the hardcover edition as follows:

Tyree, Omar.

Single mom : a novel / Omar Tyree.

p. cm.

1. Afro-Americans—Fiction. I. Title.

PS3570.Y59S5 1998

813′.54—dc21 98-35892

CIP

ISBN 0-684-85592-5

0-684-85593-3 (Pbk)

eISBN 13: 978-1-439-12820-6

ISBN 978-0-684-85593-6

This book is for the struggles of my grandmothers Mercyle Tyree Simmons (RIP), Betty Alston (RIP), and Geraldine Briggs McLaurin; my aunts Sharisse Simmons Tolbert (RIP) and Darlene Simmons Crawford; my sisters Deidre Adams, Darlene Adams, and Cydnee Randall; my mother Renee McLaurin Alston (RIP) for having me; and my father Melvin Alston Sr. for stepping in and showing me the way to manhood.

THE NATURE OF THINGS by Omar Tyree When I first held my son

Time 4:33 p.m., Date May 31st, 1996

I knew I'd never let him go

simply because he was mine

and so was his mother

they belonged to me

and I belonged to them…

to be continued

The Years Before

JIMMIE DANIELS

NEECY'S a big woman in Chicago now. I'm proud of her! She sure has come a long way from where we grew up in North Lawndale. Neither one of us grew up in high-rise projects, but things were still like the show Good Times: getting out of one adventure, only to be involved in a new one. Times still are hard for me, and I've been going from one job to the next like "James Evans" to prove it. Hopefully, my next job will be more stable, but I've been saying that now for years.

Neecy, on the other hand, was always good at keeping a job, and with saving money. I remember I used to laugh at how cheap she was back in high school. She became my one and only girl in our sophomore year at West Side High. She used to show up in the stands at all of my basketball games with her girlfriends and holler, "Wes-side, Wes-side!" We had big fun back then!

Neecy has moved out to the suburbs now. She lives in Oak Park with my son, Little Jay, and her other little boy, Walter. She doesn't want me calling her "Neecy" anymore either. She say it's ghetto. I guess that suburbanite shit went to her head. You're never supposed to forget where you come from, no matter how successful you are.

I remember when I first broke her in after school one day. It was in our junior year. Neecy hollered so much I thought I cracked a bone or something. I didn't have much experience in the bedroom back then. I didn't know how to be gentle with her. I had to learn to be gentle, you know, because I loved Neecy. She was my girl. And after a while, she got used to it. We would find a place to get into things every night before my games. She said it was for good luck. The next thing I knew, we were doing it damn near every day, wherever we had to go. I bet she don't want to remember that now either. But she can't forget about our son. Little Jay is the tie that binds us forever.

I need to get his damn name changed, too! She calls him a Jr., but she didn't even spell his name the same way as mine. We argued about that in the hospital. I don't care if most people spell it with a "y." Mine is spelled with an "i-e." How are you going to call somebody a Jr. with the wrong spelling? On top of that, he doesn't even have my last name! She gave her other son his father's last name; Walter Perry III. Sounds like some nerd shit. That's exactly how his father looks, too, like a black nerd scientist in need of a good barber. His name should have been Walter Peabody. I met him a couple of times, and we spoke for a minute, but I didn't have too many words for him. The only reason he got with Neecy in the first place was because I got sent to jail. I was locked up in the Indiana State Correctional Facility for two and a half years for armed robbery.

Shit just all went downhill for me in my senior year of high school. Things were looking good before that. I had Neecy, my basketball future, and everything else. My pop even let me drive his baby blue convertible. It wasn't brand new or nothing, but it was clean. Then we lost our last play-off game to Martin Luther King High School. I was messed up for a whole week after that. I was really looking forward to winning the championship that year. The whole neighborhood was. It was a big letdown. Then I messed around and screwed up my grades. Not to say that they were all that good to begin with, but at least I was passing. My pop died of a stroke that year, and Neecy ended up getting pregnant on me.

The school officials said I had to take a couple of classes in summer school to get my diploma, but that messed up my chances of going to a Division 1 college on scholarship. I would have to go to a junior college and transfer. But that would have taken forever. That's when I started hanging out with the Gangster Disciples. Since I was a star ballplayer, they never really pressed me to join before, but once I realized I wasn't going to college, I saw no reason not to join. All of my homeboys were already members, including my older brother, Marcus, and my younger brother, Juan.

I remember Marcus asked me, "What the hell are you doing? You take your stupid ass to college!" If he was so concerned about me, then why the hell was he in it? My little brother, Juan, was in before I was, so when I started hanging around, he was excited by the idea. Juan could never play basketball, so me being in a gang with him was like getting a brand-new brother to relate to. Since Marcus didn't want either one of us in the first place, we obviously couldn't hang with his crew, so we had our own. And I was the first knucklehead to go to jail. Fortunately, my jail time saved my life, but I can't say the same for my brothers, or for many of the other guys I hung out with. Most of them are dead now, including Marcus and Juan.

If I could do it all over again, I would never have gone near that gang shit. I would have listened to my older brother, buckled down, gotten my grades together, and gone wherever I had to go to play ball and make it to a good school. That's why I'm supporting my boy now. I want to make sure he gets his grades and his game together and goes to school on scholarship, like I never got the chance to do.

At six foot three and two hundred twenty pounds, I'm no small fry of a man, but Little Jay is already six foot five, and he's only fifteen! He's not as solid as I am, but he's still a kid right now. Little Jay may grow to six-nine or six-ten before it's over with. When kids get that kind of height, they can
go pro right out of high school! Look at Kevin Garnett. He grew up in Chicago. And I don't hear anybody complaining about tennis players, young gymnasts, and ice skaters and shit going pro as teenagers, so why complain about these poor black high school boys going pro? Half of the damn kids that play tennis, gymnastics, and ice skate are already rich! I want to see my boy get the best out of life, too. And he can take his old man along with him. I had a hard way to go. Believe me! So my boy can score big now for both of us. Yeah, yeah!

J.D.

WALTER PERRY JR.

THINKING with the wrong head will never fail at getting an adventurous man into trouble. Now that I'm older and wiser, I honestly don't know what I was thinking when I got myself involved with a young mother and child! And even with her curvaceous, smoother than chocolate body, and the sex being as good as it was, how could I ever make the mistake of going unprotected and getting the woman pregnant again?!

I had no intention of ever marrying Denise. That's the simple and ugly truth of the matter. She just wasn't my type. That's not to say that Denise Stewart is a bad woman, or a bad mother, because she's not. In feet, she's been able to beat many of the odds associated with being a single mother. Nevertheless, I didn't find her to be sophisticated enough. Not to mention having to introduce her to my parents back home in Barrington. It made no sense to go through all of that. Marriage simply wouldn't have worked between us. We were two fish meant to swim in different streams.

With my monetary help and support, Denise has been able to do a commendable job as a single parent, and I have felt very proud of her accomplishments, as well as guilty about my role in her life's hardships. However, I do believe, at present, that it would be best for her to begin thinking ahead in regards to her children's growth and development and less on her need as a single mother to beat the odds.

Denise is a very strong-willed and determined woman, and she has been a hell of a mother, but statistics have shown that few women have been able to successfully raise young black boys in America alone. It's not a question of whether she can handle it, it's more a question of should she? The bottom line is this; I don't want to go into any long-winded, philosophical discussions about my decision, I just feel that it is time for Denise to pass the baton of parenting. I'm not trying to take her son, our son, away from her, I'm simply trying to do what I feel is right.

In fact, ever since attending the Million Man March with my son on October 16, 1995, in the nation's capital, I have thought long and hard about the responsibilities of fatherhood and to the African-American community. Denise is about to have two black male teenagers on her hands in another year, and I strongly believe that situations are about to become tougher than she could possibly be prepared for. I would like to step in and do my part now instead of later. Lord knows, I've already wasted enough valuable time being away from my son. It's time for me to step up with conviction and become the full-fledged father that I should have become twelve years ago.

Walter

DENNIS BROCKENBOROUGH

DENISE is a hell of a woman! In all of my years of chasing potential partners, I've never come across a woman like her. She's so damn confident and spunky! She could probably run for president and come in third, which would be damned good for a black woman in America! She's a hell of a catch, no doubt about it. I just didn't know if or how long I could expect to hold on to her.

I met Denise at the Black Women's Expo '96, inside of the huge McCormick Center along Lake Shore Drive. Me and a couple of the other drivers at Freeway Trucking Companies tossed on some sports jackets, slacks, and ties, and went down there just to see how fine those got-it-goin'-on sisters would be. I happened to stop and strike up a long conversation with Denise at her business booth—Present & Future Finance—about individual retirement accounts. She was a tall, deep brown sister with short-cut hair, and was full of zest for life, dressed in a charcoal gray suit. You could tell that she really cared about what she was doing, and she sure knew a lot about money, too. I thought the only thing women knew about money was how to spend it and how to hide it from their man. Denise sure taught me different! She knew how to make your money work for you.

I had a couple of lunch dates with her to discuss her business further, and the possibility of me becoming one of her clients. I really wanted to date her, but I would settle for doing business with her, especially if she could help me to invest my money, while giving me a little bit of her time. Then I offered to take her on a ride in my new tractor, a Volvo White. At first, she thought I was joking and laughed it off, but I was serious. I only offered a ride in my truck to sisters who I wanted to impress. You'd be surprised at how many women wanted to at least sit in my trucks over the years. My Volvo was only a year old at the time, and I didn't want to get into the habit of using it as a showpiece. Denise was only the third woman I allowed to sit in it, and the only woman who I asked along for a ride.

After a couple of weeks of reminding her about my offer, she finally found a weekend to take me up on it. The fellas on the job thought it was a long shot of me ever getting a chance to sleep with her. They thought she would turn her nose up, you know, like a white collar/blue collar thing. They had Denise painted all wrong. She wasn't even like that. I believed that she liked me from the start.

When we finally did indulge, in a nice hotel room near the Chicago Midway Airport, I let loose and did things I would never even think about telling the fellas. I made it my wild secret, and I planned on keeping it that way.

Denise asked me how often I took women to hotel rooms and got raunchy. She wanted an honest answer, too. She was born and raised on the West Side of Chicago, so I knew she wasn't one of those weak-minded sisters who couldn't take a man telling her the honest-to-God truth. That was another thing I liked about Denise, she had a strong stomach and was ready for the world.

I told her that I had done my share of women in my day, and that I had been married once to a whiner for two years, and had gotten a divorce before we had any kids. I told Denise that I had gotten an STD—chlamydia—only once, in my early years as a truck driver, and that I made sure to protect myself ever since. Then I told her that I had never, ever gotten as raunchy with any woman as I had been with her. I told her that if I never got the chance to sleep with her again, I wanted to give her a night she would never forget. She laughed real hard and said that she probably wouldn't.

The weird thing about my relationship with Denise was that she was reluctant to tell me much about her family situation. She had two sons from two different fathers, and no matter how hard I tried, she never went into detail about it, even after I met her two boys.

I figured I would do things with them that I would do with my own sons, if I had any. Truth is—I'm scared to find out—but I don't know if I'm shooting blanks or real bullets. I tried plenty of times to set a bun in the oven with my ex-wife, but she never got pregnant. Maybe that's why she whined so much. Maybe she thought it was her fault.

Anyway, Denise introduced me to her two boys as a friend. I just recently got a chance to play miniature golf and basketball with them, as well as take them on a ride in my truck. I think they both realized that their mother and I were a little more than just friends, but since I've always had what the fellas call "boyish charm," I think they liked me anyway. I liked them too.

The older boy, Jimmy, was quieter and more easygoing than the younger one. Walter had that spoiled child thing going on. He pouted a little too much for his own good. He was one of those kids who needed extra attention. Jimmy was the total opposite; he seemed like he didn't need any attention. And boy could he play some ball! He had fast hands, fast feet, and the agility of a cat. That was especially good considering how tall he was at such a young age. I considered myself a tall, six foot one, rugged man, but Jimmy had me beat by a few inches when I first met him at fourteen. He looked like he grew another inch or two since then. The boy was a subtle giant wit
h a baby face until he got on a basketball court. Then he turned into an athletic monster, slammin' and jammin' everywhere! Jimmy was a good kid, too, with no behavior or attitude problems from what I could see. The only blemish against him was that he had failed a grade. Denise told me that the Chicago school system had actually passed him to the fourth grade, but she wanted him to repeat the third grade at a more challenging school, because she felt he didn't know what a nine-year-old should.

Walter, on the other hand, had excellent grades, and was obviously bright and creative. I could tell just from the things that he said and noticed. Nevertheless, I think he was jealous of his big brother's athletic ability, and the fact that Jimmy had more friends than he did.

Denise told me that they had just recently moved into the Oak Park suburbs, and that Jimmy left a lot of friends behind in Chicago. He didn't seem too attached to his buddies in the Big Windy to me. I think Walter took it worse than Jimmy did. In fact, I was sure of it. Maybe Walter wanted to associate more with kids from the West Side in order to feel that he was connected to the toughness of the city. Walter needed a father figure badly. Both of them did. And if their fathers weren't serious about playing a more committed role in their lives, then I was seriously thinking about picking up their slack.

I liked both of Denise's sons, and I figured it would be a noble decision to be a father to two boys who could use one, as well as a good man to a hell of a sister. All Denise Stewart had to do was say that she would have me.

Brock

DENISE STEWART

FIRST of all, I don't blame the white man, the black man, my parents, the Chicago streets, or anyone else for the crazy decisions that I made in my youth. I was young, naive, and hasty, like many of these other girls out here today, running around believing that some little boy loves them. And I don't blame a lot of these little boys out here for wanting to get inside of a girl's pants either, because that's how God made them. But I do know that we all need to start teaching children how to be more responsible about sex, and to be prepared to deal with the consequences of their actions.