The Return
Nicholas Sparks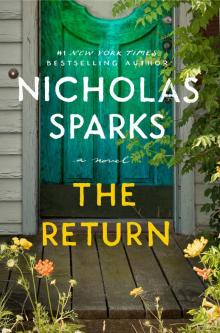 This book is a work of fiction. Names, characters, places, and incidents are the product of the author's imagination or are used fictitiously. Any resemblance to actual events, locales, or persons, living or dead, is coincidental.

Copyright © 2020 by Willow Holdings, Inc.

Cover design by Flag. Digital imaging by Tom Hallman. Cover photo © Trevillion. Cover copyright © 2020 by Hachette Book Group, Inc.

Hachette Book Group supports the right to free expression and the value of copyright. The purpose of copyright is to encourage writers and artists to produce the creative works that enrich our culture.

The scanning, uploading, and distribution of this book without permission is a theft of the author's intellectual property. If you would like permission to use material from the book (other than for review purposes), please contact [email protected] Thank you for your support of the author's rights.

Grand Central Publishing

Hachette Book Group

1290 Avenue of the Americas, New York, NY 10104

grandcentralpublishing.com

twitter.com/grandcentralpub

First Edition: September 2020

Grand Central Publishing is a division of Hachette Book Group, Inc. The Grand Central Publishing name and logo is a trademark of Hachette Book Group, Inc.

The publisher is not responsible for websites (or their content) that are not owned by the publisher.

The Hachette Speakers Bureau provides a wide range of authors for speaking events. To find out more, go to www.hachettespeakersbureau.com or call (866) 376-6591.

ISBNs: 978-1-5387-2857-4 (hardcover), 978-1-5387-2856-7 (ebook), 978-1-5387-1897-1 (large print), 978-1-5387-3715-6 (trade pbk. intl.), 978-1-5387-5425-2 (Walmart), 978-1-5387-1962-6 (signed), 978-1-5387-1963-3 (B&N signed)

E3-20200831-DA-ORI

Contents

Cover

Title Page

Copyright

Dedication

Acknowledgments

Prologue

Chapter 1

Chapter 2

Chapter 3

Chapter 4

Chapter 5

Chapter 6

Chapter 7

Chapter 8

Chapter 9

Chapter 10

Chapter 11

Chapter 12

Chapter 13

Chapter 14

Chapter 15

Chapter 16

Chapter 17

Chapter 18

Chapter 19

Chapter 20

Chapter 21

Epilogue

Discover More

Also by Nicholas Sparks

To the Van Wie family

Jeff, Torri, Anna, Audrey, and Ava

Acknowledgments

It's hard to believe that twenty-four years have passed since my first novel, The Notebook, was published…and even more remarkable to think that so many of my initial collaborators, advisors, and friends remain the same after all this time. It is impossible to adequately express how grateful I am to the multifaceted team that has supported my long career, but I'll give it a try once again:

First, to my literary agent Theresa Park, of Park & Fine Literary and Media: we were just kids when we started on this journey, and here we are in middle age, twenty-two books later. To say we share a brain, a heart, and the same wellspring of determination only begins to scratch the surface. Thank you for being my creative partner and unwavering supporter through all the stages of our adventurous lives.

The team at Park & Fine is the most sophisticated, proactive, and effective literary representation in the business. To Abigail Koons, Emily Sweet, Andrea Mai, Alex Greene, Ema Barnes, and Marie Michels: you are the savviest folks in publishing and a joy to work with. To the new members of Park & Fine, Celeste Fine, John Maas, Sarah Passick, Anna Petkovich, Jaidree Braddix, and Amanda Orozco—welcome! I'm thrilled to see the agency expand and avail myself of your wider expertise.

At Grand Central Publishing (formerly Warner Books, back when I first got into the biz), President Michael Pietsch has continued to champion my publishing career and has shown me only unflagging support. Working with publisher Ben Sevier and Editor-in-Chief Karen Kosztolnyik has been a true pleasure—they are steadfast, insightful, and above all, kind. Brian McLendon continues to be a creative marketing force for my books, and Matthew Ballast and Staci Burt manage to orchestrate my publicity campaigns with first-rate care and skill. Flag and Art Director Albert Tang, thank you for coming up with such signature looks for my covers, each more striking than the last. Amanda Pritzker, you are a wonder at keeping all the pieces of my campaigns in sync and working hand in hand with my team at PFLM.

Catherine Olim at PMK-BNC remains my hyper-responsive and super-experienced outside publicist, whom I have leaned on so heavily over the years—Catherine, how could I have survived the shark-infested world of publicity without you? Mollie Smith and LaQuishe Wright are always, always ahead of the curve when it comes to social media outreach; you know me better than I know myself, and have never stumbled in your efforts to bring out the best in me.

My Hollywood representation is justifiably the envy of every creator: Howie Sanders at Anonymous Content, ardent advocate and loyal friend beyond reproach; Keya Khayatian, savvy dealmaker and longtime supporter; and of course, Scott Schwimer, the most dogged, conscientious, and tireless lawyer anyone in Hollywood could ask for. Scottie, they broke the mold after you were born!

However, home is truly where my heart is, and I'd be remiss not to mention the people who safeguard and warm the place from which I draw greatest comfort: my children Miles, Ryan, Landon, Lexie, and Savannah, who all add joy to my life; Jeannie Armentrout and Tia Scott, who help keep my daily life running smoothly; Pam Pope & Oscara Stevick, my wonderful accountants; Victoria Vodar, Michael Smith, Christie Bonacci, Britt & Missy Blackerby, Pat & Bill Mills, Todd & Gretchen Lanman, Lee & Sandy Minshull, Kim & Eric Belcher, Peter & Tonye-Marie, David & Morgan Shara, Dr. Dwight Carlblom, and David Wang, all of them fantastic friends. And of course, I'd like to thank my extended family as well: Mike & Parnell, Matt & Christie, Dan & Kira, Amanda & Nick, Chuck & Dianne, Todd, Elizabeth, Monty & Gail, Sean, Adam, Sandy, Nathan, Josh, and finally, Cody and Cole—who always keep the doors and phone lines open.

Explore book giveaways, sneak peeks, deals, and more.

Tap here to learn more.

Prologue

2019

The church resembles an alpine chapel, the kind you might find in the mountains outside Salzburg, and inside the cool air is welcoming. Because it's August in the South, the temperature is sweltering, made worse by the suit and tie I'm wearing. In my daily life, I generally don't wear suits. They're uncomfortable and as a physician, I've learned that my patients respond better to me when I'm dressed more casually, as they tend to be.

I'm here to attend a wedding. I've known the bride for more than five years now, though I'm not sure that she would consider us friends. Though we'd spoken regularly for more than a year after she left New Bern, our relationship since then has been limited to a couple of texts every now and then, sometimes instigated by her, sometimes by me. We do, however, have an undeniable bond, one that has its roots in events that occurred years ago. Sometimes it's hard for me to remember the man I was when our paths first crossed, but isn't that normal? Life endlessly offers us chances to set new directions and in the process we grow and change; when we look in the rearview mirror, we catch a glimpse of former selves who sometimes seem unrecognizable.

Some things haven't changed—my name, for instance—but I'm thirty-seven now and in the early stages of a new career, one I'd never considered in the first three decades of my life. While I'
d once loved the piano, I no longer play the instrument; where I'd grown up with a loving family, it's been a long time since I've seen any of them. There are reasons for that, but I'll get to those parts later.

Today, I'm simply glad to be here, and to have made it on time. My flight from Baltimore had been delayed and the line to pick up my rental car was long. Though I'm not the last to arrive, the church is more than half full and I find a seat in the third row from the back, doing my best to slip in unobserved. The pews in front of me are filled with women wearing the kind of hats you expect to find at the Kentucky Derby, extravagant confections of bows and flowers that goats might enjoy eating. The sight makes me smile, a reminder that in the South, there are always moments when it's possible to slip into a world that seems to exist nowhere else.

As I continue to take in my surroundings, the sight of flowers also makes me think about bees. Bees have been part of my life for most of my living memory. They are remarkable and wonderful creatures, endlessly interesting to me. These days, I tend to more than a dozen beehives—it's much less work than you might imagine—and I've come to believe that the bees take care of me in the same way they take care of everyone. Without them, human life would nearly be impossible, since we rely on bees for a large part of our entire food supply.

There's something impossibly wonderful about that concept, that life as we know it can come down to something as simple as a bee making its way from one plant to another. It makes me believe my part-time hobby is important in the grand scheme of things, and yet, I further understand that tending beehives also led me here, to this small-town church, far from the landmarks of home. Of course, my story—like any good story—is also the story of events and circumstances and other people as well, including a pair of old-timers who liked to sit in rocking chairs in front of an old mercantile store in North Carolina. Most important, it's the story of two different women, though one was really just a girl at the time.

I'm the first to notice that when others tell their stories, they tend to frame them in ways that make them the star. I'll probably fall into the same trap, but I'd like to offer the caveat that most of the events still strike me as accidental—throughout my telling, please remember that I regard myself as no kind of hero.

As for the ending of this story, I suppose this wedding is a coda of sorts. Five years ago, I would have been hard-pressed to say whether the conclusion of these intertwining tales was a happy, tragic, or bittersweet one. And now? Frankly, I'm even less certain, as I've come here wondering whether the story might in some winding fashion pick up exactly where it left off.

To understand what I mean, you'll have to travel back in time with me, to revisit a world that despite all that has happened in the intervening years, still feels close enough to touch.

Chapter 1

2014

I first noticed the girl walking past my house the day after I'd moved in. Over the next month and a half, I saw her shuffle by a few times a week, head down and shoulders hunched. For a long time, neither of us said a word to each other.

I suspected she was in her teens—something about the way she carried herself suggested she was struggling beneath the twin burdens of low self-esteem and irritation at the world—but at thirty-two I'd reached the age where it was almost impossible for me to tell. Aside from noting her long brown hair and wide-set eyes, the only thing I knew for sure about her was that she lived in the trailer park up the road and that she liked to walk. Or more likely, she had to walk, because she didn't own a car.

The April skies were clear, the temperature hovering in the low seventies, with just enough breeze to carry the perfumed aroma of flowers. The dogwoods and azaleas in the yard had roared into bloom almost overnight, framing the gravel road that wound past my grandfather's house just outside New Bern, North Carolina, a place I'd recently inherited.

And I, Trevor Benson, convalescing physician and disabled veteran by profession, was shaking mothballs from a box along the base of the front porch, lamenting that it wasn't how I'd planned to spend my morning. The problem with doing chores around the house was never knowing quite when you might be finished, since there was always something else that needed to be done…or whether fixing up the old place was even worthwhile at all.

The house—and I used the term loosely—wasn't much by way of appearance and the years had taken their toll. My grandfather built it himself after returning from World War II, and though he could build things to last, he didn't have a lot of talent when it came to design. The house was a rectangle with porches on the front and back—two bedrooms, kitchen, family room, and two bathrooms; the cedar siding had faded to a grayish silver over the years, mimicking my grandfather's hair. The roof had been patched, air seeped through the windows, and the kitchen floor slanted to the point that if liquid spilled, it became a tiny river that flowed to the door that led to the back porch. I like to think it made cleaning up easier for my grandfather, who'd lived by himself the last thirty years of his life.

The property, however, was special. It was a shade over six acres, with an aging, slightly tilting barn and a honey shed—where my grandfather harvested his honey—and dotted with seemingly every flowering plant known to mankind, including clover patches and wildflowers. From now until the end of summer, the property would resemble a ground-level fireworks display. It was also situated on Brices Creek, where dark, brackish water flowed so slowly that it often reflected the sky like a mirror. Sunsets turned the creek into a cacophony of burgundy and red and orange and yellow, while the slowly fading rays pierced the curtain of Spanish moss draped over the tree branches.

The honey bees loved the place, which had been my grandfather's intent, since I'm pretty sure he loved bees more than people. There were about twenty beehives on the property; he'd been a part-time apiarist all his life, and it often struck me that the hives were in better condition than either the house or the barn. I'd checked on the hives a few times from a distance since my arrival here, and though it was still early in the season, I could tell the colonies were healthy.

The bee population was growing rapidly, as it always did in spring—I could actually hear them buzzing if I listened—and I'd left them to their own devices. Instead, I'd spent most of my time rendering the house livable again. I cleaned out the cupboards, setting aside a few jars of honey to keep, and tossing the remainder—a box of stale crackers, nearly empty jars of peanut butter and jelly, and a bag of dried-out apples. The drawers were crammed with junk—out-of-date coupons, half-used candles, magnets, and pens that didn't work, all of which went into the garbage. The refrigerator was mostly empty and oddly clean, without any of the moldy items or disgusting smells I'd expected. I purged a ton of junk from the house—most of the furniture was half a century old, and my grandfather had a minor hoarding issue—and then hired various crews to do the more difficult work. I had had a contractor do a cosmetic remodel on one of the bathrooms; a plumber fixed the leak in the kitchen faucet; I had the floors sanded and stained, the interior painted; and last but not least, I had the back door replaced. It was cracked near the jamb and had been boarded over. Then, after bringing in a crew to clean the place from top to bottom, I got my laptop set up with Wi-Fi and picked up some furniture for the living room and bedroom, as well as a new television for the family room. The original television had rabbit ears antennae and was the size of a treasure chest. Goodwill declined the donation of my grandfather's used furniture, despite my argument that it could all be regarded as antiques, so it ended up at the dump.

The porches were in relatively good shape, though, and I spent most of my mornings and evenings there. Which is how and why I'd started with the mothballs. Spring in the South isn't only about flowers and honey bees and pretty sunsets, especially when you live adjacent to a creek in what seemed like the wilderness. Because it had been warmer than usual recently, snakes had begun to wake from their winter slumber. I'd sp
otted a big one on the back porch when I'd wandered outside that morning with my coffee. After having the bejesus scared out of me and spilling half the coffee down the front of my shirt, I quickly ducked back inside the house.

I had no idea whether the snake was poisonous or what kind it was. I'm not a snake expert. But unlike some people—my grandfather, for instance—I didn't want to kill it, either. I just wanted it to stay away from my house and live over there. I knew that snakes did useful things—like killing mice, which I'd heard scurrying in the walls at night. The sound creeped me out; despite spending every summer here when I was a kid, I'm not used to country living. I'd always considered myself more of a condo-in-the-city guy, which is what I had been, right up until the explosion that blew up not only my entire world, but me as well. Which was why I was convalescing in the first place, but more on that later.

For now, though, let's get back to the snake. After changing shirts, I vaguely remembered that my grandfather used mothballs to keep snakes away. He was convinced that mothballs had magic powers to repel all kinds of things—bats, mice, bugs, and snakes—and he would buy the stuff by the case. I'd spotted plenty of them in the barn, and figuring my grandfather must have known something, I seized a box and began to scatter them liberally around the house, first in the back and along the sides, then finally in the front.

That was when I again spied the girl trudging down the road that led past the house. She was dressed in jeans and a T-shirt, and when I lifted my gaze, she must have felt my eyes on her because she glanced in my direction. She didn't smile or wave; instead, she ducked her head as if hoping to avoid acknowledging my presence.

I shrugged and went back to work, if dropping mothballs could actually be considered work. For whatever reason, though, I found myself thinking about the trailer park where she lived. It was at the end of the road, about a mile away. Out of curiosity, I'd walked down there shortly after I'd arrived. It had sprung up since the last time I'd visited, and I suppose I wanted to know who the new neighbors were. My first thought upon seeing it was that it made my grandfather's place look like the Taj Mahal. Six or seven ancient and decrepit trailers appeared to have been dropped haphazardly on a dirt lot; in the far corner were the remains of another trailer that had caught fire, leaving only a black, partially melted husk that had never been cleared away. In between the trailers, clotheslines drooped between slanting poles. Scrawny chickens pecked an obstacle course of cars on blocks and rusting appliances, avoiding only a feral pit bull chained to an old discarded bumper. The dog had teeth the size of bacon and barked so ferociously at my presence that spittle flew from its foaming mouth. Not a nice doggy, I remembered thinking. Part of me wondered why anyone would choose to live in a place like this, but then again, I already knew the answer. On my walk back home, I felt pity for the tenants and then chastised myself for being a snob because I knew I'd been luckier than most, at least when it came to money.