Murder Mysteries
Neil Gaiman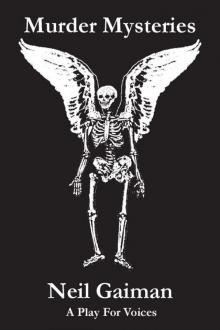 Murder Mysteries

by Neil Gaiman

Smashwords Edition

Biting Dog Publications

Duluth, Georgia

2011

— | — | —

Murder Mysteries copyright by Neil Gaiman

Artwork copyright by George Walker

This digital edition copyright 2011 by Biting Dog Press

For performance rights requests please contact

Merrilee Heifetz of Writers House at [email protected]

Published in the United States by

Biting Dog Publications

2150 Northmont Pkwy, Suite H

Duluth, GA 30096

www.bitingdogpress.com

Thank you for purchasing a Biting Dog Press eBook. The eBook you are reading has been revised from our limited edition printed book. Not all of the formatting, typography and design can be migrated to an eBook format. Although we have made every attempt to bring you the best possible eBook experience, there is always room for improvement. If you are not completely satisfied with your eBook please contact us through our website at www.bitingdogpress.com so that we may address any issues or concerns you may have.

All rights reserved. No part of this publication may be reproduced in any form or by any means mechanical, electronic, or otherwise, without first obtaining the written permission of the publisher, except by a reviewer who wishes to quote brief passages in connection with a review written for a newspaper, magazine, website, etc.

This eBook is licensed for your personal enjoyment only. This eBook may not be re-sold or given away to other people. If you would like to share this book with another person, please purchase an additional copy for each person you share it with. If you're reading this book and did not purchase it, or it was not purchased for your use only, then please return to Smashwords.com and purchase your own copy. Thank you for respecting the hard work of this author.

FOREWORD

Years ago, when I was 7 and 8 and 9, my family piled into the station wagon for weekend-long road trips, and as we rolled down one interstate after another, we listened to cassettes of old-time radio shows, like The Shadow, Suspense, Fibber McGee and Molly, and Abbot and Costello. I knew then, riding in the dark, huddled in the backseat, alone, connected, adrift in the worlds' of children's imaginations from 30 and 40 years before, that this was what I wanted to do with my life. Being a child of the 1970's, I'd grown up on television, video games, and Star Wars, but nothing had so captured my imagination as these old shows, crackling through the void, through time. I wanted to write, direct, produce and star in old-time radio shows.

"But son" my father dutifully explained, "they don't do radio drama anymore, they haven't done it since before I was a kid."

One of the thrills of my life has been to prove him wrong. In 1996, I was fortunate enough to land at SCIFI.COM, where I founded Seeing Ear Theatre (www.scifi.com/set)

My goal has been to provide a home for new-time expressions of audio drama. To use new plays, new stories to turn on a whole new audience to this art form.

But why audio drama? Why not just do stage plays, or TV programs, or better yet, films…? The power of the audio drama is unique among electronic forms of story-telling. It's power is felt on a deeply personal level – the act of listening is more similar to the act of reading than it is to watching. When you curl up with a good book, you give birth to the world and the characters that inhabit that world. They belong to you. When you read, you are engaged in a creative process, but when you go to see a film, or watch TV, you sit passively, digesting some else's vision, someone else's world… Imagine for a moment teaching this classroom exercise: Ask the students to listen to a bit of The Shadow, and then ask them to do a drawing of the lead character. You will get 25 different pictures, all of them right, all of them individual creations. Now play a clip from one of their favorite TV shows, The Simpsons for example, and ask them to draw a picture of Bart Simpson, and you will get 20 different representations of what's already there on the screen, some of them better than others, better copies of what they see. One exercise is a creative act, the other is not. The imagination is like a muscle; if we fail to inspire it to exercise, it will atrophy, become limp, and useless.

In 1998 I picked up a copy of Neil Gaiman's short story collection Smoke And Mirrors, and was instantly drawn to "Murder Mysteries." As I read I could hear the play unfolding in its myriad layers. I could imagine the rich sonic possibilities of creating the sounds of the City of Angels. What does the Hall of Being feel like, and what of the squadron of Lucifer's angels practicing their war games – what do they sound like? But even more than the sound possibilities, I was drawn, hooked by Neil's use of two narrators to tell the story. From the beginning of the medium, radio drama has relied (sometimes too frequently) on the role of the narrator, the truthsayer guiding us through the story, holding our hands. But not here, not in Murder Mysteries. Neil plays with our sense of trust, our sense of complacency… He yanks us back and forth between two tellers, never letting us get too comfortable with either one.

We recorded the voices Murder Mysteries in one long day in the summer of 1998, then I went home and crashed, wondering if we'd got it all, hoping that we'd done justice to the play… Brian Dennehy, who plays Raguel, the Angel of Vengeance, was deep into his Tony-Award winning turn as Willie Loman in Death of a Salesman. I can only imagine how exhausted he was after that particular evening's performance. I then spent two weeks at John Colucci, my sound designer's house, living, eating, drinking, sleeping, and dreaming this wicked, delirious tale.

As you read through the script for the first time, ask yourself how you'd make the worlds sound, what type of music you'd use, what type of actors you'd cast, and then log on to our website and give a listen to our production. I'll bet it's nothing like the one in your head – but then, that's the power of the imagination, isn't it?

Brian Smith

January, 2001

Character List

Narrator ~ tells story

Carasel ~ angel who is murdered

Tinkerbell Richmond (Tink) ~ Narrators girlfriend

Friend ~ Tink's friend Dorothy

Raquel (Then & Now) ~ angel of vengeance

Phanuel – senior designer

Angel #1 ~ works under Phanuel

Angel #2 ~ works under Phanuel

Lucifer ~ captain of the host

Saraquael ~ Carasel's partner

Zephkiel ~ angel without wings

Passenger ~ on plane with Narrator

Flight Attendant ~ on plane with Narrator

SILENCE. JUST THE WIND, AND A TINKLING, CRYSTALLINE MUSIC, LIKE WIND-CHIMES. WE'RE VERY HIGH UP...

CARASEL

This is madness. You don't understand... please, just...

(whispering)

No. For the love of God, no.

(loudly)

No!

(cut off as he is stabbed)

THERE'S A LOUD THUD, AND THEN THE SOUND OF BEATING WINGS, AND A SCREAMING AS THE ANGEL FALLS, DYING, FALLING, WAILING. THEN A DULL SPLAT AS IT HITS THE SIDEWALK, AND THEN JUST SILENCE: ONLY THE WIND.

INTO THE SILENCE, THE OPENING CREDITS ARE READ. AT THE END OF THE CREDITS...

NARRATOR

This is all true.

(beat)

Ten years ago, give or take a year, I found myself on an enforced stopover in Los Angeles, a long way from home. It was December, and the California weather was warm and pleasant. England, however, was in the grip of fogs and snow storms, and no planes were landing there. Each day I'd phone the airport, and each day I'd be told to wait another day. This had gone on for almost a week.

(pause.
remembering, explaining)

I was barely out of my teens. Looking around today at the parts of my life left over from those days, I feel uncomfortable, as if I've received a gift, unasked, from another person: a house, a wife, children, a vocation. Nothing to do with me, I could say, innocently. If it's true that every seven years each cell in your body dies and is replaced, then I have truly inherited my life from a dead man; and the misdeeds of those times have been forgiven, and are buried with his bones.

(beat: he just said more than he meant to)

I was in Los Angeles. Yes.

On the sixth day I received a message from an old sort-of-girlfriend from Seattle: she was in LA too, and she had heard I was around on the friends-of-friends network. Would I come over?

/SFX/ A PHONE RINGING, THEN AN ANSWERING MACHINE CUTS IN:

TINK

(on machine)

Hi. This is Tink. You know what to do and you know just how to do it.

/SFX/ THE BEEP.

NARRATOR -- LIVE

Hi. Tink? It's me. I'd love to see you. Yes.

NARRATOR

I left a message on her machine. Sure.

That evening: a small, blonde woman approached me, as I came out of the place I was staying. It was already dark. She stared at me, as if she were trying to match me to a description, and then, hesitantly, she said,

FRIEND

Are you Tink's friend? The guy she met in England?

NARRATOR -- LIVE

That'd be me, yes.

FRIEND

I'm her room-mate. Car's out back. C'mon: she's really looking forward to seeing you.

/SFX/CROSS-FADE SOUNDS OF LA WITH...

/SFX/ INTERIOR. MOVING CAR (OLD OLDSMOBILE UNDER)

NARRATOR

Her car was one of the huge old boat-like jobs you only ever seem to see in California. It smelled of cracked and flaking leather upholstery. We drove out from wherever we were to wherever we were going.

FRIEND

So how did you meet Tink?

NARRATOR -- LIVE

Bit of a cliche. We met in a pub, actually.

FRIEND

Yeah. I knew that already. She told me. I said, you're crazy, you don't know anything about him, she said, Dorothy, he's English. I said, no offence hon, Jack the Ripper was English.

NARRATOR -- LIVE

(amused) Thanks. How far away is her house? I'm afraid I'm lost already.

FRIEND

It's a big city.

NARRATOR -- LIVE

Well, yes, but so's London, or Paris, or New York, and I never seem to get lost in them. I suppose it's because you can walk around them, or catch a subway. But LA doesn't seem to work without a car.

FRIEND

They're building a subway. I don't know who's going to take it.

SHE STARTS TO SING A SONG WE CAN GET PERMISSION FOR THAT MIGHT BE APPROPRIATE -- PROBABLY "HARK THE HERALD ANGELS SING..." AS IT'S NEARLY CHRISTMAS...

/SFX/THE CAR FADES INTO THE BACKGROUND, UNDER...

NARRATOR

Los Angeles was at that time a complete mystery to me; and I cannot say I understand it much better now. Memories of LA for me are linked by rides in other people's cars, with no sense there of the shape of the city, of the relationships between the people and the place. The regularity of the roads, the repetition of structure and form, mean that when I try to remember it as an entity all I have is the boundless profusion of tiny lights I saw one night on my first trip to the city, from the hill of Griffith Park. It was one of the most beautiful things I had ever seen, from that distance...

FRIEND

(finishes singing)

"... you got your good things and I got mine..." Hey. Hey, Jack the Ripper. See that building?

NARRATOR -- LIVE

That red one?

FRIEND

(with respect and pride)

Art deco. Built in the 1930s. Hard to believe it's still here today, huh?

NARRATOR -- LIVE

(drily) 1930s? Gosh.

FRIEND

Wish I'd been around back then.

NARRATOR -- LIVE

You've never been to England, have you?

FRIEND

No. Why?

NARRATOR -- LIVE

No reason.

NARRATOR

I said something polite, trying to comprehend a city inside which fifty years could be considered a long time.

FRIEND

That one there, that's one of my favorites. It's the original Brown Derby building.

NARRATOR -- LIVE

It's shaped like a hat. How far to Tink's place from here?

FRIEND

No more than 15 minutes. Tink's real excited. When she heard you were in town. She was so excited.

NARRATOR -- LIVE

I'm looking forward to seeing her again too.

NARRATOR

Tink's real name was Tinkerbell Richmond. No lie. She was staying with friends in small apartment clump, somewhere about half an hours' drive from downtown LA. She was ten years older than me, in her early thirties; she had glossy black hair and red, puzzled lips, and very white skin, like Snow White in the fairy stories; the first time I met her I thought she was the most beautiful woman in the world. Tink had been married for a while at some point in her life, and had a five-year old daughter called Susan. I had never met Susan - when Tink had been in England, Susan had been staying on in Seattle, with her father.

(beat)

People named Tinkerbell name their daughters Susan.

/SFX/ SOUNDS OF THE CAR FADE OUT SLOWLY, UNDER...

/MUS/ SCATTERED MEMORIES, DARK RECURRING THEME, UNDER...

NARRATOR (CONT'D)

Memory is the great deceiver. Perhaps there are some individuals whose memories act like tape recordings, daily records of their lives complete in every detail, but I am not one of them. My memory is a patchwork of occurences, of discontinuous events roughly sewn together: the parts I remember, I remember precisely, whilst other sections seem to have vanished completely.

(BEAT)

I do not remember arriving at Tink's house, nor where her flatmate went.

/SFX/ INT. OF TINK'S HOUSE; RADIO IN BACKGROUND, UNDER...

NARRATOR (CONT'D)

What I remember next is sitting in Tink's lounge, with the lights low; the two of us next to each other, on the sofa.

TINK

You look wonderful.

NARRATOR -- LIVE

Well, so do you. You look amazing.

TINK

Jesus. How long has it been? Oh, never mind that, let me look at you... (they ad lib, under...)

NARRATOR

We made small talk. It had been perhaps a year since we had seen one another. But a twenty-two year-old boy has little to say to a thirty-two year-old woman, and soon, having nothing in common, I pulled her to me.

/SFX/ TINK AND THE NARRATOR ARE MAKING OUT ON THE SOFA...AD LIB...UNDER...

NARRATOR (CONT'D)

She snuggled close with a kind of sigh, and presented her lips to be kissed. In the half-light her lips were black. We kissed for a little, and I stroked her breasts through her blouse, on the couch.

TINK

Honey, we can't have sex. I've got my period.

NARRATOR -- LIVE

Fine.

TINK

I can give you a blowjob, if you'd like.

NARRATOR

I nodded assent, and she unzipped my jeans, and lowered her head to my lap.

After I had come, she got up and ran into the kitchen. I heard her spitting into the sink, and the sound of running water: I remember wondering why she did it, if she hated the taste that much. Then she returned and we sat next to each other on the couch.

TINK

Susan's upstairs, asleep. She's all I live for. Would you like to see her?

NARRATOR -- LIVE

I don't mind.

/SFX/ -- UP THE STAIRS. IN
TO A ROOM.

NARRATOR

We went upstairs. Tink led me into a darkened bedroom. There were child-scrawl pictures all over the walls -- wax-crayoned drawings of winged fairies and little palaces -- and a small, fair-haired girl was asleep in the bed.