Snow, Glass, Apples
Neil Gaiman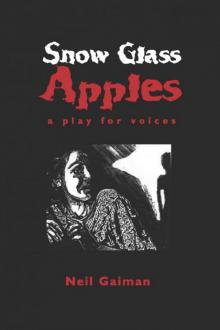 Snow Glass Apples

by Neil Gaiman

Smashwords Edition

Biting Dog Publications

Duluth, Georgia

2011

— | — | —

Snow Glass Apples copyright by Neil Gaiman

Artwork copyright by George Walker

This digital edition copyright 2011 by Biting Dog Press

For performance rights requests please contact

Merrilee Heifetz of Writers House at [email protected]

Published in the United States by

Biting Dog Publications

2150 Northmont Pkwy, Suite H

Duluth, GA 30096

www.bitingdogpress.com

Thank you for purchasing a Biting Dog Press eBook. The eBook you are reading has been revised from our limited edition printed book. Not all of the formatting, typography and design can be migrated to an eBook format. Although we have made every attempt to bring you the best possible eBook experience, there is always room for improvement. If you are not completely satisfied with your eBook please contact us through our website at www.bitingdogpress.com so that we may address any issues or concerns you may have.

All rights reserved. No part of this publication may be reproduced in any form or by any means mechanical, electronic, or otherwise, without first obtaining the written permission of the publisher, except by a reviewer who wishes to quote brief passages in connection with a review written for a newspaper, magazine, website, etc.

This eBook is licensed for your personal enjoyment only. This eBook may not be re-sold or given away to other people. If you would like to share this book with another person, please purchase an additional copy for each person you share it with. If you're reading this book and did not purchase it, or it was not purchased for your use only, then please return to Smashwords.com and purchase your own copy. Thank you for respecting the hard work of this author.

Foreword

There are hundreds if not thousands of versions of "Snow White" tales, collected in Europe, Asia, Africa, and North and South America, but the one we remember most and cherish most is the Disney film version Snow White and the Seven Dwarfs. Perhaps cherish is the wrong word, but the virginal, graceful and modest Snow White, who has a figure like a Barbie Doll, who chirps when she speaks, and who is as meek as a deer, has warmed the hearts of children and adults throughout the world ever since the film appeared in 1937.

But what if Snow White were really a monster?

This is the question Neil Gaiman asks in his chilling play, Snow Glass Apples. He is not the only one to ask disturbing questions about the true story behind the Disney version we all know. Such gifted contemporary writers as Robert Coover, Tanith Lee, and Emma Donoghue among others have also written unsettling versions of "Snow White" that have explored the raw sexuality of a tale concerned with the flowering of a young girl and the crazed jealousy of her (step)mother. In fact, step must be placed in parenthesis because not all the tales are about a stepmother's jealousy, as the Brothers Grimm and Disney would have us believe. There are just as many mothers who want to kill their own daughters as there are stepmothers who have murder on their minds, and storytellers and writers from antiquity to the present have spun those Snow White tales to try to understand what makes murderous mothers tick. Sandra Gilbert and Susan Gilbert in their famous feminist study, The Madwoman in the Attic, suggest that the classical Grimm tale is all about the angel-woman and monster-woman, who are locked in a struggle for the favor of the absent father, represented by the mirror that frames their lives. Their conflict is essentially a vicious cycle in which no woman can be the winner in the patriarchal order of things, for Snow White will also get old one day, and her beauty and position will be challenged by her daughter or another young woman. Her triumph at the end, as the cynical poet Anne Sexton suggests in her superb book, Transformations, is a sentence of doom. She will hold court, roll her china-blue doll eyes, and glance at herself in the mirror until she, too, turns mad.

Gaiman's play shifts the center of this vicious conflict in a brilliant and inventive way. Told from the perspective of a gullible and good-hearted stepmother, Gaiman's version of "Snow White" focuses on the bad seed, the indelible evil nature of a young girl, who consumes everything and everyone near her—her father, the inhabitants of the woods, her stepmother. Nobody is safe from her bloodthirsty actions. So it would seem. There is a marvelous ambivalent quality to Gaiman's narrative. We must ask whether the stepmother, about to be cooked, is telling the truth. Has she concocted this story to cast blame on Snow White and to exonerate herself from the acts that she may have committed as a witch? We never hear Snow White's version or anyone else's story about the events that led to the stepmother's punishment. Could the stepmother have poisoned her husband to gain power? Has she been imagining things? After all there are cases each year in America of delusional mothers (and fathers) who murder their own children and twist tales to make themselves appear innocent. Then again, perhaps the stepmother is not hysterical. Perhaps she is not lying, and her story is especially frightening for us because it reveals something about the ruthless power of children today and the violence with which we all must contend.

Gaiman's play, based on a short story that he published in 1994, is in truth about the contemporary world despite the timeless fairy-tale setting. We are living at a time—and it may not have been much different several centuries ago— when it is not uncommon for children to murder their parents or step parents, and when child abuse keeps rising. Moreover, we are witnessing, especially in America, children using guns on other children and teachers in schools or on the streets. There are also incidents of youngsters haphazardly hacking unsuspecting people to death for their credit cards, possessions, or some small amount of money. Very little remorse is shown. In fact, feelings or compassion for the victims appear to be absent.

Perhaps I am reading too much into Gaiman's play, but I cannot help but asking why he has rewritten the traditional "Snow White" tale to depict a young girl as a monstrosity, as an unremorseful vampire. Is he asking whether the young today have become parasitical and destructive, and if so, who is to blame?

Yes, who is to blame for the situation in his play? Who is to blame for the many violent acts that young people are committing in American society? Why all the mutilation and self-mutilation? Are we giving birth to monsters? Why do the father and the stepmother appear to be so helpless? Gaiman does not provide any easy answers. His Snow White appears to be cruel and sadistic, but we are not certain whether she was born this way, or whether her early traumatic experience of her mother's death has driven her to suck the blood from the world that produced and "abandoned" her. The father has absolutely no control over his daughter. Only the stepmother, through her use of black magic, can contain her for a while. In the end, however, the girl triumphs over her. But is it a triumph? Is a world that will be ruled by a cold-blooded killer a happy kingdom? Will Gaiman's killer Snow White reproduce a daughter even more fierce and ruthless than her mother?

This exquisite reproduction of Gaiman's play by Biting Dog Press is particularly artful and appropriate in the manner in which it brings out the key disturbing questions of the story through unusual design, typography, and images. George Walker's wood engravings are haunting and capture the mood of the play. The indelible traces of torment and a world gone awry can be scanned in his illustrations and throughout the entire conception of this unusual book. After reading Gaiman's Snow Glass Apples, nobody will ever be able to view Disney's Snow White and the Seven Dwarfs and recall it with a happy heart. There is another story to be told about Snow White, and Gaiman has told it well.

Professor Jack Zipes


Department of German

205 Folwell Hall

9 Pleasant Street S. E.

Minneapolis, MN 55455

QUEEN

SOLDIER

KING

PEASANT

SOLDIER

PRINCESS

ARCHBISHOP

WINEBEARER

COURTIERS

HUNTSMAN

LORD OF THE FAIR

FRIAR

JENNA THE QUEEN'S MAIDSERVANT

PRINCE

SFX: THE WAIL OF COLD WIND. THE FEET OF SOLDIERS COME DOWN A STONE STAIRWAY. AN IRON DOOR IS UNLOCKED AND OPENED WITH A CLANG.

SFX: INSIDE A CELL, FEET CRUNCHING ON STRAW, THE QUEEN BACKING AWAY …

QUEEN

Don't touch—don't you try to touch me—

SOLDIER

Get her legs. You two, get her arms. And up!

EXT: THE WINTER FEAST.

A low hubbub, the wail of the wind.

PEASANT

Here they come!

ASSORTED PEASANTS

– Look at her! She's coming!

– Nothing to be scared of!

–Naked as a jaybird!

–Evil as a demon!

–Witch!

–Monster!

–Murderess!

SOLDIER

That's where she's going! You! Open that door!

SFX: THE KILN DOOR IS OPENED, AND THEN SLAMMED WITH A DULL BOOM.

INT: FURNACE

The furnace—a big oven or kiln: there is a slight echo in here. We can barely hear outside the sound of the people at the winter feast. This is the place from which the queen is talking to us any flashbacks are in the ambient sound of the places we are, while the queen's narration is explicitly from the furnace. She is talking to us in the language of fairy tales—a precise, accurate, ever -so -slightly archaic language. She is telling us her last story. A confessional. She is talking quietly.

QUEEN—INTIMATE

I do not know what manner of thing she is. None of us do. She killed her mother in the birthing, but that's never enough to account for it.

(beat)

They call me wise, but I am far from wise, for all that I foresaw fragments of it, frozen moments caught in pools of water or in the cold glass of my mirror. If I were wise I would not have tried to change what I saw. If I were wise I would have killed myself before ever I encountered her, before ever I caught him.

(beat)

Wise, and a witch, or so they said, and I'd seen his face in my dreams and in reflections for all my life: eighteen years of dreaming of him before he reined his horse by the bridge that day, and asked my name.

SFX: A HORSE IS AMBLING. BIRDS SING. A RIVER RUNS.

KING

And do you know who I am?

QUEEN

Yes, your majesty.

KING

So you recognised me, eh? Do you live far from here?

QUEEN

No. Not far, your majesty. Just past those trees.

KING

Have you food there?

QUEEN

Yes. Just plain food.

KING

Plain food is good food, girl. Any wine?

QUEEN

A little.

QUEEN—INTIMATE

He helped me onto his high horse and we rode together to my little cottage, my face buried in the gold of his hair. He asked for the best of what I had; a king's right, it was. And he did not leave my cottage that night.

(beat)

His beard was red-bronze in the morning light, and I knew him, not as a king, for I knew nothing of kings then, but as my love. He took all he wanted from me, the right of kings, but he returned to me on the following day, and on the night after that: his beard so red, his hair so gold, his eyes the blue of a summer sky, his skin tanned the gentle brown of ripe wheat.

KING

These days have passed like hours, my sweet.

QUEEN

Yes.

KING

I am afraid it is time for me to return to the palace.

QUEEN

Oh?

KING

Darling … will you come with me?

QUEEN

As your slut?

KING

As my queen.

SFX: EXT. WE HEAR A HORSE'S HOOVES AS THEY APPROACH THE PALACE … BIRDSONG…

QUEEN

I'm scared.

KING

Of the castle? You have nothing to worry about there. They'll all love you. Or they'll have me to answer to.

QUEEN

No…

(pause)

Odd. I thought I saw a face in that tower window.

KING

That would be my daughter.

QUEEN

The face was so white. I thought she was a ghost.

KING

You'd not be the first.

SFX: INT. THE CASTLE, ECHOES AND FOOTSTEPS GOING UP STONE STAIRS

.

QUEEN

That painting at the top of the stairs. It's beautiful. She was your first wife?

KING

The first queen. My daughter's mother. Yes.

QUEEN

She was very lovely.

SFX: NOW THEY ARE WALKING DOWN A CORRIDOR.

KING

Your rooms will be in here. Mine are at the far end of the hall.

QUEEN

And where does that staircase go?

KING

Those are the little princess's quarters.

QUEEN

Look! There she is, peeping round the corner. Hello. Hello little one. I'm your new mother. Are you going to come and say hello?

SFX/ FOOTSTEPS SCURRY UPSTAIRS.

QUEEN

I think I scared her.

KING

Nothing scares her. It'll just take her a while to get to know you.

QUEEN—INTIMATE

His daughter was only a child: no more than five years of age when I came to the palace. Another portrait of her dead mother hung in the princess's tower room; a tall woman, hair the colour of dark wood, eyes nut-brown. She was of a different blood to her pale daughter.

(beat)

The girl would not eat with us. I do not know where in the palace she ate.

(beat)

So, I had my own chambers. My husband the king, he had his own rooms also. When he wanted me he would send for me, and I would go to him, and pleasure him, and take my pleasure with him.

(beat)

One night, several months after I was brought to the palace, she came to my rooms. She was six. I was embroidering by lamplight, squinting my eyes against the lamp's smoke and fitful illumination. When I looked up, she was there.

QUEEN

Princess?

QUEEN—INTIMATE

She said nothing. Her eyes were black as coal, black as her hair; her lips were redder than blood. She looked up at me and smiled. Her teeth seemed sharp, even then, in the lamplight.

QUEEN

What are you doing away from your room?

PRINCESS

I'm hungry.

QUEEN

I have just the thing.

SFX/ SHE WALKS ACROSS THE ROOM. WE HEAR HER TAKING A DRIED APPLE FROM THE BEAMS.

QUEEN (cont'd)

When they gathered the apples for the midwinter feast I had them bring me some extra ones and hang them in here. Here you are. It's an apple.

QUEEN—INTIMATE

It was winter, when fresh food is a dream of warmth and sunlight; but I had strings of whole apples, cored and dried, hanging from the beams of my chamber, and I pulled an apple down for her.

QUEEN

Everything has a season, princess. Did you know that? Autumn is the time of drying, of preserving. It's the time when we pick apples, and we render the goose fat, and we store food away. Now, winter is the time of hunger, of snow, and of death; and that's when we have the midwint
er feast. Have you ever been to the midwinter feast? No?

Well, first of all, we take a whole pig, and we stuff it with that autumn's apples, then we slather its skin with goose fat, so it'll be nice and crispy when it's cooked, then we roast it in a huge old brick oven, and everyone in the town comes to feast upon the crackling. And if you're good, I'll take you to the next festival. Would you like that?