Cryptonomicon, p.1





Cryptonomicon, p.1

Neal Stephenson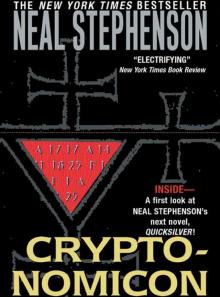 DEDICATION
* * *
To S. Town Stephenson,
who flew kites from battleships
ABOUT CRYPTONOMICON
* * *
"Engrossing… insightful… fascinating and often hysterical… Cryptonomicon is really three novels in one, featuring healthy portions of World War II adventure, cryptography, and high-tech finance, with treasure hunting thrown in for good measure… But that's only half of it."
— USA Today
"A hell of a read."
— Wired
Neal Stephenson (Snow Crash; The Diamond Age) hacks into the secret histories of nations and the private obsessions of men, decrypting with dazzling virtuosity the forces that shaped the twentieth century — and that have led us into the twenty-first.
In 1942, Lawrence Pritchard Waterhouse — mathematical genius and young Captain in the U.S. Navy — is assigned to Detachment 2702. It is an outfit so secret that only a handful of people know it exists, and some of those people have names like Churchill and Roosevelt.
The mission of Waterhouse and Detachment 2702 — commanded by Marine Raider Bobby Shaftoe — is to keep the Nazis ignorant of the fact that Allied Intelligence has cracked the enemy's fabled Enigma code. It is a game, a cryptographic chess match between Waterhouse and his German counterpart, translated into action by gung-ho Shaftoe and his forces.
Fast-forward to the present, where Waterhouse's crypto-hacker grandson, Randy, is attempting to create a "data haven" in Southeast Asia — a place where encrypted data can be stored and exchanged free of repression and scrutiny. As governments and multinationals attack the endeavor, Randy joins forces with Shaftoe's tough-as-nails granddaughter, Amy, to secretly salvage a sunken Nazi submarine that holds the key to keeping the dream of a data haven afloat.
But soon their scheme brings to light a massive conspiracy with its roots in Detachment 2702, linked to an unbreakable Nazi code called Arethusa. And it will represent the path to unimaginable riches and a future of personal and digital liberty… or to universal totalitarianism reborn.
A breathtaking tour de force and Neal Stephenson's most accomplished and affecting work to date, Cryptonomicon is profound and prophetic, hypnotic and hyper-driven, as it leaps forward and back between World War II and the World Wide Web, hinting all the while at a dark day-after-tomorrow. It is a work of great art, thought, and creative daring; the product of a truly iconoclastic imagination working with white-hot intensity.
"Intoxicating."
— Washington Post Book World
"A powerfully imagined story."
— Seattle Post-Intelligencer
"Gripping… A story of scope and complexity."
— Chicago Tribune
"Clever… and flat-out hilarious."
— Cleveland Plain Dealer
"There is a scope here, a wildness, that you rarely find in fiction today. Buckle up."
— Minneapolis Star Tribune
Contents
Cover
Title Page
Dedication
Epigraphs
Cryptonomicon
* * *
Prologue
Barrens
Novus Ordo Seclorum
Seaweed
Forays
Indigo
The Spawn of Onan
Burn
Pedestrian
Guadalcanal
Galleon
Nightmare
Londinium
Corregidor
Tube
Meat
Cycles
Aloft
Non-disclosure
Ultra
Kinakuta
Qwghlm House
Electrical Till Corporation
Crypt
Lizard
The Castle
Why
Retrograde Maneuver
Huffduff
Pages
Ram
Diligence
Spearhead
Morphium
Suit
Cracker
Sultan
Skipping
Mugs
Yamamoto
Antaeus
Phreaking
Afloat
Shinola
Hostilities
Funkspiel
Heap
Seeky
Cannibals
Wreck
Santa Monica
Outpost
Meteor
Lavender Rose
Brisbane
Dönitz
Crunch
Girl
Conspiracy
Hoard
Rocket
Courting
I.N.R.I.
California
Organ
Home
Bundok
Computer
Caravan
The General
Origin
Golgotha
Seattle
Rock
The Most Cigarettes
Christmas 1944
Pulse
Buddha
Pontifex
Glory
The Primary
Deluge
Bust
The Battle of Manila
Captivity
Glamor
Wisdom
Fall
Metis
Slaves
Arethusa
The Basement
Akihabara
Project X
Landfall
Goto-sama
R.I.P.
Return
Cribs
Cayuse
Black Chamber
Passage
Liquidity
* * *
Appendix:
The Solitaire Encryption Algorithm
by Bruce Schneier
Encrypting with Solitaire
Decrypting with Solitaire
Generating the Keystream Letters
Keying the Deck
Sample Output
Security Through Obscurity
Operational Notes
Security Analysis
Learning More
* * *
E-book Extra:
Stephensonia/Cryptonomica
* * *
Raves for Cryptonomicon
Acknowledgments
About the Author
* * *
First Look:
Quicksilver
by Neal Stephenson
About Quicksilver
Excerpt from Quicksilver
* * *
Other Works
Copyright
About the Publisher
EPIGRAPHS
* * *
"There is a remarkably close parallel between the problems of the physicist and those of the cryptographer. The system on which a message is enciphered corresponds to the laws of the universe, the intercepted messages to the evidence available, the keys for a day or a message to important constants which have to be determined. The correspondence is very close, but the subject matter of cryptography is very easily dealt with by discrete machinery, physics not so easily."
—Alan Turing
This morning [Imelda Marcos] offered the latest in a series of explanations of the billions of dollars that she and her husband, who died in 1989, are believed to have stolen during his presidency.
"It so coincided that Marcos had money," she said. "After the Bretton Woods agreement he started buying gold from Fort Knox. Three thousand tons, then 4,000 tons. I have documents for these: 7,000 tons. Marcos was so smart. He had it all. It's funny; America didn't understand him."
—The New York Times, Monday, 4 March, 1996
PROLOGUE
* * *
Two tires fly. Two wail.
A bamboo grove, all chopped down
From it, warring songs.
. . . IS THE BEST THAT CORPORAL BOBBY SHAFTOE CAN do on short notice—he's standing on the running board, gripping his Springfield with one hand and the rearview mirror with the other, so counting the syllables on his fingers is out of the question. Is "tires" one syllable or two? How about "wail?" The truck finally makes up its mind not to tip over, and thuds back onto four wheels. The wail—and the moment—are lost. Bobby can still hear the coolies singing, though, and now too there's the gunlike snicking of the truck's clutch linkage as Private Wiley downshifts. Could Wiley be losing his nerve? And, in the back, under the tarps, a ton and a half of file cabinets clanking, code books slaloming, fuel spanking the tanks of Station Alpha's electrical generator. The modern world's hell on haiku writers: "Electrical generator" is, what, eight syllables? You couldn't even fit that onto the second line!
"Are we allowed to run over people?" Private Wiley inquires, and then mashes the horn button before Bobby Shaftoe can answer. A Sikh policeman hurdles a night soil cart. Shaftoe's gut reaction is: Sure, what're they going to do, declare war on us? but as the highest-ranking man on this truck he's probably supposed to be using his head or something, so he doesn't blurt it out just yet. He takes stock of the situation:
Shanghai, 1645 hours, Friday, the 28th of November 1941. Bobby Shaftoe, and the other half-dozen Marines on his truck, are staring down the length of Kiukiang Road, onto which they've just made this careening high-speed turn. Cathedral's going by to the right, so that means they are, what? two blocks away from the Bund. A Yangtze River Patrol gunboat is tied up there, waiting for the stuff they've got in the back of this truck. The only real problem is that those particular two blocks are inhabited by about five million Chinese people.
Now these Chinese are sophisticated urbanites, not suntanned yokels who've never seen cars before—they'll get out of your way if you drive fast and honk your horn. And indeed many of them flee to one side of the street or the other, producing the illusion that the truck is moving faster than the forty-three miles an hour shown on its speedometer.
But the bamboo grove in Bobby Shaftoe's haiku has not been added just to put a little Oriental flavor into the poem and wow the folks back home in Oconomowoc. There is a lot of heavy bamboo in front of this truck, dozens of makeshift turnpikes blocking their path to the river, for the officers of the U.S. Navy's Asiatic Fleet, and of the Fourth Marines, who dreamed up this little operation forgot to take the Friday Afternoon factor into account. As Bobby Shaftoe could've explained to them, if only they'd bothered to ask a poor dumb jarhead, their route took them through the heart of the banking district. Here you've got the Hong Kong and Shanghai Bank of course, City Bank, Chase Manhattan, the Bank of America, and BBME and the Agricultural Bank of China and any number of crappy little provincial banks, and several of those banks have contracts with what's left of the Chinese Government to print currency. It must be a cutthroat business because they slash costs by printing it on old newspapers, and if you know how to read Chinese, you can see last year's news stories and polo scores peeking through the colored numbers and pictures that transform these pieces of paper into legal tender.
As every chicken-peddler and rickshaw operator in Shanghai knows, the money-printing contracts stipulate that all of the bills these banks print have to be backed by such-and-such an amount of silver; i.e., anyone should be able to walk into one of those banks at the end of Kiukiang Road and slap down a pile of bills and (provided that those bills were printed by that same bank) receive actual metallic silver in exchange.
Now if China weren't right in the middle of getting systematically drawn and quartered by the Empire of Nippon, it would probably send official bean counters around to keep tabs on how much silver was actually present in these banks' vaults, and it would all be quiet and orderly. But as it stands, the only thing keeping these banks honest is the other banks.
Here's how they do it: during the normal course of business, lots of paper money will pass over the counters of (say) Chase Manhattan Bank. They'll take it into a back room and sort it, throwing into money boxes (a couple of feet square and a yard deep, with ropes on the four corners) all of the bills that were printed by (say) Bank of America in one, all of the City Bank bills into another. Then, on Friday afternoon they will bring in coolies. Each coolie, or pair of coolies, will of course have his great big long bamboo pole with him—a coolie without his pole is like a China Marine without his nickel-plated bayonet—and will poke their pole through the ropes on the corners of the box. Then one coolie will get underneath each end of the pole, hoisting the box into the air. They have to move in unison or else the box begins flailing around and everything gets out of whack. So as they head towards their destination—whatever bank whose name is printed on the bills in their box—they sing to each other, and plant their feet on the pavement in time to the music. The pole's pretty long, so they are that far apart, and they have to sing loud to hear each other, and of course each pair of coolies in the street is singing their own particular song, trying to drown out all of the others so that they don't get out of step.
So ten minutes before closing time on Friday afternoon, the doors of many banks burst open and numerous pairs of coolies march in singing, like the curtain-raiser on a fucking Broadway musical, slam their huge boxes of tattered currency down, and demand silver in exchange. All of the banks do this to each other. Sometimes, they'll all do it on the same Friday, particularly at times like 28 November 1941, when even a grunt like Bobby Shaftoe can understand that it's better to be holding silver than piles of old cut-up newspaper. And that is why, once the normal pedestrians and food-cart operators and furious Sikh cops have scurried out of the way, and plastered themselves up against the clubs and shops and bordellos on Kiukiang Road, Bobby Shaftoe and the other Marines on the truck still cannot even see the gunboat that is their destination, because of this horizontal forest of mighty bamboo poles. They cannot even hear the honking of their own truck horn because of the wild throbbing pentatonic cacophony of coolies singing. This ain't just your regular Friday P.M. Shanghai bank-district money-rush. This is an ultimate settling of accounts before the whole Eastern Hemisphere catches fire. The millions of promises printed on those slips of bumwad will all be kept or broken in the next ten minutes; actual pieces of silver and gold will move, or they won't. It is some kind of fiduciary Judgment Day.
"Jesus Christ, I can't—" Private Wiley hollers.
"The captain said don't stop for any reason whatsofuckinever," Shaftoe reminds him. He's not telling Wiley to run over the coolies, he's reminding Wiley that if he refrains from running over them, they will have some explaining to do—which will be complicated by the fact that the captain's right behind them in a car stuffed with Tommy Gun-toting China Marines. And from the way the captain's been acting about this Station Alpha thing, it's pretty clear that he already has a few preliminary strap marks on his ass, courtesy of some admiral in Pearl Harbor or even (drumroll) Marine Barracks, Eight and Eye Streets Southeast, Washington, D.C.
Shaftoe and the other Marines have always known Station Alpha as a mysterious claque of pencil-necked swabbies who hung out on the roof of a building in the International Settlement in a shack of knot-pocked cargo pallet planks with antennas sticking out of it every which way. If you stood there long enough you could see some of those antennas moving, zeroing in on something out to sea. Shaftoe even wrote a haiku about it:
Antenna searches
Retriever's nose in the wind
Ether's far secrets
This was only his second haiku ever—clearly not up to November 1941 standards—and he cringes to remember it.
But in no way did any of the Marines comprehend what a big deal Station Alpha was until today. Their job had turned out to
involve wrapping a ton of equipment and several tons of paper in tarps and moving it out of doors. Then they spent Thursday tearing the shack apart, making it into a bonfire, and burning certain books and papers.
"Sheeeyit!" Private Wiley hollers. Only a few of the coolies have gotten out of the way, or even seen them. But then there is this fantastic boom from the river, like the sound of a mile-thick bamboo pole being snapped over God's knee. Half a second later there're no coolies in the street anymore—just a lot of boxes with unmanned bamboo poles teeter-tottering on them, bonging into the streets like wind-chimes. Above, a furry mushroom of grey smoke rises from the gunboat. Wiley shifts up to high gear and floors it. Shaftoe cringes against the truck's door and lowers his head, hoping that his campy Great War doughboy helmet will be good for something. Then money-boxes start to rupture and explode as the truck rams through them. Shaftoe peers up through a blizzard of notes and sees giant bamboo poles soaring and bounding and windmilling toward the waterfront.
The leaves of Shanghai:
Pale doorways in a steel sky.
Winter has begun.
BARRENS
* * *
LET'S SET THE EXISTENCE-OF-GOD ISSUE ASIDE FOR A later volume, and just stipulate that in some way, self-replicating organisms came into existence on this planet and immediately began trying to get rid of each other, either by spamming their environments with rough copies of themselves, or by more direct means which hardly need to be belabored. Most of them failed, and their genetic legacy was erased from the universe forever, but a few found some way to survive and to propagate. After about three billion years of this sometimes zany, frequently tedious fugue of carnality and carnage, Godfrey Waterhouse IV was born, in Murdo, South Dakota, to Blanche, the wife of a Congregational preacher named Bunyan Waterhouse. Like every other creature on the face of the earth, Godfrey was, by birthright, a stupendous badass, albeit in the somewhat narrow technical sense that he could trace his ancestry back up a long line of slightly less highly evolved stupendous badasses to that first self-replicating gizmo—which, given the number and variety of its descendants, might justifiably be described as the most stupendous badass of all time. Everyone and everything that wasn't a stupendous badass was dead.