Broken silence, p.1





Broken Silence, p.1

Part #2 of Silence series by Natasha Preston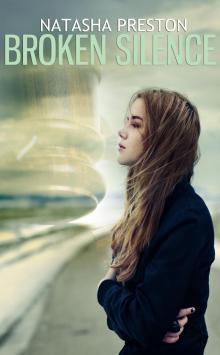 Page 1
Chapter One
Oakley
Everyone says that getting over somebody 'just takes time' and that one day it will stop hurting and the door will open for you to move on. We are also told that love is eternal; something extraordinary that will stay with you forever. However, after a break up, suddenly love becomes something you should get over once a little time had passed. The contradiction is immense. Right now, I was somewhere in the middle.
I walked my usual route along the beach, holding my sandals in my hand, so I could feel the soft golden sand between my toes. Every night I walked along the beautiful Australian coast. It was so tranquil here. It was what I needed after everything came out. The air was still warm and the moon reflected off the ocean, creating rippling shadows on the water's surface. I sighed, smiling at the beautiful sight.
A couple ahead of me walked hand in hand, gazing happily at each other. The man leant over and kissed the side of his partner's head. He reminded me a little of Cole, with his messy hair and flirty smile. I gulped and walked past them, keeping my head down.
My heart gave a small squeeze as my mind drifted back to Cole. Again. That was no surprise though; most things reminded me of him. His eyes were the same shade as the blue of early night sky. The tree outside our house that had one branch leaning to the side, creating an L shape, was the same shape as the one he fell off while trying to rescue a cat. Our neighbour's dog had a light brown patch of fur on its white tail that was the same colour as Cole's hair in the summer, when the sun lightened it a fraction.
After I first left, we texted, but it became too hard to keep turning him down, so I cut off all contact. It was one of the hardest things I'd ever done. All I wanted was to tell him to get on the first plane out here. But he had so much in England: I didn't want to get in the way of his university and career dreams, and making him move away from his whole family was too selfish. I loved him far too much to be selfish.
For the last three years and eight months, I hadn't spoken to him at all. It never got any easier. I still found myself almost dialling his number practically every day. I knew Mum and Jenna still spoke. Well, they emailed because it was easier with the time difference, so I knew Cole was doing well. He went to the university he had always wanted to go to and landed his dream job. Mum never mentioned if he had a girlfriend, or worse, a fiancé or wife. I didn't want to know. It would hurt too much, but I hoped with all my heart that he was happy.
As soon as I walked back inside our house, Jasper practically pounced on me. Since the truth had come out, he had barely left my side. He went from overprotective to almost suffocating. No one could come within ten metres of me without Jasper being there to 'check them out'. I didn't need a babysitter. I moved half way across the world to be free.
He stood in front of me and bent his head to look into my eyes – checking if I was okay. "You alright?"
"Yes, Jasper. " I sighed and walked into the kitchen.
Mum stood at the counter, making three mugs of hot chocolate. That was our little routine now; every night after my walk on the beach, the three of us would sit in the lounge drinking hot chocolate and chatting. Even Jasper made it every night. Four years ago, he would have laughed at the idea and gone out clubbing. We were really close now. I loved it, but hated they both had to lose so much for me.
"So have you spoken to Miles today?" I asked Mum, smiling innocently as I leant on the kitchen island.
Jasper shot me a warning look, his eyes narrowed. He was trying to get me to drop it, but I wasn't going to. Mum met Miles at work three years ago, and they both really liked each other, but she wouldn't give him a chance. I understood why she found it hard to trust again, but anyone could see that she was as in love with him as he was with her.
She sighed. "No, I haven't, Oakley. "
I bit my lip. "Well, why don't you invite him over for dinner tomorrow?"
"Please, honey. Nothing is going to happen between us. Give it up. "
I stared down at the steam rising from the hot chocolate. "Not every man is like Dad you know," I whispered.
"Don't call him that," Jasper snapped, speaking through gritted teeth. His knuckles turned white as his grip tightened around the handle of his mug. On the rare occasion that Jasper had spoken about Dad since knowing what had happened, he only ever referred to him as 'that sick bastard'.
"I know. Miles is a lovely guy, but I don't want a relationship. "
Yes, you do. She deserved to be happy. I didn't want Dad to affect the rest of her life too, not to the point where she wouldn't allow herself to be with someone again. Sighing in defeat, I followed Mum and Jasper into the living room and sat down. I wouldn't give up, not until she was happy again. Page 2
"You working tomorrow, Oakley?" Jasper asked, turning his nose up. We both worked at the same juice bar near the beach. It wasn't exactly the career either of us wanted, but Jasper refused to quit because there were so many bikini-clad women coming in, and I had no idea what I wanted to do.
I felt as if I was stuck in time. My life was on hold until the trial was over. Even though I was thousands of miles away, I still needed them to be locked away to properly move on. Well, I hoped that would do it.
"No. You are though, right?"
"Yep. Wanna work for me?" he asked.
I gave him a flat look. "No. "
Mum cut in: "Do you have plans, Oakley?"
When do I ever have plans? "No. "
"Why don't you meet me for lunch at one? We can go to that sandwich place near my office, the one that Jasper's obsessed with. "
"Oh, lovely," Jasper said sarcastically. "I'm bloody working and you're planning on taking your favourite child to my favourite restaurant. "
"Are you sure he's older than me?"
Mum smirked. "Mentally, no. " Jasper scowled. "Oh, we'll get you a meatball sub!" she offered.
Jasper sat back and smiled proudly. "Good. Bring it to work, yeah?"
"I'll drop it off on my way home. "
I crossed my legs and sipped my hot chocolate. Conversation quickly turned to the trial, which was only two months away. I was due to give evidence via video link because I couldn't stand the thought of being in the same room as them, but the more I thought about it – or talked about it in therapy – the more I felt I had to go and face them.
My therapist, Martha, had gone in depth a million times about finding closure. She asked me to think about what it would take for me to be able to put it behind me enough to move forward. Following her instructions, I had been thinking about it over the past year, but there was nothing. Not until the trial date was set, and my lawyer spoke about how I could give evidence from Australia.
Martha seemed to think facing them could offer the closure I needed, but she also asked me to consider what I would do or how I would feel if they got off. Devastated. Scared. To think that a jury could possibly believe I had made it all up would be devastating.
Dad had said so many times no one would believe me. If it turned out he was right, I didn't know how I would handle it. There was also something else to consider, or someone else – Cole.
Sipping my boiling drink, I listened as Mum and Jasper talked about the jury seeing through Dad's charm. No one did for years. Not even the people closest to him. How were strangers going to? I couldn't think like that. There was evidence on his laptop that proved he had indecent images of children.
I wished it was already over. After Dad and Frank were arrested, other girls came forward. One lady who claimed Dad had ab
used her when she was a child, and he was in his early twenties. I believed her one hundred per cent.
If those women could face them again, so could I. Taking a deep breath, I turned to face Mum and Jasper. Now or never. 'I have something I need to talk to you about,' I said.
"What's up?" Jasper asked, concerned.
"I want to go back and give evidence in person. "
Silence fell upon the room, and I watched on as they thought it through. I didn't expect them to come, not for a second. It wasn't just me that went through it, they did too. I understood if they didn't want to be anywhere near him.
I could go alone. My aunt, Ali, and cousin, Lizzie would be there for me. My grandparents too. Mum and Jasper were my biggest support, so of course I wanted them to be with me, but I would never ask.
Mum finally nodded. "Okay. If you're sure that's what you need?"
"It is. "
She put her mug down on the coffee table. "Right. I'll speak to Ali about us staying with her and book the flights. "
She wants to come? "You don't have to come, you know. It's fine if you don't want to. "
Jasper scoffed. "Like you're going alone. "
"I mean it, Jasper. If either of you don't want to come, it's fine with me. I will understand if you don't want to see them again. It's just… I have to. "
"We're doing this together, honey. I made that promise to you four years ago, and I'm not going to break it now. "
"Thank you," I whispered and swallowed a lump in my throat. It meant so much that they were coming. I knew how hard it was for them; especially Mum. She blamed herself for not seeing the man she married for what he truly was. Dad had everyone fooled though. What happened was no one's fault but his.
Page 3
Jasper clenched his jaw as if he was trying to hold something in. I knew he didn't want to see Dad again, and I felt guilty that he would have to because of me. "Jasper? You okay?" Mum asked. "Oakley's right, you don't have to come. "
"I'm going," he replied, folding his arms over his chest in a stubborn manner. "I just don't know how I'm going to stay in control when I see his face again. " I think he hated him more than I did.
"Maybe you should come to therapy with me? I'm sure Martha can fit us in for a joint session. "
"No thanks," he muttered in response.
Therapy was something that Jasper had always refused. I started seeing Martha shortly after we arrived in Australia, and Mum used to see someone too. Jasper had his own way of dealing with things: bottling it up and letting it explode in a fight or down the bottom of a bottle.
"It's not weak to ask for help, Jasper. "
He stood up. "I don't need help. I just need to help you two. "
My heart dropped. I didn't know what to say. Jasper walked out, and I wanted to run after him, but I knew he needed to be alone to cool down. He did see it as a weakness and wouldn't do it because he needed to be strong for me and for Mum. My stupid, sweet brother.
"He'll be fine. I'm sure he'll seek help when he's ready for it. "
I nodded. "I suppose pushing it away is easier than facing it. "
It took me eleven years of pretending everything was fine before I spoke up and faced it. It would be hypocritical of me to push Jasper into anything.
"Are you going to tell Jenna we're coming back? I think you should warn them. "
I couldn't just turn up and be like, "Hey Cole, how's it going?" It had been too long for me to spring a surprise visit on him.
Mum nodded and wrapped the tartan blanket around herself. It wasn't cold. It was actually pretty hot, but I think it was to protect her from the conversation we were having rather than the temperature. "She emailed yesterday. I haven't replied yet so I'll mention it. Are you looking forward to seeing Cole again?"
I looked out of the window. Hearing someone say his name was like being punched. "I don't want to talk about it. "
"Okay," Mum said. "I'll call Ali, you get the laptop and look up some flights. "
Within an hour, Mum had spoken to Ali, and our flights were booked. In a week's time, we would be in England. I emailed my lawyer, Linda, to explain that I had changed my mind, and I planned on calling her to discuss it tomorrow. She would be pleased. A while ago she suggested that I think about appearing in court in person, but I had said no.
Jasper walked back into the room just as Mum went up to bed. He sat down next to me. "We're really doing this? Going back?"
"Yes. " I wasn't a scared child any more. I could face them.
"What are you gonna do about Cole?"
I didn't think he would bring Cole up. He knew I didn't like to talk about him anymore.
"Nothing. "
"Right, so you're going back to where the guy you love is and you plan on doing nothing?" he asked with the most sarcastic tone I had ever heard. I nodded in reply. "Oh, come on, Oakley! You've moped around here for four years. I've never even seen you look at another guy. Are you seriously gonna waste your chance at being happy again?"
I sighed. There had been no one else because I couldn't stand the thought of being that close to anyone else. There was nothing wrong with the guys here or anything, I just didn't feel safe and secure with them. They couldn't make me forget every disgusting thing that had happened to me with one little smile.
"And what, I should just turn up on his doorstep and get back together until the trial ends and we come back? Like you said, it's been four years. He has a whole new life. He could be married for all we know!" The thought of him being married quite honestly felt like I was being stabbed in the heart.
"I think Jenna would have mentioned something like that," he replied and raised one eyebrow. Okay, yes she would, but that didn't mean there wasn't someone in his life. This was Cole. He was the most incredible, sweet, beautiful, funny, generous, and caring person in the world.
"Whatever. I'm not gonna do anything stupid and mess up his life. "
"Then maybe you shouldn't have left him behind. "
My eyes prickled, filling with tears. That was low.
Page 4
"Shit! I'm sorry, Oakley," he said, and grimaced as I pushed myself off the sofa.
I raised one hand, telling him to back off. "It's fine. I'm going to bed. Night, Jasper. "
He groaned in frustration as I walked away. The problem was that Jasper was half right, and that's what stung.
As soon as I had finished in the bathroom, I got straight into bed. I hadn't done much all day, but I felt exhausted. Tucked under the pillow on the spare side of my bed was Cole's hoodie – the only thing of his I had. It stopped smelling of his aftershave long ago, but it was his and that meant everything to me.
My throat burned, and I swallowed hard to try to stop myself crying, but it was no use. I buried my head in his hoodie and cried silently so no one would hear.
Although we never spoke about my feelings for Cole, Mum and Jasper knew I was still in love with him. On the rare occasion I went out, Mum had encouraged me to meet someone else, but I couldn't help comparing them all to Cole – and they never lived up to him. No else one could make me feel normal.
I laid in bed awake for most of the night, thinking about what Jasper had said. I tried not to let any doubt enter my mind, but when he said things like that, I couldn't help it. Did I do the right thing? Was Mum right when she had said he could come to a school here? They had the course he'd wanted to do, but it wasn't the university he wanted. All his family and friends were in England too. If he had come, would he have ended up resenting me for making him give all that up?
I groaned and ran my hands over my face. Going over it again wa
sn't helping. I had made the decision, and I had to live with it, and so did he. Soon enough though, I'd get to see whether Cole felt I'd done the right thing, or if I'd made he biggest mistake of both of our lives
Our suitcases were already in the boot of the car. Mum and Jasper were having a quick tidy before we left for the airport, so I took the last opportunity I would get to do something I knew Mum hadn't.
"Back soon," I called from the front door so I could get out before anyone questioned where I was going. I walked along the beach and knowing this was the last time for a while gave me a heavy heart. The beach was my getaway, and I was going to miss it.
His house wasn't too far from ours, so I made it in just over five minutes. Taking a deep breath, I knocked on his door and waited.
"Oakley, hi," Miles said, frowning a little and shaking his head in confusion. I knew where he lived but had never gone round before.
"Hi. Can I come in for a minute?" Miles stepped aside, making room for me to walk in. "Has she told you we're going back to England?" I asked, deciding to get straight to the point. There had been a lot of miscommunication between them, so I wanted to be clear.
His face fell, and I wanted to slap my mum for being so blind to how much he cared about her. "No, she hasn't. How long are you going for?"
"I'm not sure. However long the trial lasts I suppose. "
"Right. Of course. Sorry, I didn't think. "
I waved my hand, making light of the situation. "It's fine. I just thought you should know. Look, Miles, she likes you but you're gonna have to make the first move. She's scared and stubborn. She needs to see how much you care. "
He smiled and nodded, brushing his dark, greying hair with his hand. "How?"
I laughed at the thought of giving a forty-something-year-old man love life advice.
"She's insisting on leaving her mobile here, so she can concentrate on me, apparently. I know she's just scared though, so here," I said, handing him a piece of paper. "That's my mobile number. The trial's going to be hard for her too, and as much as she will not admit it, she would really appreciate you calling. Don't email, she can avoid that. "
"Right. " He smiled. "Thank you. I'll call. I promise. " Miles took the paper, slipping it in his back pocket.