The andromeda strain, p.1





The Andromeda Strain, p.1

Michael Crichton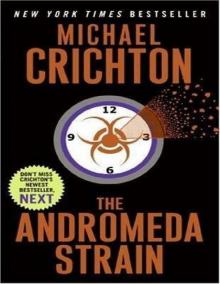 FOREWORD
This book recounts the five-day history of a major American scientific crisis.
As in most crises, the events surrounding the Andromeda Strain were a compound of foresight and foolishness, innocence and ignorance. Nearly everyone involved had moments of great brilliance, and moments of unaccountable stupidity. It is therefore impossible to write about the events without offending some of the participants.
However, I think it is important that the story be told. This country supports the largest scientific establishment in the history of mankind. New discoveries are constantly being made, and many of these discoveries have important political or social overtones. In the near future, we can expect more crises on the pattern of Andromeda. Thus I believe it is useful for the public to be made aware of the way in which scientific crises arise, and are dealt with.
In researching and recounting the history of the Andromeda Strain, I received the generous help of many people who felt as I did, and who encouraged me to tell the story accurately and in detail.
My particular thanks must go to Major General Willis A. Haverford, United States Army; Lieutenant Everett J. Sloane, United States Navy (Ret. ); Captain L. S. Waterhouse, United States Air Force (Vandenberg Special Projects Division); Colonel Henley Jackson and Colonel Stanley Friedrich, both of Wright Patterson; and Murray Charles of the Pentagon Press Division.
For their help in elucidating the background of the Wildfire Project, I must thank Roger White, National Aeronautics and Space Administration (Houston MSQ; John Roble, NASA Kennedy Complex 13; Peter J. Mason, NASA Intelligence (Arlington Hall); Dr. Francis Martin, University of California (Berkeley) and the President's Science Advisory Council; Dr. Max Byrd, USIA; Kenneth Vorhees, White House Press Corps; and Professor Jonathan Percy of the University of Chicago (Genetics Department).
For their review of relevant chapters of the manuscript, and for their technical corrections and suggestions, I wish to thank Christian P. Lewis, Goddard Space Flight Center; Herbert Stanch, Avco, Inc. ; James P. Baker, Jet Propulsion Laboratory; Carlos N. Sandos, California Institute of Technology; Dr. Brian Stack, University of Michigan; Edgar Blalock, Hudson Institute; Professor Linus Kjelling, the RAND Corporation; Dr. Eldredge Benson, National Institutes of Health.
Lastly, I wish to thank the participants in the Wildfire Project and the investigation of the -so-called Andromeda Strain. All agreed to see me and, with many, my interviews lasted over a period of days. Furthermore, I was able to draw upon the transcripts of their debriefing, which are stored in Arlington Hall (Substation Seven) and which amounted to more than fifteen thousand pages of typewritten manuscript. This material, stored in twenty volumes, represents the full story of the events at Flatrock, Nevada, as told by each of the participants, and I was thus able to utilize their separate viewpoints in preparing a composite account.
This is a rather technical narrative, centering on complex issues of science. Wherever possible, I have explained the scientific questions, problems, and techniques. I have avoided the temptation to simplify both the issues and the answers, and if the reader must occasionally struggle through an and passage of technical detail, I apologize.
I have also tried to retain the tension and excitement o events in these five days, for there is an inherent drama in the story of Andromeda, and if it is a chronicle of stupid, deadly blunders, it is also a chronicle of heroism and intelligence.
M. C.
Cambridge, Massachusetts
January 1969