Beyond the Night - eBook - Final
Maya Banks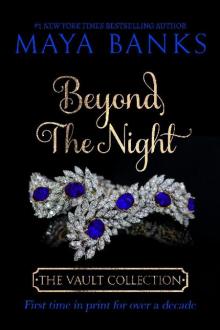 ALSO BY MAYA BANKS

Seducing Simon

Brazen

For Her Pleasure

Stay With Me

Reckless

Love Me, Still

Into the Mist

Into the Lair

Golden Eyes

Amber Eyes

Be With Me

Songbird

The Billionaire's Contract Engagement

Pillow Talk (Fourplay Duology)

Soul Possession (Men out of Uniform Anthology)

Long Road Home

Exiled (Cherished Duology)

COLTERS' LEGACY SERIES

Colters' Woman

Colters' Wife (free short story epilogue to Colters' Woman)

Callie's Meadow

Colters' Lady

Colters' Daughter

Colters' Promise

Colters' Gift

ANETAKIS TRILOGY

The Mistress

The Bride

The Affair

THE BREATHLESS TRILOGY

RUSH

FEVER

BURN

PASSION AND PREGNANCY SERIES

Enticed

Wanted

Tempted

Undone

SWEET SERIES

Sweet Surrender

Sweet Persuasion

Sweet Seduction

Sweet Temptation

Sweet Possession

Sweet Addiction

KGI Series

The Darkest Hour

No Place to Run

Hidden Away

Whispers in the Dark

Echoes at Dawn

Softly at Sunrise (novella available digitally or in print in the back of Shades of Gray)

Shades of Gray

Forged in Steele

After the Storm

When Day Breaks

Darkest Before Dawn

Brighter than the Sun

SCOTTISH HISTORICALS

In Bed with a Highlander (McCabe trilogy)

Seduction of a Highland Lass (McCabe trilogy)

Never Love a Highlander (McCabe trilogy)

Never Seduce a Scot (Montgomerys & Armstrongs)

Highlander Most Wanted (Montgomerys & Armstrongs)

Highland Ever After (Montgomerys & Armstrongs) Coming Soon

THE TANGLED HEARTS TRILOGY

Theirs to Keep

Always Mine (TBA)

Forever Ours (TBA)

THE SURRENDER TRILOGY

Letting Go

Giving In

Taking it All

THE UNBROKEN TRILOGY

Understood

Overheard

Undenied

THE SLOW BURN SERIES

Keep Me Safe

In His Keeping

Safe at Last

With Every Breath

Just One Touch

THE ENFORCERS

Mastered

Dominated

Kept

THE VAULT COLLECTION

Her Majesty, My Love

Beyond the Night

Duchess of My Heart

Until Midnight

For more information on Maya and her books, go to her website, connect with her on Facebook or follow her on twitter!

http://www.mayabanks.com

http://www.facebook.com/authormayabanks

http://twitter.com/maya_banks

Beyond the night

Maya Banks

This book is a work of fiction. The names, characters, places, and incidents are products of the writer's imagination or have been used fictitiously and are not to be construed as real. Any resemblance to persons, living or dead, actual events, locale or organizations is entirely coincidental.

Beyond the Night

Copyright © 2007 Maya Banks

ISBN: 978-1-946461-28-5

Cover by Designs By Dana

All Rights Are Reserved. No part of this book may be used or reproduced in any manner whatsoever without written permission, except in the case of brief quotations embodied in critical articles and reviews.

Published by Maya Banks

Contents

PROLOGUE

CHAPTER ONE

CHAPTER TWO

CHAPTER THREE

CHAPTER FOUR

CHAPTER FIVE

CHAPTER SIX

CHAPTER SEVEN

CHAPTER EIGHT

CHAPTER NINE

CHAPTER TEN

CHAPTER ELEVEN

CHAPTER TWELVE

CHAPTER THIRTEEN

CHAPTER FOURTEEN

CHAPTER FIFTEEN

CHAPTER SIXTEEN

CHAPTER SEVENTEEN

CHAPTER EIGHTEEN

CHAPTER NINETEEN

CHAPTER TWENTY

CHAPTER TWENTY-ONE

CHAPTER TWENTY-TWO

CHAPTER TWENTY-THREE

CHAPTER TWENTY-FOUR

CHAPTER TWENTY-FIVE

CHAPTER TWENTY-SIX

CHAPTER TWENTY-SEVEN

CHAPTER TWENTY-EIGHT

CHAPTER TWENTY-NINE

CHAPTER THIRTY

CHAPTER THIRTY-ONE

CHAPTER THIRTY-TWO

CHAPTER THIRTY-THREE

CHAPTER THIRTY-FOUR

CHAPTER THIRTY-FIVE

CHAPTER THIRTY-SIX

CHAPTER THIRTY-SEVEN

ABOUT THE AUTHOR

A woman who's spent her life traveling the world only wants a place to call home. A man tired of his mundane existence craves a life of adventure. Together they discover that love is the greatest voyage.

India Ashton has traveled the world with her adventuring father searching for Pagoria, a city so ancient only legend gives it life. After a period of captivity by a band of rebels and the death of her father, she returns to England, only wanting a place to heal and call home. Thomas Hadley, Viscount Ridgewood, or "Ridge" as he is better known, is a restless spirit who longs for adventure. When he comes across the journal of a famed explorer, he believes he has the key to finding the lost city of Pagoria, only he needs India Ashton's help to decipher it, and she's unwilling to delve back into a life she's forsaken. A letter from the father she believed dead forces India to make a difficult decision.

In order to save her father, she must abandon her sanctuary and join forces with the viscount, a man she feels too much of a kinship with, and a man she must betray if she is to be successful in her quest. Within the journal lies the unbelievable. Proof that the city still lives, a civilization still thrives within its walls, and it has a connection to the viscount he never imagined. Together, India and Ridge unlock the pieces of the puzzle and embark on a journey that will change their lives forever. India's betrayal threatens the growing bond between them, and in the end, India must choose between the man she loves, a city as old as time itself, and the security she craves.

Prologue

Outside the lost city of Pagoria

1817

Sir Roderick Castleton fled as if the hounds of hell were nipping at his heels. He stumbled forward in the darkness, his hands sweeping against the damp walls of the tunnel in a desperate attempt to right himself. Sweat poured from his face, and his breath tore from his mouth in tortured rasps.

Again, he fell but he scrambled up, throwing himself farther down the passageway. Just a few more feet.

The narrow tunnel fell away to a small clearing, but he didn't stop. He ran for the crevice in the face of the rock, the last obstacle in his bid for freedom.

He slid sideways, scooting along the
rough surface, ignoring the painful abrasions. He was so close. He could feel it. Freedom. Safety. The jagged edges protruding from the walls snagged his clothing as though holding him back, preventing his flight. The mountain itself seemed to tremble in anger.

He burst out of the crevice nearly shouting his exultation. He had made it! He sucked in huge mouthfuls of air as he sought to control his pounding heart. His hand groped for the ancient bracelet tucked safely in his pocket.

He grinned and threw his fist into the air. "I won! I've done it."

The clear, star-filled sky yawned broadly before him touching the earth in the distance. He turned south, hurrying across the mountain meadow.

As he put more distance between him and the sacred city, the sky grew blacker. One by one, the stars disappeared, replaced by an ominous, suffocating cape of doom. With each step, his chest became more led-filled, his feet clumsy, slow.

The air swirled eerily around him, thin tendrils of smoke shooting through the air. Evil. His first thought was overwhelming evil. But no, he was evil, not this presence.

The wind surrounded him, ruffling his clothing and his hair. Suddenly it was as if his eyes were open for the first time in his life. He could see everything. His mouth opened in a silent scream of denial as his every sin unfolded in an unending litany. He looked inward at his black heart, closing his eyes against the agonizing truth.

"No!" he screamed, waving his arms madly around him. "Get away from me!"

His deeds flashed before him, staring accusingly at him. How could he have thought to steal from the city? It would never let him go.

Tears streamed down his cheeks as he clawed at his face. He fumbled in his pocket and yanked out the bracelet, wanting to fling it as far away as he could. It seared his palm, and he screamed in pain. He looked down in horror as it glowed in his hand. He shook it frantically, but it remained.

The weight grew heavier in his chest and he sank to his knees. He clutched at his throat with his free hand, trying to break the invisible bands that squeezed tighter.

He was going to die. The realization was as clear as all his past misdeeds. He could have avoided it all. Good always prevailed. And he was evil.

As he fell to the ground, the bracelet slipped from his hand and rolled to a stop a few feet away. The key. He couldn't lose the key.

Chapter One

London, England

May, 1818

Thomas Hadley, Viscount Ridgewood, or Ridge as he was more commonly addressed, unfolded the note he had received from the footman. A surge of excitement curled in his stomach and spread rapidly through his chest as he read the contents.

In direct contrast to his mood, he calmly folded the missive and slid it into his coat. He sat back once more and motioned for a drink, his intent to celebrate such a monumental achievement.

The plush interior of the London Historical Society had often been likened to other gentleman's clubs. Many a jest had been murmured that it was the thinking man's White's. Ridge had frequented the exclusive scholar's haunt ever since he left Cambridge eight years ago.

The footman returned with his brandy, and Ridge performed a mock toast to the empty table across from him then downed the drink in one swallow.

Setting the glass aside, he rose from his seat and slipped his spectacles back on. He patted the piece of paper, snug in his coat. Such an enormous find could not wait. He would go at once to see the book seller who had sent the note.

The footman went ahead to summon his carriage, and Ridge walked across the expansive marble floor toward the foyer, his boots tapping a determined stride. He was nearly to the door when it swung open and a man swept in.

"Ho, Ridgewood, what a surprise to see you here," Lord Clarence said with obvious sarcasm.

Ridge stiffened, his teeth grinding in irritation. But even the overstuffed, pompous, younger son of the Duke of Westchester couldn't overshadow his satisfaction today.

"Lord Clarence," he returned with a brief nod. He started to shoulder past him, but Lord Clarence stepped in front of him.

"Tell me, Ridgewood. Are you still chasing lost cities and non-existent civilizations?"

Nothing would give Ridge more pleasure than wiping the smug laughter from Lord Clarence's oily face, but he smiled instead, knowing it would annoy the irritating insect. "And you, Lord Clarence, are you still dreaming up ways to do away with your older brother so you can inherit the dukedom when your father dies?"

A dull flush worked its way up Lord Clarence's neck and over his face. Not many people would dare to address Lord Clarence's past indiscretions, but Ridge had no such compunction.

"Your carriage awaits you, my lord," the footman said to Ridge from his post at the door.

"If you will excuse me," Ridge said with a grin. "I've a most pressing engagement." He sidestepped Lord Clarence and walked out into the cool spring air.

It was a refreshing change from the darkened, smoky interior of the club. Not being one to smoke a pipe, he had little tolerance for the pungent, sweet odor.

He paused a moment at the open door of his town coach and allowed the slight breeze to wash over him. A smile curved his lips, and he resisted the urge to throw his fist into the air.

As he climbed in, he gave his driver the direction of the small bookshop on St. Martin's Lane and sat back as the carriage started forward.

Thirty minutes later, he alighted from the coach and hurried into the tiny shop. He glanced around for the proprietor, his impatience growing by the minute. Finally, a short, older man shuffled toward him from a back room.

The man's expression brightened when he set eyes on Ridge. "You came quickly, your lordship."

"Indeed I did. I am most anxious to see the journal. If it is truly what you say it is, I have no doubt we will reach an agreement that is mutually beneficial."

The proprietor's eyes brightened, and Ridge could see him mentally counting the money. And if the journal did prove to be authentic, the pound notes would be plentiful.

The shop owner hastened to the back room once more and returned in a few moments with a cloth-bound object. They walked to a nearby table, and the man slowly unwrapped the aged journal.

Unable to contain his excitement, Ridge took the book, his hands sliding reverently over the wrinkled cover. Holding his breath, he opened it to the first page. Printed in faded ink was Sir Castleton 1802. Fifteen years before his death and the exact year he began his travels.

Ridge swallowed his mounting euphoria and leveled a calm stare at the shop owner. "How did you come by this?"

"I purchased it from Mrs. Alicia Unster, Sir Roderick's only sister. She received it in a box of his personal belongings after his death. She contacted me to ask if I was interested in purchasing the items, and since I knew you would be interested in the journal, I was swift to buy it."

"This is a remarkable find as I am sure you are well aware," Ridge said slowly. "You have my thanks for contacting me first."

"You've been more than fair in the past, my lord."

Ridge tucked the book into his coat. "Shall we agree on a price then?"

###

India Ashton rubbed her tired eyes and attempted to focus on the mess of papers before her. A quick glance at the window revealed the first pale shades of dawn. She sighed in relief and shoved aside her father's notes. Her hand brushed against the latest issue of the Historical Society News and anger surged within her all over again.

"Pompous, arrogant dolts," she hissed. She still shook with rage at the manner in which her father had been skewered in the latest issue.

She shook her head, attempting to dispel the burning irritation that simmered within her. She was tired. Too tired to dwell on her father's critics. Yawning broadly, she pushed back her chair and rose. She'd made it through another night.

She trudged out of the well-lit st
udy toward the stairs. As she mounted the first step, her housekeeper called out to her.

"Miss India, would you like me to bring up a tray before you retire?"

India smiled at the kindly woman. "That won't be necessary, Mary."

"Not even some tea to help you sleep?"

"I don't think I'll be needing it this morning," she said suppressing another yawn.

"I'll be cooking your favorite for dinner. Shall I wake you in time?"

India nodded and continued up the stairs. For once the idea of sleep didn't fill her with dread. Her head spun, and the pages of her father's journal swam in her head, blurring together in one endless string of words.

When she entered her room, she immediately went and threw open the curtains, allowing the morning sun to drift lazily in. When her room was bathed in light, she pulled back her covers and prepared for bed.

She undressed quickly, fearing the urge to sleep would leave her. Tossing aside her worn trousers and faded shirt, she climbed beneath the covers and pulled them to her neck. She closed her eyes and waited for sleep to come.

She was immediately assailed with dark suffocating images. The fear she would smother. Panic. Sweat broke out on her forehead, and her hands became clammy. Her eyes flew open, and she breathed heavily as she soaked in the light. In the few seconds she had closed her eyes, her sheets were already bathed in sweat.

With a muffled curse, she swung her legs over the side of her bed and rose, pulling her shirt back on. She summoned Udaya and tried to compose herself. A few seconds later, Udaya poked her dark head in the door, a concerned look on her face.

"Can you have Mary make me a cup of tea?" India asked in resignation.

Udaya immediately crossed the room, her sari flowing delicately at her feet. She enfolded India in her arms. "Do the dreams trouble you, Beti? I'll go down and see to your tea at once."

India allowed herself the comfort of Udaya's embrace. When she pulled away she could see the Indian woman's brown eyes probing her intently, concern etched in her features.

Udaya patted her cheek affectionately and clucked softly. "Sit down. I'll be up with your tea then I'll brush your hair."

India's hand went self-consciously to her shorn locks. She twisted her fingers in the short curls at her ear. Even though she no longer sported her long tresses, Udaya knew how much pleasure she took in having her hair brushed.