Dark Paths
Markus Heitz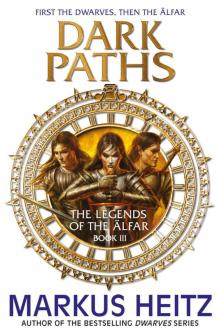 Contents

Cover Page

Title Page

Copyright Page

About the Author

Also by Markus Heitz

Dedication

Dramatis Personae

Prologue

First Book – The Lost Ones

Chapter I

Chapter II

Chapter III

Chapter IV

Chapter V

Chapter VI

Chapter VII

Chapter VIII

Chapter IX

Chapter X

Chapter XI

Second Book – The Tested Ones

Chapter I

Chapter II

Chapter III

Chapter IV

Chapter V

Chapter VI

Chapter VII

Chapter VIII

Chapter IX

Third Book – The Conquerors

Chapter I

Chapter II

Chapter III

Chapter IV

Chapter V

Chapter VI

Chapter VII

Epilogue

Afterword

First published in Germany in 2012 by Piper Verlag GmbH

First published in English in Great Britain in 2016 by

Jo Fletcher Books

an imprint of

Quercus Editions Ltd

Carmelite House

50 Victoria Embankment

London EC4Y 0DZ

An Hachette UK company

Copyright © 2012 Markus Heitz

English Translation © 2016 Sheelagh Alabaster

Die Legenden der Albae: Dunkle Pfade

Copyright © 2012 by Markus Heitz (www.mahet.de), represented by AVA

International GmbH, Germany www.ava-international.de

The moral right of Markus Heitz to be identified as the author of this work has been asserted in accordance with the Copyright, Designs and Patents Act, 1988.

All rights reserved. No part of this publication may be reproduced or transmitted in any form or by any means, electronic or mechanical, including photocopy, recording, or any information storage and retrieval system, without permission in writing from the publisher.

A CIP catalogue record for this book is available from the British Library

Ebook ISBN 978 1 78429 970 5

Print ISBN 978 1 78206 594 4

This book is a work of fiction. Names, characters, businesses, organizations, places and events are either the product of the author's imagination or are used fictitiously. Any resemblance to actual persons, living or dead, events or locales is entirely coincidental.

You can find this and many other great books at:

www.quercusbooks.co.uk

http://www.jofletcherbooks.com

About the Author

Markus Heitz was born in 1971; he studied history and German language and literature. His debut novel, Schatten über Ulldart (the first in a series of epic fantasy novels), won the Deutscher Phantastik Preis (German Fantasy Award) in 2003. His bestselling Dwarves trilogy has earned him a place among Germany's most successful fantasy authors. He currently lives in Zweibrücken, Germany.

Also by Markus Heitz

The Legends of the Älfar

Righteous Fury

Devastating Hate

Oneiros

To all who love life.

Smile when you are envied –

it will heighten your pleasure.

The jealous will never admit

that your luck is deserved.

Dramatis Personae

The Älfar

Firûsha

Sisaroth triplets

Tirîgon

Aïsolon their father, governor of Dsôn Sòmran

Ranôria their mother, a celebrated singer

Gàlaidon Aïsolon's deputy

Tênnegor älf in Dsôn Sòmran

Sémaina älf in Dsôn Sòmran, Tênnegor's partner

Liphelis älf in Dsôn Sòmran, Tênnegor's daughter

Wènelon älf in Dsôn Sòmran

Nomirôs älf in Dsôn Sòmran

Phodrôis älf in Dsôn Sòmran

Helîstra glass-craftswoman in Dsôn Sòmran

Acòrhia tale-weaver in Dsôn Sòmran

Cèlantra female älf in Dsôn Sòmran

Iòsunta female älf in Dsôn Sòmran

Naïgonor älf in Dsôn Sòmran

Marandëi female älf in Phondrasôn

Crotàgon älf in Phondrasôn

Hamîna female älf in Phondrasôn

Esmonäe female älf in Phondrasôn

Bephaigòn älf in Phondrasôn

Draïlor, Horogòn wound-healers in Phondrasôn

Sintholor young älf in Phondrasôn

Tossàlor älf in Phondrasôn

Carmondai master of word and image

Miscellaneous

Tungdil Goldhand groundling in Phondrasôn, master armourer

Jamenusîl elf in Phondrasôn

Hopiash karderier shapeshifter in Phondrasôn

Veyn creature in Phondrasôn

Shucto barbarian from the tribe of the Shuctanides

Korhnoj Zhadar army commander

Ehiow Zhadar envoy

Kiumê rebel

The Zhadar prince of Phondrasôn

Concepts

Sytràp älfar rank of officer in Dsôn Sòmran

First Sytràp highest rank below deputy in Dsôn Sòmran

cîanai/cîanoi älfar magician (sorcerer/sorceress, extremely rare)

Places

Efrigûr province cave in Phondrasôn

Cjash region in Phondrasôn

Whifis triple cave system

Sojól cave in Phondrasôn

Creatures

ukormoriers magic humanoids in Phondrasôn

karderiers or rîconiers magic shapeshifters

wyde hornets insects with lethal sting

hangbear predator in the Dsôn Sòmran mountains

shadow-wolf predator in the Dsôn Sòmran mountains

amdiu worm lizard in Phondrasôn, occurring in several different colours

gålran zhadar race of magicians of squat stature, often mistaken for dwarves

Shëidogîs one of the gods of infamy

They are said as a people to show more cruelty than any other.

They are said to hate elves, humans, dwarves and every other creature so much that the blood runs black in their veins and darkens their eyes in the light of the sun.

They are said to dedicate their lives exclusively to death and to art.

They are said to use black magic.

They are said to be immortal . . .

Much has been said about the Älfar.

Read now these tales that follow and decide for yourselves what is true and what is not. These are stories of unspeakable horror, unimaginable battles, gross treachery, glorious triumphs and crushing defeats.

But they are also tales of courage, integrity and valour.

Of friendship.

And of love.

These are the Legends of the Älfar.

Preface from the forbidden books which transfigure the truth,

The Legends of the Älfar,

unknown author,

undated.

Prologue

Ishím Voróo (Outer Lands), Dsôn Sòmran, Dsôn, in the northern foothills of the Grey Mountains, 5427th division of unendingness (6241st solar cycle), spring.

The soft music of bone flutes, drums, fiddles and many other instruments came drifting up to Firûsha's open window.

She revelled in the nocturnal serenade, the strands of sound weaving harmoniously. As she listened with eyes closed, it seemed the musicians were vying with each other to
achieve perfection, embodying heart, soul and a deep longing to reunite with distant älfar.

The musicians are excelling themselves tonight. It is as if they know. Firûsha's excitement grew. Soon the three siblings would be together again; as triplets they had always enjoyed a special status in the city.

Firûsha had taken care in choosing her attire. She was dressed in a white robe with black embroidery that emphasised her slim figure. The long sleeves and train rustled slightly when she moved.

She was keen to enjoy every instant of her siblings' company, aware they would not be staying long. After this short break for physical and intellectual rest they were all due to return to the next stage of their demanding apprenticeships with the masters of their chosen paths. She was training to be a singer; her brother Sisaroth was to become a priest for the gods of infamy, while Tirîgon was proving a promising warrior.

It can't be long now. Firûsha did not have to open her eyes to see Dsôn. She knew the city view as well as she knew her childhood home, which she would soon be leaving to further her education in the art of song, with which to delight Dsôn Sòmran's citizens.

The building where Firûsha had spent her early life was composed of eleven modest rooms for her family. Of course, there were also the slave quarters, guest lodgings, reception galleries and the halls for martial arts practice.

Their house was situated at the highest point of Dsôn's stone basin, towering over most of the other buildings and emphasising the family's status. There were no more than a score of other älfar families with names more important than theirs.

Mother never liked to boast about her rank and fame. Firûsha's thoughts turned to those envious souls who had tried and failed to find grounds to topple Ranôria and to turn the city's governor Aïsolon against her. Live births were so rare that producing the triplets had enhanced Ranôria's reputation; she was now almost akin to a deity, held in nearly as high esteem as the Inextinguishables.

No one will be able to denigrate her in Aïsolon's eyes – he still holds her in great affection. She is the mother of his children, after all. This made Firûsha laugh. My father will love her forever. I'm sure he'll be thinking of her when he hears the songs of the bards.

Firûsha heard the door handle being quietly turned, as if someone were hoping to surprise her, but her hearing was far too acute for that. She turned her head towards the entrance, where fine tapestries hung from the wall. The carpets were hand-knotted by guild masters of the craft, presented to her mother in honour of her wonderful singing voice.

The door swung open to reveal a tall älf of serious mien, trying to hide the joy sparkling in his steel-blue eyes. He had chosen a shimmering dark red robe for his meeting with his siblings, and an elaborately worked ceremonial dagger hung at his side.

'By all the gods of infamy! Sisaroth, you look so . . . different!' Firûsha hurried from the window and ran into her brother's embrace. Her bare feet made no sound on the grey patterned mosaic floor. 'But you're finally here!'

He laughed, kissing her brow under the diamond tiara perched on her long black hair. 'I know what you mean. My physique has improved with all the training – my muscles are like taut ropes! They work us hard, but I have no complaints.' He hugged her. 'My darling sister!'

Firûsha gave a sigh of relief, stroking his face, so like her own, but manly and distinguished. 'It feels like so long since I've seen you, but I suppose it is really only a hundred moments of unendingness.'

Sisaroth released her from his embrace, took her hands and looked her up and down approvingly. 'A proper grown-up älf-woman now. How many hearts lie shattered at your feet? I bet you're fighting off every älf in Dsôn Sòmran capable of passion for a female.'

She grinned in delight. 'No, not quite all of them. But come and see what Dsôn has in store for us tonight.' Hand in hand they strolled across the long gallery to the open window, breathing in the blossom-perfumed air the south wind had sent.

Sisaroth wondered what to expect. It can't be anything more delightful than Firûsha herself. As he walked, his new dagger bumped against his thigh. He had received the award only two moments of unendingness previously, for bravery and fighting prowess. He was immensely proud to know that, in spite of his youth, he was as good as many more experienced warriors. It can't hurt, can it, to be known for my swordsmanship, even if I am going to be a priest?

He was delighted to see how well his sister was looking. She had remained in Dsôn, to be tutored in singing by their mother. Her voice was already magical. What will she sound like once her training is complete?

'Would you sing for me tonight?' he asked. 'Show me what Mother has taught you.'

She hesitated. 'Let's wait for Tirîgon. I'll have to owe you a song for now.' She led him over to the cushioned window seat and together they looked out onto the majestic city, enclosed on all sides by the high grey rock walls of the vast natural basin. Dsôn – the centre of the älfar empire, Dsôn Sòmran, spread out before them in all its sparkling glory.

Light from windows, candles, torches and lanterns shone through the darkness and reflected on the clouds of smoke released from the flammable powder and burning fuses that had been catapulted into the sky for effect.

The festival was in honour of the west wind: the more lavish their offerings of fire and light, the more favour they hoped to receive from the god of wind, Samusin. Extravagant handfuls of petals and coloured feathers were also tossed in the air, to be burned by the fireworks or to drift upwards to land on rooftops and cliffs. It was a fascinating spectacle, full of grace and poetry.

How wonderful it all looks. Firûsha clasped her brother's hand for a moment. 'Would you ever have thought we could enjoy such harmony and freedom after the destruction of Dsôn Faïmon?' she asked, leaning out into the night, her blue eyes lit with enthusiasm as the wind played with strands of her long black hair.

'We might be too young to have known the old älfar empire,' Sisaroth replied, moved by the beauty of the scene, 'but it can't have been more beautiful than our own Dsôn.' He looked out towards Tark Draan in the north, where another älfar realm lay and the Inextinguishables remained.

Every time he thought about the distant Sibling Rulers on the other side of the Grey Mountains, he was filled with resentment. They had fled the plague of sickness affecting their people and had never shown any interest in the survivors. Sisaroth imagined their fame and glory in their extensive empire while he and his siblings were stuck in the claustrophobic confines of Dsôn Sòmran. It's like living in a glorified dungeon – it might have magnificently decorated walls, but it's still a prison.

His father Aïsolon had occasionally spoken to him about the heroes, Sinthoras and Caphalor, who had once been highly placed nostàroi commanding the älfar army in the victorious campaign against Tark Draan. His father and Caphalor had been close friends, until, all of a sudden, all communication with the other side of the mountains had ceased. There had been no news for dozens of divisions of unendingness.

Troops that had been sent to Tark Draan through the Stone Gateway either never returned or had been forced back by vicious attacks from monsters – and Dsôn needed every single soldier to protect its citizens from the hordes of óarcos determined to wipe out the city.

Sisaroth battled dejectedly with his thoughts.

He knew he shouldn't hate the Inextinguishables and those älfar safely ensconced in Tark Draan – but why had they not come to Dsôn Sòmran's aid? What was stopping the rulers from returning to their subjects – or at least sending messages of hope and support?

I bet I know what happened: they just forgot all about us. They're all fine, revelling in luxury there – but it's not right. We were supposed to be one people. We are älfar too, and we deserve a better existence than this.

The optimists among them called Dsôn Sòmran the 'Empire', while cynics had termed it the 'Offshoot', th
ough the settlement had been founded and commanded by Aïsolon and defended by courageous warriors.

The city had been constructed here, deep in the mountains, in this funnel-shaped hollow only half a division of unendingness after the catastrophe that destroyed the Star State. It was isolated and impregnable – and totally insignificant. It was just a colony, a mere enclave – that was how many of its citizens saw it.

We are wasting away here. Sisaroth laid his hand absentmindedly on Firûsha's shoulder. The plague survivors buried themselves here, where they live like groundlings. We're just clinging to our houses chiselled into the cliff, waiting for the Inextinguishables to come and save us and lead us to Tark Draan – if the new älfar realms even exist. They'd be magnificent great empires – nothing like this pathetic little settlement in Ishím Voróo. Dsôn Sòmran was surrounded by dangerously unpredictable mountains that hung over them like dark storm clouds, and almost constant rain that felt like it wanted to wash the älfar off the mountainsides. Whole families had been already wiped out, homes swept away in mudslides that ripped out foundations and dragged the victims to their deaths.

Sisaroth clenched his hand into a fist. We are not groundlings and we shouldn't have to live like them. What do the Inextinguishables think they are doing?

As if the dark grey clouds above their heads had intercepted his thoughts, fat drops of rain began to clatter against the panes of the open window.

Sisaroth stared down at the festive flames, his face a dark, immobile mask. 'It's time they returned,' he muttered. 'They owe it to us.'

'Who?' Firûsha turned to face him.

Don't spoil things for her. She's been looking forward to this. 'I'm sorry. My thoughts were wandering,' he said, forcing a smile. 'I was just thinking that it's time Tirîgon turned up. Our brother should be here by now.'

'He'll have his reasons.' She caught raindrops in her outstretched hand. 'The west wind doesn't like our festival, does it? What a shame. I hope this isn't a bad omen—'

The door crashed open and the two of them whirled around in surprise, Sisaroth's hand flying to the hilt of his ceremonial dagger.

Instead of being joined by the brother they had been expecting, they found themselves confronted by the drawn swords of a troop of armed soldiers fierce enough to repel an army of wild óarcos.