Lumberjanes: The Moon Is Up
Mariko Tamaki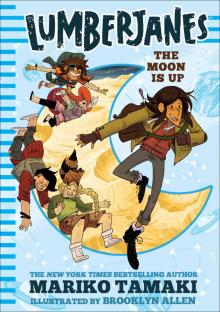 PUBLISHER'S NOTE: THIS IS A WORK OF FICTION.

NAMES, CHARACTERS, PLACES, AND INCIDENTS ARE EITHER THE PRODUCT OF THE AUTHOR'S IMAGINATION OR USED FICTITIOUSLY, AND ANY RESEMBLANCE TO ACTUAL PERSONS, LIVING OR DEAD, BUSINESS ESTABLISHMENTS, EVENTS, OR LOCALES IS ENTIRELY COINCIDENTAL.

CATALOGING-IN-PUBLICATION DATA HAS BEEN APPLIED FOR AND MAY BE OBTAINED FROM THE LIBRARY OF CONGRESS.

ISBN 978-1-4197-2868-6

eISBN 978-1-68335-251-8

TEXT AND ILLUSTRATIONS COPYRIGHT © 2018 BOOM! STUDIOS BOOK DESIGN BY CHAD W. BECKERMAN

LUMBERJANES CREATED BY SHANNON WATTERS, GRACE ELLIS, NOELLE STEVENSON & BROOKLYN ALLEN.

LUMBERJANES TM & © 2018 SHANNON WATTERS, GRACE ELLIS, NOELLE STEVENSON & BROOKLYN ALLEN. ALL RIGHTS RESERVED.

PUBLISHED IN 2018 BY AMULET BOOKS, AN IMPRINT OF ABRAMS.

ALL RIGHTS RESERVED. NO PORTION OF THIS BOOK MAY BE REPRODUCED, STORED IN A RETRIEVAL SYSTEM, OR TRANSMITTED IN ANY FORM OR BY ANY MEANS, MECHANICAL, ELECTRONIC, PHOTOCOPYING, RECORDING, OR OTHERWISE, WITHOUT WRITTEN PERMISSION FROM THE PUBLISHER.

AMULET BOOKS AND AMULET PAPERBACKS ARE REGISTERED TRADEMARKS OF HARRY N. ABRAMS, INC.

AMULET BOOKS ARE AVAILABLE AT SPECIAL DISCOUNTS WHEN PURCHASED IN QUANTITY FOR PREMIUMS AND PROMOTIONS AS WELL AS FUNDRAISING OR EDUCATIONAL USE. SPECIAL EDITIONS CAN ALSO BE CREATED TO SPECIFICATION. FOR DETAILS, CONTACT [email protected] OR THE ADDRESS BELOW.

ABRAMS The Art of Books

195 Broadway, New York, NY 10007

abramsbooks.com

ASTRONO-ME-ME-ME!

"OH MY STARS!"

The universe is a really, really, really big place, containing more than 100 billion galaxies, each containing more than 100 billion stars, including that great big star we call the Sun. In this way, the study of the universe provides scouts with a much-needed perspective on just how teeny tiny we really are in the grand context of things.

The study of celestial bodies has multiple benefits. Early Lumberjanes studied the stars to orient themselves and plot courses on land and sea. Knowing the location of the North Star can be helpful for finding your way home, or to your next adventure.

Ultimately, from planets to pulsars, the study of astronomy offers a glimpse into the real answer to the question, "Where are we?" Lumberjanes who have acquired this badge know the answer is . . .

CHAPTER 1

It was early morning at Miss Qiunzella Thiskwin Penniquiqul* Thistle Crumpet's camp for Hardcore Lady-Types, and Jo was lying on her bunk, arms tucked under her head, her brown eyes fixed on the ceiling . . . thinking.

Outside of camp, Jo could spend a whole day lost in thought. Which was a saying Jo didn't like, because it suggested that she was "lost" in thought. And she wasn't lost. She was just . . . thinking.

About what?

Many things, actually.

Including:

The mechanics of pulleys.

Whether she turned her alarm clock off before she left for camp.

Whether she did or did not see a creature disembark from a moon-like structure a few days ago.

Also, Newton's Law of Motion.

To paraphrase, Newton's Law says that something will keep doing what it's doing, the way it's doing it, until another force shows up and says something like,

Today, this force was April, whose fierce green eyes, framed by her bright, cherry-red hair, peeked over Jo's bunk.

Her booming voice filled the cabin. "Are you ready to begin this, the next chapter in our most adventurous summer?!"

April, one of Jo's best friends since forever and a fellow member of Roanoke cabin, was often described as a force—a force to be reckoned with, a force of nature, and so on.

Today April was in a bit of a hurry because there was a lot to do and . . . Actually, there was always a lot to do. Actually, maybe April was always in a bit of a hurry.

Fortunately, being in a hurry and being a Lumberjane go very well together.

Jo sat up, her head skimming the roof of the cabin as she swung her legs over the side of her bunk. "Yes, I am."

"Indubitably!" April tightened the white bow tied around her hair. "Then let's make like a Lumberjane and get GOING!"

It was another amazingly gorgeous day, and outside the cabin the sky looked like a kid's drawing: deep blue, with three puffy clouds and a bright yellow sun shining down on the summer home away from home of the Lumberjanes.

Was this yet another great day to be a Lumberjane? Yes it was, because, and it's been said before but it is worth repeating, pretty much every day is a great day to be a Lumberjane.

April and Jo charged across the courtyard, past the fire pit and the flagpole, the volleyball nets and the picnic benches, toward the mess hall.

Technically, April was charging, Jo was strolling. Because April had much shorter legs. Also April liked to CHARGE forward. Jo had very long legs, and she liked to stroll in long, loping strides, hands in pockets. It is a testament to Jo and April's long friendship that they knew how to walk at the exact same speed while walking with completely different paces and strides.

It was probably also a cornerstone of their friendship that April liked to talk as much as Jo liked to be quiet and think.

If Jo and April both liked to talk, it would be a very loud friendship.

April breathed in deeply. "This day is splendidly, vociferously, unquestionably fabulous, is it not? I believe it is."

Jo took a deep breath. It was true. The air smelled like pine, sunshine, and possibility.

Recently, the very adventurous members of Roanoke cabin—April, Jo, Mal, Molly, and Ripley—had charged up a mountain that didn't end up being a mountain but rather a frequently disappearing access route to a society of very laid-back cloud people called Cloudies. This adventure also involved discovering a herd of smelly but magical unicorns.

That was a pretty epic day.

And today was a new day.

And April was ready for more epic-ness.

April rubbed her hands together, her ruby hair glinting in the sun. "Did you spend your morning of quiet reflection considering how we're going to totally kick butt at Galaxy Wars?"

April said it like a TV game show announcer. GALAXY WAAARS!

Jo smiled. Jo's hair was brown and did not glint in the sun, but it was still a very satisfying chestnut color.

"No," she said. "Did you spend your morning of not-so-quiet reflection thinking about how we're going to kick butt at—"

"Why, yes, in fact I did take a moment to reflect on that particular subject during my morning reflections, YES I DID!" April clenched her hands into tiny, powerful fists.

"I mean," she took a preparatory breath. "Of course we're going to rule the camp TO THE MAX at Galaxy Wars. Because we are awesome. And if there WERE a best cabin, which, let's say that most rankings of any sort are subjective, but that you could set a roughly scaled order using a few key components like who is most prepared and most learned, then the most amazing cabin would have to be US!"

Jo paused while April took a deep breath.

Winning was not really as interesting to Jo as many other things. It didn't even make her top-fifty things, if we're honest.

Winning was in April's top-ten interesting things. Currently under April's bunk was a stack of books on stars and planets. Under April's pillow was a dusty encyclopedia volume, Me–Mo, which covered subjects including medicine, merchants, monasteries, and, crucially, moons.

"I mean," April said, standing up straight again, "obviously, it's not about winning or losing, that's not what being a Lumberjane is about, and thus it's no
t what we're about, as Lumberjanes. Obviously it's about having fun, and we will have fun because that's what we do."

And then, April had a crystal-clear thought, and that thought was, That, and WINNING.

"Obviously," Jo agreed.

Admittedly, Jo was half listening to April and half thinking about the moon-like craft she thought she saw landing in the trees the other night from her window in the cabin. Jo had followed what for Jo was standard procedure after this sighting, which was to try and collect more information. Which meant jumping out of bed in the middle of the night with her flashlight and rooting through the bushes for an hour, discovering nothing but a wayward nest of squirrels who did not enjoy the intrusion.

Jo wondered if maybe it was a dream.

A very vivid, very awake-feeling dream.

This thought must have registered on Jo's face like a flicker of light. Like a dragonfly skipping across the calm waters of a summer lake.

April squinted, noticing the flicker. "Hey," she said, and she was about to ask what WAS on Jo's mind, but then the mess hall door swung open, and they were swallowed up by the cacophony of breakfast.

* Pronounced Penny-quee-quellle

CHAPTER 2

It is important to be VERY, VERY LOUD in the mess hall when you are a Lumberjane. It helps with digestion. If you cannot chew loudly and/or burp loudly, you can also slam your cutlery against the table and/or sing a song, of which, if you are a Lumberjane, there are many. Like that song about the GOAT, the GIRL, and the GARGOYLE playing GOLF. A song that is curiously titled, "Miss Maggy Marple May's Monday."

At the table, Ripley, the smallest but mightiest member of Roanoke cabin, was not singing but defending her pancake record of 14¾. A day earlier, Sally Smithereen of Roswell cabin (who had the record for most milkshakes slurped, at six) came very close to breaking it, except Sally made the rookie mistake of adding a bite of veggie bacon to the mix, and it all went south from there.

As it will.

The key to any record, as any Lumberjane knows, is focus. Which Ripley had, when it came to eating pancakes. When she wasn't eating pancakes, Ripley had a tendency to get distracted by sparkly things. Sparkly was one of Ripley's top-five favorite adjectives, along with fuzzy, bouncy, shiny, and googley.

In addition to eating breakfast, Mal and Molly, two particularly inseparable Roanoke cabin members, were practicing on their accordions for their upcoming That's Accordion to You badges. Successfully completing a badge for music meant performing for Drucilla Johnstone II, the ornery but lovable camp music director and master of multiple instruments, including the tuba, flute, drums, guitar, sitar, recorder, kazoo, harmonica, and violin. Drucilla avoided sunlight at all costs and thought disco was uniformly abominable, but she was a good teacher.

To receive badges, scouts had to play, for Drucilla, without mistakes, a song of their choosing, and three scales.

Music was definitely in Mal's list of favorite things, in addition to problem-solving and being really into Molly. Mal's mother and grandmother had been teaching her to play various instruments since she was old enough to breathe. One of her first stuffed animals was a fluffy drum named BANG.

Running her fingers over the buttons and keys of her accordion, Mal watched Molly, who was looking at her sheet music with great Molly-like intensity.

Before camp, music was not even in Molly's list of favorite one hundred things, although she enjoyed listening to the radio. Before camp, Molly had never even tried to play a musical instrument, but she was kind of digging playing music with Mal, mostly because just about anything she and Mal did together ended up being way more fun than anything Molly did with anyone else. Molly liked it so much she was even thinking of joining Flute Club.

Flute Club, unfortunately, was difficult to join, because they were a very secretive club. And no one really talks about how or where you're supposed to go to join.

Weird.

With Bubbles the raccoon, faithful pet and head warmer, snoozing comfortably on her noggin, Molly squinted at the notes on the page and tried to make her fingers go where they were supposed to go.

"What are you playing for your test tomorrow?" April asked. "Are you playing the classic Lumberjane ditty, 'Miss Tawny Tooberang Tustle's Tuesday'?"

"Is that the one about the hedgehog named Henry who hates horseradish?" Jo asked.

Molly shook her head. "I couldn't find any sheet music for that, so I'm playing 'Frère Jacques' instead." Molly braced her fingers on the keys of her accordion. "It's about a monk who slept in."

"I'm playing Queen's 'Bohemian Rhapsody,' " Mal said, "which is about relationships."

"Holy Siouxsie Sioux." April flopped down on the bench with a plate full of cheese omelette and toast. "Isn't that a really hard song?"

Mal shrugged. "Yeah, I mean, it's a suite containing a multitude of sections that is considered the ultimate hard-rock classical slash prog-rock crossover. No bigs."

"Dude," April nodded appreciatively. "Now that is an operatic undertaking!"

"It's gonna be athom," Ripley said, grinning with a mouth full of pancake.

Jo raised an eyebrow at Ripley. "Hey, Rip. How many pancakes is that?"

Ripley held up all ten sticky fingers.

People have a habit of saying odd and interesting things, like, "Your eyes were bigger than your stomach," which means you thought something was going to be smaller than it was, namely, that you thought a meal or a muffin or a buffet was going to be able to fit into your stomach, but it wasn't. Really, this is a way of saying that your stomach is smaller than you think, because no matter what you eat, your eyes stay pretty much the same size. Maybe it's not worth thinking about. Or maybe it's the key to everything.

Jo had spent a considerable amount of time wondering about whether or not Ripley had an extremely large stomach, or whether she was burning fuel at such a rapid Ripley rate while doing Ripley things that she just needed more fuel.

"Hey," Molly looked up. "Where's Jen?"

"Working on Galaxy Wars, of course," April said.

Galaxy Wars was Roanoke counselor extraordinaire Jen's pet project, if by "pet" we mean "obsession."

"Is it just me or has it been days since we saw her?" Mal wondered out loud. "She hasn't even bothered to leave us a list of chores in, like, three days. Or to tell us to be careful. I don't even know where my socks are anymore."

CLANG! CLANG! CLANG!

"LUMBERJANES! LISTEN UP!"

Camp Director Rosie, Jen, and the rest of the camp counselors stood at the front of the mess hall. Rosie, holding up a massive cast-iron pan and wooden spoon, was doing the clanging.

"LISTEN UP!" Rosie hollered, her voice piercing and loud like freshly sharpened steel.

The din subsided to a low murmur of chewing and curiosity.

Rosie lowered the pan and adjusted her thick cat-eye glasses. "RIGHT! Tonight will kick off our First Annual Lumberjane Galaxy Wars, organized by your very own camp counselors, including Roanoke's very own Jacqueline! Let's give her a hand!"

A roar of volcanic proportions erupted in the hall as all the scouts stood up to applaud their hardworking counselors.

"It's Jen," Jen whispered, clapping while keeping her trusty clipboard tucked under her arm. "Always Jen."

"YEAH, JEN!" Mal cheered.

"WOOT! WOOT!" Ripley yelled.

Jo just smiled, because Jo was less of a "WOOT"-er than her cabin mates.

Jen stepped forward, her counselor uniform crisp, smiling the rosy smile of a nerd about to see her dream take shape.

Jen had many dreams, including a recurring nightmare where she searched for her campers through a complex maze of thick ivy, all while dressed in a set of fuzzy footie pajamas and a baseball hat that said "HONK FOR JUSTICE."

This wasn't one of those
dreams.

This was one of those dreams where you work really hard to make something happen, and then it does.

"All right, campers! We're all super excited to bring you this incredible event full of amazing . . . EVENTS!" Jen's eyes sparkled as she gazed out upon the crowd of campers about to take part in this amazing thing. This really amazing thing!

"Ahem," fellow counselor Vanessa nudged Jen, who in gazing had forgotten to mention . . . the events.

"Right!" Jen looked back down at her clipboard. "SO! Galaxy Wars will consist of four days of activities, all taking place after sunset. The first night, tonight, will be a camp-wide scavenger hunt. Tomorrow night we will have a mystery contest."

April's eyebrows shot up as high as a person's eyebrows could possibly shoot up.

Ripley sighed. "I hope it's a dance off. Bubbles and I have been practicing our cha-cha all week."

Bubbles, who was mostly Molly's pet but also Ripley's dance partner, chirped in the affirmative.

"The next day," Jen continued, "there will be a trivia contest with a distinctly Lumberjane twist!"

Mal hoped it wasn't anything to do with a lake. Or a river. Or water.

"And finally, the pièce de résistance, an all-out obstacle course!"

The mess hall erupted in a raucous cheer.

Lumberjanes love obstacles.

Because obstacles do not stand in the way of being an awesome scout.

Obstacles are what MAKE awesome scouts.

"The cabin that wins each event will receive twenty-five points; the second and third place cabins receive fifteen and ten points. The cabin with the most points at the end of four nights wins! The prize," Jen grinned, "will be announced at the first event tonight."

Jen held up a finger. "Get ready. These events are all night events, so bring your flashlights!"

"Okay, scouts," Vanessa hollered, "you've got the rest of your day to get to your tasks and responsibilities and badges. Zodiac, you have stable duty!"

With yips and yelps of glee, the scouts flooded out of the mess hall.