The Good Egg
Mariko Tamaki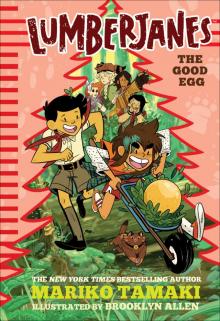 PUBLISHER'S NOTE: THIS IS A WORK OF FICTION.

NAMES, CHARACTERS, PLACES, AND INCIDENTS ARE EITHER THE PRODUCT OF THE AUTHOR'S IMAGINATION OR USED FICTITIOUSLY, AND ANY RESEMBLANCE TO ACTUAL PERSONS, LIVING OR DEAD, BUSINESS ESTABLISHMENTS, EVENTS, OR LOCALES IS ENTIRELY COINCIDENTAL.

LIBRARY OF CONGRESS CATALOGING-IN-PUBLICATION DATA

NAMES: TAMAKI, MARIKO, AUTHOR. | ALLEN, BROOKLYN A., ILLUSTRATOR.

TITLE: LUMBERJANES: THE GOOD EGG / BY MARIKO TAMAKI; ILLUSTRATED BY BROOKLYN ALLEN.

DESCRIPTION: NEW YORK: AMULET BOOKS, 2018. | SERIES: LUMBERJANES; BOOK 3 | BASED ON THE LUMBERJANES COMICS CREATED BY SHANNON WATTERS, GRACE ELLIS, NOELLE STEVENSON & BROOKLYN ALLEN. IDENTIFIERS: LCCN 2018017356 | ISBN 978-1-4197-3131-0 (HARDCOVER POB) | eISBN 978-1-68335-400-0

CLASSIFICATION: LCC PZ7.T1587 LUG 2018 | DDC [FIC]—DC23

TEXT AND ILLUSTRATIONS COPYRIGHT © 2018 BOOM! STUDIOS

BOOK DESIGN BY CHAD W. BECKERMAN

LUMBERJANES CREATED BY SHANNON WATTERS, GRACE ELLIS, NOELLE STEVENSON & BROOKLYN ALLEN

LUMBERJANESTM AND © SHANNON WATTERS, GRACE ELLIS, NOELLE STEVENSON & BROOKLYN ALLEN. ALL RIGHTS RESERVED.

PUBLISHED IN 2018 BY AMULET BOOKS, AN IMPRINT OF ABRAMS.

ALL RIGHTS RESERVED. NO PORTION OF THIS BOOK MAY BE REPRODUCED, STORED IN A RETRIEVAL SYSTEM, OR TRANSMITTED IN ANY FORM OR BY ANY MEANS, MECHANICAL, ELECTRONIC, PHOTOCOPYING, RECORDING, OR OTHERWISE, WITHOUT WRITTEN PERMISSION FROM THE PUBLISHER.

AMULET BOOKS ARE AVAILABLE AT SPECIAL DISCOUNTS WHEN PURCHASED IN QUANTITY FOR PREMIUMS AND PROMOTIONS AS WELL AS FUNDRAISING OR EDUCATIONAL USE. SPECIAL EDITIONS CAN ALSO BE CREATED TO SPECIFICATION. FOR DETAILS, CONTACT [email protected] OR THE ADDRESS BELOW.

AMULET BOOKS® IS A REGISTERED TRADEMARK OF HARRY N. ABRAMS, INC.

ABRAMS The Art of Books

195 Broadway, New York, NY 10007

abramsbooks.com

WILD THINGS

(I THINK I APPRECIATE YOU)

YOU'RE A STRANGE ANIMAL!

A Lumberjane should not only have the skills to survive in the wilderness (sometimes with limited resources) but also must appreciate the many creatures that call the wild outdoors their home.

The Wild Things badge requires scouts to learn how to track, observe, document, sketch, and record wild birds and animals in their natural habitats, to understand how creatures survive and thrive in the wild.

Scouts will learn how to coexist with wildlife, how to keep these animals safe and sound, and how to preserve as well as observe wild creatures.

Lumberjanes know that the wilderness has much to teach us. The more we understand about birds and animals, the more we understand . . .

CHAPTER 1

Famous researcher, scientist, and Lumberjane, Miss Jane Petunia Massy Acorn Dale once conducted an extensive study on the phenomenon of human grown-ups.

Jane wanted to understand what it was that made a grown-up a grown-up. To do this, she sought to observe grown-ups. To understand their ways and habits.

It was the only study she ever abandoned, because it was too annoying.

Grown-ups, she wrote in her extensive field notes, often declare that they are grown-up but cannot say why or when this happened. Even when questioned. Also, grown-ups are always quick to point out when someone is not a grown-up. Also, aside from clothing and cars, there is nothing particularly distinctive about grown-ups, compared to not-grownups. So they are bigger, Jane noted, so what?

In the end, the study yielded more questions and vague definitions than answers. So Jane went back to her research on birds and animals and felt much better about it.

The woods outside Miss Qiunzella Thiskwin Penniquiqul Thistle Crumpet's Camp for Hardcore Lady-Types have always been fruitful for the study of aviary and mammalian behavior.

On the morning that our story begins, the trees boomed with a cacophony of sounds.

A cacophony is kind of like a buffet of very different noises mixed together, but in a very awkward and loud way. So, really, it's more like how your plate looks after you visit a buffet, if it were possible to pile a plate high with SOUNDS.

In this case, sounds like:

SNNURT!

WHOO WHOO!

WEEEDY WEEEDY WEEEE

CHIT CHIT CCHHHIT

To name just a few.

Cacophonies, like buffets, aren't for everyone.

Some people like a lot of noise; the more noises together, the better.

Some people would just prefer if you would generally keep your voice down.

Lumberjanes tend to fall on the side of people who like noise, partly because noise is a big part of being a Lumberjane. There are cheers scouts like to cheer at dinner and campfire songs for campfire times. Also, there are many badges that specifically reward Lumberjanes for being loud, including: Let Your Trombone Slide, "Hear! Hear!" Give a Cheer, and, of course, the Yodeling badge, YODELAHEEEWHOOO Wants to Know.

A scout with the WHOOO WHOOOO's Calling badge could have stood in the woods, closed their eyes, and caught the identifying features that make up the calls of wild boars, barn owls, flying squirrels, weasels, titmouses, and the fabulous blue-crested Ripley.

GEK-GGGEK

MURRROOOOOO

Tra la la!

The blue-crested Ripley, who will (you'll see) be the hero of this story, is a human creature and a Lumberjane with a shock of blue hair, a massive appetite, and a preference for orange clothing. Ripleys enjoy bouncing, running, jumping, frolicking, dancing, and singing, sometimes while sitting high up in very large pine trees, as she was on this particular morning.

LA LA LA!

Singing is how Ripleys keep track of things and goings-on and whatnot. Because Ripleys, unlike Aprils or Jos, are not really into writing things down in notebooks and journals.

This, of course, is fine. Because everyone, every creature, is different.

Some scouts like to write things down. Some, like Ripley's very good friend and fellow Roanoke cabin member April, like to write and underline things and draw a picture and write more notes and then highlight the whole thing with a bright yellow highlighter.

Some don't.

For Ripley, writing things down was a very slow process that was very unlike bouncing.

Which Ripley much preferred.

Singing is a little like bouncing. Especially if the song comes from that bouncy castle in your heart.

On this day, Ripley was singing about a mouse named Castor, who was also a Moon Pirate and whose Lumberjane story had come to a close recently, when she climbed back into her space pirate ship and soared up into the sky.

Castor loves cheese, Ripley sang.

And glitter if you please

She lives on a ship

She's taking a trip

To the mooooooon

What else is happening?

Well let's see

Lots of things hap-pen to me

So, also I have found . . .

Ripley flipped her legs up and tipped backward, swinging around and grabbing onto the branch. Still holding on with one hand, she dangled down over . . .

. . . a big nest

Of really really really really big golden eggs

Of course, when describing something as big or little, it is worth noting that "big" and "little" are subjective terms, which is to say, one person's notion of BIG could be relatively small compared to someone else's. This is most often noted when cake is being served.

Still, most people would have to admit that the nest below Ripley was HUGE. It was as big as a cabin. The eggs, most of the eggs, were as big as Ripley. With one exception.

And a little gold egg that I like best.

Eggie was a smaller, bas
ketball-size egg that Ripley had noticed on the edge of the nest.

"Hello, Eggie," Ripley trilled happily.

A basketball-size egg would probably be considered a big egg if you put it next to the kind of eggs you normally find in nests. If you put it next to a robin's egg—which are so small you can fit three in your hand, depending on how big your hand is—the basketball-size egg would be . . . enormous.

But in its nest surrounded by its massive siblings, Eggie was tiny.

Wee even.

Ripley dropped down from her branch and leaned in close to the nest.

"How are you today, Eggie? Are you egg-cellent?"

Eggs, generally, do not make noise. Yet. They are PRE-noise. So Eggie said nothing. But Ripley liked to say encouraging things to it all the same.

"Anyway," Ripley said, smiling at Eggie, "it was really nice hanging out with you. I gotta go, but I'll see you tomorrow, okay?"

Eggie sat silent.

"Kay, see ya!"

Ripley skipped off to camp, her feet crunching into the forest floor with every step. It was time to go do scout things. The day, and the story of Ripley, was just beginning, and there was much to do.

CHAPTER 2

A happy camp is, among other things, a clean and orderly camp.

Mostly because it's just really annoying to step on something, like a whiffle bat or a rake, when you're not expecting to step on something.

Also, keeping things orderly makes it easier to finish jigsaw puzzles.

As former head counselor Mademoiselle Suzannah Saror Mareng Salamader III once noted, "Everything has a place, and so everything in its place, and if it's not there, that's minus two points."

This was, of course, back when there was a points system.

Which there isn't, anymore.

Currently, the philosophy of Miss Qiunzella Thiskwin Penniquiqul Thistle Crumpet's Camp for Hardcore Lady-Types was: Cleanliness is next to awesomeness.

As part of the GREAT CABIN CLEANUP, the scouts of Roanoke cabin—actually the whole camp, including Dartmoor, Woolpit, Zodiac, Roswell, Dighton, and even Aurora—were cabin cleaning.

Jen, the counselor for Roanoke cabin, stood on the steps in her recently ironed green and yellow uniform with matching clipboard, a newly polished whistle dangling around her neck. Her eyes shone with excitement, and her beret was perfectly angled on the top of her head for maximum beret effect. Jen liked putting things in order.

Cleaning was something Jen enjoyed almost as much as Ripley enjoyed singing or bouncing.

"ALL RIGHT, SCOUTS!" Jen shouted as she marched down the stairs. "I WANT TO SEE ALL THE CLUTTER, ALL THE STUFF, EVERYTHING UNDER YOUR BUNKS, OVER YOUR BUNKS, BETWEEN YOUR BUNKS, ALL THE MESS, CLEANED UP! LET'S GO! LET'S DO THIS!"

April emerged from Roanoke carrying a pile of stuff almost as big as April was, which is about four and a half feet high (and all muscle).

ALL MUSCLE!

"How did we get so much stuff?" April grumbled, plonking the pile on the grass outside the cabin and brushing off her purple jacket, which was currently more dust gray than plum purple.

April didn't mind cleaning so much as she thought there were a million other things—getting badges, climbing mountains, solving mysteries—that they, Roanoke cabin, could be doing INSTEAD of cleaning.

What is cleaning if not looking at a bunch of stuff you already know about? she thought.

A puff of dust, like a giant cough, plumed out of Roanoke cabin's door, followed by Molly, who was rolling a boulder of stuff down the stairs. Molly's boulder looked like a meteor that had traveled extensively through space and collected, on its path, a mix of cosmic debris, all while hurtling toward the earth.

Actually, it was stuff that Molly and Bubbles, Molly's raccoon and hat, had just pulled out from under Molly's bunk. With great combined effort.

At home, Molly had to do a cleanup every day, so once in a blue moon didn't seem too bad. Also, Molly was not one to grumble, generally.

Molly was more of a blusher than a grumbler. And when Molly blushed, her whole face went the color of a tomato. Which was really embarrassing.

Molly's mystery meteor bounced down the stairs and onto the grass, where it collapsed in a heap next to April's pile with a soft PFFFT sound. Almost like it had given up on the idea of being a meteor, right at that moment.

"What the literal junk!" April exclaimed, looking at Molly.

"The weird thing is, I don't even recognize this junk," Molly said, holding her hands up near her face in a "Geez, I don't know" gesture. Molly's green baseball tee was also covered in dust. "I think maybe some of this is Bubbles's."

Bubbles the raccoon, who was so covered in dust he looked like a gray cat, blinked innocently, reached surreptitiously (which means in a way that is trying to avoid notice) into the wad, pulled out a pawful of nuts, and scampered back into the cabin to deposit them under Molly's bed.

Minutes later, Jo emerged from the cabin with her cleanup items: a small pile of folded notes that she had discovered tucked into one of the books next to her bed and two tiny silver screws she had found under her pillow.

"Wait." April shook her head in disbelief. "Is THAT all your junk?"

Jo didn't like to think of anything as junk, since Jo knew just about everything had a possible use.

"This is my recycling," she noted, neatly sliding her pile of papers into the recycling bin and pocketing the screws in one of her many pockets.

Beyond reusing whatever could be reused, Jo also liked to keep things tidy. At home, in her science lab, everything was neatly labeled and ordered. Because science is also generally neat and ordered. Even if the things you're researching . . . aren't.

Ripley liked to think of herself as sort of a tidy person.

Ripley liked to keep her clothes on the floor, but this did not mean Ripley was not a tidy person. A person can be a person who leaves their shirt on the floor so it is easier to slip into said shirt in the morning and still be a tidy person. Ripley's sister, who shared a room with her at home, disagreed.

Mostly what Ripley found when she went spelunking under her bunk was lots of glitter, which seemed to have rained down from her mattress and formed a thin layer of sparkle on the floor.

Which then got all over Ripley.

So Ripley's cleanup was walking outside covered in glitter and bouncing up and down until all the glitter came off, forming a sort of shimmery halo around her. Like a rainbow, only better.

"Aw," Molly said, looking over. "You're so sparkly! Where's your garbage?"

"Don't have any!" Ripley chirped.

"Keep cleaning!" Jen called over as she marched between cabins. "All library books should go back to the library! All odds and ends should go to the craft pile. All garbage goes in a landfill, so think very carefully before you put it in the garbage. Recycle! Reuse! CLEAN!"

"How come I have so much stuff?" April asked no one in particular, putting one foot on her pile. "This is a truly Sisyphean task, my friends."

The classic Sisyphean task involved rolling a rock up a hill, watching the rock roll down the hill, and then rolling it back up again. Not exactly like cleaning a cabin, but both can feel kind of endless.

The pile under April's foot burbled and slowly began sucking in her shoe.

"AUGH!" April jumped back. "The pile! The pile has a mind of its own!!"

"Hey," Ripley said, dusting glitter off her hands, "so I was visiting my eggs today."

"Your aunts?" Jo asked, looking closely at one of the screws from her pocket and trying to decide where, exactly, it had come from.

"Eggs," Ripley repeated.

"Hey, look, you guys!" Mal stepped out of the cabin with what looked like, and was, a massive tumbleweed. "I looked under my bunk and I found . . . socks!"

"It's a Lumberjane miracle," J
o said.

"Are they YOUR socks?" Molly asked.

"Geez." Mal dropped the pile on the grass. "It's been so long since I've seen them, I don't even know."

Mal bent over and shook the dust out of her short black hair and off the many buttons on her vest.

At home, Mal's room was sometimes so messy she could roll out of bed and onto the floor and not even know it.

"A nest full of eggs," Ripley said, turning to April, who was now elbow deep in her pile.

"Hey!" April yanked her hand out of her pile and held up a tattered paperback. "Check it! It's my copy of Tales from the Mermaid City!"

It was an issue of the Mermaid Lemonade Stand series April had already read, many times, but it was a good one.

"Did you say Annette?" Molly looked up from rummaging through her pile, which WAS, it turns out, mostly acorns that Bubbles had been stowing under her bed. A cloud of dust hovered around Molly's head like a little private storm cloud. "Who's Annette?"

"A nest," Ripley said, again. Repeating herself. Again.

Molly stuck her finger in her ear and shook her head. "My ears are full of dust, you guys."

Ripley frowned.

Sometimes when you are smaller, the things you say are just not as big as the rest of the stuff going on.

Or at least this is how it seems when you are Ripley-size or a Ripley-like person.

Ripley was used to this as someone who got ready for school every morning in a house full of brothers and sisters who were older and louder than she was.

"What, sweetie?" was sort of Ripley's second name at home.

It was okay, but it was still kind of annoying.

Molly smiled, bending down to look at Ripley's frowning glittery face. "A nest sounds cooler than Annette," she said.

Ripley nodded. And opened her mouth to say more, but then, as often happens at a place where lots of stuff is happening all the time, there was a sudden clanging.

"CAMPERS! TIDY UP AND MEET AT THE MESS HALL FOR A BIG ANNOUNCEMENT!" Jen bellowed into her shiny megaphone.

"Tell me about it later," Molly whispered.