Prodigy
Marie Lu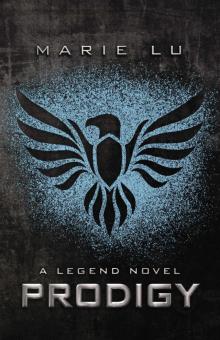 Page 1

LAS VEGAS, NEVADA

REPUBLIC OF AMERICA

POPULATION: 7,427,431

JAN. 4. 1932 HOURS.

OCEAN STANDARD TIME.

THIRTY-FIVE DAYS AFTER METIAS'S DEATH.

DAY JOLTS AWAKE BESIDE ME. HIS BROW IS COVERED with sweat, and his cheeks are wet with tears. He's breathing heavily.

I lean over him and brush a wet strand of hair out of his face. The scrape on my shoulder has scabbed over already, but my movement makes it throb again. Day sits up, rubs a hand wearily across his eyes, and glances around our swaying railcar as if searching for something. He looks first at the stacks of crates in one dark corner, then at the burlap lining the floor and the little sack of food and water sitting between us. It takes him a minute to reorient himself, to remember that we're hitching a ride on a train bound for Vegas. A few seconds pass before he releases his rigid posture and lets himself sag back against the wall.

I gently tap his hand. "Are you okay?" That's become my constant question.

Day shrugs. "Yeah," he mutters. "Nightmare. "

Nine days have passed since we broke out of Batalla Hall and escaped Los Angeles. Since then, Day has had nightmares every time he's closed his eyes. When we first got away and were able to catch a few hours of rest in an abandoned train yard, Day bolted awake screaming. We were lucky no soldiers or street police heard him. After that, I developed the habit of stroking his hair right after he falls asleep, of kissing his cheeks and forehead and eyelids. He still wakes up gasping with tears, his eyes hunting frantically for all the things he's lost. But at least he does this silently.

Sometimes, when Day is quiet like this, I wonder how well he's hanging on to his sanity. The thought scares me. I can't afford to lose him. I keep telling myself it's for practical reasons: we'd have little chance of surviving alone at this point, and his skills complement mine. Besides . . . I have no one left to protect. I've had my share of tears too, although I always wait until he's asleep to cry. I cried for Ollie last night. I feel a little silly crying for my dog when the Republic killed our families, but I can't help myself. Metias was the one who'd brought him home, a white ball of giant paws and floppy ears and warm brown eyes, the sweetest, clumsiest creature I'd ever seen. Ollie was my boy, and I'd left him behind.

"What'd you dream?" I whisper to Day.

"Nothing memorable. " Day shifts, then winces as he accidentally scrapes his wounded leg against the floor. His body tenses up from the pain, and I can tell how stiff his arms are beneath his shirt, knots of lean muscle earned from the streets. A labored breath escapes his lips. The way he'd pushed me against that alley wall, the hunger in his first kiss. I stop focusing on his mouth and shake off the memory, embarrassed.

He nods toward the railcar doors. "Where are we now? We should be getting close, right?"

I get up, glad for the distraction, and brace myself against the rocking wall as I peer out the railcar's tiny window. The landscape hasn't changed much—endless rows of apartment towers and factories, chimneys and old arching highways, all washed into blues and grayish purples by the afternoon rain. We're still passing through slum sectors. They look almost identical to the slums in Los Angeles. Off in the distance, an enormous dam stretches halfway across my line of vision. I wait until a JumboTron flashes by, then squint to see the small letters on the bottom corner of the screen. "Boulder City, Nevada," I say. "Really close now. The train will probably stop here for a while, but afterward it shouldn't take more than thirty-five minutes to arrive in Vegas. "

Day nods. He leans over, unties our food sack, and searches for something to eat. "Good. Sooner we get there, sooner we'll find the Patriots. "

He seems distant. Sometimes Day tells me what his nightmares are about—failing his Trial or losing Tess on the streets or running away from plague patrols. Nightmares about being the Republic's most wanted criminal. Other times, when he's like this and keeps his dreams to himself, I know they must be about his family—his mother's death, or John's. Maybe it's better that he doesn't tell me about those. I have enough of my own dreams to haunt me, and I'm not sure I have the courage to know about his.

"You're really set on finding the Patriots, aren't you?" I say as Day pulls out a stale hunk of fried dough from the food sack. This isn't the first time I've questioned his insistence on coming to Vegas, and I'm careful about the way I approach the topic. The last thing I want Day to think is that I don't care about Tess, or that I'm afraid to meet up with the Republic's notorious rebel group. "Tess went with them willingly. Are we putting her in danger by trying to get her back?"

Day doesn't answer right away. He tears the fried dough in half and offers me a piece. "Take some, yeah? You haven't eaten in a while. "

I hold a hand up politely. "No, thanks," I reply. "I don't like fried dough. "

Instantly I wish I could stuff the words back in my mouth. Day lowers his eyes and puts the second half back into the food sack, then quietly starts eating his share. What a stupid, stupid thing for me to say. I don't like fried dough. I can practically hear what's going through his head.

Poor little rich girl, with her posh manners. She can afford to dislike food. I scold myself in silence, then make a mental note to tread more carefully next time.

After a few mouthfuls, Day finally responds, "I'm not just going to leave Tess behind without knowing she's okay. "

Of course he wouldn't. Day would never leave anyone he cares about behind, especially not the orphan girl he's grown up with on the streets. I understand the potential value of meeting the Patriots too—after all, those rebels had helped Day and me escape Los Angeles. They're large and well organized. Maybe they have information about what the Republic is doing with Day's little brother, Eden. Maybe they can even help heal Day's festering leg wound—ever since that fateful morning when Commander Jameson shot him in the leg and arrested him, his wound has been on a roller coaster of getting better and then worse. Now his left leg is a mass of broken, bleeding flesh. He needs medical attention.

Still, we have one problem.

"The Patriots won't help us without some sort of payment," I say. "What can we give them?" For emphasis, I reach into my pockets and dig out our meager stash of money. Four thousand Notes. All I had on me before we made a run for it. I can't believe how much I miss the luxury of my old life. There are millions of Notes under my family name, Notes that I'll never be able to access again.

Day polishes off the dough and considers my words with his lips pressed together. "Yeah, I know," he says, running a hand through his tangled blond hair. "But what do you suggest we do? Who else can we go to?"

I shake my head helplessly. Day is right about that—as little as I'd like to see the Patriots again, our choices are pretty limited. Back when the Patriots had first helped us escape from Batalla Hall, when Day was still unconscious and I was wounded in the shoulder, I'd asked the Patriots to let us go with them to Vegas. I'd hoped they would continue to help us.

They'd refused.

"You paid us to get Day out of his execution. You didn't pay us to carry your wounded asses all the way to Vegas," Kaede had said to me. "Republic soldiers are hot on your trail, for crying out loud. We're not a full-service soup kitchen. I'm not risking my neck for you two again unless there's money involved. "

Up until that point, I'd almost believed that the Patriots cared about us. But Kaede's words had brought me back to reality. They'd helped us because I'd paid Kaede 200,000 Republic Notes, the money I'd received as a reward for Day's capture. Even then, it had t
aken some persuasion before she sent her Patriot comrades in to help us.

Allowing Day to see Tess. Helping Day fix his bad leg. Giving us info about the whereabouts of Day's brother. All these things will require bribes. If only I'd had the chance to grab more money before we left.

"Vegas is the worst possible city for us to wander into by ourselves," I say to Day as I gingerly rub my healing shoulder. "And the Patriots might not even give us an audience. I'm just trying to make sure we think this through. "

"June, I know you're not used to thinking of the Patriots as allies," Day replies. "You were trained to hate them. But they are a potential ally. I trust them more than I trust the Republic. Don't you?"

I don't know if he means for his words to sound insulting. Day has missed the point I'm trying to make: that the Patriots probably won't help us and then we'll be stuck in a military city. But Day thinks I'm hesitating because I don't trust the Patriots. That, deep down, I'm still June Iparis, the Republic's most celebrated prodigy . . . that I'm still loyal to this country. Well, is that true? I'm a criminal now, and I'll never be able to go back to the comforts of my old life. The thought leaves a sick, empty feeling in my stomach, as if I miss being the Republic's darling. Maybe I do.

If I'm not the Republic's darling anymore, then who am I?

"Okay. We'll try to find the Patriots," I say. It's clear that I won't be able to coax him into doing anything else.

Day nods. "Thanks," he whispers. The hint of a smile appears on his lovely face, pulling me in with its irresistible warmth, but he doesn't try to hug me. He doesn't reach for my hand. He doesn't scoot closer to let our shoulders touch, he doesn't stroke my hair, he doesn't whisper reassuringly into my ear or rest his head against mine. I hadn't realized how much I've grown to crave these little gestures. Somehow, in this moment, we feel very separate.

Maybe his nightmare had been about me.

* * *

It happens right after we reach the main strip of Las Vegas. The announcement.

First of all, if there's one place in Vegas that we shouldn't be, it's the main strip. JumboTrons (six packed into each block) line both sides of the city's busiest street, their screens playing an endless stream of news. Blinding clusters of searchlights sweep obsessively along the walls. The buildings here must be twice as large as the ones in Los Angeles. The downtown is dominated by towering skyscrapers and enormous pyramid-shaped landing docks (eight of them, square bases, equilateral triangle sides) with bright lights beaming from their tips. The desert air reeks of smoke and feels painfully dry; no thirst-quenching hurricanes here, no waterfronts or lakes. Troops make their way up and down the street (in oblong square formations, typical of Vegas), dressed in the black, navy-striped uniforms of soldiers rotating out to and back from the warfront. Farther out, past this main street of skyscrapers, are rows of fighter jets, all rolling into position on a wide strip of airfield. Airships glide overhead.

This is a military city, a world of soldiers.