The Light Between Oceans
M. L. Stedman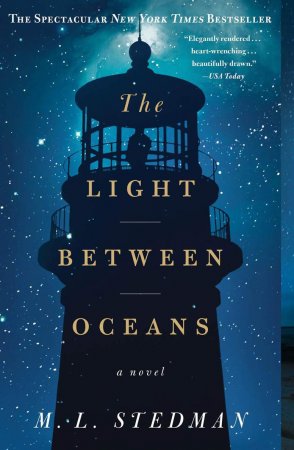 More Praise for The Light Between Oceans

"A moving tale . . . Prepare to weep."

—Susannah Meadows, The New York Times

"Lyrical . . . Stedman's debut signals a career certain to deliver future treasures."

—People

"A must-read."

—Ladies' Home Journal

"The stunning debut novel you need to know about."

—Oprah's Book Club 2.0

"This fine, suspenseful debut explores desperation, morality, and loss, and considers the damaging ways in which we store our private sorrows, and the consequences of such terrible secrets."

—Carmela Ciuraru, Martha Stewart Whole Living

"An unexpected novel, both in the story it tells and the gentleness with which the author, M. L. Stedman, conveys emotional violence . . . the tension escalates in this intense and intimate drama."

—Sherryl Connelly, New York Daily News

"Stedman is from Australia, and the voice she brings to the novel is lovely. She offers gorgeous descriptions of the land and its natural inhabitants."

—Barbara Ellis, The Denver Post

"With incredibly visual prose evocative of the time and place, compelling characters, themes of forgiveness and redemption, and a riveting plot that won't let you put the book down, this is a great debut novel."

—Judy Crosby, IndieBound

"Remarkable . . . Stedman brings this couple and their lives nearly a hundred years ago to life so vividly that it's as if you're walking the stairs of the lighthouse with them. . . . You won't be able to stop reading all the way to the heartbreaking, ultimately satisfying conclusion."

—Jennifer Hiller, San Antonio News-Express

"The miraculous arrival of a child in the life of a barren couple delivers profound love but also the seeds of destruction. Moral dilemmas don't come more exquisite than the one around which Australian novelist Stedman constructs her debut."

—Kirkus Reviews (starred review)

"Haunting . . . Stedman draws the reader into her emotionally complex story right from the beginning, with lush descriptions of this savage and beautiful landscape, and vivid characters with whom we can readily empathize. Hers is a stunning and memorable debut."

—Booklist (starred review)

"[Stedman sets] the stage beautifully to allow for a heart-wrenching moral dilemma to play out . . . Most impressive is the subtle yet profound maturation of Isabel and Tom as characters."

—Publishers Weekly (starred review)

"A love story that is both persuasive and tender."

—Elizabeth Buchan, The Sunday Times (UK)

"Stedman writes with a delicate and imaginative touch. . . . This is a novel that cleverly takes a populist concept and turns it into an accessible and beautifully written piece of literature. It will make you cry, its characters will stay with you for days after you have finished with it."

—Emma Cowing, The Scotsman (UK)

"An extraordinary book . . .The tragedy is as inevitable as Hardy at his most doom-laden. And as unforgettable."

—Sue Arnold, The Guardian (UK)

"M. L. Stedman proves herself to be an accomplished writer in this, her debut novel. . . . Like a lighthouse, it shines light on dark places, and its emotional resonance will stay with you for days."

—Lauren Turner, Irish Examiner

"The Light Between Oceans stays with you long after you have turned the last page. . . . What makes this wonderful novel stand out from the crowd is the cast of emotionally fragile characters, all of whom inspire tremendous sympathy in the reader. . . . Beautifully written, the novel poses an impossible dilemma and makes us question the judgments of all involved."

—Lianne Kolirin, Daily Express (UK)

Thank you for downloading this Scribner eBook.

* * *

Join our mailing list and get updates on new releases, deals, bonus content and other great books from Scribner and Simon & Schuster.

CLICK HERE TO SIGN UP

or visit us online to sign up at

eBookNews.SimonandSchuster.com

Contents

Part One

27th April 1926

Chapter 1

Chapter 2

Chapter 3

Chapter 4

Chapter 5

Chapter 6

Chapter 7

Chapter 8

Chapter 9

Part Two

Chapter 10

Chapter 11

Chapter 12

Chapter 13

Chapter 14

Chapter 15

Chapter 16

Chapter 17

Chapter 18

Chapter 19

Chapter 20

Chapter 21

Chapter 22

Chapter 23

Chapter 24

Part Three

Chapter 25

Chapter 26

Chapter 27

Chapter 28

Chapter 29

Chapter 30

Chapter 31

Chapter 32

Chapter 33

Chapter 34

Chapter 35

Chapter 36

Chapter 37

Acknowledgments

In memory of my parents.

PART ONE

27TH APRIL 1926

On the day of the miracle, Isabel was kneeling at the cliff's edge, tending the small, newly made driftwood cross. A single fat cloud snailed across the late-April sky, which stretched above the island in a mirror of the ocean below. Isabel sprinkled more water and patted down the soil around the rosemary bush she had just planted.

"… and lead us not into temptation, but deliver us from evil," she whispered.

For just a moment, her mind tricked her into hearing an infant's cry. She dismissed the illusion, her eye drawn instead by a pod of whales weaving their way up the coast to calve in the warmer waters, emerging now and again with a fluke of their tails like needles through tapestry. She heard the cry again, louder this time on the early-morning breeze. Impossible.

From this side of the island, there was only vastness, all the way to Africa. Here, the Indian Ocean washed into the Great Southern Ocean and together they stretched like an edgeless carpet below the cliffs. On days like this it seemed so solid she had the impression she could walk to Madagascar in a journey of blue upon blue. The other side of the island looked back, fretful, toward the Australian mainland nearly a hundred miles away, not quite belonging to the land, yet not quite free of it, the highest of a string of under-sea mountains that rose from the ocean floor like teeth along a jagged jaw bone, waiting to devour any innocent ships in their final dash for harbor.

As if to make amends, the island—Janus Rock—offered a lighthouse, its beam providing a mantle of safety for thirty miles. Each night the air sang with the steady hum of the lantern as it turned, turned, turned; even-handed, not blaming the rocks, not fearing the waves: there for salvation if wanted.

The crying persisted. The door of the lighthouse clanged in the distance, and Tom's tall frame appeared on the gallery as he scanned the island with binoculars. "Izzy," he yelled, "a boat!" and pointed to the cove. "On the beach—a boat!"

He vanished, and re-emerged a moment later at ground level. "Looks like there's someone in it," he shouted. Isabel hurried as best she could to meet him, and he held her arm as they navigated the steep, well-worn path to the little beach.

"It's a boat all right," Tom declared. "And—oh cripes! There's a bloke, but—"

The figure was motionless, flopped over the seat, yet the cries still ran
g out. Tom rushed to the dinghy, and tried to rouse the man before searching the space in the bow from where the sound came. He hoisted out a woolen bundle: a woman's soft lavender cardigan wrapped around a tiny, screaming infant.

"Bloody hell!" he exclaimed. "Bloody hell, Izzy. It's—"

"A baby! Oh my Lord above! Oh Tom! Tom! Here—give it to me!"

He handed her the bundle, and tried again to revive the stranger: no pulse. He turned to Isabel, who was examining the diminutive creature. "He's gone, Izz. The baby?"

"It's all right, by the looks. No cuts or bruises. It's so tiny!" she said, then, turning to the child as she cuddled it, "There, there. You're safe now, little one. You're safe, you beautiful thing."

Tom stood still, considering the man's body, clenching his eyes tight shut and opening them again to check he wasn't dreaming. The baby had stopped crying and was taking gulps of breath in Isabel's arms.

"Can't see any marks on the fellow, and he doesn't look diseased. He can't have been adrift long… You wouldn't credit it." He paused. "You take the baby up to the house, Izz, and I'll get something to cover the body."

"But, Tom—"

"It'll be a hell of a job to get him up the path. Better leave him here until help comes. Don't want the birds or the flies getting at him though—there's some canvas up in the shed should do." He spoke calmly enough, but his hands and face felt cold, as old shadows blotted out the bright autumn sunshine.

Janus Rock was a square mile of green, with enough grass to feed the few sheep and goats and the handful of chickens, and enough topsoil to sustain the rudimentary vegetable patch. The only trees were two towering Norfolk pines planted by the crews from Point Partageuse who had built the light station over thirty years before, in 1889. A cluster of old graves remembered a shipwreck long before that, when the Pride of Birmingham foundered on the greedy rocks in daylight. In such a ship the light itself had later been brought from England, proudly bearing the name Chance Brothers, a guarantee of the most advanced technology of its day—capable of assembly anywhere, no matter how inhospitable or hard to reach.

The currents hauled in all manner of things: flotsam and jetsam swirled as if between twin propellers; bits of wreckage, tea chests, whalebones. Things turned up in their own time, in their own way. The light station sat solidly in the middle of the island, the keeper's cottage and outbuildings hunkered down beside the lighthouse, cowed from decades of lashing winds.

In the kitchen, Isabel sat at the old table, the baby in her arms wrapped in a downy yellow blanket. Tom scraped his boots slowly on the mat as he entered, and rested a callused hand on her shoulder. "I've covered the poor soul. How's the little one?"

"It's a girl," said Isabel with a smile. "I gave her a bath. She seems healthy enough."

The baby turned to him with wide eyes, drinking in his glance. "What on earth must she make of it all?" he wondered aloud.

"Given her some milk too, haven't I, sweet thing?" Isabel cooed, turning it into a question for the baby. "Oh, she's so, so perfect, Tom," she said, and kissed the child. "Lord knows what she's been through."

Tom took a bottle of brandy from the pine cupboard and poured himself a small measure, downing it in one. He sat beside his wife, watching the light play on her face as she contemplated the treasure in her arms. The baby followed every movement of her eyes, as though Isabel might escape if she did not hold her with her gaze.

"Oh, little one," Isabel crooned, "poor, poor little one," as the baby nuzzled her face in toward her breast. Tom could hear tears in her voice, and the memory of an invisible presence hung in the air between them.

"She likes you," he said. Then, almost to himself, "Makes me think of how things might have been." He added quickly, "I mean… I didn't mean… You look like you were born to it, that's all." He stroked her cheek.

Isabel glanced up at him. "I know, love. I know what you mean. I feel the same."

He put his arms around his wife and the child. Isabel could smell the brandy on his breath. She murmured, "Oh Tom, thank God we found her in time."

Tom kissed her, then put his lips to the baby's forehead. The three of them stayed like that for a long moment, until the child began to wriggle, thrusting a fist out from under the blanket.

"Well"—Tom gave a stretch as he stood up—"I'll go and send a signal, report the dinghy; get them to send a boat for the body. And for Miss Muffet here."

"Not yet!" Isabel said as she touched the baby's fingers. "I mean, there's no rush to do it right this minute. The poor man's not going to get any worse now. And this little chicken's had quite enough of boats for the moment, I'd say. Leave it a while. Give her a chance to catch her breath."

"It'll take hours for them to get here. She'll be all right. You've already quietened her down, little thing."

"Let's just wait. After all, it can't make much difference."

"It's all got to go in the log, pet. You know I've got to report everything straightaway," Tom said, for his duties included noting every significant event at or near the light station, from passing ships and weather, to problems with the apparatus.

"Do it in the morning, eh?"

"But what if the boat's from a ship?"

"It's a dinghy, not a lifeboat," she said.

"Then the baby's probably got a mother waiting for it somewhere onshore, tearing her hair out. How would you feel if it was yours?"

"You saw the cardigan. The mother must have fallen out of the boat and drowned."

"Sweetheart, we don't have any idea about the mother. Or about who the man was."

"It's the most likely explanation, isn't it? Infants don't just wander off from their parents."

"Izzy, anything's possible. We just don't know."

"When did you ever hear of a tiny baby setting off in a boat without its mother?" She held the child a fraction closer.

"This is serious. The man's dead, Izz."

"And the baby's alive. Have a heart, Tom."

Something in her tone struck him, and instead of simply contradicting her, he paused and considered her plea. Perhaps she needed a bit of time with a baby. Perhaps he owed her that. There was a silence, and Isabel turned to him in wordless appeal. "I suppose, at a pinch…" he conceded, the words coming with great difficulty, "I could—leave the signal until the morning. First thing, though. As soon as the light's out."

Isabel kissed him, and squeezed his arm.

"Better get back to the lantern room. I was in the middle of replacing the vapor tube," he said.

As he walked down the path, he heard the sweet notes of Isabel's voice as she sang, "Blow the wind southerly, southerly, southerly, blow the wind south o'er the bonnie blue sea." Though the music was tuneful, it failed to comfort him as he climbed the stairs of the light, fending off a strange uneasiness at the concession he had made.

CHAPTER 1

16th December 1918

Yes, I realize that," Tom Sherbourne said. He was sitting in a spartan room, barely cooler than the sultry day outside. The Sydney summer rain pelted the window, and sent the people on the pavement scurrying for shelter.