Rose in Bloom
Louisa May Alcott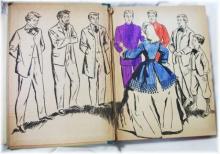 ROSE IN BLOOM.

frontispiece]

A Sequel to "Eight Cousins."

by

LOUISA M. ALCOTT,

Author of "Little Women," "An Old-Fashioned Girl," "Little Men,""Hospital Sketches," "Aunt Jo's Scrap-Bag," "Work,""Eight Cousins," etc.

With Illustration.

Boston:Roberts Brothers.1876.

Copyright, 1876,By Louisa M. Alcott.

publisher's mark]

Cambridge:Press of John Wilson & Son.

PREFACE.

As authors may be supposed to know better than any one else what theyintended to do when writing a book, I beg leave to say that there isno moral to this story. Rose is not designed for a model girl: and theSequel was simply written in fulfilment of a promise; hoping to affordsome amusement, and perhaps here and there a helpful hint, to otherroses getting ready to bloom.

L. M. ALCOTT.

SEPTEMBER, 1876.

CONTENTS.

Chap. Page

I. COMING HOME 1

II. OLD FRIENDS WITH NEW FACES 30

III. MISS CAMPBELL 52

IV. THORNS AMONG THE ROSES 69

V. PRINCE CHARMING 80

VI. POLISHING MAC 99

VII. PHEBE 123

VIII. BREAKERS AHEAD 149

IX. NEW YEAR'S CALLS 160

X. THE SAD AND SOBER PART 179

XI. SMALL TEMPTATIONS 191

XII. AT KITTY'S BALL 212

XIII. BOTH SIDES 234

XIV. AUNT CLARA'S PLAN 252

XV. ALAS FOR CHARLIE 261

XVI. GOOD WORKS 276

XVII. AMONG THE HAYCOCKS 290

XVIII. WHICH WAS IT? 309

XIX. BEHIND THE FOUNTAIN 333

XX. WHAT MAC DID 342

XXI. HOW PHEBE EARNED HER WELCOME 355

XXII. SHORT AND SWEET 367

ROSE IN BLOOM.