Shawl-Straps
Louisa May Alcott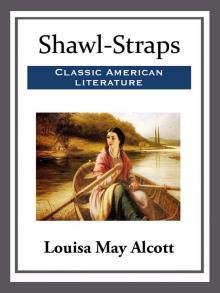 Produced by David Edwards, Martin Pettit and the OnlineDistributed Proofreading Team at https://www.pgdp.net (Thisbook was produced from scanned images of public domainmaterial from the Google Print project.)

SHAWL-STRAPS.

A Second Series

OF

AUNT JO'S SCRAP-BAG.

BY

LOUISA M. ALCOTT,

AUTHOR OF'LITTLE WOMEN,' 'AN OLD-FASHIONED GIRL,' 'LITTLE MEN,''HOSPITAL SKETCHES.'

LONDON:SAMPSON LOW, MARSTON & COMPANY_LIMITED_,St. Dunstan's House,FETTER LANE, FLEET STREET, E.C.

1895.

_All rights reserved._

_LOW'S STANDARD SERIES OF BOOKS BY POPULAR WRITERS._

Small crown 8vo. cloth gilt, 2_s._; gilt edges, 2_s._ 6_d._ each

1. ALCOTT, L. M. Little Men. 2. WHITNEY, Mrs. Hitherto. 3. SAMUELS. Forecastle to Cabin. Illustrated. 4. ROBINSON, P. In my Indian Garden. 5. ALCOTT, L. M. Little Women and Little Women Wedded. 6. WHITNEY, Mrs. We Girls. 7. ---- The other Girls: a Sequel. 8. ALDEN, W. L. Jimmy Brown. 9. ALCOTT, L. M. Under the Lilacs. Illustrated.10. ---- Jimmy's Cruise.11. ROBINSON, PHIL. Under the Punkah.12. ALCOTT, L. M. An Old-Fashioned Girl.13. ---- A Rose in Bloom.14. ---- Eight Cousins. Illustrated.15. ---- Jack and Jill.16. ---- Lulu's Library. Illustrated.17. ---- Silver Pitchers.18. ---- Work and Beginning Again.19. WHITNEY, Mrs. Leslie Goldthwaite.20. ---- Faith Gartney's Girlhood.21. ---- Real Folks.22. STOWE, Mrs. Dred.23. ---- My Wife and I.24. DE WITT, Madame. An Only Sister.25. ALCOTT, L. M. Aunt Jo's Scrap Bag.26. ---- Shawl Straps.27. STOWE, Mrs. Ghost in the Mill.28. BUNYAN, JOHN. Pilgrim's Progress (Extra volume), gilt, 2_s._29. STOWE, Mrs. We and Our Neighbours.30. SAINTINE. Picciola.31. HOLM, SAXE. Draxy Miller's Dowry.32. SANDEAU, JULES. Seagull Rock.33. WARNER, C. D. In the Wilderness.34. ---- My Summer in a Garden.35. ALCOTT, L. M. Spinning-wheel Stories.36. ALDEN, W. L. Trying to find Europe.37. WHITNEY, Mrs. The Gayworthys.38. TOOLEY, Mrs. Life of Mrs. Stowe.39. ROE, E. P. Nature's Serial Story.40. ALCOTT. Recollections.41. STOWE, H. B. Minister's Wooing.

* * * A New Illustrated List of Books for Boys and Girls,with Portraits of Celebrated Authors, sent post free on application.

London: SAMPSON LOW, MARSTON & COMPANY, LTD.,St. Dunstan's House, Fetter Lane, Fleet Street, E.C.

PREFACE.

There is a sort of fate about writing books of travel which it isimpossible to escape. It is vain to declare that no inducement willbribe one to do it, that there is nothing new to tell, and that nobodywants to read the worn-out story: sooner or later the deed is done, andnot till the book is safely shelved does peace descend upon the victimof this mysterious doom.

The only way in which this affliction may be lightened to along-suffering public is to make the work as cheerful and as short aspossible. With this hope the undersigned bore has abstained from givingthe dimensions of any church, the population of any city, or descriptionof famous places, as far as in her lay; but confined herself to thepersonal haps and mishaps, adventures and experiences, of her wanderers.

To explain the undue prominence given to Miss Lavinia, it should bestated that she is an old and intimate friend of the compiler of thisfrivolous work; and therefore her views on all subjects, though lessvaluable, were easier to obtain than those of the younger and moreinteresting shawl-strappists.

L. M. A._November 1872._

CONTENTS.

PAGE I. OFF 1

II. BRITTANY 24

III. FRANCE 92

IV. SWITZERLAND 175

V. ITALY 205

VI. LONDON 265

SHAWL-STRAPS.