Eight Cousins; Or, The Aunt-Hill
Louisa May Alcott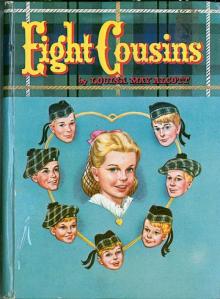 ROSE AND HER AUNTS.--Page 37.]

EIGHT COUSINS;

Or,

The Aunt-Hill.

by

LOUISA M. ALCOTT,

Author of "Little Women," "An Old-Fashioned Girl," "Little Men,""Rose in Bloom," "Under the Lilacs," "Jack and Jill,""Hospital Sketches," "Work," "Silver Pitchers,""Aunt Jo's Scrap-Bag."

With Illustrations.

BOSTON: ROBERTS BROTHERS. 1887.

Copyright, 1874, BY LOUISA M. ALCOTT.

UNIVERSITY PRESS: JOHN WILSON & SON, CAMBRIDGE.

To

The many boys & girls whose letters it has been impossible to answer, this book is dedicated as a peace offering by their friend

L. M. Alcott

PREFACE.

The Author is quite aware of the defects of this little story, many ofwhich were unavoidable, as it first appeared serially. But, as UncleAlec's experiment was intended to amuse the young folks, rather thansuggest educational improvements for the consideration of the elders,she trusts that these short-comings will be overlooked by the friends ofthe EIGHT COUSINS, and she will try to make amends in a second volume,which shall attempt to show THE ROSE IN BLOOM.

L. M. A.

CONTENTS.

CHAPTER PAGE

I. TWO GIRLS 1

II. THE CLAN 10

III. UNCLES 23

IV. AUNTS 37

V. A BELT AND A BOX 47

VI. UNCLE ALEC'S ROOM 59

VII. A TRIP TO CHINA 71

VIII. AND WHAT CAME OF IT 84

IX. PHEBE'S SECRET 93

X. ROSE'S SACRIFICE 108

XI. POOR MAC 118

XII. "THE OTHER FELLOWS" 129

XIII. COSEY CORNER 141

XIV. A HAPPY BIRTHDAY 149

XV. EAR-RINGS 165

XVI. BREAD AND BUTTON-HOLES 179

XVII. GOOD BARGAINS 191

XVIII. FASHION AND PHYSIOLOGY 204

XIX. BROTHER BONES 216

XX. UNDER THE MISTLETOE 226

XXI. A SCARE 241

XXII. SOMETHING TO DO 253

XXIII. PEACE-MAKING 265

XXIV. WHICH? 279

EIGHT COUSINS.