Bent Over A Barrel Bundle: Western Cowboy Romance (Full Length Novels), Page 1
Lolita London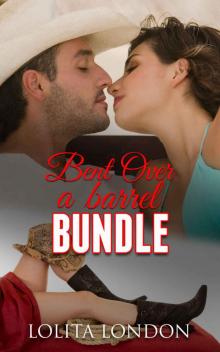 "Bent Over A Barrel" Western Romance Bundle: Multiple Full Length Novels For The Price Of One

East To West

Lolita London

Copyright © 2015 by Lolita London

All rights reserved. No part of this publication may be reproduced, distributed, or transmitted in any form or by any means, including photocopying, recording, or other electronic or mechanical methods, without the prior written permission of the publisher, except in the case of brief quotations embodied in critical reviews and certain other noncommercial uses permitted by copyright law.

Chapter 1

The screech of brakes and hiss of steam made Mary look up from staring at the ground and she watched as the train came to a final stop at the platform in the station. She let out a sigh as she reached down towards the case sitting at her feet.

"You're sure you want to do this," Grace said. "Leaving the city and heading out west is a big step and you're only eighteen. It's not as if you have to do it."

A smile spread across Mary's face as she watched the young woman step down from the open door of the train to be swept up in the arms of the waiting man. She couldn't take her gaze from the loving embrace as the couple kissed and it was obvious they were infatuated with each other. The envy welled up that it was something she didn't have in her life. The closest she got to it was the romantic novels she borrowed from the library and voraciously read. They fueled her fantasies about the lovemaking she wanted for herself although her shyness with the opposite sex meant the truth of the matter was that she'd virtually never been kissed.

"You could have stayed with us you know," Grace went on.

The comment startled Mary out of her musings and she looked away from the young lovers. She turned to her friend and shook her head.

"I don't want to be a burden to you and your parents," she replied.

"Oh come on," Grace protested. "You wouldn't be a burden to us."

She knew that her friend meant well, but was all too aware that even though Grace's parents worked hard they didn't have much money. It was a struggle for the family to makes ends meet as things were, without her moving in and adding to the problems. There was more to it than that, however, and her heart was now set on getting out of Boston. The death of her elderly parents in a cholera outbreak three months before hit her hard and staying in the city just continually gave her reminders of what she lost. Even at that second on the platform the depression washed over her as memories of her mother and father came in her mind. It was the right time for her to move on to something new and she was determined not to back out of the plans she'd set in motion.

"I need to do this," she said in a quiet voice. "I'm never going to move on from the death of my parents if I stay here."

"But moving out west…" Grace replied. "It's so far away. I'll never see you again."

"I'll keep in touch," Mary went on. "I promise I'll write often."

"ALL ABOARD."

The yell of the conductor caught her attention and she hurriedly walked over to the nearest door of the train. She turned to her following friend and hugged her in a tight embrace. As much as she wanted to get out of Boston, she was scared at the prospect of doing it. She'd lived in the city all her life and knew nothing else.

"Make sure you do write when you get to Oakford," Grace said when they moved apart. "And remember you are always welcome to come back."

"Thanks," Mary said.

She was aware of the emotions welling up and turned away from her friend to get on the train. The last thing she wanted was for tears to start rolling down her cheeks, so she tried to get herself under control when she moved inside the carriage and walked along until she found an empty seat beside a window. She lifted her case up to store it on the overhead rack then dropped down on the seat. Grace was standing at the window and Mary knew she might well be looking at her friend for the last time. They put their hands on the glass and stared at each other as the hiss of steam signaled the train getting ready to move.

When it did, Grace walked along beside it until she got almost to the end of the platform. Mary turned to keep watching and saw her friend mouth I'll miss you.

"I'll miss you too," she said quietly and only turned to face forward when Grace disappeared from view.

The train slowly sped up and she stared out at her last views of Boston. She wasn't sure whether she would ever see the place again. The dense surroundings of houses, factories, stores and other buildings gradually thinned out as the outskirts sped past the window and Mary knew there was no turning back. The last of the properties faded in to the distance as the view changed to the greenery of countryside and she wondered what Grace would think of the real reason she was leaving.

There was a truth to the explanation she gave of wanting to leave behind the unhappy memories of the death of her parents and move on to something new although it wasn't the whole story. There were occasion where she wished she'd confided in her friend that she joined a mail order bride agency, but the slight shame of having resorted to that method of finding a man always stopped her from admitting to it. She'd been considering the idea even before her parents died and it was in the aftermath of that terrible event that she finally convinced herself to go ahead and do it.

She reached in her pocket to take out the letter she received around a month previously from the agency. It was the catalyst that encouraged her to leave Boston and make the move to change her life. Even now, sitting on the train heading for Oakford she couldn't quite believe she was going through with it or even whether it was the right thing to do. The letter wasn't even from the man she was now as good as engaged to. That it was sent by his parents on his behalf revealed they were a conservative family and that attracted her for a start. The picture the letter painted was also of a life she could see herself living.

It explained of the Addison family's move to Oakford in recent times. They were taking over the running of their late uncle's farm on the outskirts of the town and were of the mind that it was the right moment for their youngest son to find a suitable girl, so he could settle down to married life. The idea was for him to learn the ins and outs of farming life properly to enable him to eventually take over the running of the place.

There was a certain romance about it that appealed to Mary although she knew that was more to do with the western novels she read rather than having any basis in reality. She'd never been out west, so had no idea of what it would be like. Considering her circumstances and, more to the point, the lack of any other correspondence from the agency, she eventually decided it was an offer she needed to take up. Within days she arranged for a train ticket, gave notice on her small rented room in the city and resigned from her teaching role at the school where she worked. She wrote back to the agency to tell them of her acceptance, as well as her plans for travel and received a reply that the Addison family would be informed of this, so that someone could be at the train station in Oakford to meet her on arrival.

As simply as that the opportunity to move away from Boston to a new life was set in motion. Mary was all too aware that it wasn't simple though. The real truth was that she was taking a huge leap into the dark that could be wonderful or terrible. There was really no way of knowing which it was until she got there. As she stared out of the window at the passing scenery, she again wondered if she was doing the right thing.

"Too late to change your mind now," she let out under her breath.

> "Excuse me," a voice said.

Being shaken out of her thoughts startled Mary and her eyes were open wide as she turned her head. The conductor was staring at her and she realized he must have heard her comment.

"Oh…, umm, sorry," she said although she wasn't quite sure what she was apologizing for. "I didn't realize you were there."

There was a second or two of awkward silence as they continued to stare at each other before the conductor went on.

"I need to see your ticket Miss."

"Of course," said Mary and fumbled around in her coat pockets before remembering where her ticket was. "I'll just need to get it," she told the watching conductor. "It's in my case."

He simply stepped out of the way as she moved across to the aisle seat then got to her feet. She lifted her case down and was mortified when she lifted the lid to reveal a pair of her panties prominently displayed on top of her clothes and in full view. She glanced at the man and saw he was openly staring at them, so quickly got the ticket from the small inside pocket and slammed the lid shut.

She could sense the warmth of slight shame on her cheeks and couldn't look the conductor in the eye as she turned to hand him the ticket. It took only a second or two for him to inspect it before handing it back.

"Thank you Miss," he said and walked off.

Mary put the ticket in her pocket and the case on the overhead rack before dropping back in her seat. It needed a few minutes for her to regain her composure after the encounter, but the embarrassment of the incident remained on her mind as she stared out of the window of the train again.

"Good going Mary," she berated herself. She felt slightly foolish at her reaction to a pair of her panties being put on show to a stranger. "You're such a sweet innocent," she let out quietly and shook her head.

There was no point in denying it though. Her experience with men so far was confined to a few fumbled kisses and nothing more. It wasn't as if she couldn't attract their attention. Her pretty face, long auburn hair and green eyes meant she didn't even really need to try. Added to that was the fact that she was petite, which she suspected brought out the protective nature in men, and didn't exactly lack curves, which she was all too aware stirred the lust of the opposite sex. She'd never really possessed the confidence to use her attractive attributes and find a lover, however, and suspected it was her shyness that put men off and made her seem a little unapproachable.

She remembered watching the couple embracing and kissing at the train station when she was waiting to leave Boston. They would likely go home to make love and while she might still be relatively innocent and naïve, Mary knew she wanted that passion in her life. While her experience with men was limited, it didn't stop her fantasies about them occasionally running out of control. She enjoyed the way it made her feel and although she considered there was a slight shame to masturbating, there were occasions she needed the relief it brought her and she couldn't help herself.

Thoughts of that were still on her mind when she saw the conductor coming back through the carriage again. She was aware of him glancing at her as he walked past, but dropped her gaze to the floor to avoid their eyes meeting. The faint sound of his shout announcing the next station came to her a few minutes later and she guessed they must be near to it. She saw she was right when the train began to slow down and around five minutes later she was staring out at the platform. There were only a few people on it and once they were on board the train was quick to get going again.

Mary only stared out the window for a few minutes more before getting bored with the countryside scenery passing by. She stood up to get her case and looked around to make sure there was no one watching before opening it. When she did, she grabbed the panties and buried them under her other clothes before searching for one of the books she packed. She then put the case back in place on the rack and sat down to read.

It was her favorite pastime by far and it was always easy for her to get immersed in the romantic story of two lovers. That made it perfect for a train ride and it helped pass a few enjoyable hours. She managed to get all the way through the book before putting it down and realized straight away that they must be coming up to another station. The train was slowing down and she heard the sound of the conductor shouting that this stop would last around twenty minutes to take on fuel and water. That provided the chance for her to stretch her legs and she stepped down to the platform straight away when they came to a stop.

The station they were at seemed to be out in the middle of nowhere, but there were still a few people selling food and the sight of them caused her hunger to come out. She took a wander around the stalls and finally decided on some corn and ham. It tasted good and she sat on one of the station benches to enjoy it. There wasn't much to see and she simply watched the train crew going about the business of pumping the water to replenish the on-board supplies. When she finished eating, she got to her feet to walk up and down the full length of the platform before eventually returning to her seat.

She thought about getting another book out to read, but in the end just rested her head on the back of the seat and closed her eyes. The rocking of the train when it got moving again along with the heat of early afternoon sent her to sleep and the panic filled her mind when she woke up that she might have missed her station. She stared out of the window, but there was really no way of working out where she was and she finally got up and walked back through the carriages to find the conductor.

There was no avoiding his gaze on this occasion and it would have been rude, but she was all too aware of the slight smirk on his face. She was sure he was thinking about seeing the panties in her case and there was no stopping the slight humiliation coming back as her cheeks reddened. It was tinged with something more at the thought that the man enjoyed the sight of them and that it was maybe making him fantasize about her innocent young body. She shrugged that idea off quickly as she spoke.

"How long until we get to Oakford?" she asked

The fact that he got his pocket watch out to look at it meant they weren't past her destination and the sense of relief washed over her. The smirk returned to his face when he looked up.

"There is one more stop to go before we get there," he said. "We should arrive in around one hour."

"Thanks," Mary said and turned away from him quickly.

Thoughts of the conductor quickly left her mind. The news that she was only sixty minutes away from Oakford brought out her apprehension and it was this that began to concern her more than anything else. When she got back to her seat, she took the letter from her pocket to read through it again. Her gaze was still on it when the train came to the last station before hers, but the letter was in her pocket before they got moving again. She was on the last leg of her trip and when the train stopped again she would be stepping from it to what she hoped was going to be a wonderful new life.

Her mind turned to who would be at the station to meet her and she couldn't help hoping it was the man that she was there to be with. She again remembered the woman getting off the train in Boston and being wrapped in a loving embrace. Would she get the same when she arrived in Oakford? She very much doubted it, but the romantic fantasy of being whisked off her feet by a strong, handsome man started to play out in her head and she closed her eyes to enjoy it. The blossoming of heat between her thighs convinced her to clear the dream from her mind before it went too far. The reality was that she didn't have the slightest idea of the greeting that would be waiting for her at the station.

She returned her attention to looking out the window and tried to keep her nervousness in check as the minutes ticked by. That proved more difficult to do when the train began to slow down and she heard the shout of the conductor announcing their imminent arrival at Oakford. She stared out at the farmland they were now passing through. One of the smallholdings could very well be where she was about to live her life and her gaze remained on them.


The train slowed more and when she saw the buildings begin to appear, she knew that she was almost at her destination. One other passenger in the carriage got up to collect their belongings and Mary was quick to follow their lead and move over to the door. Her nerves shot up even more when she saw the start of the platform and she ducked her head down to get a better view out of a window.

The large Oakford sign confirmed that it was definitely the station she wanted and she turned her attention to the few people standing on the platform. There was no way of knowing whether they were waiting to get on the train or there to meet someone getting off, so she quickly gave up trying to guess which of them might be there to greet her. Her apprehension suddenly grew at the prospect that there might be no one there to meet her at all, but she tried to shrug of her fears as the train came to a complete stop. The passenger in front of her opened the door to step down to the platform and Mary did the same.

It was the moment for her to meet the man that was to become her husband and the breath stuck in her throat as she looked around.