Spanked
Lolita London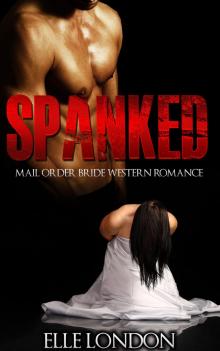 SPANKED

Mail Order Bride Western Romance

Lolita London

Copyright ? 2016 by Lolita London

All rights reserved. No part of this publication may be reproduced, distributed, or transmitted in any form or by any means, including photocopying, recording, or other electronic or mechanical methods, without the prior written permission of the publisher, except in the case of brief quotations embodied in critical reviews and certain other noncommercial uses permitted by copyright law.

Excerpt:

She waited for the instructions to remove her bra and panties, but they didn't come. Instead Robert seized her wrist to drag her back down onto his lap. His hand immediately went between her thighs and she instinctively closed her legs.

"I thought you said you would a good girl for me," he let out quietly.

Madeline inhaled deeply then held her breath as she spread her legs open for him and the air rushed back out as his fingertips slid onto the silk material of her panties. A shiver rippled down her spine as her body responded to the intimate touch. Heat blossomed between her thighs and she wriggled around as her husband's fingers stroked gently along the outline of her pussy lips. His cock throbbed against her ass and she let out a soft groan. There was no hiding that Robert's touch was turning her on as the damp patch began to show on her panties and she tilted her head to the side as kisses played on her neck. His mouth slid to her ear as he continued to tease touches on the wet material.

"You like that don't you," he whispered.

Madeline gulped and her voice was shaky as she replied.

"Yes."

The soft laugh in her ear made her shudder and she rocked her head back as more hot kisses played on her sensitive skin.

"Now show me everything," Robert demanded.

Madeline trembled as she was made to get to her feet again and she stood with her back to him. Her legs were weak as the flood of arousal swept through her and she unhooked the bra and let it fall to the floor before she turned around. When she did, she was holding an arm across her naked breasts and knew the order would come immediately.

ONE

"Are you sure you want to go through with this?" Madeline's father asked.

She heard the note of concern in his voice and almost let out a sigh. It was a question she'd been contemplating herself for the last few days and the honest truth was that she wasn't altogether sure if she was doing the right thing. At the time of joining the mail order bridal agency, it seemed like an adventure and she knew it was likely her best chance of finding a man to marry. It was never going to happen in the small town she grew up in. The few men there that were of marrying age were already paired off and that meant her chances of meeting someone to share her life with were severely limited.

If she remained in the town she was certain she would end up an old spinster, with nothing but regrets of not taking a chance when she was younger. Becoming a mail order bride seemed a drastic step, but she could see no other way out. She wasn't the only girl in town that joined the agency. She knew of at least two others and suspected there were more.

Madeline realized she still hadn't answered her father and looked up to see him watching her closely.

"Yes, I'm sure," she said in a loud voice.

She knew she was trying to convince herself as much as she was him and cast her eyes to the ground when she saw the skeptical expression on his face.

"I'll miss you," he said.

She brought her gaze back up and smiled.

"I'll miss you too," she replied and let herself sink in his arms as he wrapped them around her in a hug.

Tears pricked at the corner of her eyes, but she held them back. The last thing she needed was for her father to think she was unhappy with what she was doing. In truth she wasn't, although there was definitely uncertainty in her mind. She knew that was normal when things changed and there were about to in a huge way. Madeline composed herself and put a smile on her face as she worked herself free of the tight hug.

"Keep in touch and let me know that mother doesn't get any worse," she told him.

"I will," he assured her. "I'll write to you weekly to keep you up to date with her condition and let you know how we are getting on."

"I'll come back if you need me," she promised.

"I know you will," he replied and smiled at her.

Madeline nodded then bent down to pick up her bag from where it was sitting at her feet. She turned to step on the train just as the whistle sounded, but looked back as her father spoke again.

"Do you have everything?" he asked.

"Too late now," she said with a rueful smile.

She quickly moved inside the carriage and walked along the aisle until she found an empty seat on which she could sit next to the window looking out on the platform. Her father waved at her as the whistle sounded out again and the wheels slowly began to turn. The train chugged along slowly at first then started to gather speed. Madeline turned her head to keep watching until her father was a speck in the distance. She was setting off on a journey to a new life and really didn't know what she was letting herself in for.

Her gaze remained on the passing scene as the small town slowly disappeared from view. It had been her home for all of her nineteen years and apart from the occasional trip with her parents, she really knew nothing else. That was about to change and she again considered if she was doing the right thing.

"Do you want to stay here and end up an old spinster?" she muttered under her breath.

A blush spread across her face at the thought she may have spoke too loud, but a glance around showed that none of the passengers sitting in seats nearby were looking in her direction. She turned her attention back out of the window and watched the open countryside rolling past. The life she knew was over and she suspected that nothing would be the same again. It brought the man she'd been corresponding with to mind and she reached for her bag.